The The 5 & 2 Juice is made from 5 vegetables (carrot, beetroot, celery, kale and baby spinach) and 2 fruits (oranges and apples). DELICIOUS!
I've been making juices for a little while now (but please don't mistake me for some juicing guru, as that couldn't be further from the truth… I love cake and chocolate far too much to be a true jucie!). We bought a juicer because it's just so expensive buying fresh juice! How juice bars can charge $8 for a juice is beyond me. Anyway, even though buying a juicer isn't the cheapest thing either, I think it probably paid for itself after a couple of months.
Some of the juices I have made have been delish little creations, however, others have been pretty ordinary…it's been a bit of trial and error! And if I'm being totally honest, my juicing journey got off to a pretty shaky start when I put whole oranges into the machine when making my very first juice (yep… skin included). Oh it was by far the worst juice I have ever made! I felt like my throat was burning! Note to self – always, ALWAYS peel your oranges before juicing them. Gotta love hindsight!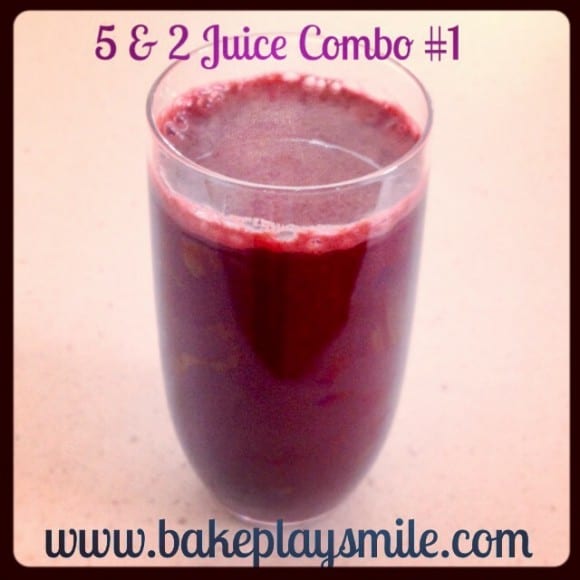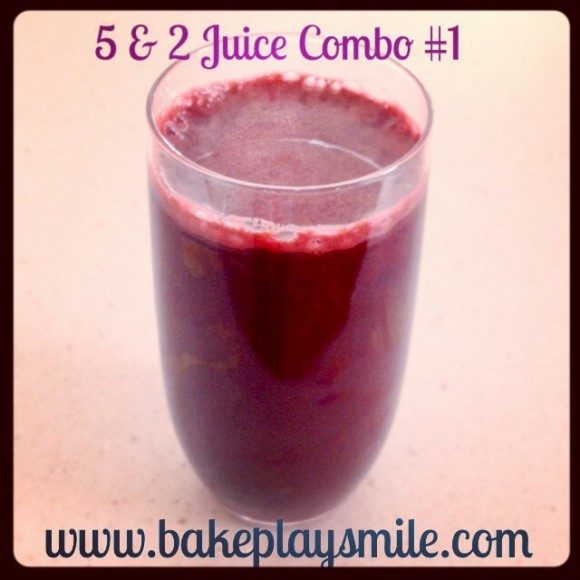 But, for the most part, it's been fun chucking different fruits and vegetables in and seeing what it ends up tasting like. And it's a great reason to hit the local farmers markets to get fresh produce (or even better if it comes from your own vegie garden).
The only downside of juicing is having to clean the juicer. I am not a fan! I don't care that the instructions say quick and easy cleaning… they are clearly delusional. I have started to do the whole 'well if I make the juice, then surely I don't have to clean the machine too' thing to my husband. Turns out it doesn't really work that well… a girl can only try!
But back to the actual juicing! I have been making a conscious effort lately to include more vegetables in my juices. Yeah, yeah I know the really fruity ones taste so deliciously sweet, but I've been aiming for 5 different vegetables and 2 fruits into each juice. That, I tell you, is the making for some kick ass juices!
So the first 5 & 2 juice combo I'd like to share is one of my favourites. It has kale in it which is soooo good for you (and considering our vegie garden is looking more like an overflowing kale jungle at the moment, all of the juices I'm making are pretty chock full of kale for the time being!). It's also got lots of other yummy, nutritious vegetables in it too, but I won't bore you with why they are so good for you, because a) you already know that vegetables are good for you, and b) I have very super-duper important things to do now, like watch old episodes of Keeping Up With The Kardashians….
And here it is… The 5 & 2 Juice Combo #1
Vegetables:
1 small bag of carrots
2/3 beetroot
1/2 a celery
4 big leaves of kale
1 packet of baby spinach
Fruits:
3 oranges (PEELED!!!!)
4 green apples
*I also added a little chunk of peeled fresh ginger so give it a little zing!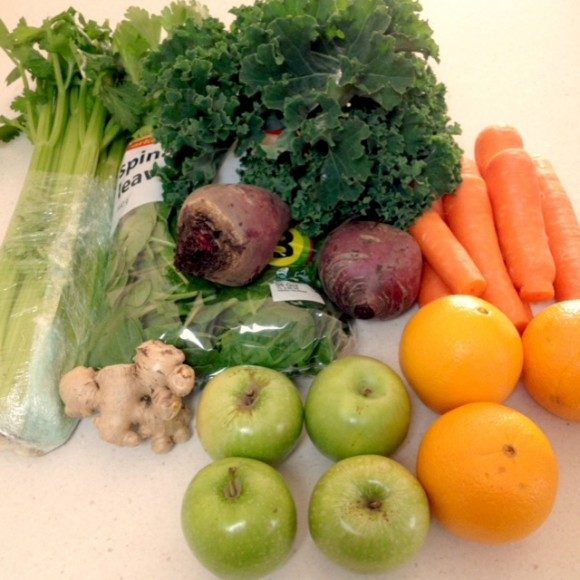 Be warned that this makes a HUUUUGE batch of juice (which is great if you hate cleaning the machine and don't want to do it everyday!). Just pour it into a big airtight jug and store in the fridge for a couple of days. If you don't have a jug then just make a smaller batch… but don't come grumbling to me when you have to clean the machine over and over again!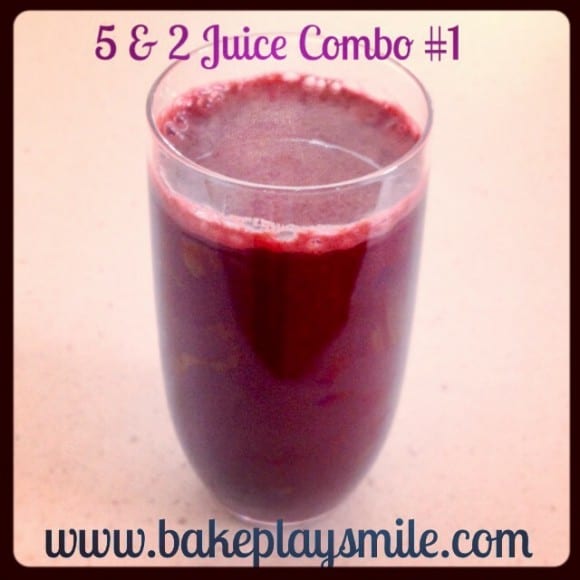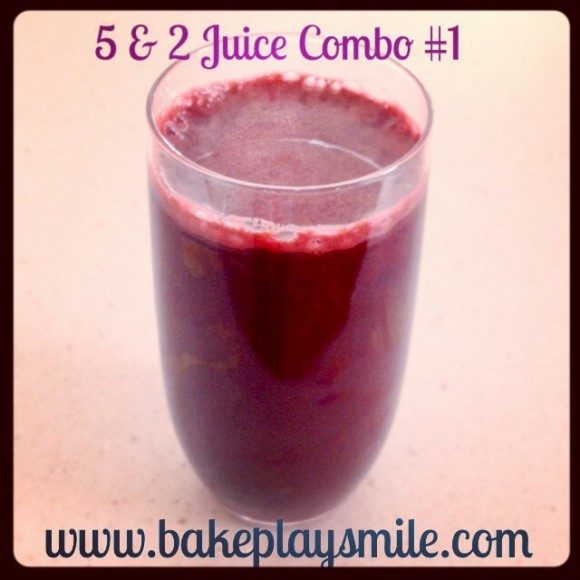 Happy juicing!
🙂