A couple of years ago we were given a lemon and a lime tree from some of our friends for our wedding! It was a great present and thanks to my lovely husband, both of the trees are still live and kicking (me on the other hand, has an innate ability to accidentally kill any kind of plant… I'm what would be referred to as the total opposite of a green thumb… in fact my thumb is soooo far from green it doesn't even know what the colour green is!). I'm ashamed to admit that last year I accidentally ate a weed thinking that it was rocket…. in my defence it looked like rocket and was growing right next to where the rocket was in our vegie garden! Since then I have kept as much out of the garden as I can.
Anyway, I digress! Our lemon and lime trees have been growing beautifully and a few days ago my husband came inside very excited to have picked our first lemons! And so hatched my plan to make a lemon tart. I had never made a lemon tart before, but always one to take on a challenge (as long as it doesn't involve eating anymore weeds in the garden!), I set out to make the tart. And as I often do, I went to one of my favourite cooks, Donna Hay, for inspiration.
I love that Donna Hay is all about taste and ease and this recipe lived up to both of those things. Although, one little problem I had was when I was making the short crust pastry, I found that it was really hard to mix together in the food processor as mine was just too small for all of the mixture. So next time I think I would divide the pastry mix into two, process them separately and then knead them together on the board.
One moment that could have been disastrous, but ended up being fine (thank god!) was when I was blind baking the pastry. I used rice for blind baking as I didn't have any baking beads… however, when I went to get the baking paper and rice off, a couple of the pieces of rice fell onto the pastry and I had to very carefully pick them off! Ahhh luckily it was only 2 or 3 and they came off easily! I'm not sure if rice in a lemon tart would really have been all that nice? 🙂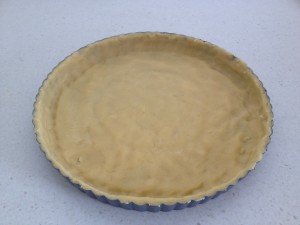 Making the lemon mixture was actually the easiest part as I made the cream version rather than the curd version (which you have to whisk over heat). Everything just got whisked together and then poured into the pastry shell.
The thing I loved about this tart was that it was easy to know when it was cooked. I hate when you aren't sure if something is ready, then you decide that it must be, only to cut into it later and find it's not quite done! This tart set firm on top but stayed lovely and creamy (but not runny) on the inside.
Once it had cooled a little, I popped it in the fridge until I needed it after dinner. It's a great dessert idea as you don't need to do anything except for grab it out of the fridge and sift a little icing sugar on top just before serving. More time for chatting and drinking wine with friends!
It's one of those desserts that looks like it would have taken a lot of time and effort, but actually didn't! Love, love, love that!
Oh and the lemons were beautiful! The fact that they came from our wedding lemon tree must have made them that little bit sweeter! ♥♥♥♥♥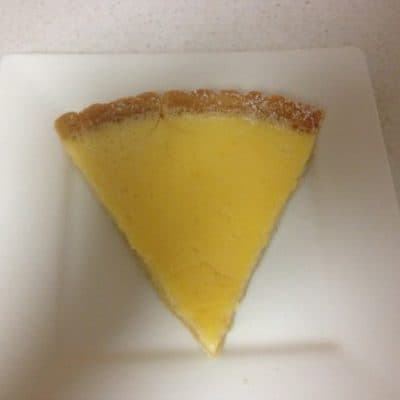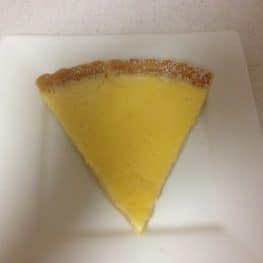 Tangy Lemon Tart!
Beautiful, tangy lemon tart!
Print
Pin
Rate
Cook Time:
1
hour
5
minutes
Total Time:
1
hour
35
minutes
Ingredients
Pastry

1½

cups

plain flour

225g, all-purpose

125

g

chilled butter

cut into cubes

½

cup

icing sugar

80g, confectioner's, plus extra, for dusting

3

egg yolks

1

tablespoon

iced water

Lemon filling

1

cup

single cream

250ml, pouring

2

eggs

3

egg yolks

extra

½

cup

caster sugar

110g, superfine

½

cup

lemon juice

125ml
Instructions
Place the flour, butter and icing sugar in the bowl of a food processor and process until mixture resembles fine breadcrumbs.

While the motor is running, add the egg yolks and process to combine.

Add the iced water and process until the dough just comes together.

Turn dough out onto a lightly floured surface and gently bring together to form a ball.

Flatten into a disk, wrap in plastic wrap and refrigerate for 1 hour.

Preheat oven to 180ºC (350ºF).

Roll the pastry out between 2 sheets of non-stick baking paper to 3mm-thick.

Line an 11cm x 34cm lightly greased loose-bottomed tart tin with the pastry, trim the edges and prick the base with a fork.

Refrigerate for 30 minutes.

Line the pastry case with non-stick baking paper and fill with baking weights.

Bake for 15 minutes, remove the paper and weights and bake for a further 10 minutes or until the pastry is light golden.

Reduce temperature to 140ºC (275ºF).

To make the lemon filling, place the cream, eggs, extra yolks, sugar and lemon juice in a bowl and whisk to combine.

Strain through a sieve and pour into the tart shell. Bake for 30–35 minutes or until just set.

Allow to cool and refrigerate until completely set.

Dust with icing sugar to serve.