As much I have enjoyed munching my way through the Peppermint Crisp and Crunchie slices that I made on the weekend, I am actually trying to be a bit more conscious about eating healthier at the moment. Why you may ask? It's the middle of winter… perfect time to eat comfort foods and not have to worry about anything until spring/summer rolls around (which is still a long way off!).
Well, my bathers are actually going to be coming out of the cupboard very soon… in just two short weeks in fact! We are going on holidays to Singapore and Vietnam and I can't wait!!!! The weather is meant to be mid 30's so this not only means bathers, but also having to shave my legs and maybe even pop some fake tan onto my so very, very white skin.
So I thought I'd share my skinny-mini berry breakfast recipe with you! It's a bit of a cross between bircher muesli and oatmeal and is absolutely delicious. The best thing about it is that you make it the night before and pop it in the fridge, so in the morning craziness you can just grab it and run (or sit and relax if you are really organised!).
First of all you grab a container and pop in the following: 1/4 cup rolled oats (not instant), 1/3 cup low fat yoghurt, 1/3 cup low fat milk, 1/2 teaspoon vanilla essence, 1 tablespoon of strawberry jam (any berry jam would work fine), 1/4 cup frozen berries and then a couple of tablespoons of any kind of chopped nuts or seeds you like. Mix all of the ingredients together, put the lid on and whack into the fridge. Like magic, the oats will soak up the liquid during the night and it will be A-M-A-Z-I-N-G!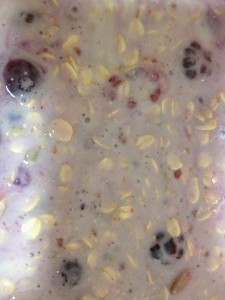 In the morning, grab out the container, give it a stir and you are good to go! Healthy breakfast on the run! You can also be a bit fancy and pop it in a glass… ahh a bit of cafe life at home. Or you can be old school and spoon it into a bowl with banana.
If you are really organised you could make a bigger batch and store it in smaller containers for several breakfasts or snacks during the week.
Delish! And now the countdown to our holiday begins… fingers crossed this berry breakfast will help to put me on the right track to bikini wearing weather (or at least make me feel less guilty about eating all that slice lol).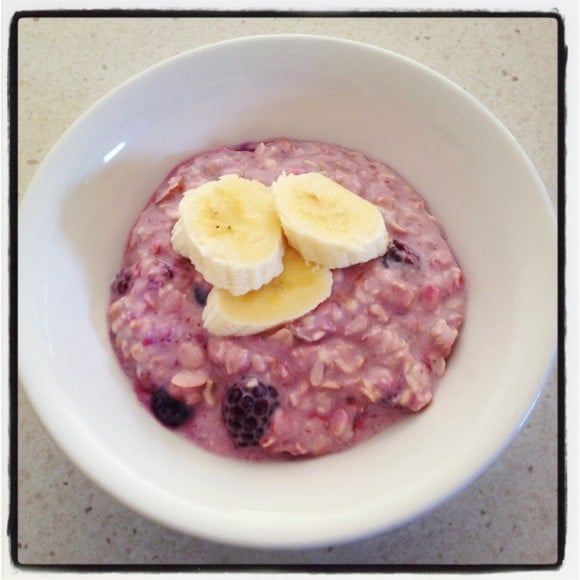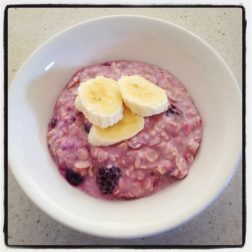 Skinny-Mini Berry Breakfast
Healthy, low fat breakfast that it perfect for on the run!
Print
Pin
Rate
Ingredients
1/4

cup

rolled oats

1/3

cup

low fat yoghurt

1/3

cup

low fat milk

1/4

cup

frozen berries

1/2

teaspoon

vanilla essence

1

tablespoon

berry jam

2

tablespoons

of chopped nuts or seeds

any you like
Instructions
Mix all of the ingredients into a container.

Put into the fridge overnight.

Take out in the morning, give it a stir and eat, eat eat!