The most delicious Chocolate Brownie Sandwiches filled with salted caramel frosting… this really is the stuff that chocoholics dreams are made of!
A few weeks ago I saw a Donna Hay recipe for brownie sandwiches that had me absolutely drooling. The whole thought of soft, chewy chocolate biscuits filled with a creamy caramel centre was too good to ignore!
But as delicious as the original recipe looked, I have a terrible habit of never, ever sticking to a recipe exactly! And even in the case of Donna Hay's yummy little sandwiches, I still had to stray away and create my own chocolatey salted-caramelly goodness! As some of you may know, I absolutely swear by using instant pudding mix in cookie dough. It sounds strange, but trust me, it's the best way to end up with the most moist, soft and chewy biscuits. I used vanilla pudding mix in my M&M Loaded Chocolate Chip Cookies, as well as my Chocolate and Caramel Chip Cookies… it really is my favourite way to make cookie dough. And so knowing how amazing those versions were, I was determined to substitute the vanilla mix for chocolate and see what happened.
I was thrilled with how the cookies turned out! They were exactly how I wanted them to be… absolutely delicious! I also added in a few chocolate bits to the mixture to give it a bit of crunch and extra chocolatey goodness. Usually when I make cookies I like to make them really big… like really, really big! But because these ones were getting sandwiched together, I made them about half the size that I usually do. Any bigger and one chocolate brownie sandwich would have been like a main meal!
And what could possibly make these soft, chewy and moist chocolate brownie cookies even more amazing? Salted caramel frosting squished in the middle of course!!! For the frosting I stayed true to Donna Hay's recipe and was very glad I did. This frosting has just the right balance of slightly salty and caramelly sweetness.
I must admit, these chocolate brownie sandwiches are actually pretty filling! They would make a perfect snack or dessert. If you made them as a dessert I would highly recommend drizzling over a warm chocolate sauce and dolloping them with vanilla ice-cream. I'm absolutely kicking myself for not doing exactly that!
And now have a new favourite chocolate brownie cookie dough recipe and a ridiculously yummy treat that I'm sure I will be day-dreaming about for ages!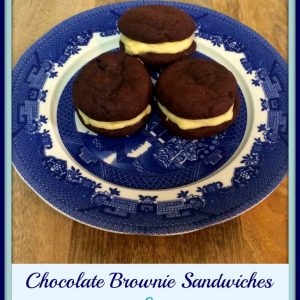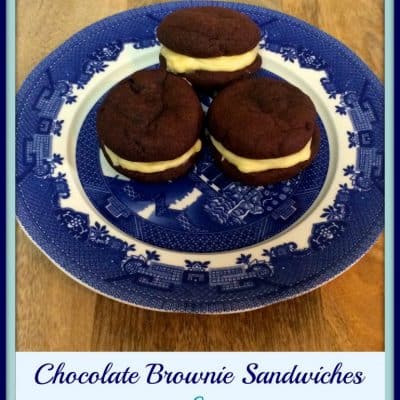 Chocolate Brownie Sandwiches with Salted Caramel Frosting
The most delicious Chocolate Brownie Sandwiches filled with salted caramel frosting... this really is the stuff that chocoholics dreams are made of!
Ingredients
Chocolate Brownie Cookies:

3/4

cup

unsalted butter

softened

3/4

cup

light brown sugar

packed

1/4

cup

caster sugar

2

large eggs

2

teaspoons

vanilla extract

1

packet instant chocolate pudding mix

1/4

cup

cocoa powder

2

cups

plain flour

1

teaspoon

baking soda

pinch salt

optional and to taste

1

cup

chocolate baking chips

Salted Caramel Frosting:

¾

cup

caster sugar

165g, superfine

¼

cup

water

60ml

½

cup

single cream

125ml, pouring

150

g

unsalted butter

chopped

sea salt flakes

for sprinkling
Instructions
To make the cookies:

Combine the butter, sugars, egg, vanilla, and beat on medium-high speed until creamed and well combined (this will take about 3-4 minutes).

Scrape down the sides of the bowl, and add the pudding mix and cocoa powder.

Beat on low speed until just combined.

Scrape down the sides of the bowl again, and add the flour, baking soda and salt.

Beat on low speed until just combined.

Add the chocolate chips and beat on low speed for about 3 seconds or until combined.

Using a tablespoon, roll small cookie dough balls and place onto baking paper lined trays.

Place cookies onto a large tray, cover with plasticwrap, and refrigerate for at least 2 hours.

Preheat oven to 180 degrees.

Bake for 8-10 minutes, or until edges have set.

Don't worry if they appear slightly undercooked in the middle as they will firm up as they cool.

Cool the cookies on the tray for about 10 minutes before serving before carefully transferring to a wire rack.

Cookies will keep airtight at room temperature for up to 1 week.

You can also freeze any uncooked cookie dough.

To make the salted caramel frosting:

Put the sugar and water in a medium saucepan over low heat and stir with a metal spoon until the sugar has dissolved.

Turn the heat up to medium and bring to the boil.

Cook, without stirring, for 8–9 minutes or until golden.

Take away from the heat and add the cream and butter.

Place the saucepan back onto the heat and stir until the mixture is smooth and totally melted.

Pop into the fridge until completely cold.

Using a hand-held electric whisk, whisk mixture until soft peaks form (this may take a few minutes). Spread the frosting onto half of the cookies, sprinkle with a little salt and then sandwich with the remaining cookies.