I am officially in love… with a capital L.O.V.E!! As of this morning I have a new favourite cookie recipe and it is so insanely good. Now I love cookies, especially ones with chocolate inside, but this cookie recipe really takes the cake (or should it be the biscuit??). So what do you get when you take cookie dough, add chocolate chips, Rolo caramels and a pinch of sea salt?…. some ridiculously awesome cookies, that's what!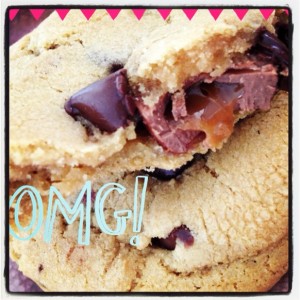 Each day I read through my favourite blogs (most of them have to do with food!) and there are always heaps of recipes that look amazing and I want to try, but this cookie recipe got me extra excited! If you love chocolate, you will love this recipe. If you love caramel, you will love this recipe. If you love melt in your mouth cookies, you will love this recipe. Basically, if you are a living, breathing human being, you will love this recipe.
So you start off making the cookie dough. Only add half of the choc chips at this stage because you are really going to want to save some for later to make the cookies look extra delicious and pretty!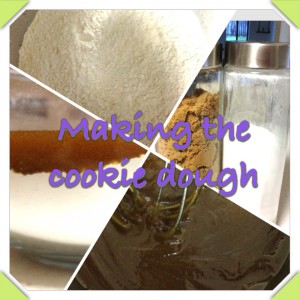 If you have the willpower to wait, cover the dough and pop it in the fridge for a couple of hours (or overnight). I know it's hard, but its worth it!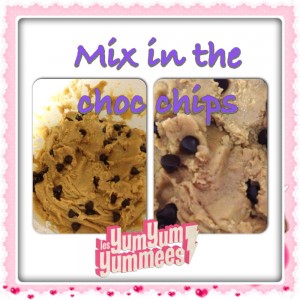 When you take the cookie dough out of the fridge, leave it for about 10 minutes to soften. Don't worry if it's still a little hard, because when you get rolling, your lovely little hands will warm the dough up and make it super easy to roll into perfect balls. Use about 1 1/2 tablespoons of mixture per ball. You should end up with about 30 – 40 little balls (enough for 15-20 biscuits). If you find you have ended up with less balls, then you have probably eaten too much of the mixture! Haha, just joking, that's fine. It just means your balls are a little bigger and so your cookies will end up being larger…. which is clearly no problem whatsoever!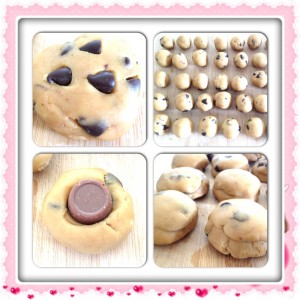 Make a thumbprint into one of the cookie balls and press a Rolo chocolate in. Cover with another ball and then shape into one cookie. Flatten the cookies a little, but not too much… you don't want the caramelly goodness to squish out just yet!
Add a couple of chic chips to the top of each cookie so they look extra specially cute and press down lightly. Sprinkle some sea salt over the top. Don't miss the sea salt step… it really makes the cookie! And don't worry you aren't going all fish and chip shop like and pouring the salt on with a bucket… nah, just a teeny, tiny sprinkle on the top of each.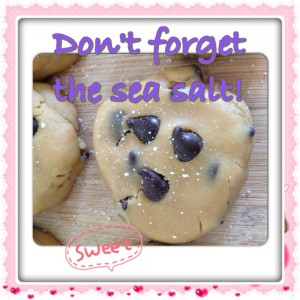 Bake in a 160 degree oven for about 12-13 minutes (no longer!). The cookies will continue to cook when you take them out of the oven so don't stress if they are a bit soft. Leave on the tray for 10 minutes, at which stage you ABSOLUTELY MUST EAT SOME! They will be warm and the caramel will oooooze out. Num, Num, Num.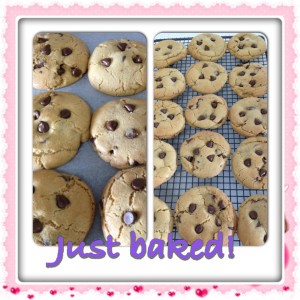 Pop onto a wire rack to cool completely. Then eat, eat, eat, I tell you! Man I have missed cooking the last few weeks, but these cookies have more than made up for it. Ahhh really there is nothing that beats a cookie eating Sunday.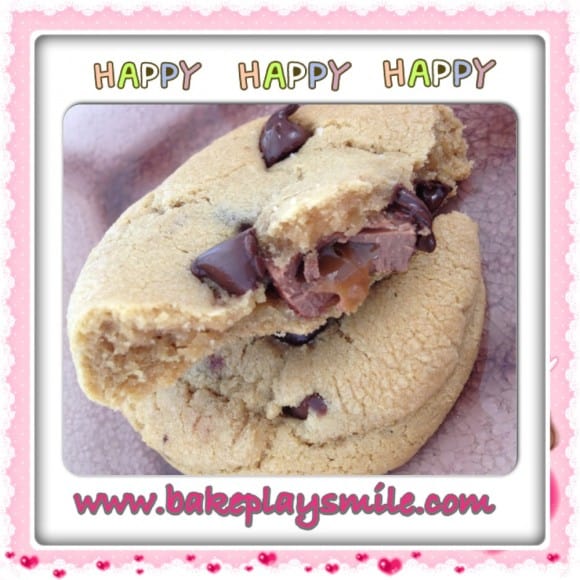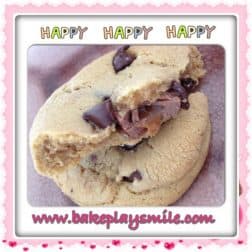 Salted Caramel Choc Chip Cookies
Choc chip cookies ooozing with caramelly goodness and with a tiny sprinkle of sea salt to really make them pop!
Print
Pin
Rate
Ingredients
2

and 1/4 cup plain flour

1

teaspoon

baking soda

1

and 1/2 teaspoons cornflour

1/2

teaspoon

salt

170

grams

unsalted butter

melted

3/4

cup

light brown sugar

loosely packed

1/2

cup

caster sugar

1

large egg + 1 egg yolk

2

teaspoons

vanilla extract

1

cup

chocolate chips

divided

15

Rolos

or other chocolate coated caramel

Sea salt
Instructions
Mix together the flour, baking soda, cornflour and salt in a large bowl and then set aside.

In a medium size bowl, whisk the melted butter, brown sugar, and caster sugar together until no brown sugar lumps remain.

Whisk in the egg, then the egg yolk.

Finally, whisk in the vanilla.

Pour the wet ingredients into the dry ingredients and mix together with a large spoon.

Fold in 1/2 cup chocolate chips.

Cover the dough and chill for 2 hours, or overnight.

Take the dough out of the refrigerator and allow to slightly soften at room temperature for 10 minutes.

Preheat the oven to 160 degrees. Line two large baking sheets with baking paper. Set aside.

Unwrap the Rolos and have your 1/2 cup of chocolate chips in a pile ready.

Roll the dough into balls of about 1.5 tablespoons each.

Make a thumbprint into one dough ball and press the Rolo inside.

Cover the Rolo with another dough ball and mold the two dough balls around the Rolo, making sure it is completely wrapped inside.

Gently press down on the large cookie dough ball to slightly flatten and press a few more chocolate chips on top.

Sprinkle with sea salt.

Put the cookies on the baking trays and bake for 12-13 minutes. The cookies will look very soft and underbaked, but do not bake longer than 13 minutes.

Allow to cool on the cookie sheet for 10 minutes before moving to a wire rack to cool completely.

If the cookies still look too puffy when you remove them from the oven, gently press down on them a little more.