I love being organised and having something yummy to take to work for lunch during the week… but that doesn't always happen! If I'm not organised, I usually end up eating Saladas with vegemite and cheese (not that there's anything wrong with that!). Sometimes I like to make a zucchini slice and cut it into pieces to freeze and grab for lunch each day. Other times, soup is the way to go. But for something different, I love this roast vegetable stack.
 It has no meat in it, but if you absolutely must have meat then you could easily add chicken, lamb or beef mince.
All you do is thinly slice a range of your favourite vegetables. I like to use six different types because then you get three nice even layers of two different vegetables… ok, ok that's just my OCD coming out again.
 If you choose to use eggplant, then just make sure you slice it, lay it on a plate, sprinkle with salt and leave to sweat for five minutes before wiping it dry with some paper towel. This way your eggplant wont go all yuck and soggy when you cook it.
When you have sliced your vegetables, sprinkle them with a little cracked pepper and oregano, as well as a light spray of oil. Bake the vegetables for about 15 minutes or until just starting to soften.
Spoon a tomato based pasta sauce over the base of a square baking dish and top with fresh lasagne sheets. Spread two of the vegetables over the top in even layers. Add a sprinkle of lentils and some grated cheese.
Layer on some more lasagne sheets, cover with the tomato sauce and add two more of your vegetables and some extra lentils and cheese. Continue until all of your vegetables have been used up.
To finish the bake, top the lasagne sheets with extra cheese and a sprinkle of sesame seeds.
If you want to boost your leafy greens intake, then just add in some baby spinach to each layer too.
This is a yummy, healthy and filling lunch that can easily be cut into squares, frozen and grabbed as you race out the door in the morning!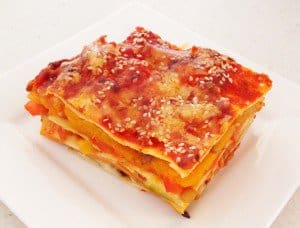 Roast Vegetable Stack
A tasty roast vegetable stack that is absolutely perfect for lunch or dinner! Great alternative to the standard lasagne recipe!
Ingredients
8

fresh lasagne sheets

6

vegetables sliced thinly

I used 1 zucchini, 1 red capsicum, 1 yellow capsicum, 1 eggplant, 1 sweet potato, 1/2 pumpkin

1

tin of lentils

drained and rinsed

1 420

g

jar of tomato based pasta sauce

sprinkle of oregano

1

cup

grated cheese
Instructions
Preheat oven to 200 degrees celsius.

Line two baking trays with baking paper.

Slice all of the vegetables thinly and lay on the trays.

Lightly spray with olive oil, sprinkle with salt, pepper and oregano.

Cook for 15 minutes or until slightly soft.

Take out of the oven and set aside.

Lightly grease a large square baking dish with olive oil.

Spread 2-3 tablespoons of the pasta sauce onto the base of the baking dish.

Place two sheets of lasagne over the top (don't worry if they don't go all the way to the edge).

Top the lasagne sheets with another 2-3 tablespoons of pasta sauce, two of the vegetables, 1/4 cup lentils and a small handful of cheese.

Place another 2 lasagne sheets on top of the cheese and repeat with more sauce, vegetables, lentils and cheese.

Continue layering until all of your vegetables have been used up.

To finish the stack layer 2 lasagne sheets on top, spread over the remaining sauce and cheese then sprinkle over 2-3 tablespoons of sesame seeds.

Place in the oven for about 30 minutes or until cheese is golden and the lasagne sheets are cooked through.

Take out of the oven and set aside to cool slightly.

Cut into slices and eat.

You can freeze the slices in individual portions for a quick and easy lunch!