A delicious and simple Rich Chocolate Cake recipe that the whole family will love. This is a tried and true classic favourite…
Scroll down to the bottom of the post for my Rich Chocolate Cake recipe…
Hello Again!
The lovely Lucy is still on holidays (the lucky thing!) so I'm again your host for this week's Fabulous Foodie Fridays.  We had another wonderful turn out, with over 40 recipes linked up!  Some of my favourites included:
These Fruit and Oat Bars from The nOATbook look like the perfect snack for my little (and big) people.
You can never go wrong with a good Spag Bol recipe, and I love the look of this one from Delicious by Ana.
I've never tried Tofu before, but after spying this Chocolate Tofu Mousse from the clever Malinda at My Brown Paper Packages, I can't wait to give it a try!
Don't forget to pop over to Create Bake Make to check out the rest of my picks from last week.
Rich Chocolate Cake recipe
This week I am sharing with you a recipe for a gorgeous Rich Chocolate Cake.  This cake is so deliciously moist and decadent – thanks in part to the addition of raspberry jam.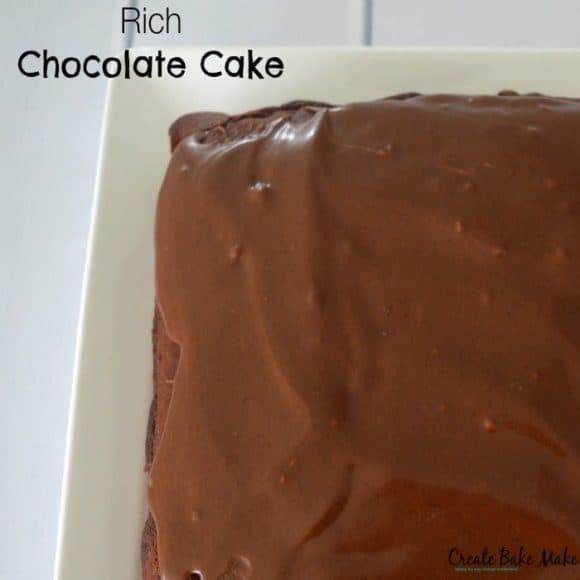 It's an easy cake to put together, and my boys had a great time helping me put this one together, although I think they only helped so they could lick the bowl when we were done!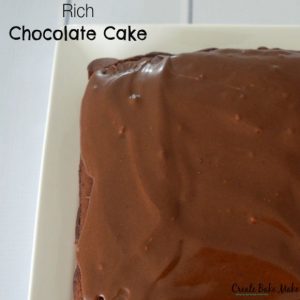 Rich Chocolate Cake
A delicious and simple Rich Chocolate Cake recipe that the whole family will love. This is a tried and true classic favourite...
Ingredients
125

g

of butter - softened

1/2

cup

of caster sugar

1/3

cup

of icing sugar - sifted

2

eggs

1

teaspoon

of vanilla extract

1/4

cup

of raspberry jam

1 1/4

cups

of self raising flour

1/2

cup

of cocoa powder

1

teaspoon

of bicarbonate of soda

1

cup

of milk

Chocolate Buttercream

50

g

of dark chocolate

25

g

of butter

3

teaspoons

of cream

1/4

cup

of icing sugar - sifted
Instructions
Line a 20cm square cake tin with baking paper and preheat your oven to 180 degrees.

Sift the self raising flour, bicarb soda and cocoa together into a small bowl and set aside until needed.

Place the softened butter and both of the sugars into your electric mixer bowl and beat until the mixture turns pale and is light and fluffy.

Add the eggs one at a time and beat well between each addition.

Add the vanilla extract and jam and beat until well combined.

Add the sifted flour mixture and the milk alternatively to your mixing bow - keep it beating on a low speed. Once all of the ingredients have been added, continue to mix for a further 30 seconds or until all the ingredients have combined.

Pour the cake batter into the prepared cake tin and place in the oven to bake for 40 minutes or until cooked through when tested with a skewer.

Carefully remove the cooked cake from the oven and allow to cool in the tin for approximately 20 minutes before carefully turning out onto a wire rack to cool completely.

Once your cake has completely cooled, you can then make the chocolate buttercream.

Place all of the ingredients for the Chocolate Buttercream into a small saucepan and stir over a low heat until the ingredients have all combined and the icing is smooth and glossy.

Spread the buttercream over the top of the cooled cake using a spatula or butter knife.
This cake can easily be 'fancied up' ready for your next birthday party or celebration.  I'm thinking it would be great sliced in half with a layer of raspberry jam and cream in the centre, before being topped with a thick layer of chocolate buttercream – what do you think?