Deliciously healthy Raspberry, Banana and Yoghurt Muffins! This make the perfect lunchbox treat… just make sure you keep a couple for yourself!
What a difference a week makes. Last weekend I made a batch of beautiful, healthy raspberry, banana and yoghurt muffins that had only the teensiest sprinkle of choc chips and yet today I have somehow found myself making (and stuffing my face with) the most ridiculously terrible-for-your-ass cupcakes. Triple chocolate cherry ripe mud cupcakes to be exact. Yes the recipe was a bit of an experiment and just kept getting crazier the further I went along. Anyway, that recipe will make it's way onto this little wee blog when I have recovered enough to post it! Right now I still feel a little sick thinking about it….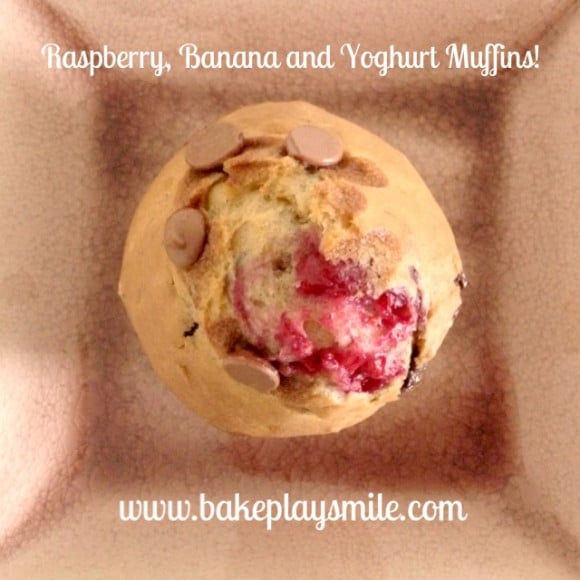 I've been really into baking with fruit the last few weeks (before today's chocolate lava like muffins that is!). I've happily baked my way through some fruity recipes including this moist orange and almond cake, this delicious apple berry crumble slice and this sweet-as-a-button lemon teacake. And last weekend I continued this fruitalicious trend with some healthy muffins.
It all started off with some ripe bananas that were screaming to be used and a bag of frozen raspberries in the freezer. Then rolled in the idea of using yoghurt. I love yoghurt. I eat it every single day. In fact, I can't remember the last day that I haven't eaten yoghurt. And so I had a search through my cookbooks and finally found one of my favourite yoghurt muffin recipes. Then I did a did a few little swapsies with some of the ingredients, adding in the banana and raspberries and of course a few little choc chips too. Life would not be complete without choc chips. When you're making the muffins, be very careful not to over mix or you will get hard, lumpy and rubbery muffins! Gently fold in the ingredients until only just combined.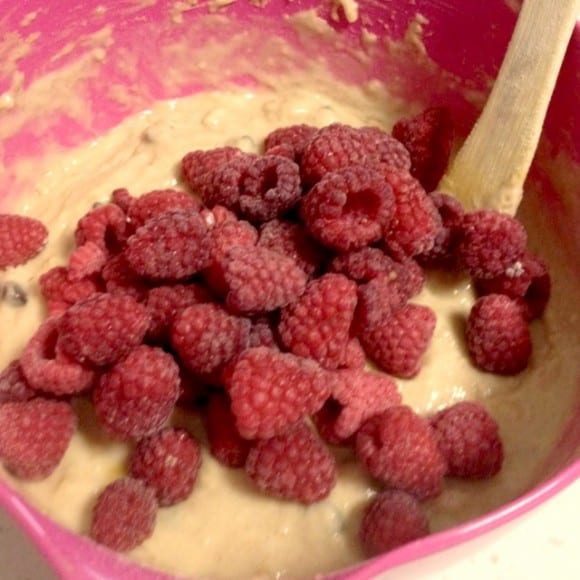 These were really yummy eaten on their own or heated up with a bit of vanilla yoghurt on the side. Oh and cut them in half and pop some jam on because that little combo is just so, so good! Mind you, my chronic indecisiveness came out in all it's glory when deciding which type of jam to use… I ended up with blueberry jam on one side and raspberry on the other! You could also have them warm with vanilla ice-cream and that would be a deeelish lil dessert! But if you just want a healthy, quick and easy snack, then these muffins are yummo all on their very own! They lasted really well for a couple of days in an airtight container, but after that they did need to be heated up to bring back their moistness!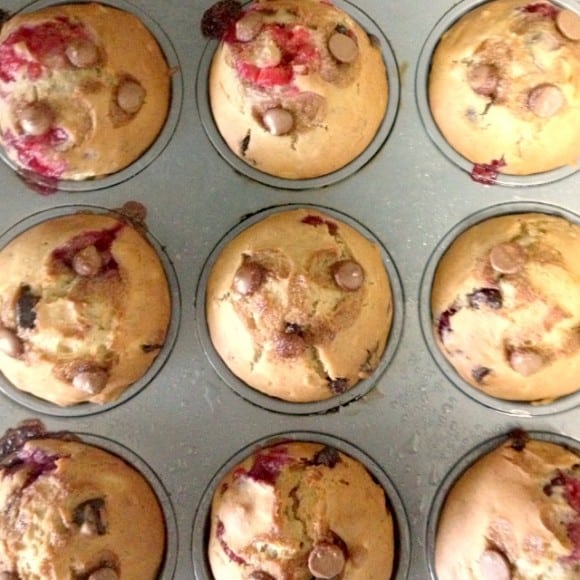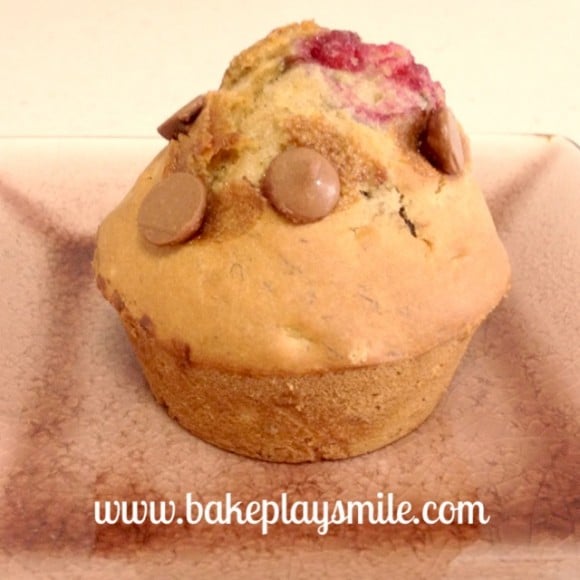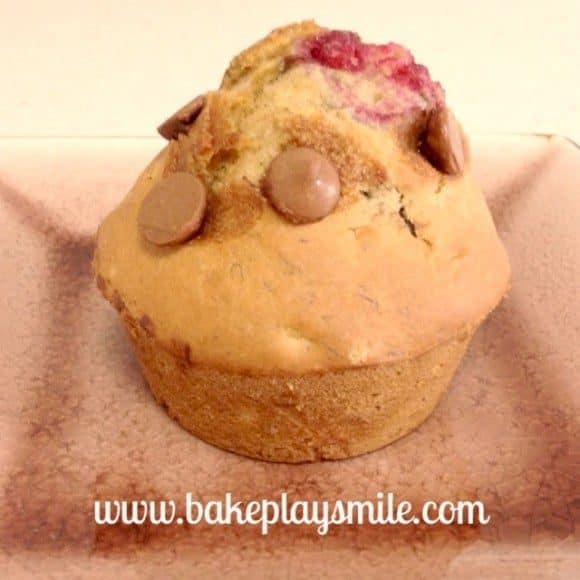 Enjoy!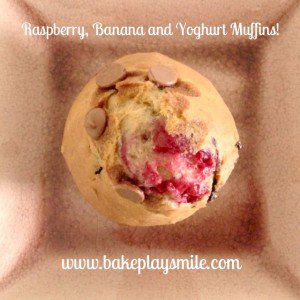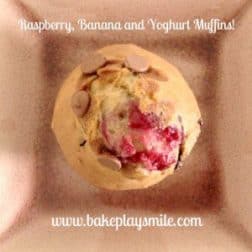 Raspberry, Banana and Yoghurt Muffins with Just a Teeny Tiny Sprinkle of Chocolate Chips!
Deliciously healthy Raspberry, Banana and Yoghurt Muffins! This make the perfect lunchbox treat... just make sure you keep a couple for yourself!
Print
Pin
Rate
Ingredients
2 1/2

cups

self-raising flour

1

teaspoon

ground cinnamon

1/2

cup

brown sugar

1

cup

banana

mashed

1

teaspoon

vanilla extract

1

egg

lightly beaten

1 3/4

cups

yoghurt

any flavour you like

1/4

cup

extra-light olive oil

1/4

cup

chocolate chips

1/2

cup

frozen or fresh raspberries

you could use any berries
Instructions
Preheat oven to 190C - or 170C if using fan-forced.

Line a 12-hole muffin pan with paper cases.

Combine the self-raising flour, cinnamon and sugar in a large bowl.

Make a well.

Add mashed banana, vanilla extract, egg, yoghurt, chocolate chips and oil.

Stir until just combined.

Very gently fold through the frozen berries.

Spoon into paper cases.

Top with a couple of extra chocolate chips.

Bake for 20 to 25 minutes.

Stand in pans for 2 minutes.

Transfer to a wire rack to cool.

A toothpick inserted in the center should come out clean.

Allow the muffins to cool completely.... or just eat one while they are still warm! Why not!