Want a quick, easy and oh-so-tasty snack? These Salami, Tomato & Cheese Pizza Squares are made with only 5 ingredients and will be ready in no time at all!
This post is brought to you by Oliving by Hans and Marmot Inc.
Last week I was lucky enough to be invited down to the Mornington Peninsula (which is one of my favourites spots and also where my husband proposed!) to meet the lovely Bridget Davis – otherwise known as The Internet Chef, spend a few hours in the beautiful sunshine chatting to some other foodie bloggers, and nibble away on a whole heap of delicious dishes made using the brand new Oliving by Hans products (oh and perhaps there was a little wine tasting thrown in there too!).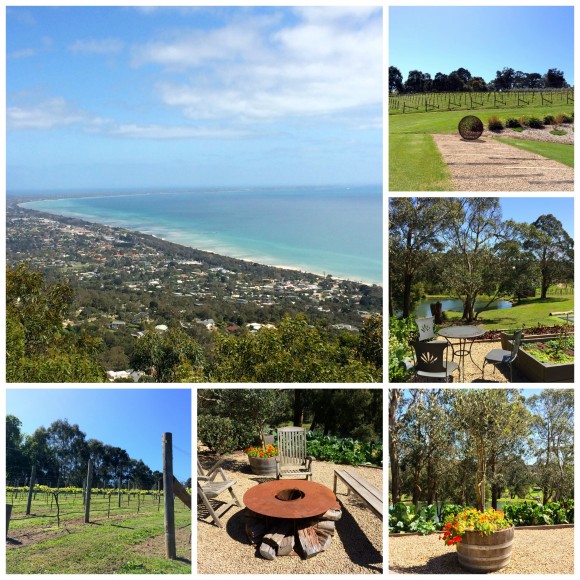 As you probably know by now, I'm a huge fan of celebrity chefs and cooking shows, so you can imagine how excited I was to meet Bridget. The weekend before, I spent a few hours checking out (ahem stalking) her videos on the internet. If you're not familiar with Bridget, here's a little run-down… first of all, she's a New Zealand girl, which of course makes me like her even more (my Mum is from NZ and it's just such a beautiful country with really great people). She's worked as the head chef at Bill Granger's Sydney restaurant 'Bills', currently works as a live cooking demonstrator alongside Tetsuya Wakuda (cue mega squeals!!!!), has her own YouTube channel and over 700,000 Google+ followers. So yeah, she's kinda a big deal! And yet she was one of the most lovely and down-to-earth people I've ever met. I love her philosophy that eating should be all about good, healthy, nutritious and most importantly, tasty food. You can check out her video of our lovely little foodie day here (PS – it's the absolute WORST thing ever watching yourself on video – I swear I pull the weirdest faces without even knowing it. Oh and I know it looks like I'm on my phone the WHOLE time, but it's only because I couldn't stop taking photos of all the yummy things Bridget was making!).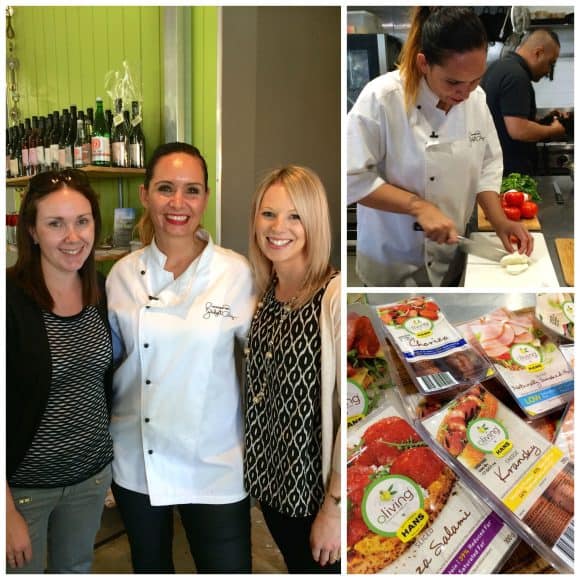 We started our day with a tour of the olive groves at the incredibly picturesque Green Olive at Red Hill. Here we learnt all about the health benefits of olive oil and how it's made. Bridget then introduced us to the new Oliving by Hans range (you might have already seen these products on the shelves and in the deli section of your local supermarket). The products are an innovative new range of small goods that are inspired by a Mediterranean diet. The products were created to provide a healthier and tastier choice to traditional small goods as they're lower in saturated fat and are made with olive oil rather than animal fat. The range includes all of your favourites – sliced ham, turkey breast, salami, bacon, cocktail frankfurts, chorizo sausages, cheese kransky's and more! Yep, even the kransky's have less saturated fat!! This little fact makes me incredibly happy because I developed a bit of an addiction to cheese kransky's when I discovered them in Austria a few years ago… and I can tell you that those ones definitely weren't lower in saturated fat. So yep, I'm pretty thrilled that I can now eat cheese kranksy's without any guilt!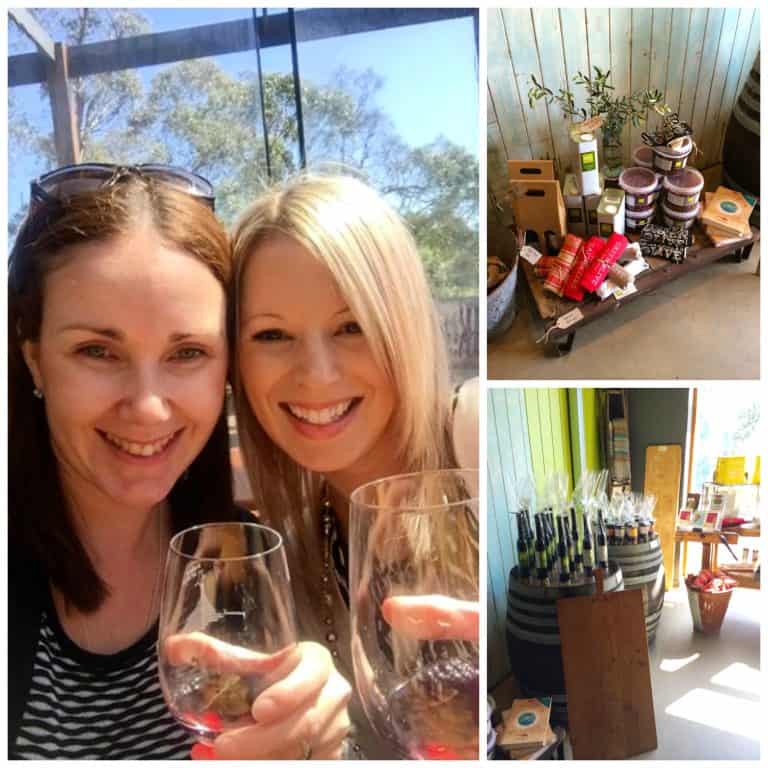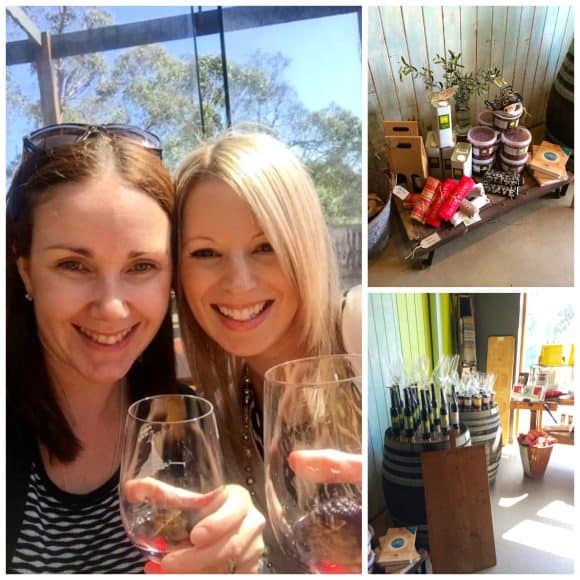 All of the dishes Bridget made for us during the day were seriously awesome. We started off with some yummy baked salami chips with hummus, followed by a little Italian tomato, cheese, basil, mozzarella and salami stack. Then came the most incredible ham and cheese toastie I've ever eaten… it was so good we begged her to make us another one! By this stage I was feeling pretty full, but hey, I'm dedicated to my research (hehehe) so I soldiered on and ate some haloumi with cheese kransky (these would make amazing skewers on the BBQ), a pot pie with sour cream pastry, and finally…. wait for it…. chocolate chip cookies with caramelised bacon…. OMG yes – caramelised bacon!!!!! My whole tiny world was totally blown away by those cookies! In fact, I'm pretty sure I dreamt about bacon cookies that night.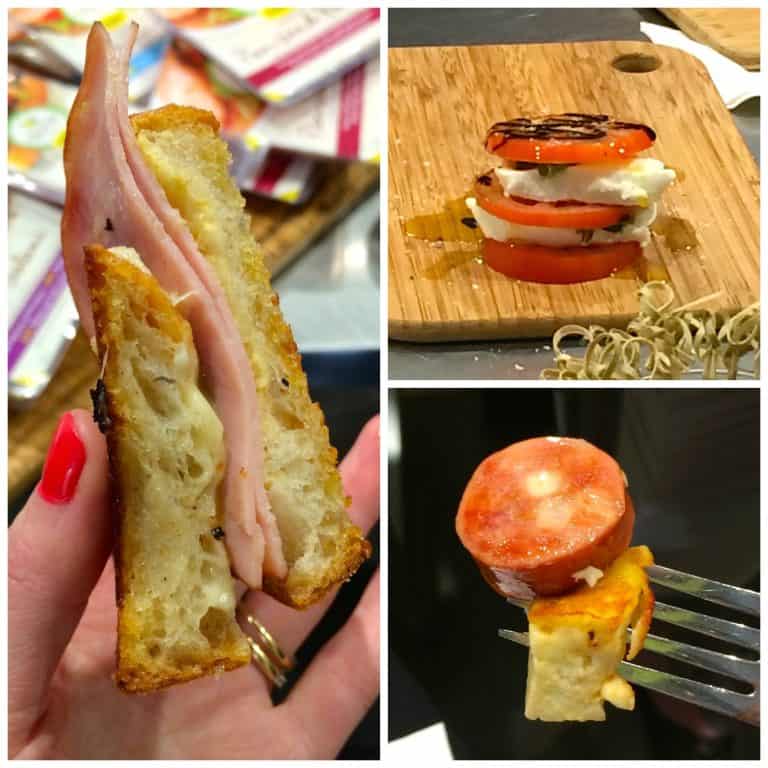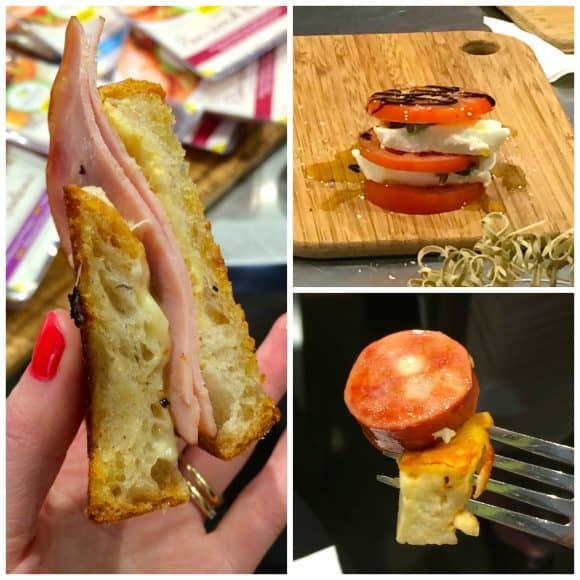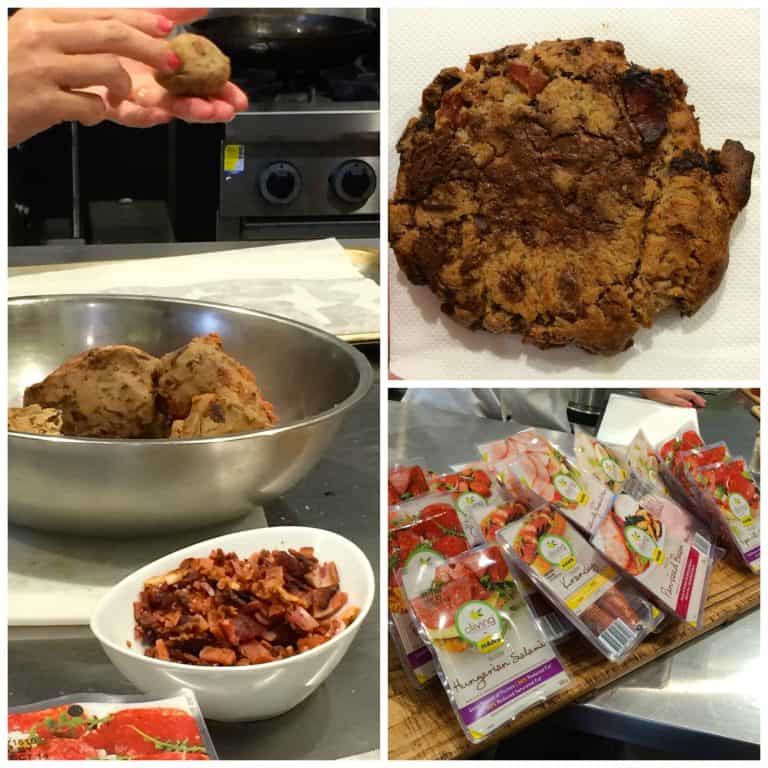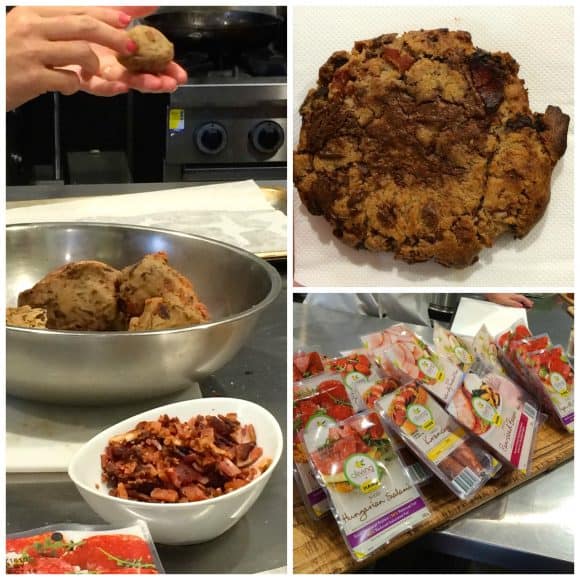 When I got home I decided to have a play around with the Oliving by Hans products and come up with a new recipe of my own. Given that it was the weekend, I decided there was no better time than to make a quick and easy snack using the Oliving by Hans Pizza Salami. If you've ever made pizza squares before, you'll know how simple and tasty they are! These Salami, Cheese and Tomato Pizza Squares have only 5 ingredients, can be whipped up in no time at all, taste amazing and are incredibly family-friendly.
To make the Salami, Tomato & Cheese Pizza Squares, you simply cut a sheet of puff pastry into four equal squares, top with pizza sauce, salami, sliced tomato and a little grated cheese and then bake in the oven. These pizza squares will be loved by adults and kids alike – they really are the most perfect little snack. Best of all, because they're lower in saturated fat and contain all the health benefits of olive oil, you can totally justify coming back for seconds!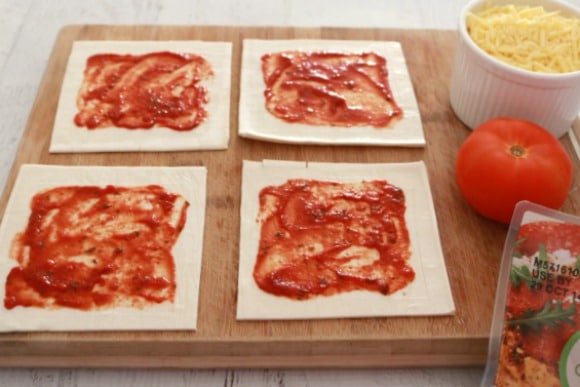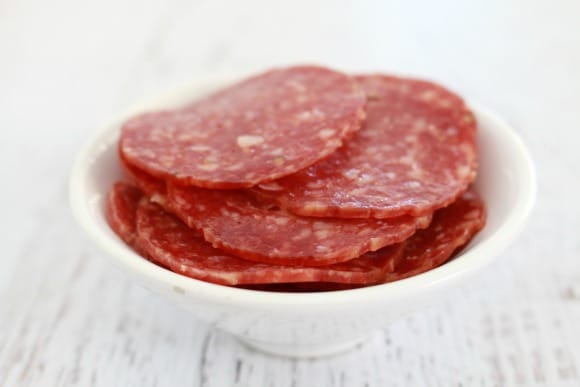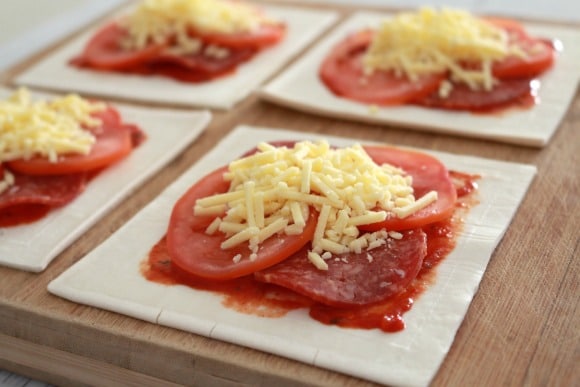 For a bit of fun, you could mix and match your pizza toppings or get everyone in the family to make their own. I also love making pizza squares with ham, pineapple and cheese. Or you could go a bit more gourmet and use caramelised onion, feta and crumbled bacon. The options are endless and there really is something to suit everyone in the Oliving by Hans range. My favourite way to eat these super simple Salami, Tomato & Cheese Pizza Squares is fresh out of the oven while they're still hot and crispy, but they're also a great alternative for kids lunch boxes. And with school going back this week in most states, there's really no better time to whip up a batch of pizza squares!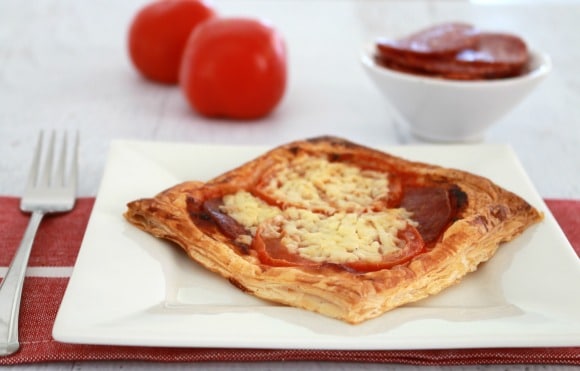 If you'd like to know more about the Oliving by Hans product range or check out some great recipe ideas, simply click here. The Oliving by Hans products will be available in the deli and dairy sections of Woolworths, Coles and IGA stores by the end of October. To get you inspired to whip up some yummy meals of your own, the lovely peeps at Oliving by Hans have given me four $30 Coles vouchers to give away! Woo hoo! For your chance to win one of the vouchers, simply leave a comment below telling me what you would make using the new Oliving by Hans products – how easy! Entries close 8.00pm October 30th, 2014.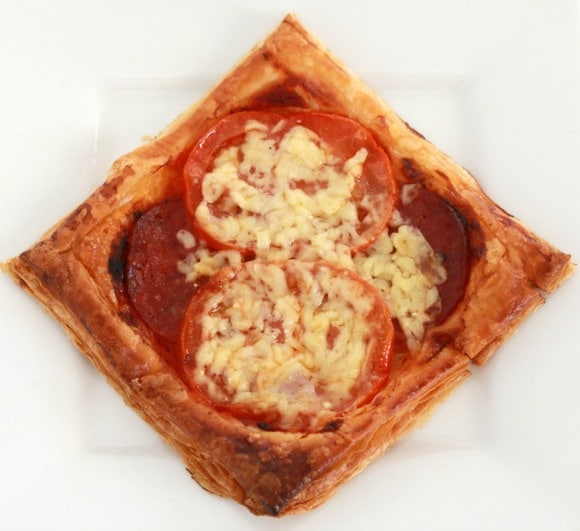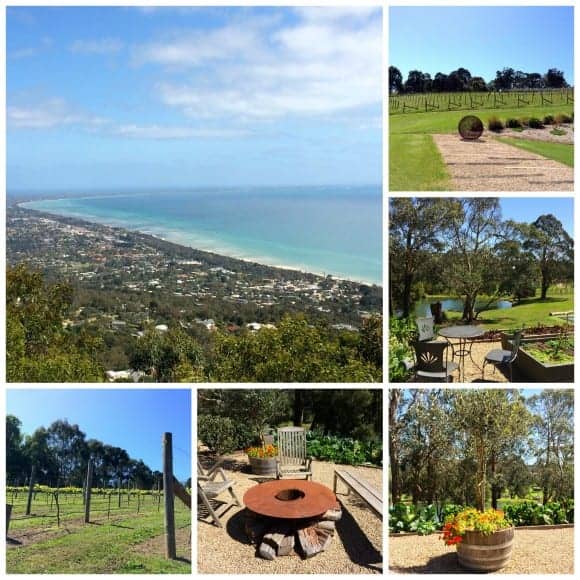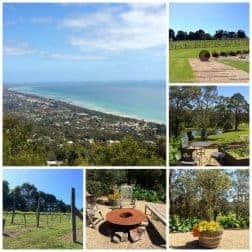 Salami, Cheese & Tomato Pizza Squares
Want a quick, easy and oh-so-tasty snack? These Salami, Tomato & Cheese Pizza Squares are made with only 5 ingredients and will be ready in no time at all!
Print
Pin
Rate
Ingredients
2

sheets puff pastry

thawed

1/4

cup

pizza sauce

16

slices

Oliving by Hans Pizza Salami

1

tomato

thinly sliced

3/4

cup

grated cheddar cheese
Instructions
Preheat oven to 220 degrees celsius (200 degrees if using fan-forced).

Thaw the puff pastry to room temperature for about 10 minutes.

Slice each sheet of puff pastry into 4 equal sized squares.

Use a knife to score a pastry square about 1/2 cm inside the edge (don't slice all the way through - just create an indent).

Use a fork to prick holes in the inner square (leave the outer edge unpriced).

Spread the pizza sauce over each inner square (do not spread over the leave the outer edge).

Place two pieces of salami and two slices of tomato onto each pizza square.

Top with a sprinkling of cheese.

Place on a baking tray and into the preheated oven for 20-25 minutes or until golden brown and puffed.
Terms and Conditions:
The name of the promotion is: Oliving by Hans Blog Competition. The promoter is Bake Play Smile in conjunction with Oliving by Hans. The conditions of entry: answer 1 question, 1 entry per person. Employees, immediate family members, retailers, suppliers, associated companies and agencies are not eligible to enter. The giveaway will close on October 30th, 2014 at 8pm. Comments submitted after this time will not be considered for the giveaway. This is a game of skill. The winner will be awarded based on the strength of their answer to the question 'what would you make using the Oliving by Hans products?'. The prize will be in the form of a gift voucher which will be sent to the winner once address details have been provided after the competition has closed. The results of the giveaway will be published on this site on November 3rd 2014. Prizes are not redeemable for cash and are non-transferable. Each prize is valued at $30.00. The competition is open to Australian residents only. The Promoter is not responsible for prizes once they have been dispatched to the winner.