Hello there! How's everything going in your world? It's busy, BUSY here! Today I have the gorgeous Kirsten from Treat Yourself Sweet guest posting and she's bought the most deliciously sweet Peanut Butter Salted Caramel Slice with her (errrmmeeeegoddd!!). Two of my very favourite things. Anyway, Kirsten's not only a kick-ass cook, she's also a teacher (yep, just because life isn't busy enough). You're going to adore Kirsten and her yummy recipes – I pinky promise!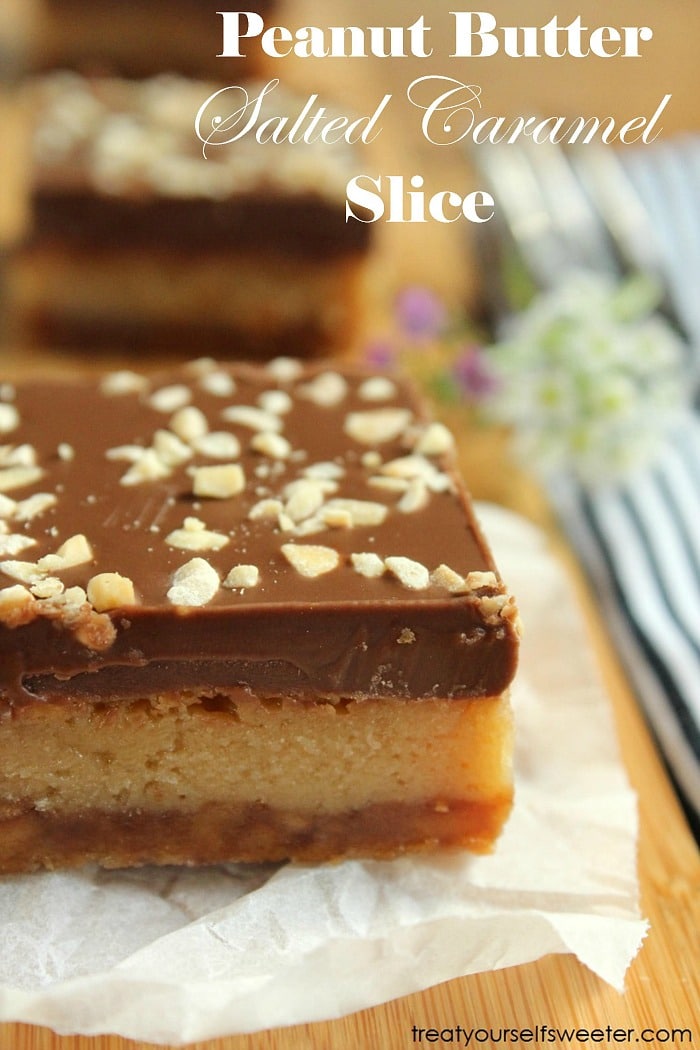 You love chocolate, salted caramel… oh and peanut butter- so when it comes to dessert (okay, and snack time) which one do you choose? With this little package of deliciousness, now you don't have to… it is everything you want … need in one little bite. If you can stop at one. 'Are you serious?' … yup, I've done it again.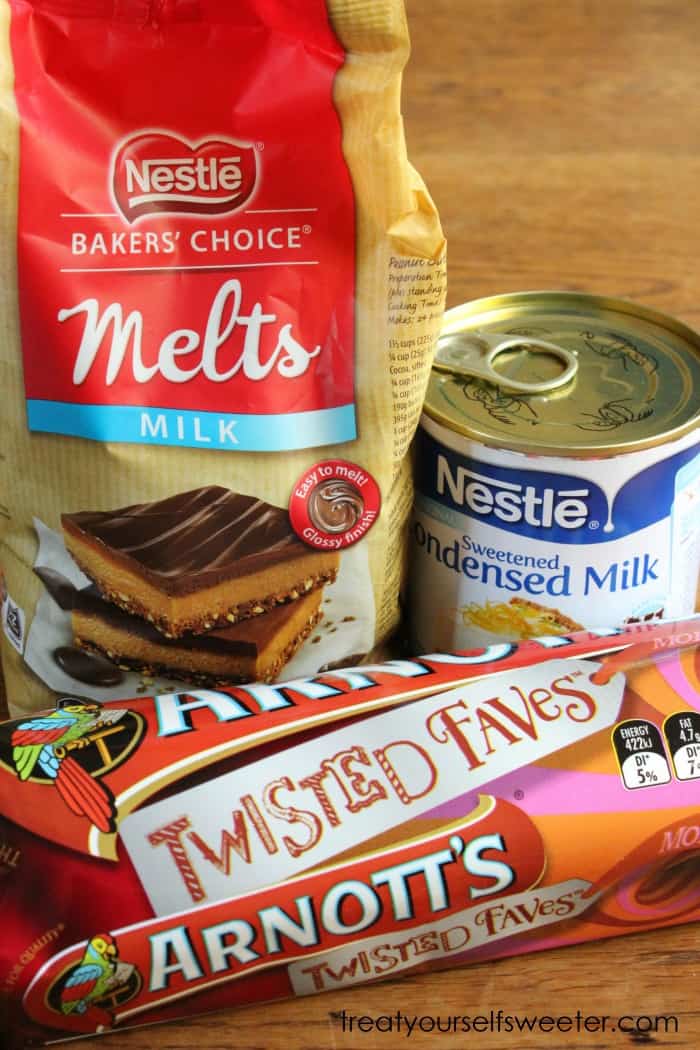 Saturday was a beautiful sunny morning, perfect excuse for a run to the supermarket to pick up the essentials, but instead I had coffee in my PJs. As the sun dipped behind the clouds, I decided a run using my legs was out… the car was in – mistake #1.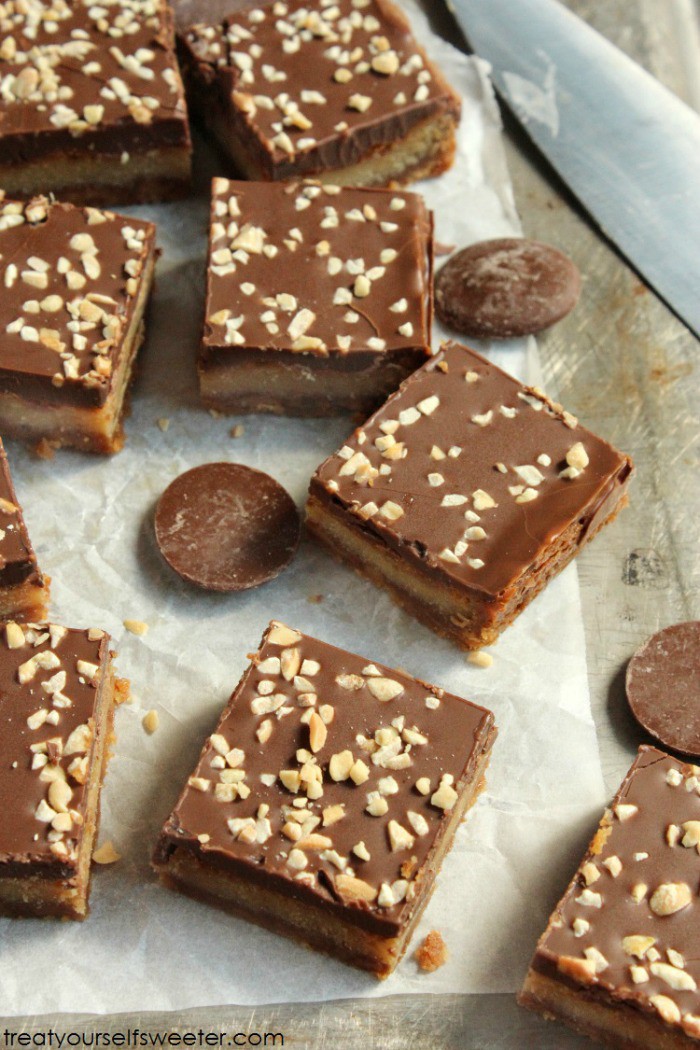 As I wandered the (very small) shopping centre, food inspiration hit me everywhere… I could make this, this… maybe this. Oh- I feel like that. I stood in the baking ingredients aisle trying to decide if a peanut butter caramel slice or a double chocolate slice was more what I felt like? I got both.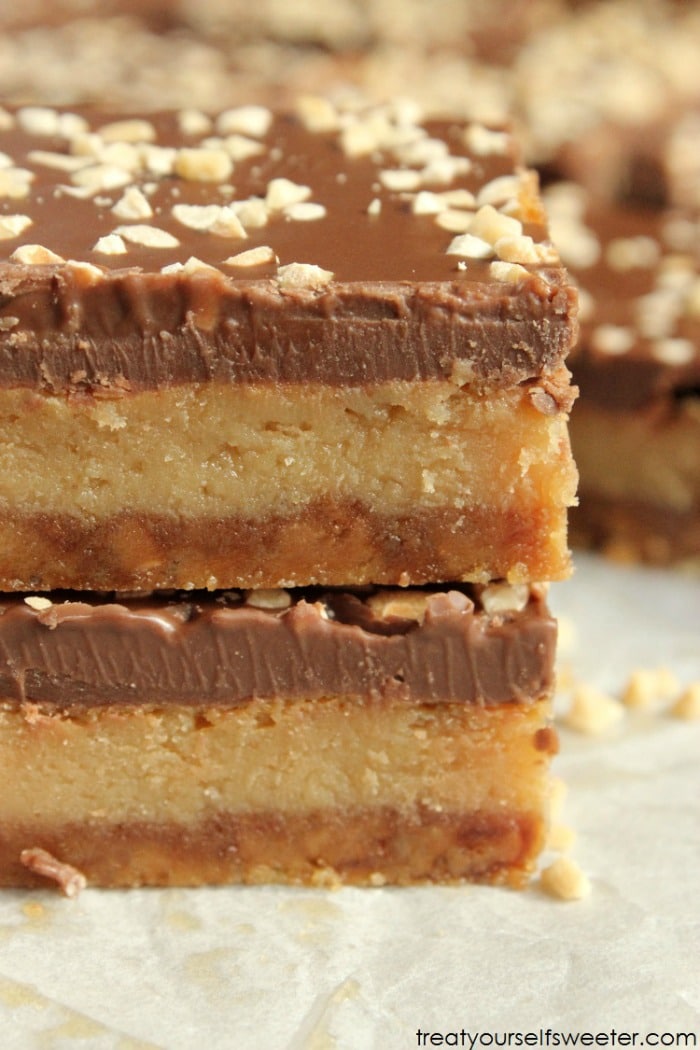 I've gone to the supermarket – hungry and become the proud owner of half the diary section, fruit and veg, most of the chocolate section… oh and throw in a few on sale clothing items… and I haven't even been to Aldi yet (oh, a serious weakness).
So, 2 trips to the car and a couple of garage sales on the way home and I have a floor full of can't-be-bothered-putting-you-away groceries and one delicious Salted Caramel Peanut Butter Slice almost ready to eat. Okay, let's be honest- I've sampled every layer in the making process! (and let me tell you… AH-mazing! Even the cat was intrigued).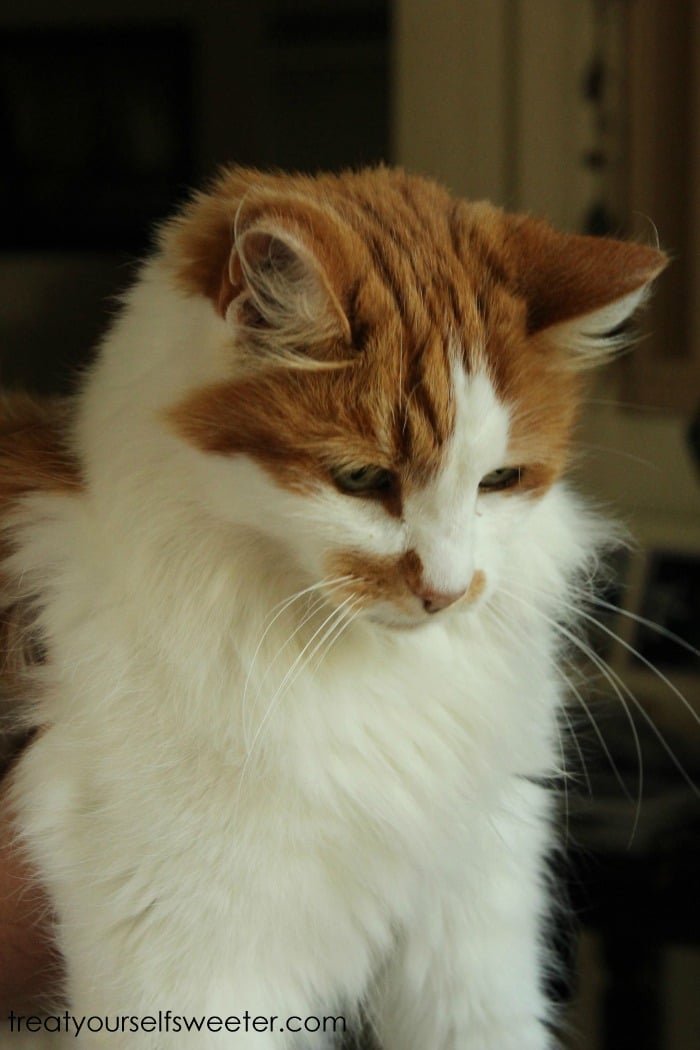 A big thank you to Lucy for having me here! I am SO excited that I had the opportunity to come and play at Bake Play Smile (because Lucy is AMAZING!) Thanks for having me here Lucy's lovely followers. I'd love to have you visit Treat Yourself Sweeter … but before I sign off…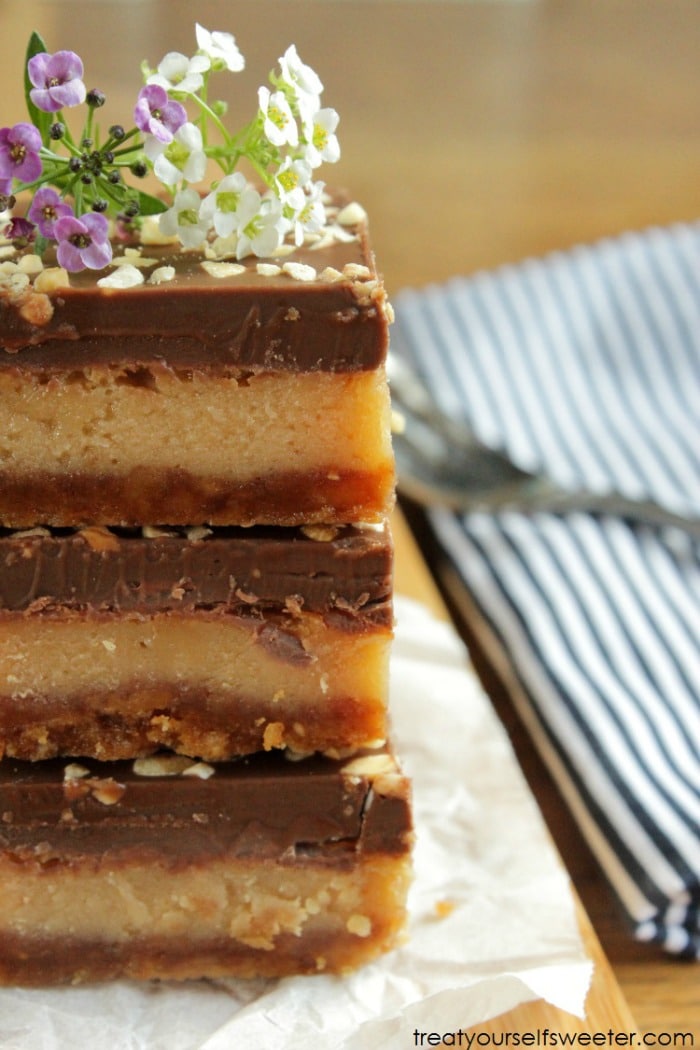 If you could only choose one, what would it be? Chocolate, salted caramel or peanut butter???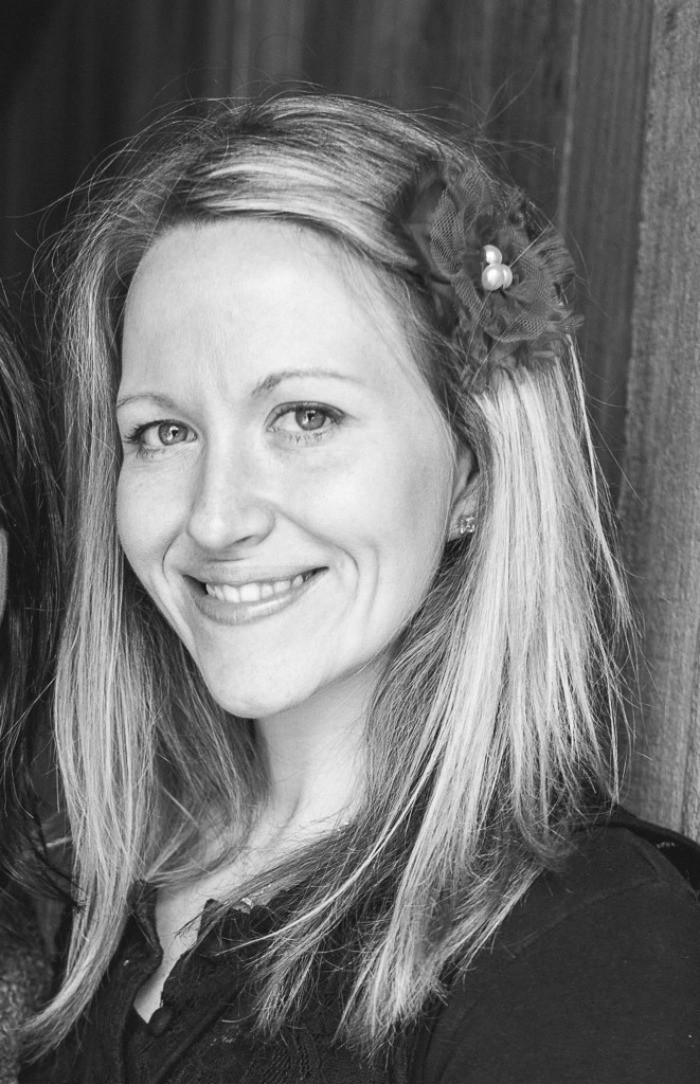 Want to check out more of Kirsten's yummy recipes? You can find her on Facebook, Pinterest, Instagram or Twitter… or of course on her blog 'Treat Yourself Sweeter' (cutest name ever!).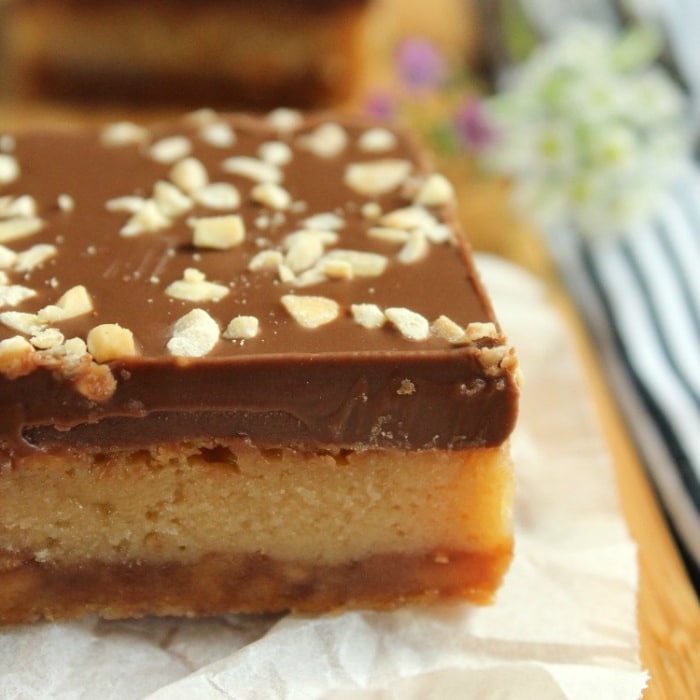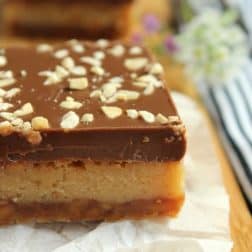 Peanut Butter Salted Caramel Slice
It's impossible to beat the sweet and salty flavour combination in our easy Peanut Butter Salted Caramel Slice! Go on... make it today!
Print
Pin
Rate
Ingredients
BASE

250

grams

Arnott's Salted Caramel Monte Carlo biscuits

90

grams

butter

CARAMEL

1

tin condensed milk

½

cup (120g)

smooth peanut butter

1

tablespoon

brown sugar

45

grams

butter

1/2 - 1 tsp

Good pinch of salt - more if you do not have the salted caramel biscuit base

CHOCOLATE TOP

2

cups (300g)

milk chocolate

50

grams

copha
Instructions
Preheat oven to 150 degrees Celsius

To make the base: Finely crush the biscuits and melt the butter. Combine the two and mix well. Line the base of a slice tin with baking paper.

Place the biscuit base in the tin and then firmly push them down with the back of a spoon or finger tips.

Bake in preheated oven for 10 minutes. Take out and cool.

To make the caramel: Place all of the caramel ingredients in a heavy based pot over a low heat on the stove top.

Stir until all the ingredients are melted and the caramel is a smooth consistency.

Continue to stir for another 5 minutes (should be about 10 minutes in total)

Cool for 5 minutes and then pour over the base and spread to ensure it is an even consistency.

Bake in the oven for 15-20 minutes or until golden and set. Set aside to cool completely.

To make the chocolate top: Melt the chocolate and copha together. Pour onto the cooled caramel layer and then place in the fridge until set.

Using a hot knife, cut into squares and store in the fridge in an air tight container.