A light & fresh summer Peach, Asparagus & Feta Salad that's bursting with flavour! Try it for yourself and see just how deliciously healthy it is!
Hi guys! Over the last few weeks I've been trying to pop a few healthy salads on Bake Play Smile…. don't look too shocked! To be honest, it's probably because I'm totally trying to compensate for all of the sweet treats that keep wiggling their way onto the blog! But I really do love salads. But only fun, yummy salads! None of that lettuce and tomato on the side of a plate kind of stuff – there's nothing fun about that!
 This Peach, Asparagus & Feta Salad is one of my faves. I love it because you can grill the peaches and the asparagus on the BBQ, so it's perfect for when you're also cooking up some kebabs, sausages or steak too. It's super fresh and so tasty. There's nothing boring about this salad at all. Oh and it's really quick which makes it great for an easy mid-week meal. Or you could take it to a summer BBQ and everyone will totally fall in love with you. OR, you could of course, make it for Christmas, which would really help to balance out the huge amounts of desserts that you just know you're going to eat (or is that just me?).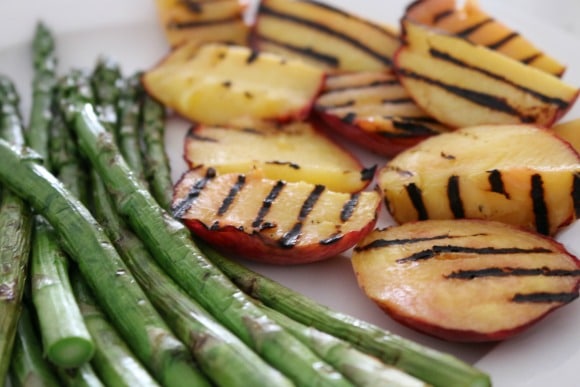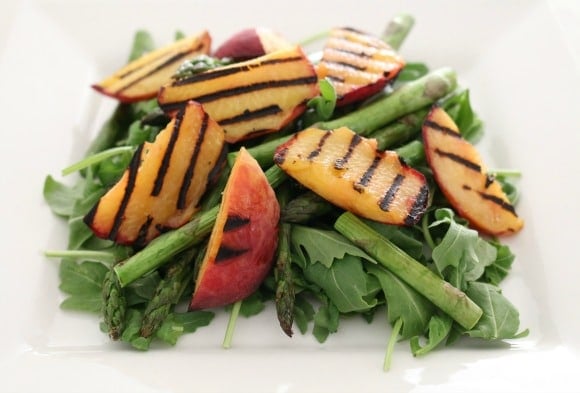 To make this Peach, Asparagus & Feta Salad, you simply pop a whole heap of rocket onto a plate and top with the grilled peaches and asparagus. Then sprinkle over toasted pine nuts and crumble on some soft feta for an extra awesome flavour burst! Finally, you drizzle over a super easy dressing made with olive oil, balsamic vinegar, wholegrain mustard and a teensy-tiny bit of garlic (you can always leave the garlic out if you aren't a fan!). And that. Is. It. The simplest, yummiest summer salad ever.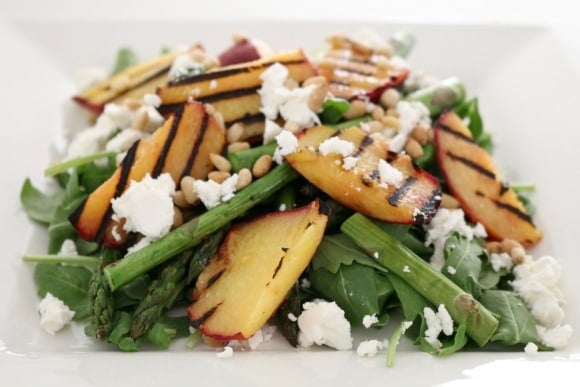 And after eating such a deliciously fresh and healthy salad, there is only one thing to do….. eat dessert!!!!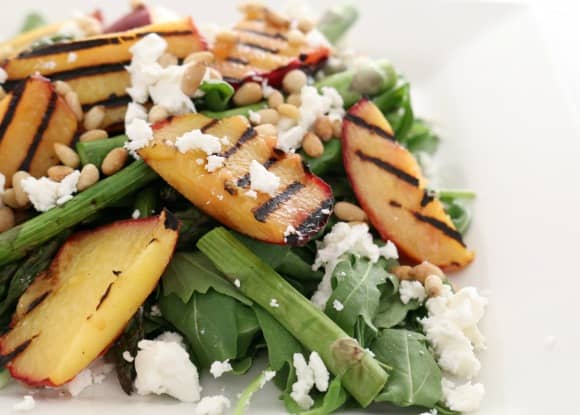 xx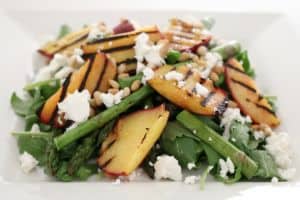 Peach, Asparagus & Feta Salad
A light and fresh summer salad that is bursting with flavour!
Ingredients
150

g

baby rocket

4

yellow peaches

cut into thick slices.

2

bunches asparagus

100

g

soft feta

crumbled

4

tbs

pine nuts

toasted

1/4

cup

extra virgin olive oil

1/4

cup

balsamic vinegar

1

and 1/2 tsp wholegrain mustard

1

garlic clove

minced
Instructions
Place the baby rocket onto a large serving plate (or bowl).

Lightly spray the peaches and asparagus with cooking oil.

Grill the asparagus on the BBQ over a medium heat for 3-4 minutes or until just tender.

At the same time, place the peaches onto the grill and cook for 2 minutes before carefully turning over and cooking for another 1 minute.

Cut the asparagus in half and place on top of the baby rocket.

Top with the peach slices.

Crumble over the soft feta.

Sprinkle the toasted pine nuts over the top (you can toast pine nuts by placing them into a frying pan and cooking over medium-low heat for 2-3 minutes, stirring continuously so as to not burn them!).

In a small bowl, mix the olive oil, balsamic vinegar, wholegrain mustard and minced garlic.

Just before serving, drizzle half of the dressing over the top of the salad and toss to combine.

Serve the remaining dressing in a small bowl on the table so that each person can add as much or as little as they like.