The most delicious Cookies 'n' Cream Cupcakes made with a classic chocolate cake mixture and Oreo cream cheese frosting. YUM!
A few weeks as I was happily pawing my way through Pinterest (as you do!), I came across some amazing looking Oreo Cookies 'n' Cream cupcakes. Pure genious. Oreos… yes please. Cream cheese… uhuh! Chocolate… of course! You just know cupcakes are going to be good when they have these three ingredients in them. And they looked gorgeous, which definitely gives them extra points in my book! Now my Mum is definitely the cheesecake queen in our family and she makes an amazing cookies and cream cheesecake… and so I was super duper excited that these cute little things actually tasted very similar!
Mmmm so I had been dying to make the cupcakes, but given they are pretty decadent you don't really want to be left with two dozen when there are only two people living in your house. Well actually I would love that, but my body probably wouldn't. So it turned out very nicely that I was on morning tea duty at work this week. Much better to make these cupcakes and have lots of people to share them with.
As delicious as the cream cheese and Oreo frosting was (oh and it was!), it was totally matched in awesomeness by the amazing chocolate cupcakes. This is definitely my new favourite chocolate cake recipe. And that is saying something given I am the hugest chocoholic in the world! This will absolutely now be my go-to chocolate cake recipe. It is moist, not ridiculously sweet and the coffee brings out the chocolate flavour without actually making the cupcakes taste like coffee (I'm not a coffee fan). It is a ridiculously good recipe. I was worried that the cupcakes might have dried out in the fridge overnight (I had them in there because of the cream cheese frosting), but they didn't at all. If you ever have to make a chocolate cake, then please, please use this recipe! It is perfection!
After making the cupcakes and pacing around while waiting for them to cool (geez waiting is hard… particularly when being patient is not one of my strengths!), I made the frosting. I am a huge cream cheese frosting fan and it is made a zillion times better with the addition of crushed up Oreos. The only negative things about these cupcakes was that I wanted to pipe the frosting onto the top of the cupcakes, but because I still wanted little, tiny chunks of Oreo's, the frosting kept getting stuck in my piping nozzle and so I finally gave up and just iced them with a knife. Not as pretty as I would have liked, but I suppose taste is the most important thing! Next time I think I'll crush the Oreo's more finely so that the frosting can fit through the piping nozzle!


And just because I do like things to look pretty, I topped these cookies 'n' cream cupcakes off with a little mini Oreo on each one! Too cute. If you can't get mini ones, then the big ones cut in half would work beautifully too.
I'm absolutely sure you will love these cupcakes as much as I did! Enjoy your weekend and I hope you get some sunshine wherever you are!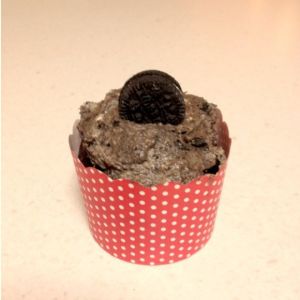 Oreo Cookies 'n' Cream Cupcakes
The most delicious Cookies 'n' Cream Cupcakes made with a classic chocolate cake mixture and Oreo cream cheese frosting. YUM!
Ingredients
For Chocolate Cupcakes

1¾

cups

plain flour

2

cups

white sugar

¾

cup

cocoa powder

1½

tsp

baking soda

¾

teaspoon

salt

2

large eggs

1

cup

buttermilk

½

cup

butter

melted

1

tbsp

vanilla extract

1

cup

hot coffee

For Oreo Cream Cheese Frosting

250

g

cream cheese

one block, at room temperature

4

tbsp

butter at room temperature

2

tsp

vanilla extract

1

cup

pure icing sugar

1

packet Oreo cookies

thoroughly crushed

24

mini Oreo's for decoration

or 12 large ones cut in half!
Instructions
Preheat oven to 180 degrees celsius.

Line two 12-cup muffin tins with paper liners and set aside.

In a large bowl, stir together flour, sugar, cocoa, baking soda, and salt.

Add eggs, buttermilk, melted butter and vanilla extract and beat until smooth (about 3 minutes).

Remove bowl from mixer and stir in hot coffee with a rubber spatula. The batter will be very runny.

Pour batter into a large liquid measuring cup with a spout.

Divide batter among prepared muffin cups, filling each no more than two-thirds full.

Bake 20 minutes, or until cupcakes feel slightly springy when you gently press their centres.

Transfer cupcakes to wire racks to cool completely (at least two hours) before frosting.

To make frosting:

Combine cream cheese, butter and vanilla extract in the bowl of a mixer and beat on medium speed until thoroughly combined.

With mixer speed on low, gradually add icing sugar, then increase speed back to medium and beat until very light and fluffy – about two minutes.

Gently fold through the Oreo's using a rubber spatula.

When cupcakes have cooled completely, frost cupcakes by spooning a big dollop onto the centre and patting it down until it spreads nicely to the edges, or transfer frosting to a piping bag fitted with a large circle tip and pipe onto cupcakes.

Top each cupcake with a mini Oreo