Oreos = delicious!
Cheesecake = amazing!
Brownies = oh so yummy!
Oreo Cheesecake Brownies = holy crap that's like a combination made in ridiculously awesome heaven!
And so my journey to this deliciousness started when a friend from work (who is a wonderful cook) lent me her handwritten recipe book.  I love handwritten recipe books so much… there is really no beating them. I think the classic recipes from our Nan's and Gran's scrapbooks would whip the butt of most new fandangled recipes! Anyway, I got so much inspiration from her recipe book and ended up going to the supermarket with three recipes in hand as I still couldn't decide which to make first! Armed with a truckload of ingredients I headed home and finally decided on the Oreo Cheesecake Brownies! (The other recipes will be coming soon!!). Oh what a wonderful decision that was…. for my tastebuds anyway (clearly not for my bum and thighs)!
First off the brownie batter is made. I loved cutting up the Oreo's into chunks and adding them to the brownie mix. A quick taste check confirmed that this was indeed going to be awesome!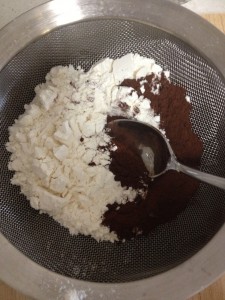 Next up was making the cheesecake layer. I love cheesecake. I don't care if it's a baked or chilled one, either makes me a happy little chappy. The recipe didn't include any Oreo's in the cheesecake layer, but I thought 'why not!' and added a couple in (that choice paid off too as it really added something extra to the flavour).
I popped the cheesecake brownie in a low oven (about 160 degrees) for 20 minutes (although I reckon 15 would have been ok… especially if you like your brownies a little undercooked with squishy, oozy goodness.
Then after waiting for the slice to cool I drizzled dark chocolate and white chocolate in swirls over top. Yum! And then into the fridge to cool completely!
The hardest part of this recipe is waiting until it has totally cooled in the fridge before cutting it up and eating it – otherwise you just end up with a bit of a crumbly mess! Luckily for me, it was a beautiful day and we were heading to the city, so I wasn't able to be tempted to eat it. Oh how I couldn't wait to get stuck into it when we got home!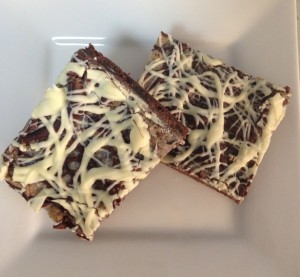 It was rich, delicious and just such an amazing mix of flavours. Gotta love anything cookies and cream flavoured! Also, the cream cheese balances it out and stops it from being too over the top sickly sweet. This is a new favourite in our house and will absolutely be made again and again! I'm also thinking next time of substituting the Oreo's for Mint Slice biscuits and maybe crushing some Peppermint Crisp on top of a chocolate layer to make Mint Chocolate Cheesecake Brownies. Ohhhh my mouth is watering just thinking about the possibilities!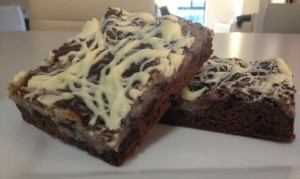 PS. A friend jokingly (I think…!) asked me today when I was going to put up some savoury recipes, so I promise I will soon! It's just that I love baking sweet things so much and they are so yummy and delicious to share! I have been meaning to add a Healthy Vegie Slice Recipe.. but unfortunately when it comes down to a choice between Oreo Cheesecake Brownies or Healthy Vegie Slice, the chocolatey goodness is going to win every time!
Have a lovely long weekend (and enjoy the beautiful weather…. I am having to eat my words complaining about winter so much, given some of the gorgeous days we are having at the moment!) 🙂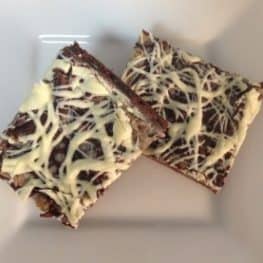 Oreo Cheesecake Brownies... Oh My God!!!!
Rich, decadent, amazing cookies and cream style Oreo Cheesecake Brownies!
Print
Pin
Rate
Ingredients
Brownie Layer:

75

g

unsalted butter

50

g

dark chocolate

1/3

cup

caster sugar

1

egg lightly beaten

1/2

cup

SR flour

1 1/2

tablespoons

plain flour

1

tablespoon

cocoa powder

1

cup

Classic Oreos chopped

about 7

Cheesecake Layer:

125

g

cream cheese at room temperature

25

g

unsalted butter at room temperature

2

Oreos

1/2

cup

caster sugar

1

egg white

1

tablespoon

plain flour

Chocolate Topping:

50

g

Dark Chocolate

50

g

White Chocolate
Instructions
Grease an 18cm X 28cm rectangular slice pan.

Line base and sides with baking paper leaving a 2cm overhang.

Stir butter and chocolate in a saucepan over low heat until melted and smooth. Cool slightly.

Stir in sugar and egg.

Add sifted flours, cocoa and biscuits.

Stir until combined.

Spoon into prepared pan.

Beat cream cheese and butter in a small bowl with electric mixer until smooth.

Add remaining ingredients.

Beat until combined.

Spread evenly over chocolate mixture.

Cook in a moderately slow oven (160 degrees) for 20 minutes or until set.

Cool.

Melt remaining chocolate either using a double boiler (or in the microwave!).

Drizzle over slice.

Refrigerate until totally cool and set.

Cut into squares.