I'm sure by now you've probably realised that I'm a pasta girl at heart. Nothing screams comfort food to me like a big bowl of pasta (ok, or maybe a bowl of apple crumble with ice-cream, but hey!!). I'd say that we probably eat pasta once a week at our house. Try this One Pot Pasta – it's perfect for us (and pretty much everyone else in the world), because:
a) it's quick;
b) it's easy;
c) you can use up anything you have in the fridge;
d) it makes really, really good leftovers (which is obviously the most important thing!).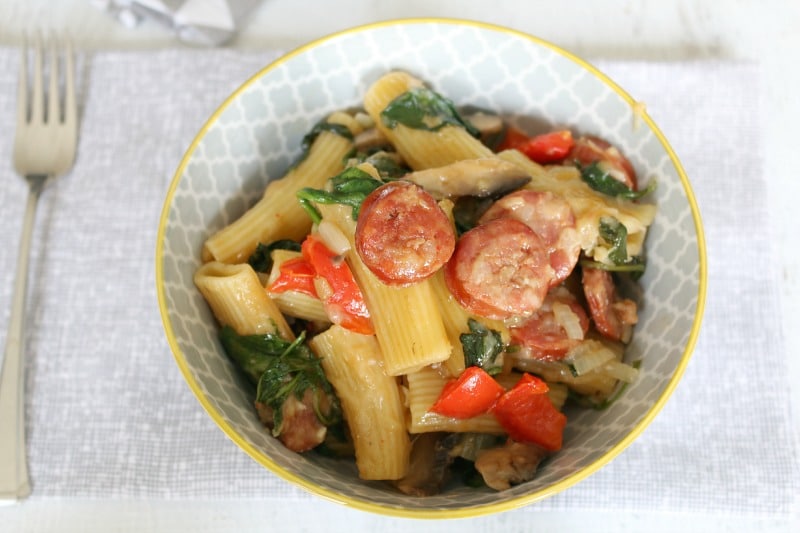 Anyway, this is one of my very favourite pasta dishes. It's a one pot pasta that takes 20 minutes from start to finish. And by finish, I mean actually sitting down at the table to eat. Yep, that's my kind of food!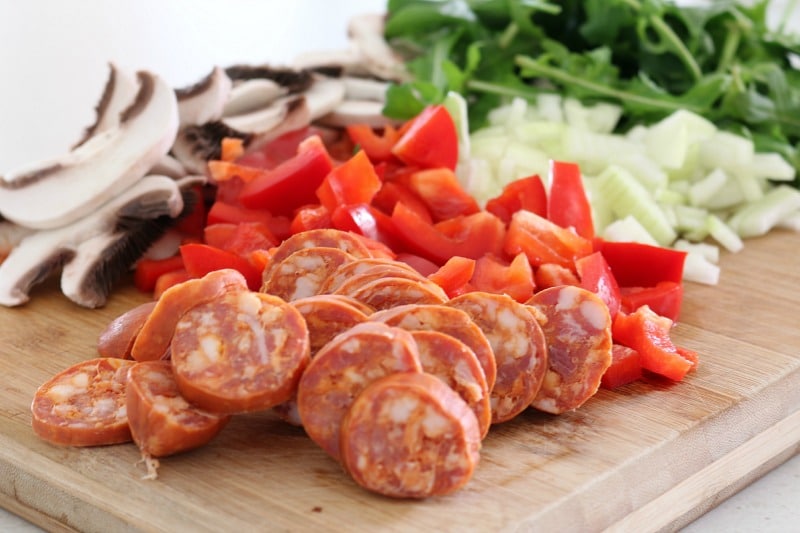 Now I have to admit that while I'm pretty good at cooking and cleaning (I'm a total and utter clean-freak), I am absolutely TERRIBLE when it comes to 3 other household jobs – ironing, gardening and washing dishes. I've been known to put anything and everything in the dishwasher. My theory is that if you can close the door, it's fine (sorry to any dishwasher repairmen out there shaking their heads at me). But that's how much I hate doing the dishes. And so the fact that this one pot pasta is made in only ONE POT is definitely the most brilliant thing ever. Even I don't complain too much when it comes to washing up.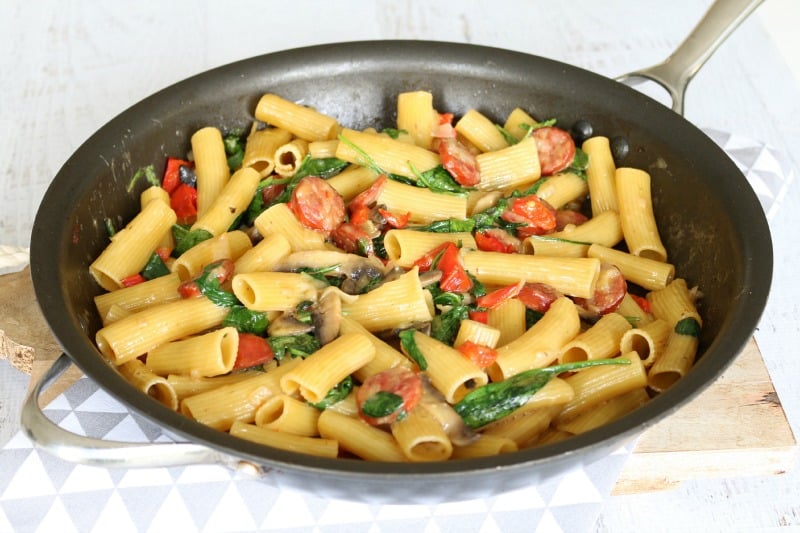 Usually I make my one pot pasta using chorizo sausage, capsicum, onion, mushrooms, spinach and of course, cheese! But, you can totally mix and match depending on the ingredients you have lying around at home. Sometimes I'll swap the chorizo for bacon or chicken, and other times I'll throw in some olives towards the end. Like I said, whatever goes.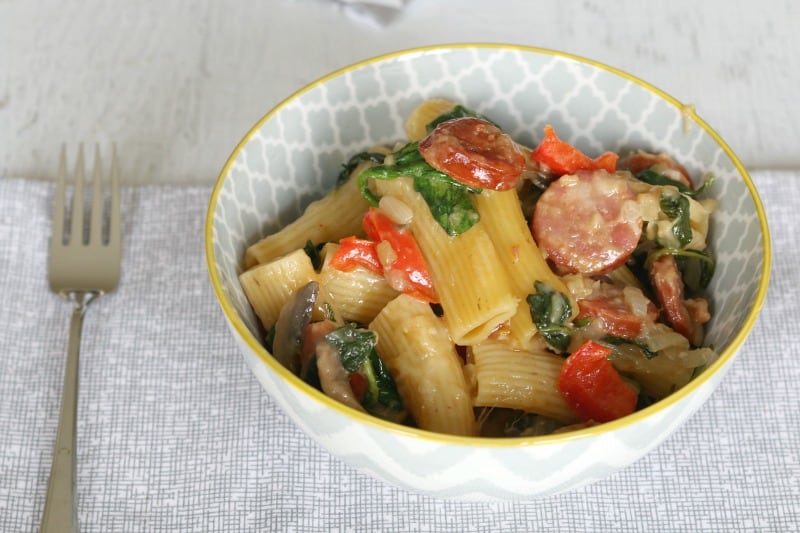 The best thing about this one pot pasta is that everything is cooked in the same pot (or in my case, a really deep frying pan). This means that the pasta gets an absolutely delicious flavour to it. *Just a little tip with the pasta – I find that spirals or penne work best because they cook quickly and are easy to stir.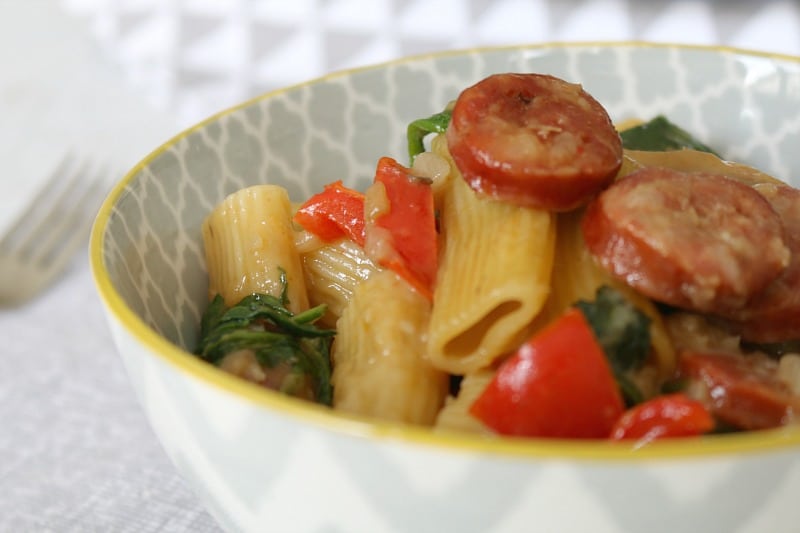 Just before the pasta is al dente, throw in some baby spinach and a mixture of grated parmesan and cheddar cheese and stir it through. This way you get the most deliciously cheesy pasta. Oh man it's good.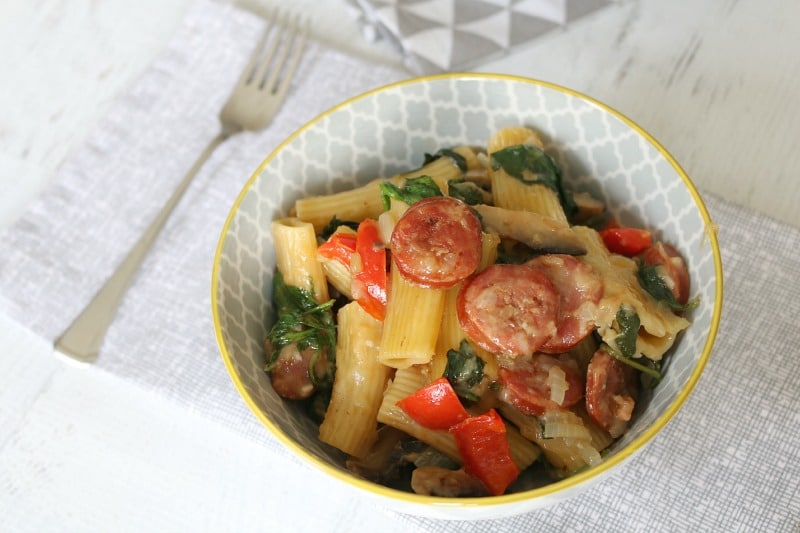 This really is the perfect dinner for those nights where you're running late and need to throw something together quickly. And we all know that pasta is always a huge hit with little (and big) kids alike!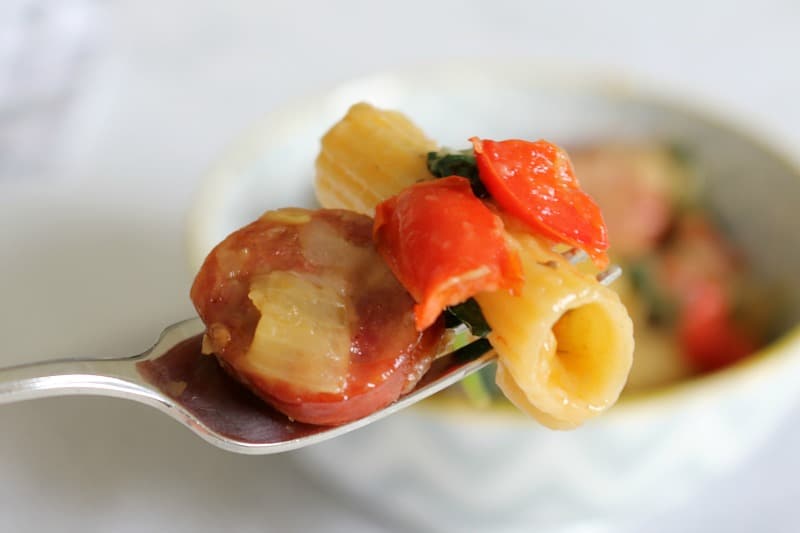 What's your favourite quick and easy dinner?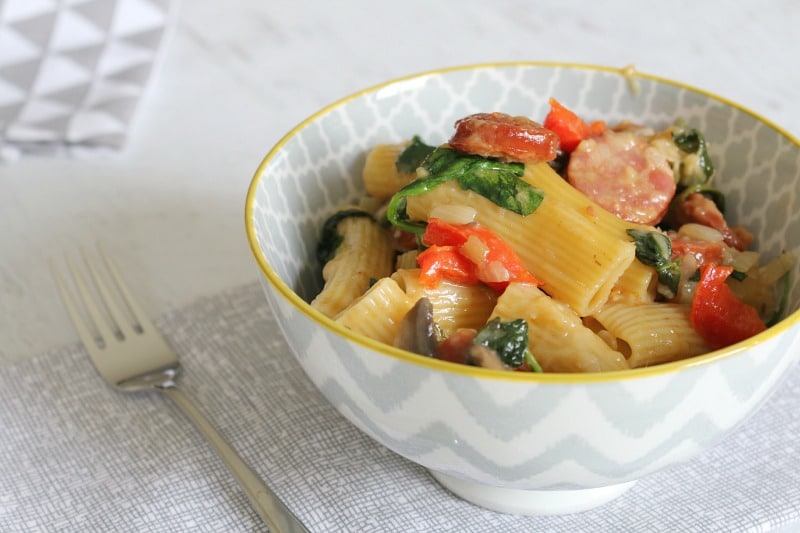 PS – After I edited these photos, I realised that there's a dribble of sauce on the side of the bowl… and it's driving me CRAZY! Not so crazy that I'd re-do all of the photos – but it's really, really annoying me! Sorry, now you're going to be annoyed by it too!
Love the sound of this one pot pasta? Why not try my One Pot Bolognese & Spinach Pasta – it's so fast and SO yummy!!!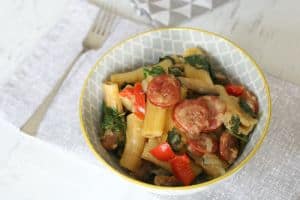 One Pot Pasta (20 Minute Fast Dinner)
A quick and easy one pot pasta that is ready in 20 minutes.
Print
Pin
Rate
Ingredients
2

chorizo sausages

thinly sliced

1

brown onion

finely diced

1

clove

garlic

minced

1

red capsicum

chopped

4-5

large mushrooms

use more or less depending on taste preferences, chopped

3

cups

pasta

spirals, shells or penne, uncooked

2 1/2

cups

chicken stock

100

g

baby spinach

1

cup

grated cheddar cheese

tasty

½

cup

parmesan cheese

finely grated
Instructions
Place the sliced chorizo sausage, onion, garlic, capsicum and mushrooms in a pot (or deep frying pan with a lid) and cook over medium heat for 2-3 minutes.

Add the pasta and the chicken stock and stir.

Cover with a lid and cook for approximately 10 minutes or until the pasta is almost al dente - stirring occasionally.

Remove the lid, add the cheeses and baby spinach and continue to stir until the pasta is al dente or cooked to your liking.

Serve immediately.