Hi there! The very lovely Nicole from Champagne and Chips is guest posting today with the most DELICIOUS neapolitan whoopee pies. Oh my gosh, they're SO good!! Nicole is an absolute sweetie – and someone that I've had the pleasure of meeting in person quite a few times now (it helps that she's a Melbourne girl too!). I hope you're having a great week… now enjoy Nicole's yummy recipe.
My first whoopee pie was in Warrnambool. A nicely alliterative fact and one that has enhanced my memory of Warrnambool. Not that Warrnambool needs enhancing – the Southern coastline with its wild ocean is fairly entrancing. The whoopee pie was purchased as we started the long drive back to Melbourne and eaten somewhere around Wingeel, at which point I suggested we return to Warrnambool for more. My colleagues didn't agree. 
That little sojourn in Warrnambool was during one of my toughest years. I was there for work but somehow found the time to explore by myself. Walking along the jagged coastline with the waves crashing below and a bitterly cold wind threatening to take me with it, gave me a new perspective on how tiny my problems were. That night we had dinner in a little 'mum and pop' Italian place. For dessert we had bowls of neapolitan ice cream with chocolate topping; something I hadn't had since I was a little girl. It was like a warm hug from the universe, a reminder of how far I had come and that this tough stage was just a small part of the journey.
That was four years ago, and much has changed, but the significance of a whoopee pie has not. When coming up with the flavour combinations for this recipe I couldn't stop thinking about that neapolitan ice cream, hence…
Neapolitan Whoopee Pies!
A chocolate cakey cookie with thick, creamy buttercream frosting in the middle so that, unlike a cupcake with all the frosting piled on top, you get the perfect frosting to cake ratio with every bite.
Inspired by neapolitan ice cream, it has a lovely morish strawberry frosting, coloured and flavoured by fresh strawberries and a …well, I have to be honest with you, the white frosting is not vanilla. I always found the vanilla part of neapolitan so boring. My mum had to introduce a rule that the surface of the ice cream in the container must always be even so that my brother and I didn't just scoop out the strawberry and chocolate. I got all the way up to adding the vanilla essence in these whoopee pies and had a moment. Vanilla went by the wayside and lemon was IN. The camera doesn't know!
Nicole is a foodie and winegeek living in Melbourne. She started Champagne and Chips after finding that, while there are plenty of food blogs out there, and quite a few wine blogs, there aren't that many that combine these two pleasures. Nicole works with wine, loves wine and adores talking about it to anyone who will listen. She is also devoted to food with a predilection towards peanut butter, ice cream and anything involving cheese. At parties you will find her swirling a wine glass, eating chips by the handful and discussing the merits of adopting a pet, usually wearing a particularly extravagant interpretation of the dress-up theme.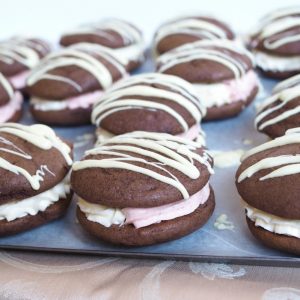 Neopolitan Whoopie Pies
The very lovely Nicole from Champagne and Chips is guest posting with the most DELICIOUS neapolitan whoopee pies. Oh my gosh, they're SO good!!
Ingredients
For the cake:

2

cups

self-raising flour

sifted

3

Tbsp

cocoa

3/4

cup

caster sugar

3/4

cup

milk

125

g

butter

melted, cooled

2

eggs

beaten

1

tsp

vanilla essence

For the frosting:

250

g

unsalted butter

softened

500

g

icing sugar

about 3.5 cups

About 5-6 strawberries

1

lemon

For the topping:

90

g

white chocolate melts
Instructions
To make the cake, preheat oven to 200C.

Line two cookie sheets with baking paper and place in oven as it is heating.

Place flour, cocoa, and sugar in a large bowl.

Add milk, butter, eggs and vanilla and stir until just combined.

Remove baking trays from the oven.

Using a small ice cream scoop or a tablespoon, spoon equal amounts of cake mixture onto baking trays, allowing for the cake to spread.

Bake for 10-12 minutes or until just firm.

Cool on baking tray.

To make the frosting, beat the butter and half the icing sugar until fluffy, gradually add remaining icing sugar until thick and fluffy.

Divide frosting into two bowls.

Place strawberries in small blender and pulse until liquid (or mash thoroughly).

Pass strawberries through a sieve to remove seeds.

Into one bowl whisk 1 tbsp of strawberry puree.

Into second bowl whisk 1/2 tsp lemon zest and 1 Tbsp lemon juice.

To assemble the whoopie pies, match up similarly sized and shaped cakes.

Pipe strawberry frosting onto bases of whoopee pies, stopping halfway.

Pipe lemon frosting onto other half of the the bases.

Top with second layer of cake to make a sandwich.

Place the whoopee pies on a large tray.

Gently melt the white chocolate (see notes).

Using a small spoon, drizzle the white chocolate over the whoopee pies and allow to set.
Recipe Notes
If you want to make vanilla frosting instead of lemon use 1/2 tsp vanilla essence.
To melt the chocolate, place in a small microwave safe bowl and heat for 20 seconds at a time,pressing gently on the chocolate in between until just melted enough to stir.