Can you believe that it's almost November, or should I say…. Movember!!! It's that time of year again where fellas all over the world start growing their 'Mo's' (aka huge, hairy, itchy moustaches), all in the name of mens health. It's also the time of year that wives and girlfriends start complaining about the scratchiness of the Mo's! So for something a little bit different (and in the spirit of Movember), moustaches and cupcakes have overtaken the blog today… what a weird but fun little combination!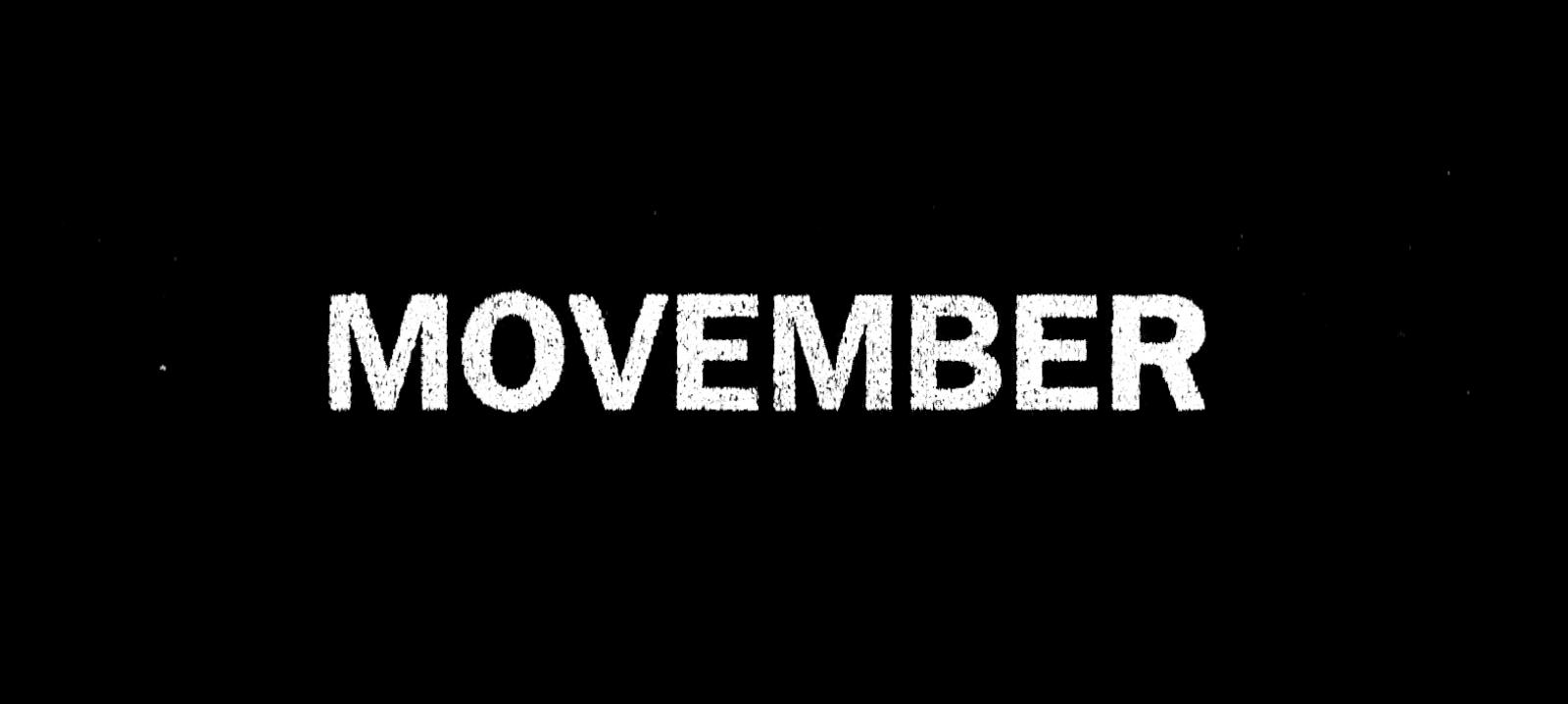 Since Movember started in 2003, the annual campaigns have raised over $770 million and have provided funding for over 1,200 projects focusing on prostate cancer, testicular cancer and suicide prevention. Talk about impressive!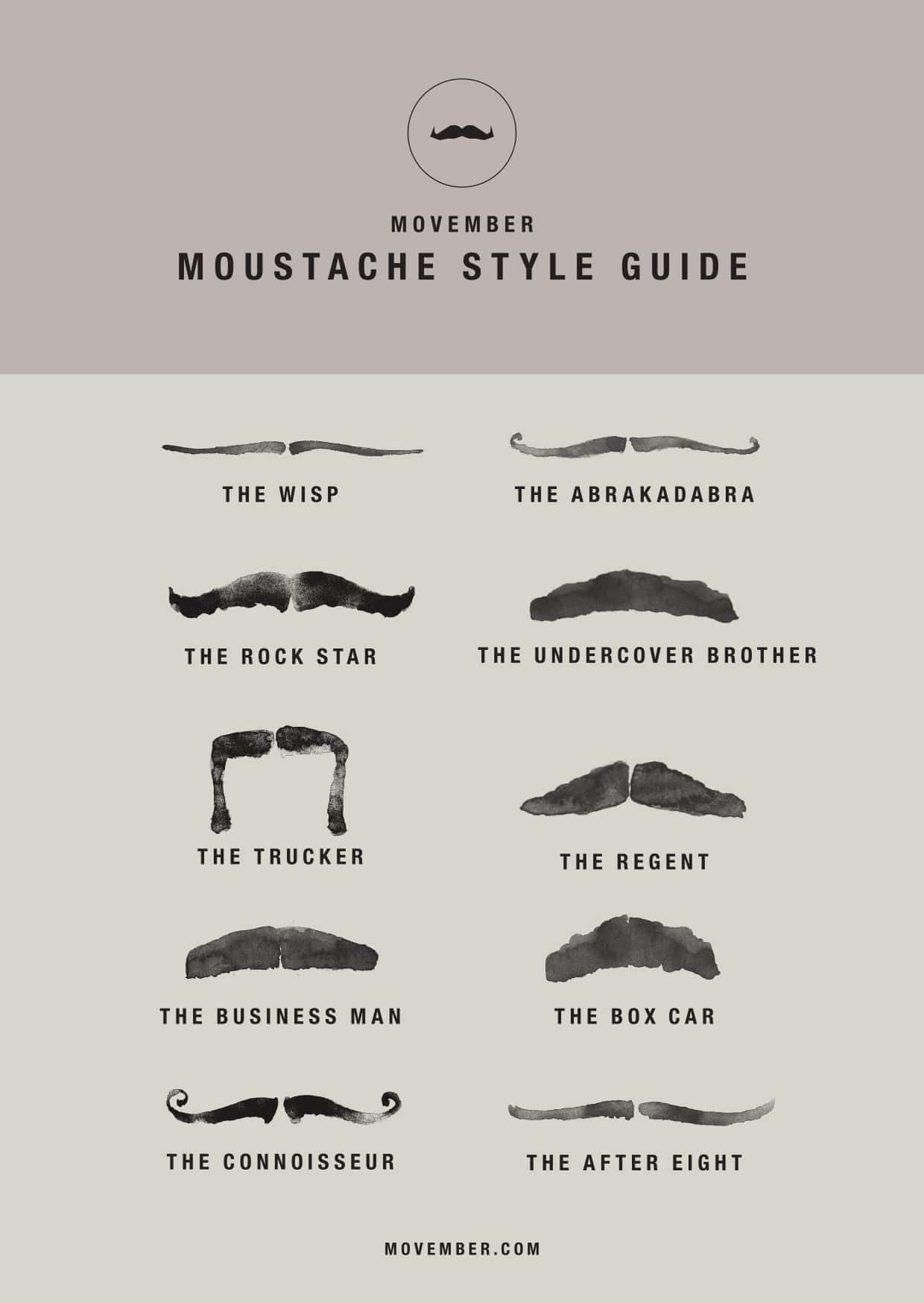 But this year the Movember campaign is being run a little bit differently… and it's all about getting us ladies involved too! But don't worry my lovely female friends; you don't have to grow a 'Mo' (thank gooooooooddddd!!).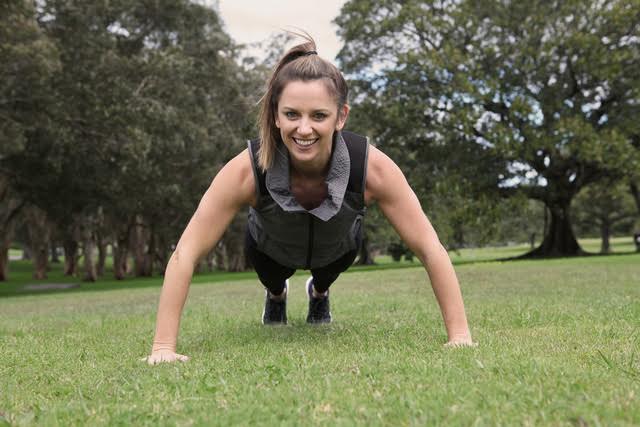 The Movember Foundation wants women to support their hubbys, brothers, dads, sons (and any other special men in their lives) by signing up at Movember.com and setting themselves a 'Move' goal for November. It might be getting out and about for a 15 minute walk each day, starting a new sport, or even kick-starting training for a marathon (heaven help you if you choose that goal!!). I'm aiming for a walk with Will in the pram each day (please, please stay away rain!).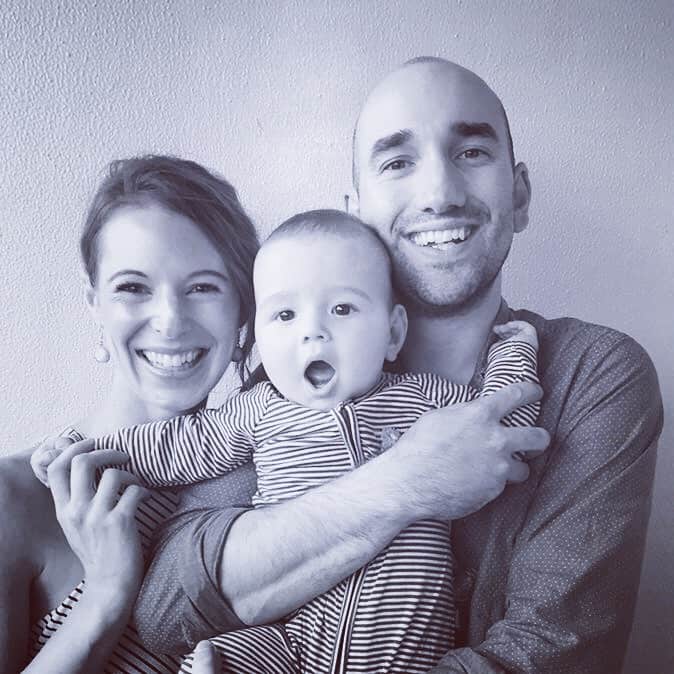 As a wife and a mum, I'm so proud to support the Movember campaign – the health of my two favourite boys is definitely one of the most important things to me.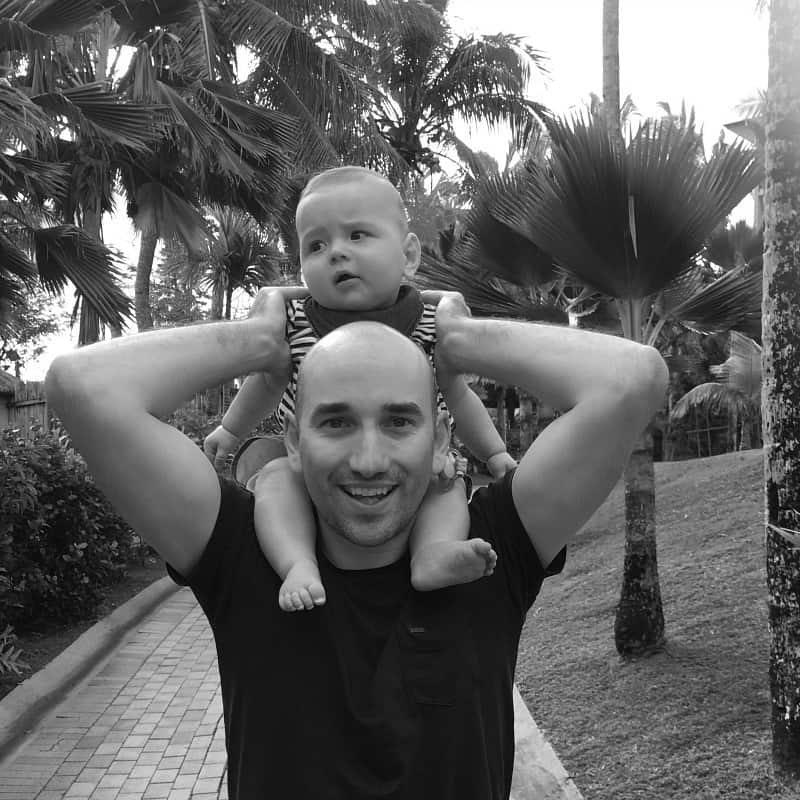 And here's just a few reasons why getting behind the Movember campaign is so important to me (and you!):
suicide is the leading cause of death in males aged 15-44 years (5 men will take their own lives each day);
one in two men will die of cancer by the age of 85;
prostate cancer is the most highly diagnosed cancer in males (with over 3000 men dying from the disease each year);
the average age of testicular cancer diagnosis is just 36 years old;
men, on average, die 4 years younger than women.
So whether you're a guy who just can't wait for a good excuse to grow a 'Mo', or a lovely lady wanting to support the special men in her life, get involved in this super fun and worthwhile campaign!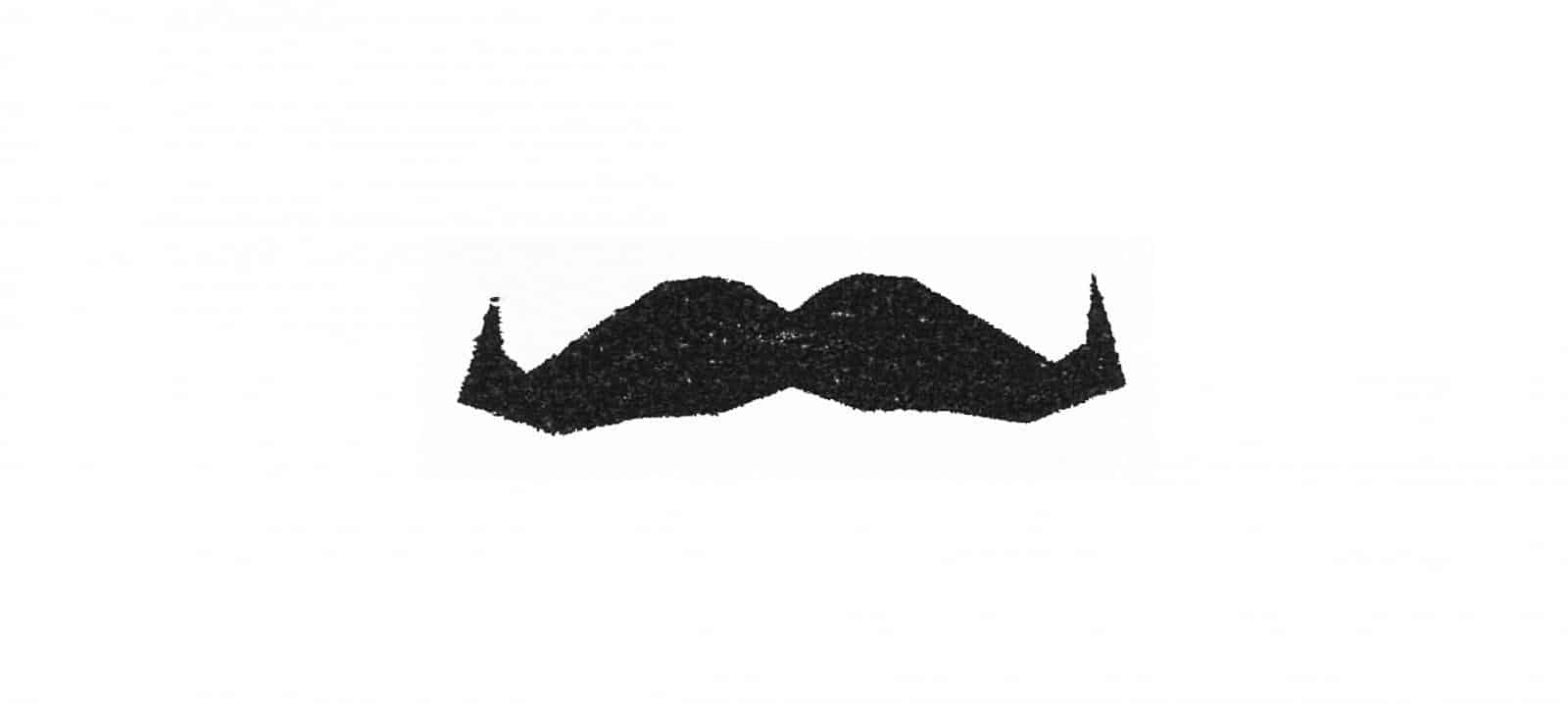 Speaking of kicking off the Movember fun… did someone say 'Mo cupcakes!'. Yaaaasssss! In the name of men's health, I bring to you these totally cute moustache cupcakes. LOVE. LOVE. LOVE them! And they're completely guilt-free because it's all for a good cause.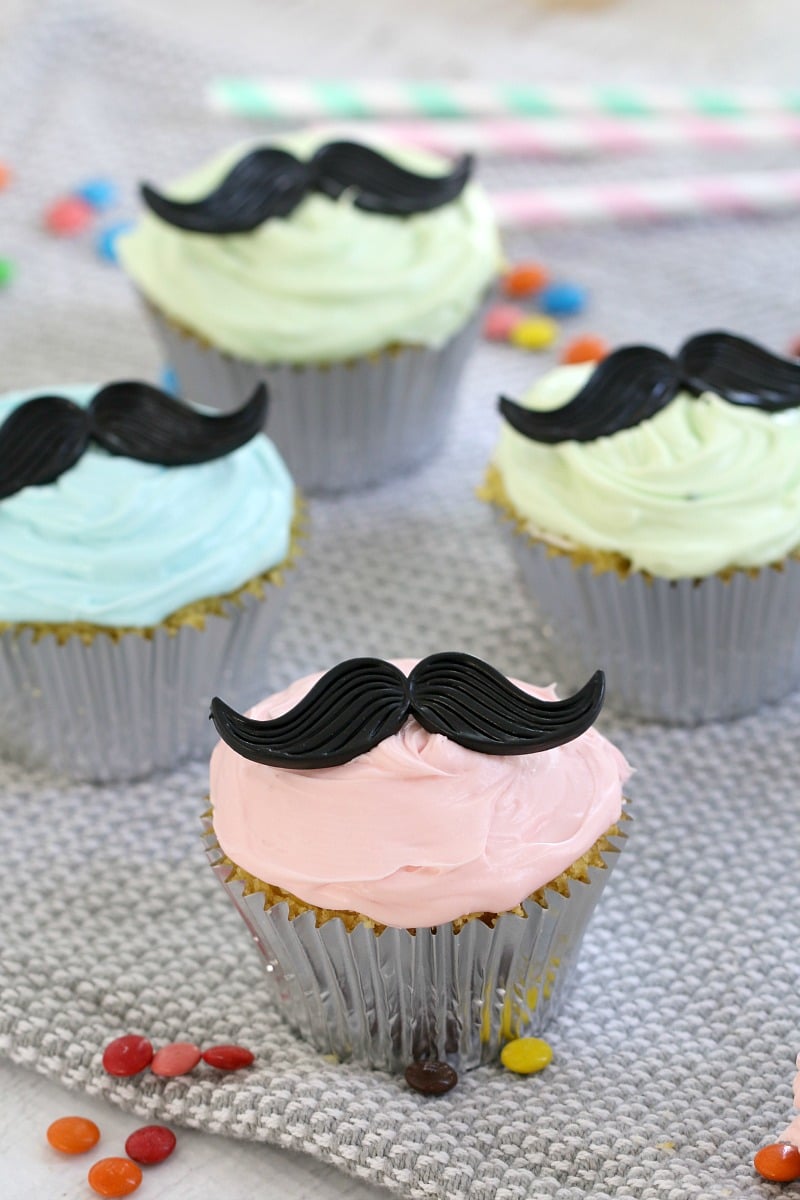 Delicious vanilla cupcakes filled with mini M&Ms, covered in frosting and topped with a 'Mo'. Does it get any better than that!? Check out the recipe below and get baking. xxx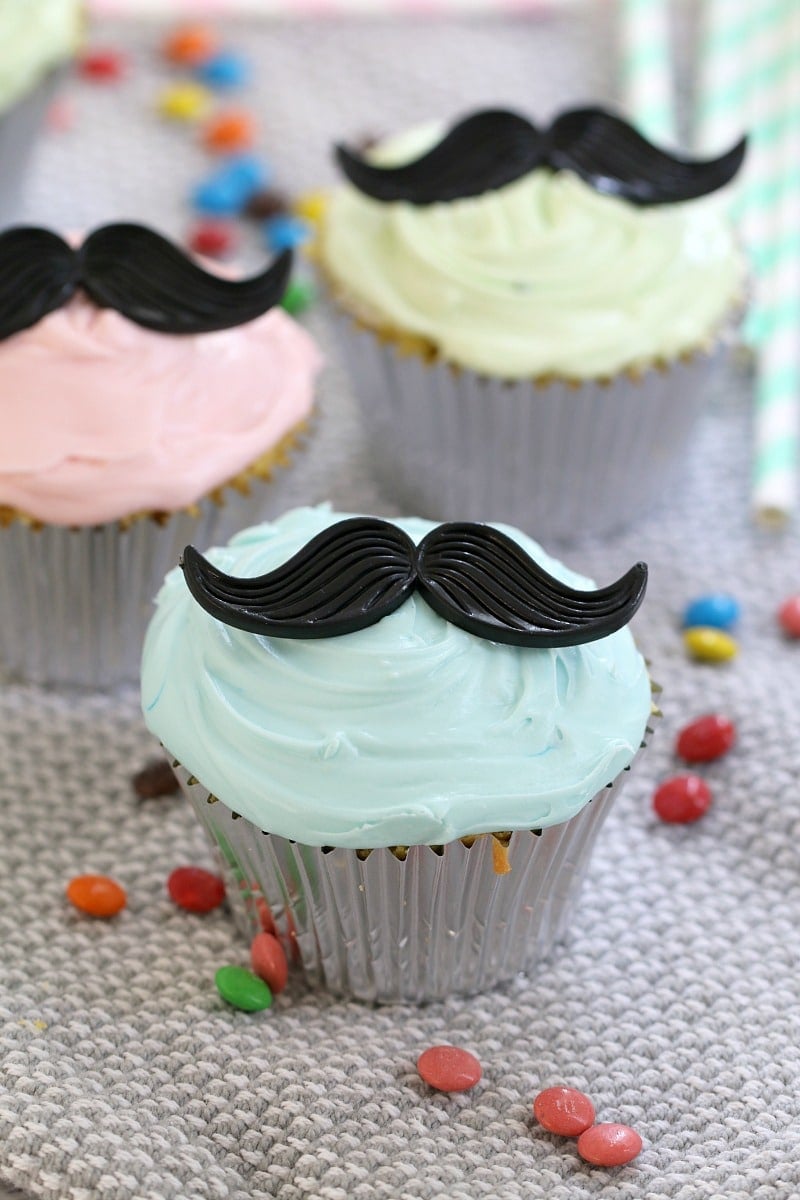 Visit Movember.com to find out more.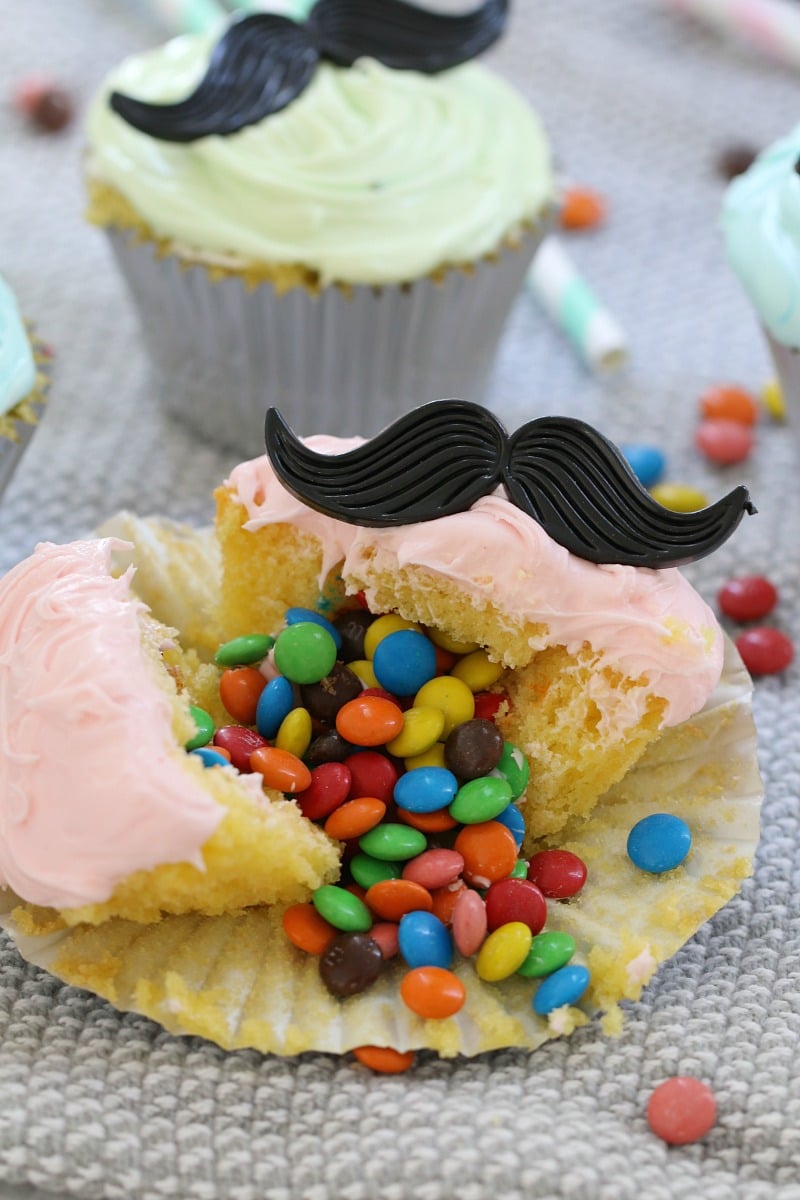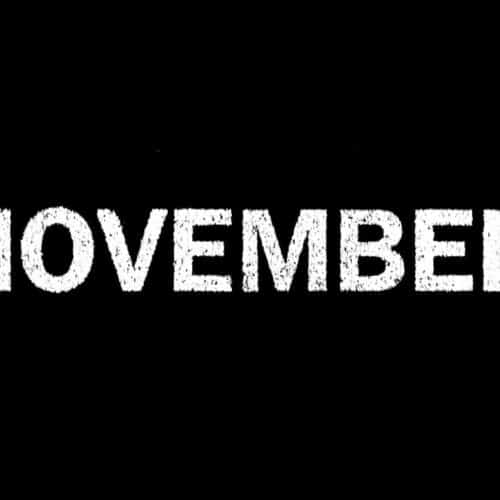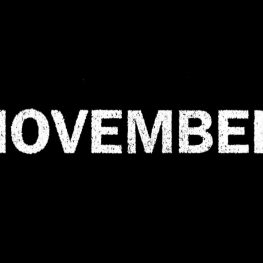 Moustache Cupcakes Movember
Can you believe that it's almost November, or should I say.... Movember!!! So for something a little bit different (and in the spirit of Movember), moustaches and cupcakes have overtaken the blog today...
Print
Pin
Rate
Ingredients
200

g

unsalted butter

softened

200

g

caster sugar

pinch of salt

1

tsp

vanilla extract

4

eggs

200

g

self raising flour

1

packet mini M&Ms

Icing:

185

g

butter

softened

2¼

cups

icing sugar mixture

2

tablespoons

milk

1

tsp

vanilla extract

1-2

drops food colouring

optional

moustache cupcake toppers
Instructions
Preheat oven to 175 degrees celsius.

Place cupcake cases into the holes of two 12-hole muffin trays.

Place the butter, caster sugar, salt and vanilla extract into a bowl.

Beat together with a stand-mixer or hand-held beaters until pale and fluffy.

Add the eggs to a separate bowl and beat together lightly.

Slowly add the egg mixture to the butter mixture while continuing to beat.

When all of the egg mixture has been completely combined with the butter mixture, sift in the self raising flour and stir with a spoon until just combined (don't over combine).

Place the cupcake mixture into the cupcake cases - filling them to ⅔ full.

Bake in the oven for 12-15 minutes or until golden and when they spring back when touched in the centre.

Leave cupcakes in the baking trays for 5 minutes before moving to a wire rack to cool completely.

Cut a hole in the middle of each cooled cupcake (not quite to the bottom). Discard the majority of the removed cake, keeping just a small slice for the lid.

Fill each hole with mini M&Ms.

Place the sliced cake lid of the cupcake back on top.

To make the icing, beat the butter in a bowl until pale and fluffy (approximately 5 minutes).

Slowly add the icing sugar mixture, milk, vanilla extract and food colouring (optional) and continue to beat until smooth and creamy (I divided my icing into 3 bowls and tinted each a different colour).

Ice cupcakes when they have completely cooled and place a moustache topper onto the frosting.