On the weekend one of my best friends is getting married. Amongst many other things, she is a smart, caring and beautiful person and also a wonderful teacher! But what could possibly be the most important thing about her, is the fact that I do not know anyone in the world who loves M&Ms as much as she does! She is well known for her love of M&Ms… trust me, I saw the boxes and boxes of M&Ms that she was given for Christmas last year by her students! Anyway, because there is only a couple of days until she finally becomes a Mrs, I thought it was only fair to dedicate a batch of cookies to her. These cookies are seriously loaded with M&Ms…. no joke. They are everywhere. And if that wasn't enough, theres a few handfuls of chocolate chips added in there, just for good measure!
Anyone who knows me well knows that I love to experiment with cookie dough. My absolute favourite chocolate chip cookie recipe is a Donna Hay one and I swear by it. But I love to change things up a bit and try something new. Sometimes it works and sometimes it doesn't. This time however, it worked brilliantly. I've been reading about using vanilla instant pudding powder in cookie dough for a while (yeah, yeah, I do love to research cookie dough… you can roll your eyes now!) and had been interested to try it out. Apparently, it would make my cookies beautifully soft and moist. OMG it did! I definitely think this will become one of my favourites basic cookie dough recipes. It would be so easy to whip up a batch and add whatever you like in to it… nuts, chocolate, Reeses peanut butter cups, chopped up chocolate bars, cranberries etc.
I think the other thing that made these cookies so good was the fact that the dough was chilled in the fridge for a few hours before baking. You really do need to chill dough if you want soft and fluffy cookies. I know I don't always do this (most of the time I just want to cook them and eat them straight away), but it really does make for a much better cookie.  So if you can, plan ahead and chill, chill, chill!
I wanted the cookies to be absolutely full of chocolate but I also wanted them to look pretty. So I put some of the M&Ms (along with the extra chocolate chips) into the cookie dough and then when I had rolled the dough into balls and placed them onto the tray, I added some more M&Ms to the top. Pretty food is yummy food!
I made my cookies quite big and cooked them for 10-12 minutes. If you choose to make them smaller, then just adjust the cooking time accordingly.
I hope you enjoy my cookies that are dedicated to the Bride-To-Be! I can't wait to see her walking down the aisle. Oh and Sarah, if you are reading this… my wedding present to you is a massive bag of M&Ms! Just joking 🙂
xxxx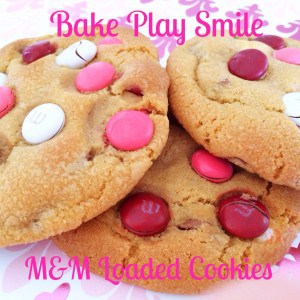 M&M Loaded Chocolate Chip Cookies
The most amazing soft and fluffy cookies ever... totally bursting with M&M goodness!
Ingredients
170

g

unsalted butter

softened

3/4

cup

brown sugar

packed

1/4

cup

caster sugar

1

large egg

1

teaspoon

vanilla extract

2

cups

plain flour

1/4

cup

instant vanilla pudding mix

1

teaspoon

bicarb soda

Pinch salt

3/4

cup

baking chocolate chips

3/4

cup

milk chocolate M&Ms for cookie dough

1/2

cup

milk chocolate M&Ms for decorating the cookies
Instructions
Combine the butter, sugars, egg, vanilla in a bowl and beat on medium-high speed until well combined and creamed. This will take 3-5 minutes.

Scrape down the sides of the bowl, and add the flour, vanilla pudding mix, bicarb soda and salt.

Beat on low speed until just combined.

Scrape down the sides of the bowl and add the chocolate chips and 3/4 cup M&Ms.

Beat on low speed until just combined.

Using a 1/4 cup to measure, form 15 equal-sized dough balls and flatten slightly.

Add about 1 tablespoon M&Ms to the top of each dough mound.

Place cookies onto a large tray, cover with plasticwrap, and refrigerate for at least 2 hours.

Preheat oven to 180 degrees.

Line a tray with baking paper and place cookies onto the tray, leaving at least 2 inches between them.

Bake for 10-12 minutes, or until edges have set and the cookies are slightly golden.

Don't worry if they appear slightly undercooked in the middle as they will firm up as they cool.

Cool the cookies on the tray for about 10 minutes before serving before carefully transferring to a wire rack.

Cookies will keep airtight at room temperature for up to 1 week.

You can also freeze any uncooked cookie dough.