The best ever mint chocolate brownies… seriously the best ever!!!! I'm totally addicted to these! Rich, decadent and AMAZING!!
OMG stop everything!! You absolutely must make these brownies! And if you can't make them, then find a friend who can. And if you don't have a friend who can cook, then go and make friends with someone who can. And if all else fails, then go out and find yourself a chef to marry and then beg them to make you these brownies! No really… these brownies are THAT good – and that's coming from a total brownie snob. If I'm going to eat a brownie then it has to be moist on the inside, crunchy on the outside and insanely delicious.
It's a pity I can't take credit for this recipe. Trust me, if I had made it up myself I would be patting myself on the back and then trying to sell the recipe off to the highest bidder. Nope, you can thank Masterchef for this recipe. I did however, make three teeny, weeny little changes that I think made the brownie taste even better (if that's possible).
My two taste testers said it was the best brownie they had ever eaten. I'm my biggest baking critic and even I thought they were awesome!
So, I followed the Masterchef Extreme Brownie recipe exactly except for the following three things:
1. Rather than cutting up the 200g of chocolate for the brownie (which would have melted when cooking), I used 200g of dark choc bits (the ones that hold their shape when cooked). I added these in right at the end before the mixture was poured into the pan. What happened was that during cooking, the weight of the choc bits dragged them to the bottom and so when the brownie was cooked there was this amazing layer of choc bits at the bottom, followed by a beautiful moist chocolatey centre and a crispy top. You can see the yummy choc bit layer in the photos.
2. When I added the choc bits, I also added one crushed up Peppermint Crisp bar. Normally I go for the full on choc-mint flavour combo, but this time I just wanted a subtle taste. It was absolutely delicious and would be loved by choc-mint lovers and haters alike. It really is a subtle flavour… unless my taste testers had been told there was mint in there, I don't think they would have guessed it.
3. Instead of dusting with cocoa powder, I used sifted icing sugar. No biggy, it's just my preference! You could go with either option and still have a yummy brownie!
So there you have it… my take on the Masterchef Extreme Brownie recipe. Please, please try it! I know I'll be ditching all of my other brownie recipes after making this one…
xx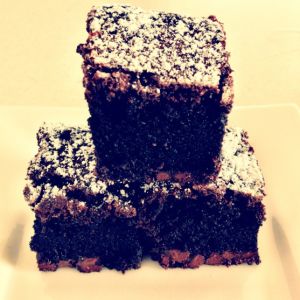 Mint Chocolate Brownies!
The best ever mint chocolate brownies... seriously the best ever!!!! I'm totally addicted to these! Rich, decadent and AMAZING!!
Ingredients
200

g

dark chocolate

I used dark chocolate baking bits that hold their shape when cooked

225

g

unsalted butter

chopped

100

g

plain flour

2/3 cup

65

g

Dutch cocoa

2/3 cup

1

tsp

baking powder

440

g

caster sugar

2 cups

4

eggs

lightly beaten

1

tbs

vanilla extract

1 55

g

Peppermint Crisp bar

crushed

Icing sugar or cocoa powder for dusting

I used icing sugar
Instructions
Preheat oven to 160C.

Grease a 20cm square cake pan and line with baking paper.

To chop chocolate: Using a serrated knife (for thick blocks of chocolate, it provides more traction than a straight-bladed knife), cut chocolate into rough 1.5cm chunks. (I didn't do this step - instead I mixed in 200g of dark chocolate bits right at the end, just before pouring into the cake pan.

Place butter and a large pinch of salt in a small pan.

Melt over low–medium heat until almost melted.

Set aside to finish melting and cool slightly.

Sift flour, cocoa and baking powder into a large bowl.

Stir in sugar.

Working in 3 batches, add butter and eggs alternately to dry mixture, stirring well to combine after each addition.

Stir in vanilla, chocolate bits and Peppermint Crisp bar until combined.

Spoon mixture into prepared pan.

Using a spatula or the back of a spoon, spread evenly.

Bake for 1 hour or until top has risen (it might dip slightly) and a skewer inserted into the centre comes out clean (the skewer might be slightly oily with a few crumbs attached; make sure it doesn't have uncooked batter attached - but don't overcook!!!).

Cool completely in pan, then, using the paper as an aid, lift the brownie with paper from pan onto a chopping board.

Peel away paper, dust with icing sugar (or cocoa powder), if desired, then cut into 5cm squares.