This Lemon & Blueberry Layer Cake is a soft, light and moist lemon cake layered with blueberries and smooth cream cheese frosting… delicious!
Anyone who knows me well will also know that I am the hugest critic of my own cooking. I think it's a female thing! No matter how good something is, we always manage to find something not quite perfect about it. Well that's exactly me with my cooking. However, I absolutely LOVED this Lemon & Blueberry Layer Cake with Cream Cheese Frosting!!! So that's really saying something!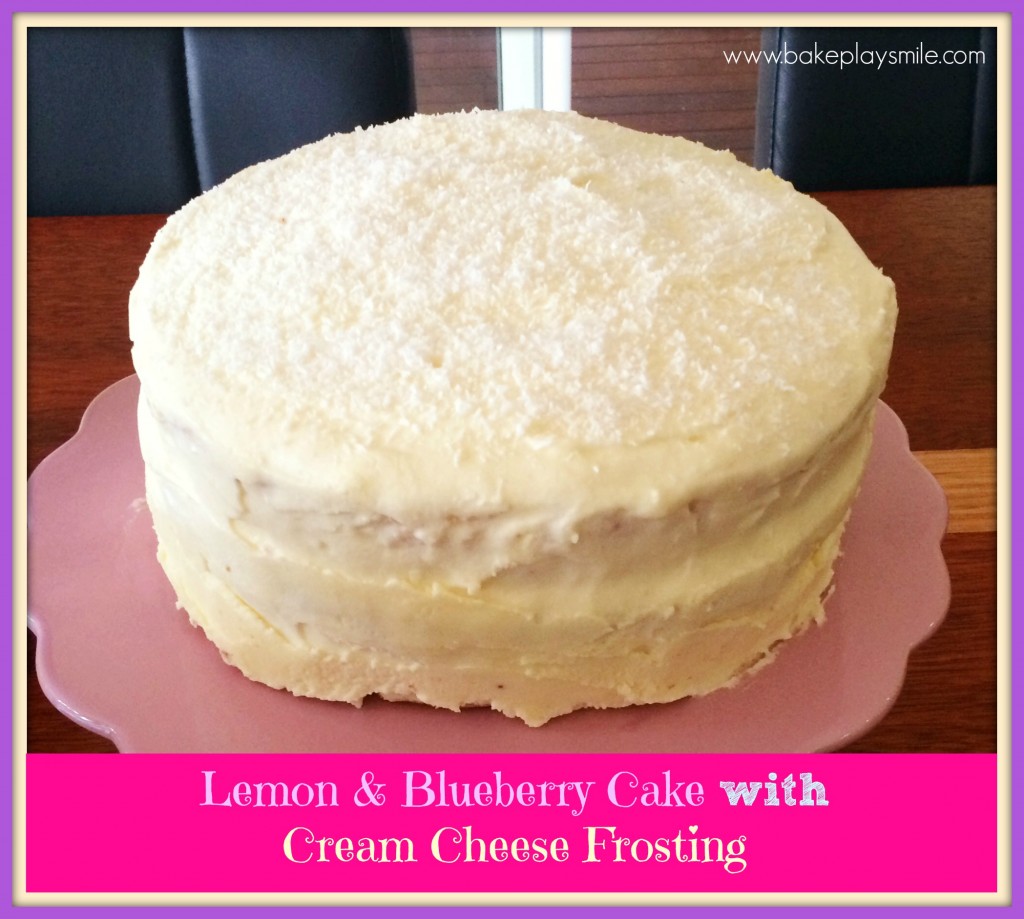 I had decided to make a cake for a friends baby shower but had got myself totally lost on Pinterest coming up with ideas. So, I narrowed it down to four options and then put it out there on Facebook asking for everyone to vote for which cake they liked the most. I am the worst decision maker ever and so I love getting my Bake Play Smile Facebook friends to help me out (if you haven't yet checked out our Sunday night Food Fights on Facebook, make sure you jump on board!).

I was secretly leaning towards this Lemon & Blueberry Layer Cake (either that or the chocolate and raspberry one!) and so I was very excited when it was the clear favourite. It was actually incredibly easy to make, but just took a little bit of time given that I cooked all three cakes separately and only had two tins the same size. Urgh!!! Next time I would borrow an extra tin so I could cook all three layers together. I also have a bit of an obsession with cream cheese icing. Whoever thought to add sugar and lemon juice to cream cheese should be awarded a Noble Prize. Seriously the best invention ever.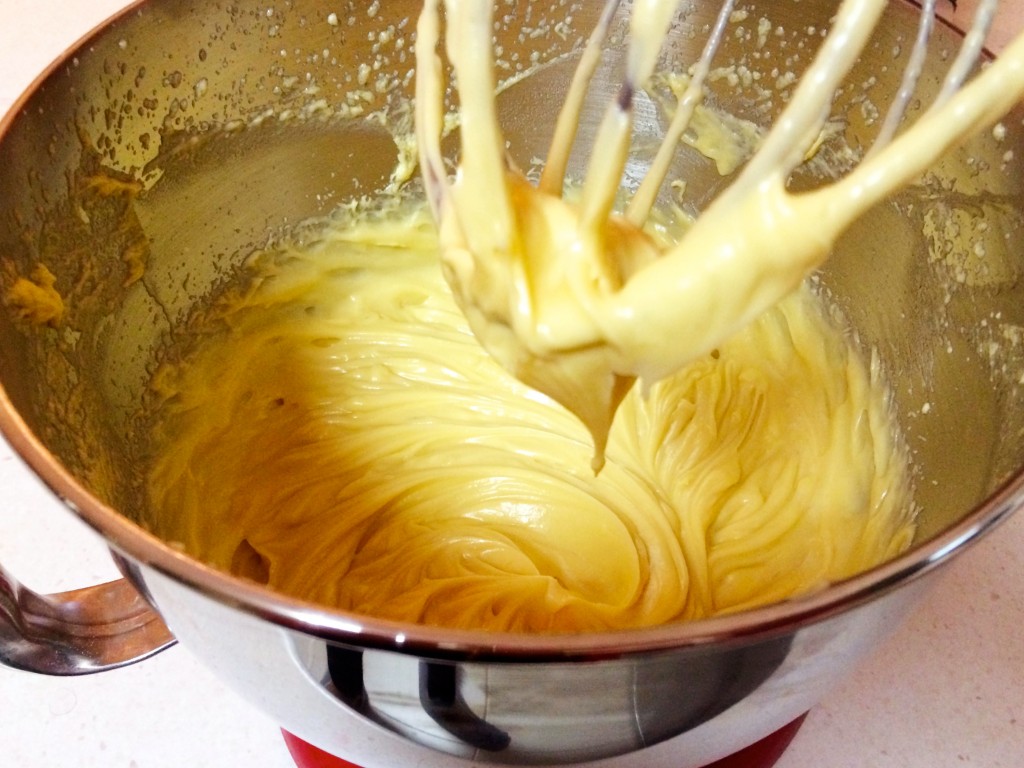 Now I do have one little, teeny, tiny thing to critique with my cake and that was the fact that when you looked at the final product from a certain angle, it appeared to be on a slight lean!! But I'm blaming that one the fact that I iced it at 1.00am in the morning (yep I'm a crazy, baking lady) and probably had my eyes half closed.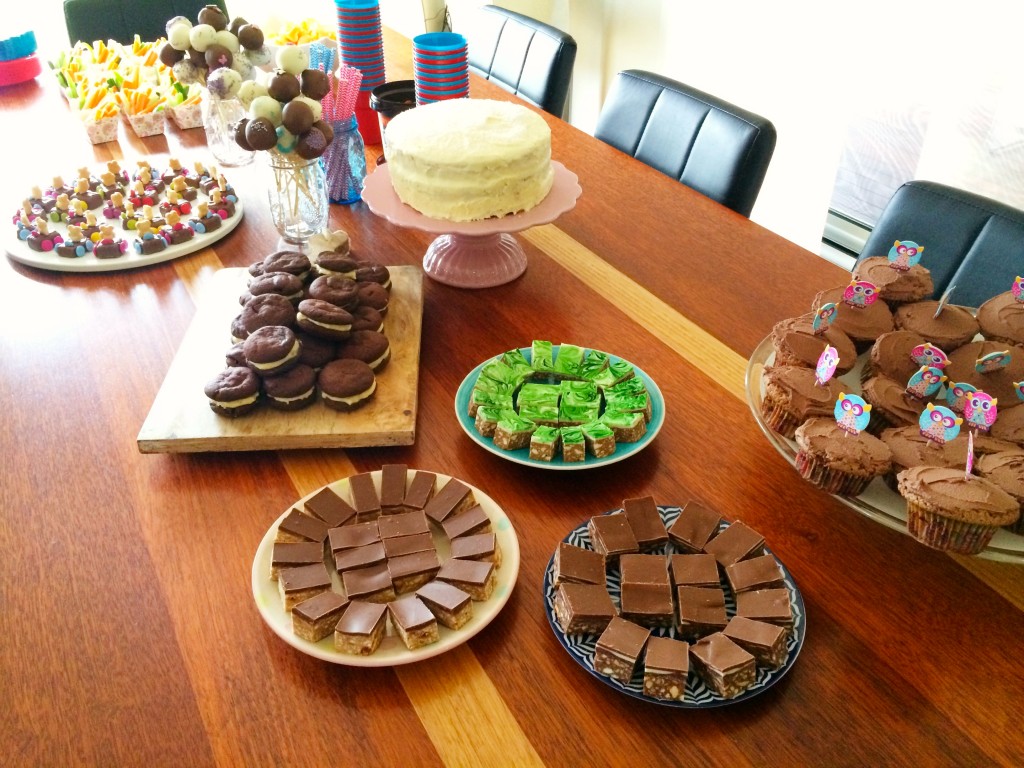 I was also totally freaking out about what it would look like on the inside when it was cut at the baby shower. That's the only thing I don't like about cakes… you have no idea what it's going to look and taste like until you cut it! Anyway, I didn't need to worry because when it was cut it had three lovely layers and tasted all kinds of super-awesome. The blueberries and cream cheese frosting helped to keep the cake lovely and moist too.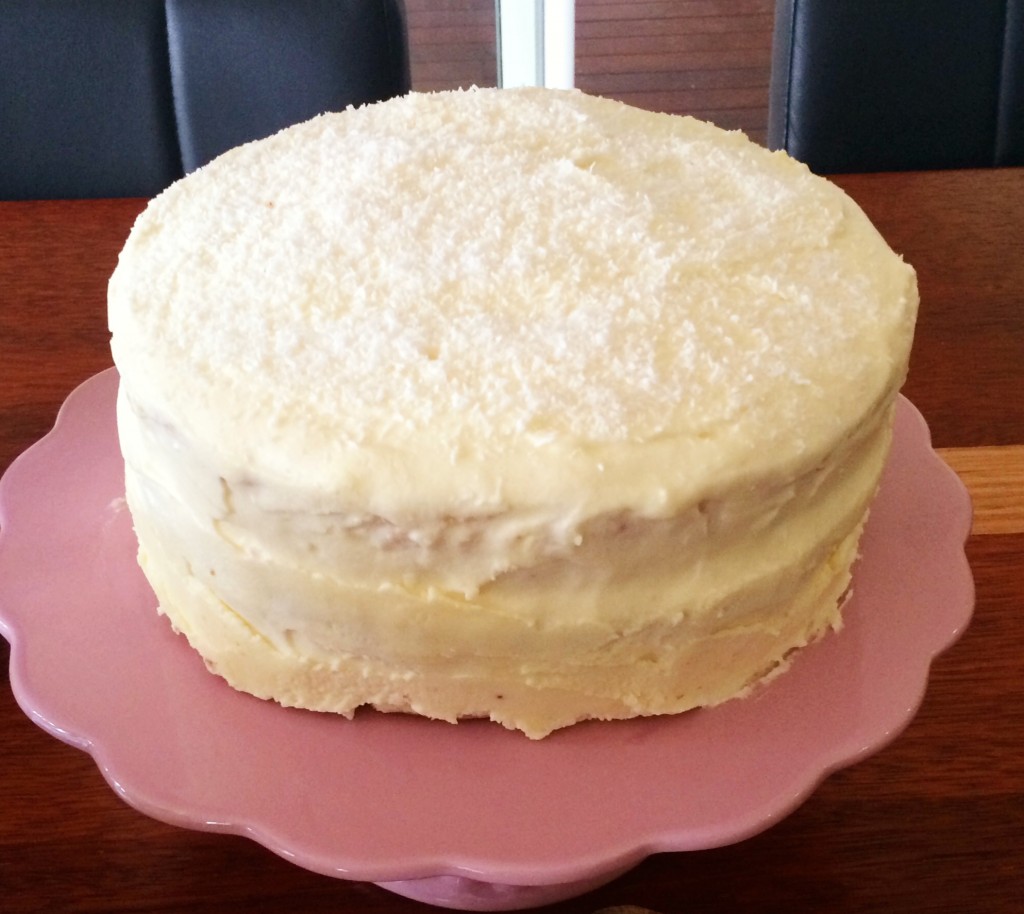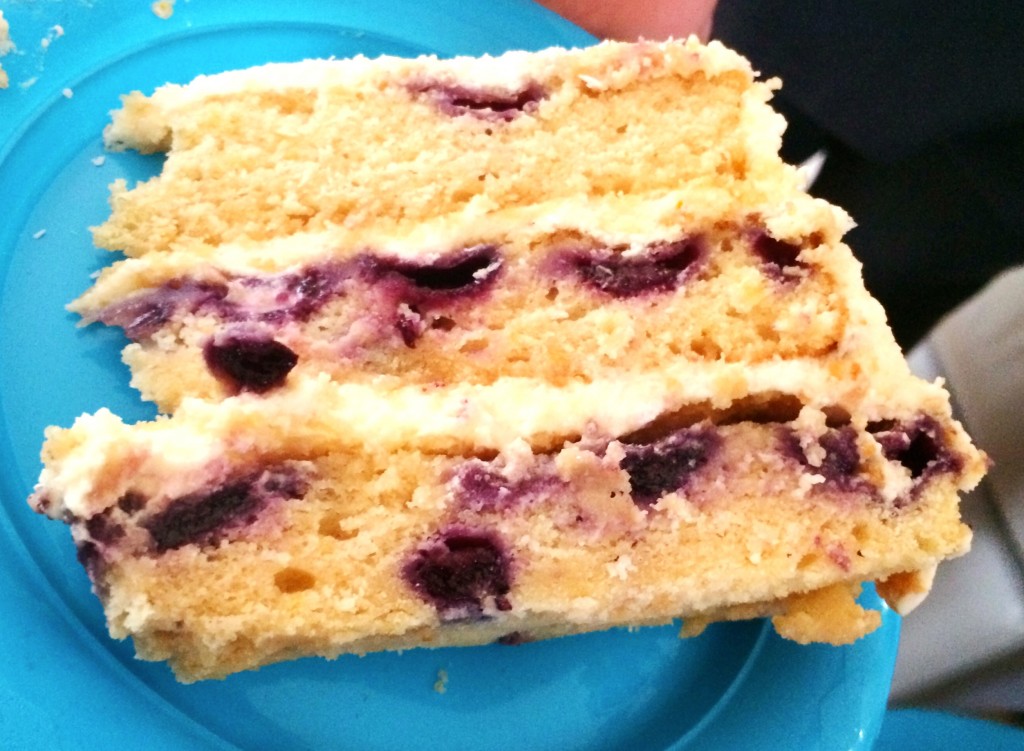 Here's a few little tips for making this This Lemon & Blueberry Layer Cake:
Make and ice the cake the day before you need it and pop it in the fridge overnight. This will mean that when you cut it, the layers will stay nicely together rather than falling apart. Just make sure you take it out of the fridge an hour or two before serving.
Add your blueberries right at the very end before pouring into the cake tins and just mix them together ever so gently! This way they won't bleed into the cake mixture as much (dusting them in flour will also help to prevent this from happening).
Make sure you use buttermilk and not normal milk. Using normal milk will lead to a bitter tasting cake.
Divide the cake batter evenly between three cake tins before cooking. This way you don't have to worry about cutting one cake into three even layers (which is virtually impossible unless you are totally awesome, in which case go right ahead!).
By cooking the cakes separately, the cooking time is decreased. This means that your cakes will be moist all throughout. On the other hand if you make one big cake the outside edges will be dry and crumbly while the middle will take forever to cook.
When you take the cakes out of the oven, run a knife gently around the edge of the pan to loosen them.
Leave the cakes to cool slightly in the tins (about 10 minutes) before carefully transferring to a wire rack to cool completely.
Make sure your cakes are totally cold before you ice them – otherwise your yummy cream cheese frosting will end up a runny-gooey mess!
If you make any mistakes when icing, just run your knife under hot water for 20 seconds, dry it and then use it again. The heat will make the frosting easier to move and spread.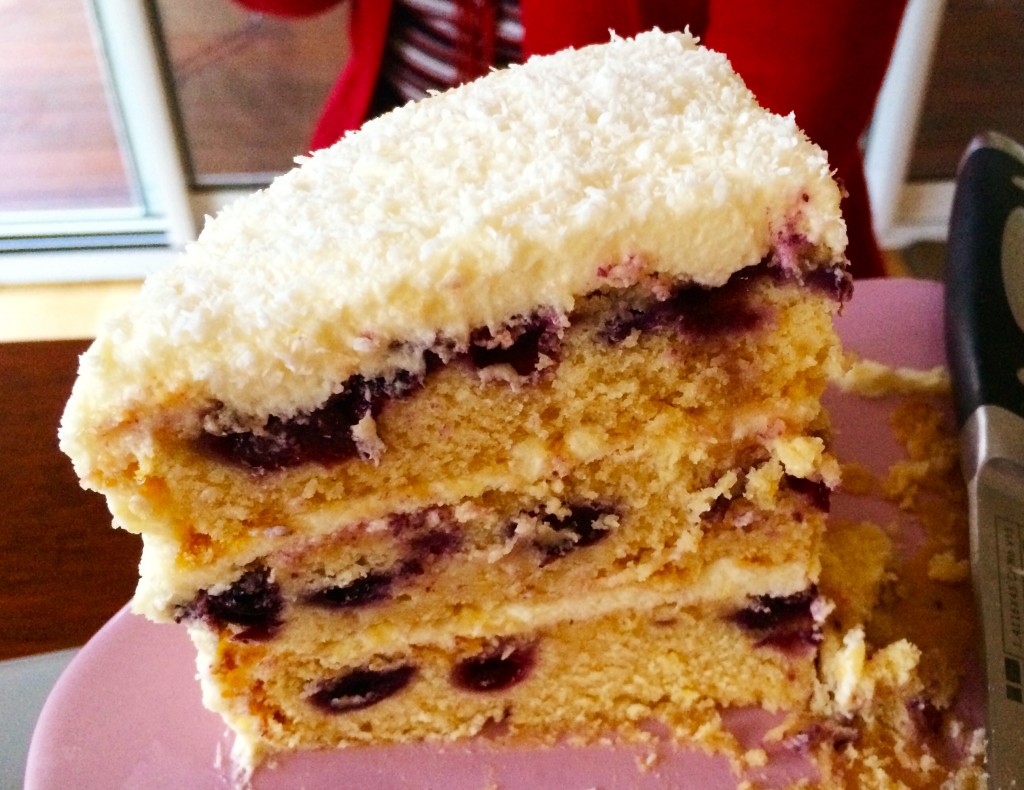 This really is just the yummiest Lemon & Blueberry Layer Cake! I had lots of people asking me for the recipe on the day so I don't think it's just me who loves the whole cream cheese/lemon/blueberry/cake thing!!!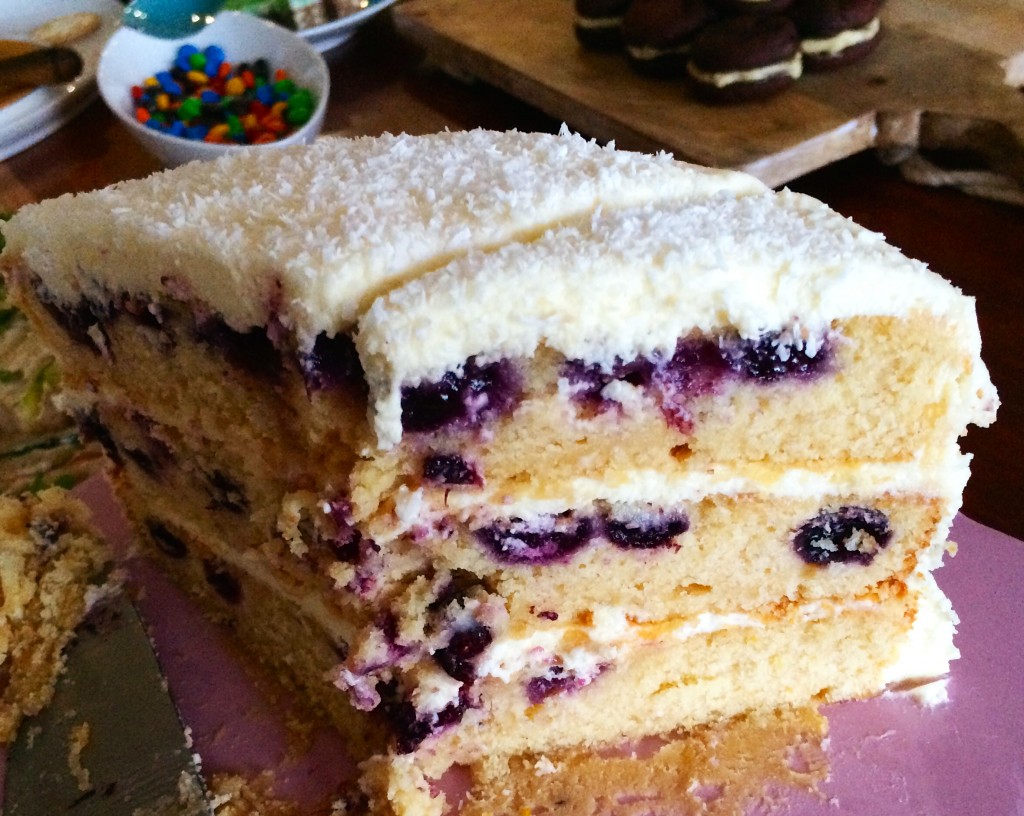 The most important thing was that it got the big tick of approval from the gorgeous mum-to-be at the baby shower (which is saying something given she's a brilliant cook herself!).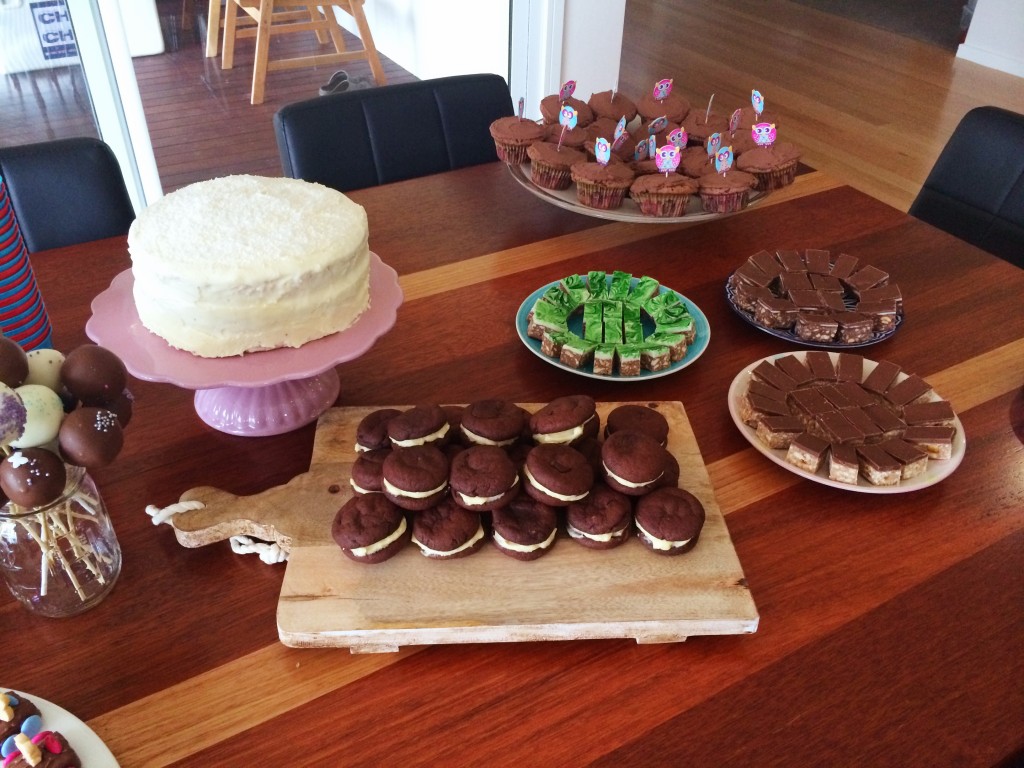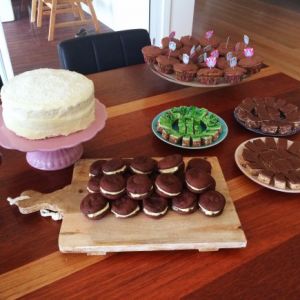 Lemon & Blueberry Layer Cake with Cream Cheese Frosting
This Lemon & Blueberry Layer Cake is a soft, light and moist lemon cake layered with blueberries and smooth cream cheese frosting... delicious!
Print
Pin
Rate
Ingredients
Cake:

230

g

unsalted butter

softened to room temperature

1 1/4

cups (250g)

caster sugar

1/2

cup (100g)

light brown sugar

4

large eggs

at room temperature

1

tablespoon

vanilla essence

3

cups (375g)

plain flour - don't overmeasure though!

1

tablespoon

baking powder

1/2

teaspoon

salt

1

cup (240ml)

buttermilk

Juice and zest of 3 lemons

1

and 1/2 cups blueberries - fresh or frozen is fine

1

extra tablespoon plain flour

Cream Cheese Frosting:

250

g

full-fat cream cheese

softened to room temperature

1/2

cup (115g)

unsalted butter

softened to room temperature

3 1/2

cups (420g)

icing sugar

2

tablespoons

heavy cream

15-30ml

1

teaspoon

vanilla essence

pinch salt
Instructions
Preheat the oven to 180 degrees celsius (160 if using a fan-forced oven).

Spray three 20cm round cake pans with nonstick spray and line the bottoms with baking paper.

Set aside.

Using a handheld or stand mixer, beat the butter on high until creamy - this will take approximately 1 minute.

Add the caster sugar and brown sugar and continue to beat on medium-high speed until creamed - about 2-3 minutes.

Scrape down the sides and bottom of the bowl as you go.

Add the eggs one at a time, beating in between each addition.

Add the vanilla essence.

Beat on medium speed until everything is combined, about 2 minutes.

Scrape down the sides and bottom of the bowl.

Set aside.

In a large bowl, sift together the flour, baking powder, and salt.

Slowly add the dry ingredients to the wet ingredients.

Beat on low speed for 5 seconds, then add the milk, lemon zest, and lemon juice.

Remove from the mixer and stir lightly until everything is just combined.

Place the blueberries and 1 tablespoon of flour into a ziplock bag and toss to cover.

Carefully fold the blueberries through the batter.

Make sure that you don't over mix the batter (over mixing will lead to a dry and coarse cake).

Spoon batter evenly into the 3 prepared cake pans.

Bake the three layers for about 20-25 minutes or until a toothpick inserted in the center comes out clean.

Remove from the oven and allow to cool completely before frosting.

To make the frosting use a handheld or stand mixer and beat cream cheese and butter together on medium speed until no lumps remain - this will take about 3 minutes.

Add the icing sugar, 1 tablespoon of cream, vanilla extract, and salt with the mixer running on low. Increase to high speed and beat for 3 minutes.

If the frosting is too thick, add 1 more tablespoon of cream to thin it out.

To assemble and frost the cake use a large serrated knife to trim the tops off the cake layers to create a flat surface.

Place 1 layer on your cake stand or serving plate.

Cover the top with cream cheese frosting and spread it out evenly.

Top with the 2nd cake, more frosting, followed by the third layer.

Finally, top with frosting and spread around the sides.

There will only be enough frosting for a light frost (so if you want lots of frosting then make the frosting recipe times 1.5).

Top with coconut or fresh blueberries.

Refrigerate overnight to stop the cake from breaking up when you cut it.

Take the cake out of the fridge an hour or two before serving.

Make 1 day in advance if you'd like. Extras keep well in the refrigerator for up to 3days.
Happy cake making… xxxx