These super quick and healthy Leftover Roast Turkey Wraps are sure to bring you out of your Christmas food coma! Fast, fresh & fabulous! 
Now that Christmas is over and our food hangovers are in mega full swing, I thought it was the perfect time for a light and healthy recipe that also uses up some of those pesky leftovers that keep STARING at us from the fridge… just willing us to gobble them up! These Turkey Wraps are a deliciously light way to enjoy your Christmas leftovers and you'll probably have the ingredients in your fridge or pantry already.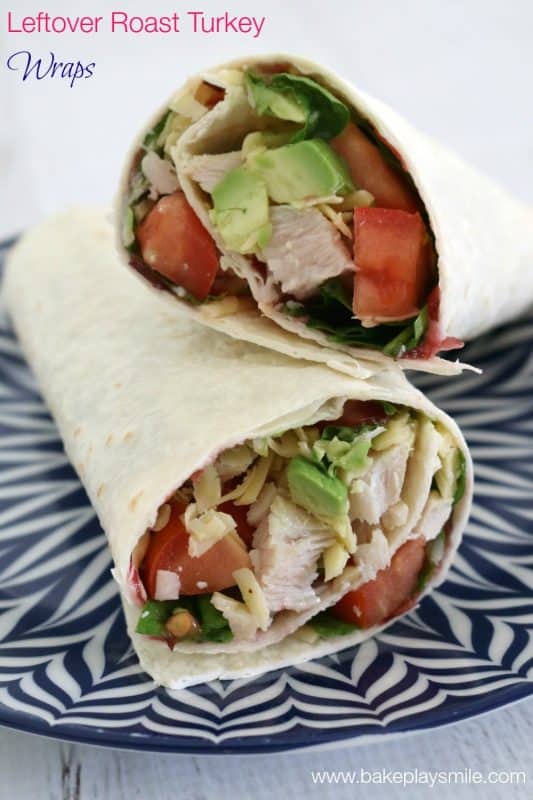 Leftover Roast Turkey Wraps
For these wraps I used leftover roast turkey, however, they're equally as good with leftover ham, pork or chicken. If you don't have any wraps in the house and can't be bothered battling the post-Christmas crowds at the shops, then just use rolls instead. Or if you've been on major carb overload throughout Christmas, then make it nude, ditch the bread, and simply have it as a salad.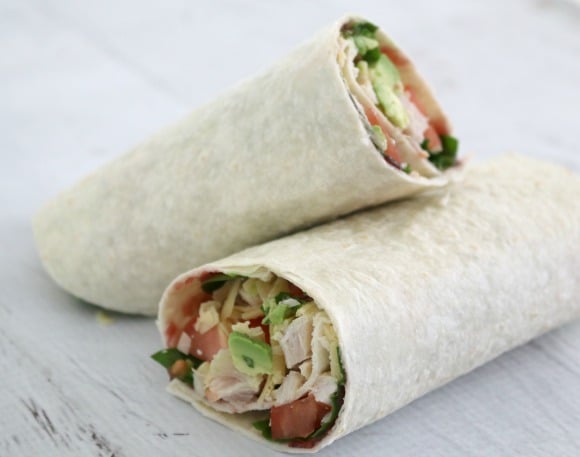 To make these wraps, start off by spreading some cranberry sauce over the bottom. Top with heaps of yummy salad fillings, including rocket or baby spinach, diced tomato, avocado, grated cheese, grated carrot…. and anything else you find hiding out in your fridge. If you have pre-made salads leftover from Christmas, then simply use that instead. You can also use cream cheese in place of the grated cheese if you've got some in the fridge. The whole idea of these wraps is to use up any leftovers!
Wrap them up nice and tight and cut in half. These wraps are the perfect light lunch or a quick and easy dinner. AND they'll certainly help you start to make your way out of your Christmas induced coma… well until you notice the leftover tiramisu in the fridge, that is!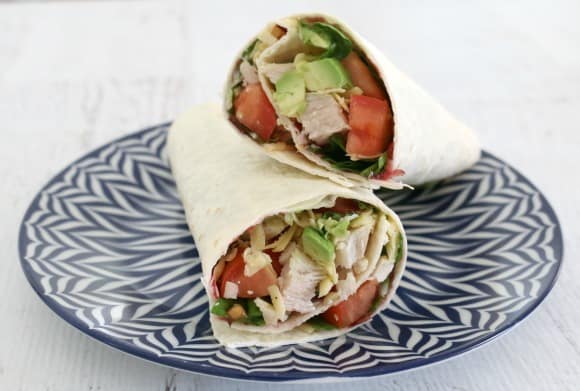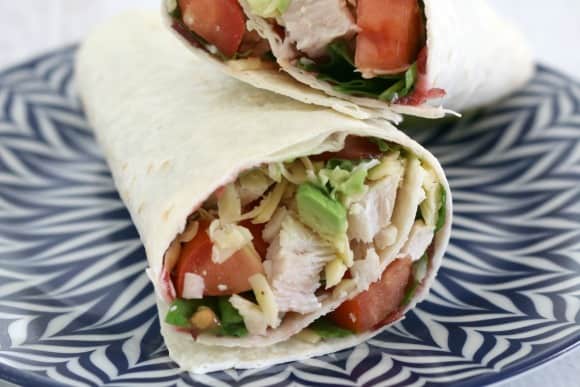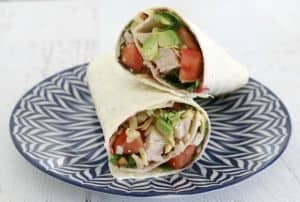 Leftover Roast Turkey Wraps
Leftover Roast Turkey Wraps are the perfect way to use up any remaining Christmas leftovers!
Ingredients
4

wraps

4

tbs

cranberry sauce

4

cups

salad fillings

carrot, tomato, baby spinach, rocket, cheese, avocado etc

1

cup

diced roast turkey

or any leftover meat
Instructions
Spread 1 tbs of cranberry sauce onto the top of each wrap.

Divide the salad fillings equally amongst the wraps.

Top with the diced roast turkey.

Roll the wraps up tightly.

Cut in half.

Serve immediately.

*To keep your wraps nicely together, pop a toothpick through the middle.