The most decadent, over-the-top Triple Chocolate Cherry Ripe Mud Cupcakes… these are for the true chocoholics out there!
Death by chocolate does not even begin to describe these cupcakes… murder by chocolate gets a little closer. They are ridiculous and certainly not for the faint hearted. If you are not a total chocoholic then walk away slowly now! If you are a chocoholic, you will die and go to heaven eating these little babies. Literally die I tell you…
First of all I thought I would make just a simple batch of chocolate cupcakes. Then I thought I could add choc chips for a bit of extra chocolate crunch. Why on earth not! Then I had a flash of inspiration that a chocolate buttercream frosting would go down a treat sprinkled with some yummy Flake chocolate. Again, why on earth not! And finally as I started to grab the ingredients out of the cupboard I found two double chocolate coated Cherry Ripe bars. Why.On.Earth.Not!!!
Now with the benefit of hindsight I will tell you why not… Because this is so insanely chocolatey rich! Insanely. And I love chocolate and will happily devour a block on my own (preferably while watching Bridesmaids or some other chick flick!). But even by my standards these cupcakes were so far over the top it wasn't even funny! Still I loved them and managed to happily munch my way through quite a few… Ahh happy days!
You know these cupcakes are going to be amazing when you taste the mixture (come on, don't lie.. I know you taste the mixture too!). It's sooooo thick. It's more like a frosting texture than a cupcake batter.

And the amount of chocolate that goes into these babies is enough to keep Willy Wonka's chocolate factory buzzing away for years! Is it just me who grew up thinking that working in the Wonka factory would be the best job in the world… I would settle for the Cadbury factory too by the way. Hey, I'm not picky.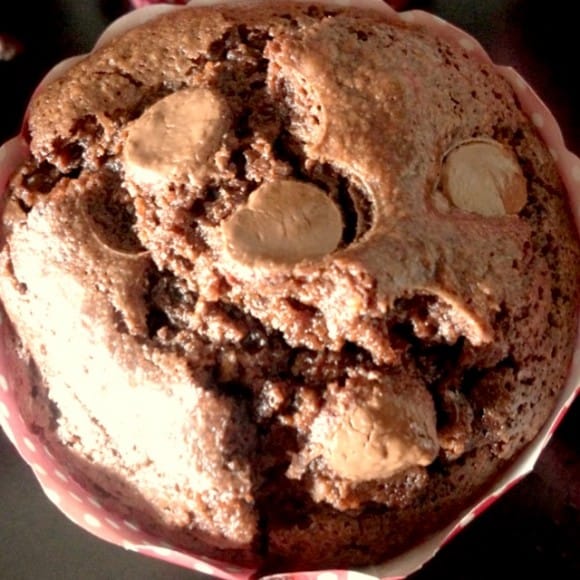 If I have any advice it would be to make these cupcakes when you know you have friends or family coming over. That way you won't eat them all and then feel so sick you have to lie down for a little siesta (if you aren't sure of the sick feeling I'm talking about, it's exactly like how you feel after gorging on Christmas day… Yes we all know THAT feeling!!).
Yours so totally chocolated out…. Xxxx
P.S – Next time for something different (and when I have stopped feeling so ill)… I'm thinking of using white chocolate chips instead of the dark ones and replacing the Cherry Ripe with Mint Aero chocolate, and crumbling Peppermint Crisp on top for a white chocolate and mint choc fest!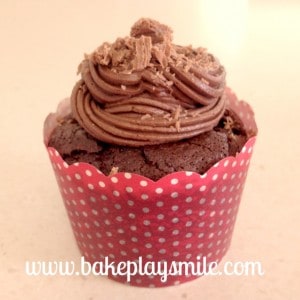 Insanely Rich Triple Chocolate Cherry Ripe Mud Cupcakes
The most decadent, over-the-top Triple Chocolate Cherry Ripe Mud Cupcakes... these are for the true chocoholics out there!
Ingredients
Muffins

125

g

butter

chopped

1

tablespoon

cocoa powder

you could also use coffee if you prefer

3/4

cup

water

200

g

dark chocolate

chopped

1

cup

caster sugar

3/4

cup

plain flour

1/2

cup

self-raising flour

1

egg

whisked

1/4

cup

desiccated coconut

1

x 85g Cherry Ripe bar

chopped roughly

1

cup

chocolate chips ... plus another 1/4 cup for sprinkling on top of the batter

the ones that don't melt when cooked

Buttercream Icing

100

g

butter

softened

2

cups

soft icing mixture

sifted

1/3

cup

cocoa

sifted

2

tbsp

milk

Cadbury Flake bar

for decorating
Instructions
Preheat oven to 180°C.

Grease and line base of 9 x 1/2 cup capacity oval friand pan with non-stick baking paper.

Place butter, coffee, water, chocolate and sugar in medium saucepan.

Heat over medium heat, stirring until sugar is dissolved.

Stand for 10 minutes.

Stir flours, egg, coconut and Cherry Ripe into chocolate mixture and mix well.

Add chocolate chips and stir.

Divide evenly between prepared pans.

Sprinkle a few more chocolate chips on the top of each cupcake.

Bake for 20 minutes or until a skewer inserted comes out clean.

Stand 5 minutes before putting onto wire rack to cool.

To make the buttercream, use an electric mixer and beat the butter until pale and fluffy.

Add the icing mixture and cocoa a little at a time until fully incorporated.

When this is fully combined add the milk and the chocolate buttercream will become light and fluffy.

Pipe onto the cooled cupcakes and decorate with the crumbled flake.

Eat... and then lie down 🙂