If you run a food blog, you have so many opportunities to make money from it… if that's what you want to do, of course! Obviously, the bigger your blog gets, the easier it will be to make money, but that doesn't mean that a small food blog can't also be financially successful.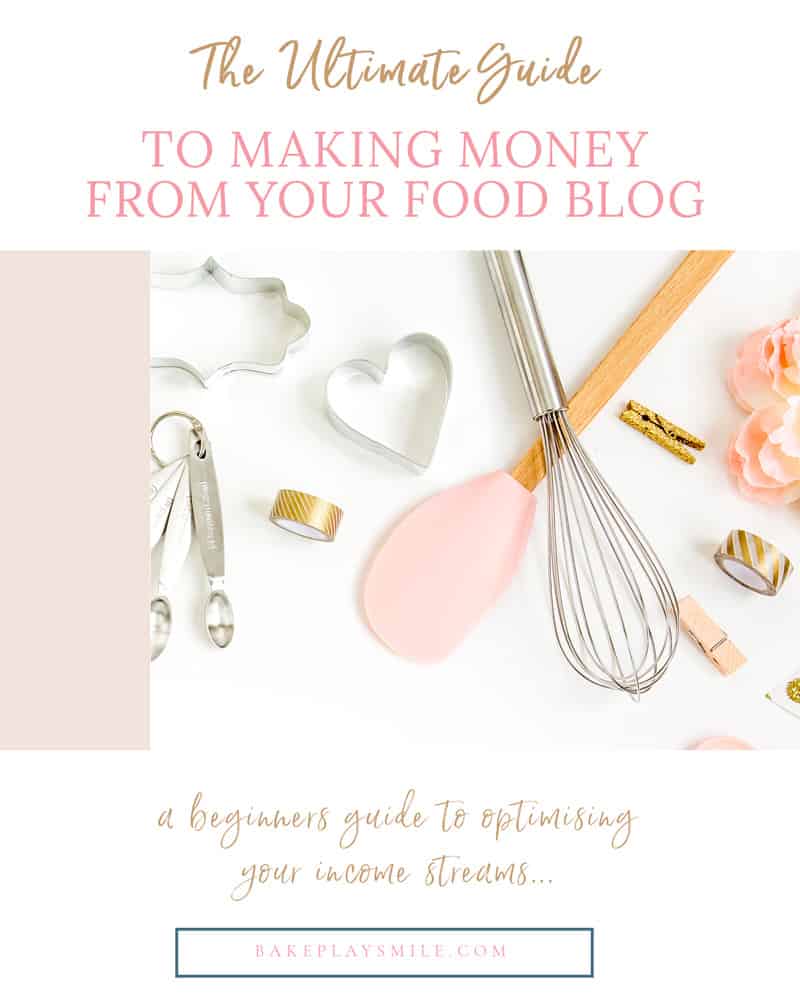 How to make money from your food blog
There are a HUGE number of ways you can monetise your blog. Some are one-off opportunities, while others produce a long-term income stream. Let's check out the most common ones:
Advertising
Not everyone likes ads on their blog and that's totally fine. BUT they are a great way to make money. The more traffic you have, the more money you will make. Simple as that. I started putting ads onto Bake Play Smile virtually as soon as I started it. This was because I wanted my readers to know that ads were a part of my blog. I didn't want to grow my website 'ad-free' and then dump a whole heap of ads onto my audience once the site really took off. Mind you, I wasn't really making much money from my ads in those earlier months – but it did give my audience an honest view of what to expect from my website. I know lots of other bloggers who have held off implementing ads until their stats have increased enough to make decent money. There's no right or wrong answer when it comes to implementing ads.
There are different ad providers that you can use:
For beginners: Passionfruit Ads
If you're just starting out and testing the waters with advertising, Passionfruit Ads is pretty clever. You pay a monthly fee and can easily sell your own ad spaces on your website. You can also do free 'ad swaps' with other bloggers. It's easy to set up and manage your own ads, especially when you're starting out.
When you've started to increase your page views: Google AdSense
This is a great place to start if you decide to pop some ads onto your food blog. There are no minimum page view requirements which means that you can get started straight away. I used Google AdSense when I first started my ads and while I didn't make a huge amount of money because my traffic was still building, it was enough to cover basic expenses like hosting fees.
There are plenty of other ad providers that you can use. Some will have minimum traffic requirements, while others won't. If you're going to deal directly with ad providers, I would recommend sticking to just 1-3 – it will make it far easier for you to manage. Check out this list of the 10 Best Ad Networks of 2014 for more info.
For established blogs: Mediavine

My advertising is all now done through Mediavine. They're a company who organise and set up all of your ads for you. They then sell your ad spaces to the highest bidder. I LOVE Mediavine because I don't have to think about my ads at all AND they have an amazing support team. I'm also earning way more through them than I ever did with Google AdSense. I like that you can pick and choose the types of ads you would like (for example: I have been very clear that I don't like banner ads at the top of my website, so they make sure I don't have any of those). I couldn't possibly recommend Mediavine any higher – they're incredible.
There are also plenty of other ad network providers, such as BlogHer, Gourmet Ads, Platefull, and Martha's Circle. Each of these ad providers have different sign up requirements – so pick one or two that suit you and apply.
Sponsored Posts
Sponsored posts are a great way to make money on your food blog – regardless of it's size. Sure, a food blog with very high traffic will seem appealing to companies, but smaller blogs with a high level of engagement and a loyal community are just as appealing. Generally, a company or their PR representative will contact you to see if you would like to do a sponsored post for their brand/product. Generally when I do sponsored posts I like to include a recipe using the brands products. The most important things to remember when doing sponsored posts are:
be selective with who you work with – choose companies you love
be honest in your sponsored posts – sure the company is paying you, but your audience has the right to know that you are being authentic and honest in your review/posts
dont undercharge – your time and value are important… don't underestimate it
Affiliate Programs
If there are companies that you love, then reach out to them and see if they have affiliate programs you can join. Essentially, you promote their company or product on your website or social media platforms in return for income.
Content Writing For Other Websites/Publications
The great thing about having a food blog is that you are already producing awesome content that other people will want to see. Approach bigger websites or publications and see if you can create some recipes or do some freelance food writing for them. It's a great way to earn a bit of income, while also getting exposure for your website. Approach companies that you feel are a great fit with your website and have a similar audience.
Cookbook Sales
A food blog is the perfect place to launch your cookbook. You can sell it directly through your website, using a plugin such as WooCommerce (that's the plugin I use for the shop on my website), or you can simply promote it through your sidebar ads.
Ebook Sales
Ebooks are a food bloggers best friend. They're simple to create and are a great way to promote your recipes. You can either sell your ebooks to your audience or you can offer them as a free giveaway for your subscribers (this is a great way to build your email list). I use a template on Google Docs for my ebooks, but if you want to outsource the design side of things, Fiverr, oDesk/Upwork or Elance are all great alternatives.
This is only the very tip of the iceberg when it comes to making money from your food blog. And let's face it, given the HUGE amount of time, effort and money that goes into running a successful food blog, you totally deserve to be making some 'dough' from it! Stay tuned for more tips on how to increase your revenue from your food blog.