Super healthy oatmeal cookies made with banana, apple, cranberries and peanut butter. The perfect guilt-free pick-me-up recipe!
Ok, ok, ok… yes I know! I have been baking really terribly naughty things lately. I admit it. Yep, my baking has been all about things like those ridiculously calorific caramel, peanut, Picnic brownies that were just so, so good. Oh yeah and those triple chocolate muffins. Don't even get me started on those. And don't forget those choc-mint biscuits. Mmmmm…. Oh lordy, just thinking about all of those delicious little goodies makes me happy. But, even I have a breaking point where enough chocolate is enough. OMG I can't believe I just said that! Never mind, I'm sure I'll be back on the chocolate bandwagon next week! But today I decided that I really, REALLY needed to bake something super healthy (to make up for everything else).
I have made a fair few semi-healthy cookies before, but I usually get side-tracked and add in a whole heap of choc chips or something else really delicious right near the end. But not this time! I managed to bake super healthy oatmeal cookies with absolutely no chocolate (please don't be disappointed in me!). These cookies are sugar-free, flour-free, egg-free, oil-free…. but thankfully not taste-free! I love to eat healthy stuff, but not at the expense of taste! So these cookies turned out to be quite a nice little surprise (I admit I was a little worried  that they would taste like cardboard!).
But you know what? These healthy little babies are actually really yummy! The oats give them that lovely cookie texture, while the banana, apple and peanut butter are a pretty darn awesome mix! Thanks to my lovely friend, I was able to use homemade peanut butter in these cookies which was soooo yum that I was definitely licking the spoon as I went, but you could also use store-bought peanut butter (or almond butter). I added in cranberries and seeds which gave just the right amount of crunch and taste. To be honest, I was pretty ridiculously happy with myself after making these cookies! They may not be chocolate-laden, but that's ok! A girl needs a bit of variety in life!
I hope you enjoy these super healthy and low-fat cookies. And surely if you eat these cookies for a few days it totally makes up for eating all those brownies last weekend… right???? Right????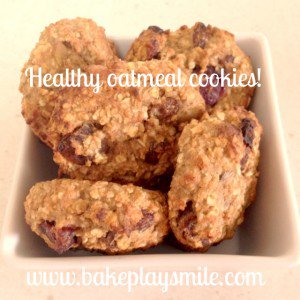 Healthy Oatmeal Cookies
Super healthy oatmeal cookies made with banana, apple, cranberries and peanut butter. So, so yum!
Ingredients
2

Ripe Bananas - mashed

1/3

Cup

Peanut Butter

2/3

Cup

apple sauce

I just pureed some stewed apple

1

tsp

. Vanilla essence

1/2

Tsp

. Salt

1/2

Tsp

. Cinnamon

1/2

Tsp

. Ground Nutmeg

2

Cups

Quick or Old Fashioned Oats

1/4

Cup

Nuts and seeds

I used trail mix

1/4

Cup

Dried cranberries

1/4

Cup

Shredded Coconut
Instructions
Preheat the oven to 180 degrees celsius.

Line a baking sheet with baking paper and set aside.

Mix together the bananas, peanut butter, apple sauce, vanilla, and spices.

Add in the oats, nuts, seeds, cranberries and coconut.

Stir until well combined.

Spoon 2 tablespoons of the cookie mixture onto the lined baking sheet, leaving a small gap between each cookie and flatten them slightly.

Bake for 20-30 minutes and allow to cool slightly.