These Healthy Banana Berry Muffins are the perfect lunchbox snack! Make a big batch and pop any leftovers in the freezer for a yummy treat. 
What better to do on a lazy, rainy Sunday afternoon than bake muffins! Mum has been making yummy apple and cinnamon muffins with crumble topping recently and has been delivering us some of her batches, but as she is away on holidays, it was my turn to get into muffin baking mode!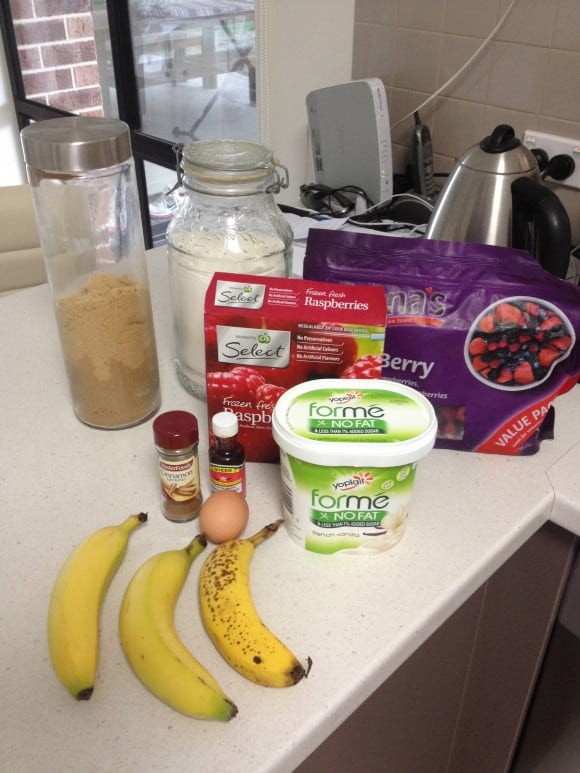 I had some ripe bananas left in the fruit bowl, but didn't feel like making just plain banana muffins… so it was lucky there were some frozen mixed berries in the freezer too!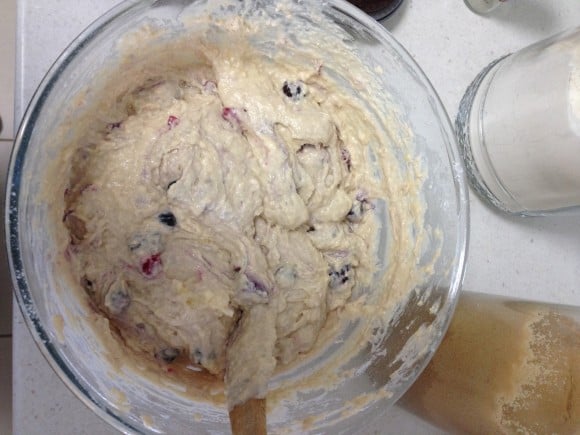 I was wanting to make a healthy muffin and found the perfect recipe! As usual I changed a few things around (added a bit of extra yoghurt because I love it so much, cut back a little on the oil and used plain self-raising flour as that's what was in the cupboard!). Oh and because I was very proud of myself for having made such a lovely, healthy muffin, I decided that it was just missing one absolutely crucial thing… a white chocolate button on top! 🙂 Hehehe chocolate just makes everything soooo much better!
Anyway, if you are after a super healthy muffin recipe then just leave out the chocolate. But it did add a nice little crunchy decadent finish to the muffins! And really, one little white chocolate button isn't that bad!! (Does it sound like I'm justifying my chocolate obsession just a little too much??)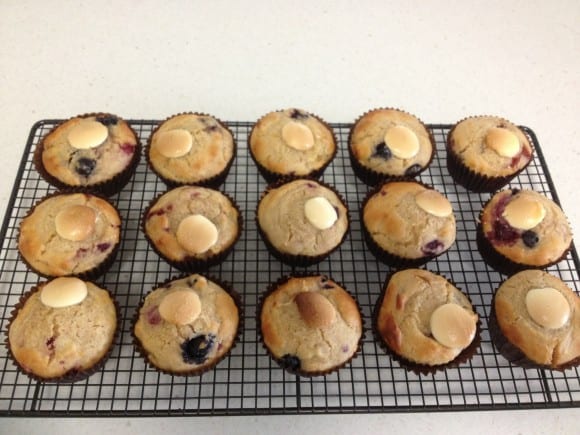 These Healthy Banana Berry Muffins freeze well and can be taken out in the morning and will be defrosted by morning tea or lunch. They are a great idea for a healthy and satisfying lunchbox snack too!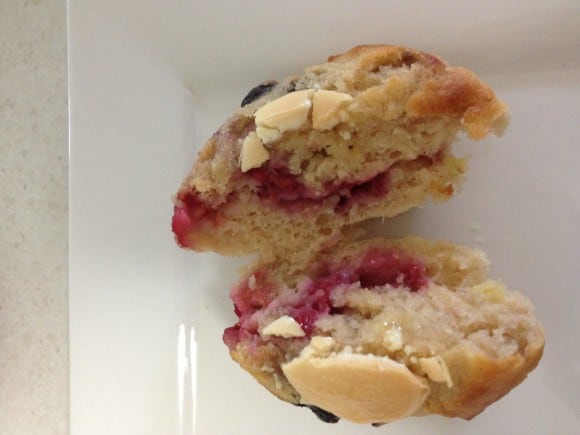 I hope you enjoy them!
Healthy Banana Berry Muffins
Ingredients:
2 cups wholemeal self-raising flour (I used normal self-raising flour)
1/2 cup self-raising flour
1 tsp ground cinnamon
1/2 cup brown sugar
1 cup banana, mashed
1 tsp vanilla extract
1 egg, lightly beaten
1 3/4 cups 98per cent fat-free blueberry yoghurt (I used low fat vanilla yoghurt)
1/4 cup extra-light olive oil
1/2 cup frozen or fresh mixed berries
White chocolate buttons
Step 1 –
Preheat oven to 190C (170C fan-forced). Line a 12-hole, 1/3 cup capacity muffin pan with paper cases.
Step 2 –
Combine flours, cinnamon and sugar in a large bowl. Make a well. Add banana, vanilla, egg, yoghurt and oil. Stir until just combined. Carefully stir through mixed berries. Spoon into paper cases. Add one white chocolate button to the top of each muffin.
Step 3 –
Bake for 20 to 25 minutes. Stand in pans for 2 minutes. Transfer to a wire rack to cool.