I'm sure by now you are well aware of my total and utter love of a good smoothie. But it hasn't always ben happy times with my smoothie making… nope, until a few months ago, I just couldn't get my head around green smoothies. I knew that they were super-duper good for you, packed full of nutrients, blah, blah, blah… but to be honest, a lot of them taste really ordinary!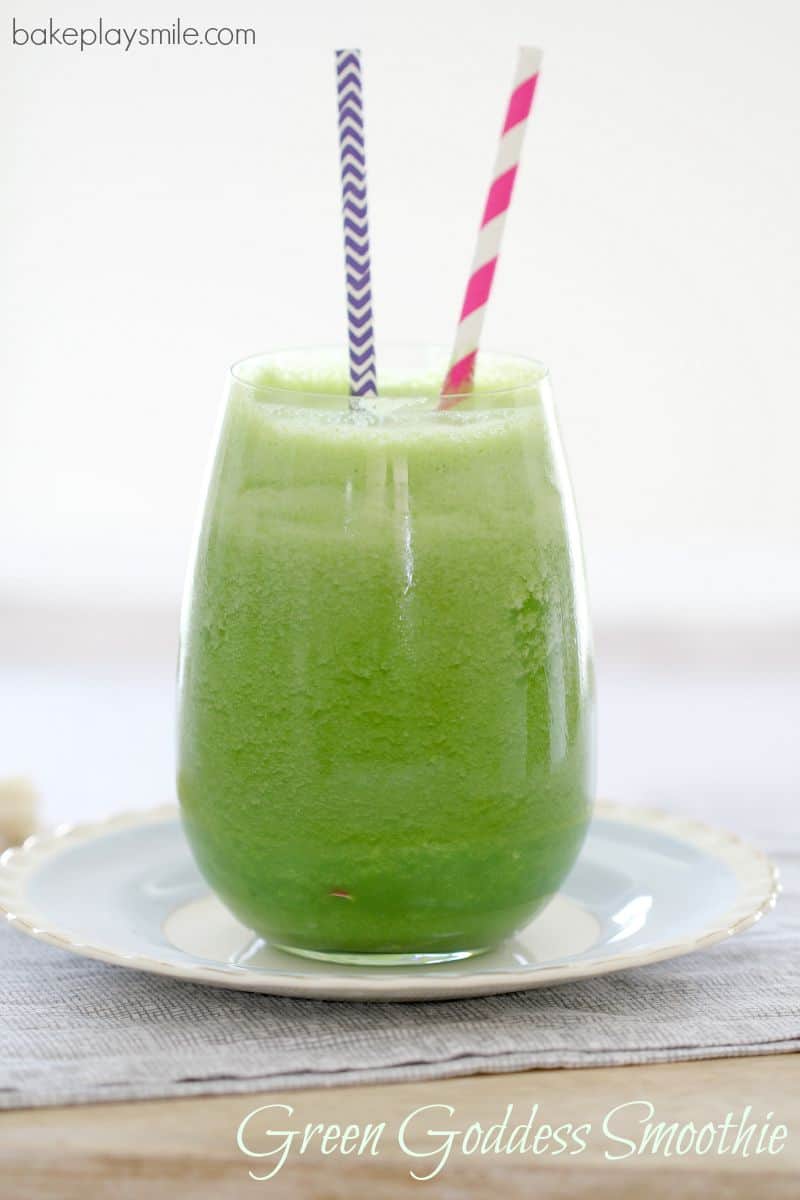 Don't get me wrong, I'm all for green smoothies, but they've got to taste nice too! The ones that I didn't enjoy, tended to be those that were packed with green vegetables, but with not much to sweeten it all up (hmmm… so yep the uber heathy ones put me off a bit). For me (and any beginner green smoothie drinkers), I think you've got to add in a couple of things to sweeten it up a little. And so, I've fine-tuned my green smoothie recipes to still be healthy and nutritious, but also taste great!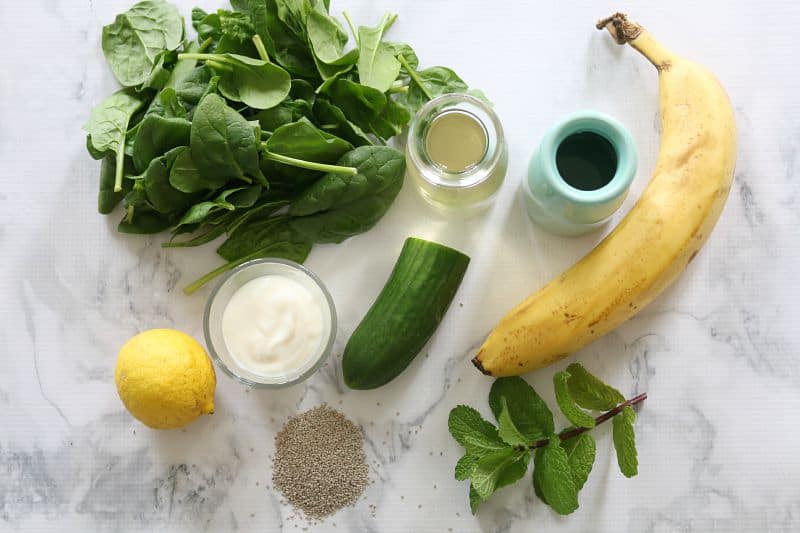 In this particular green smoothie, I've used coconut water (because I freaking LOOOOOVE it!). But I know lots of people out there   don't like the taste of it, so if that's you, simple substitute it for water (easy peasy!). PS. Dave doesn't like coconut water at all, but he said that you can't taste it in there.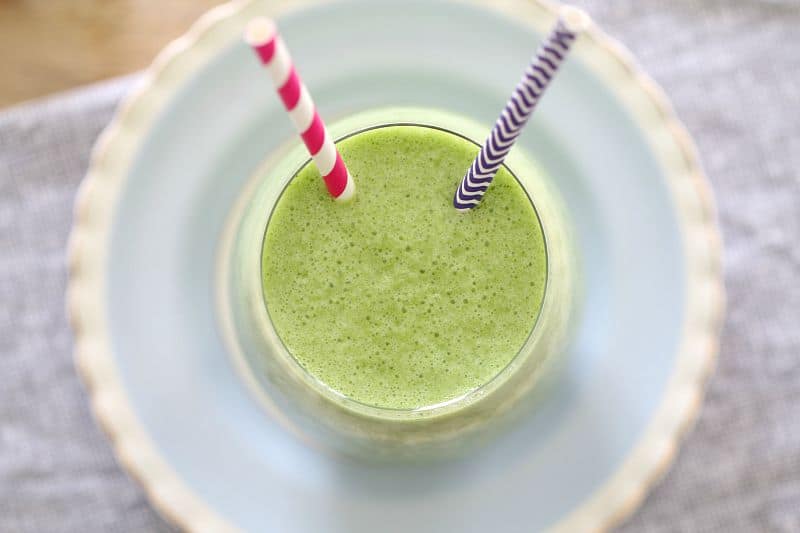 I've used a little bit of apple juice to sweeten up my smoothie, but if you are super conscious of your sugar intake then you can of course swap it for plain water or use coconut water instead. If you have some frozen bananas lying around, then they are ideal for this smoothie. But if you've only got fresh ones, then just add in a handful of ice before blending and you'll end up with the same result.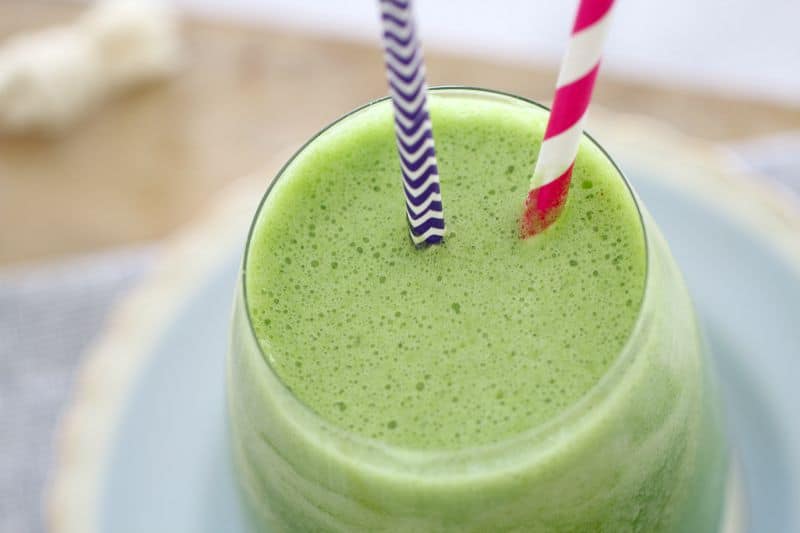 Hmm…. what else to add?! Ooh yes! The mint and lemon seriously make this smoothie. They are hands-down amazing. So puh-leeeeze don't leave them out. They make this drink so deliciously fresh. And my last little tip is that the chia seeds are totally optional – add them in or leave them out – it's totally up to you. They might be small but they're packed full of nutritious goodness, so if you have a packet in the cupboard, why not throw them in!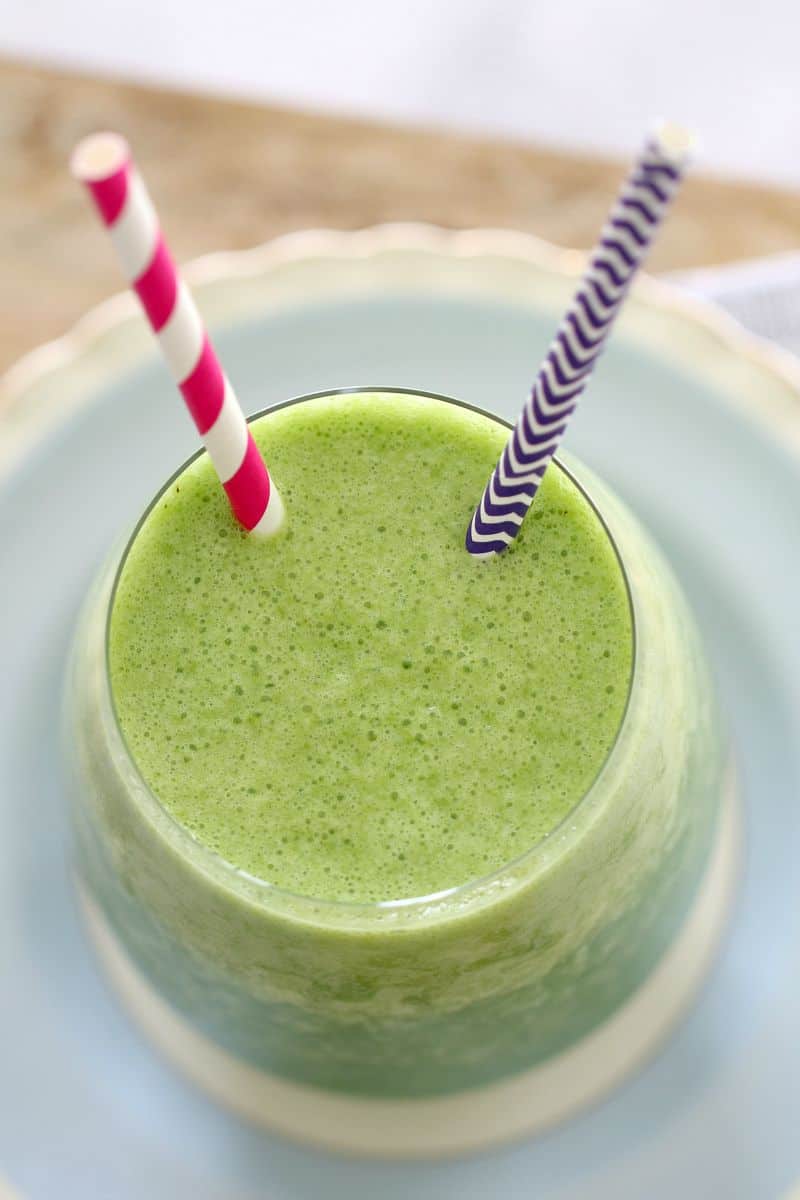 So, this may not be a 'hardcore' green smoothie, but it's still chock-ful of healthy bits and bobs PLUS it tastes really yummy! I have a few other green smoothie recipes that are great for those of us who want a super-smoothie boost, but without the ickiness of the full-on green smoothies – so stay tuned for those!
xx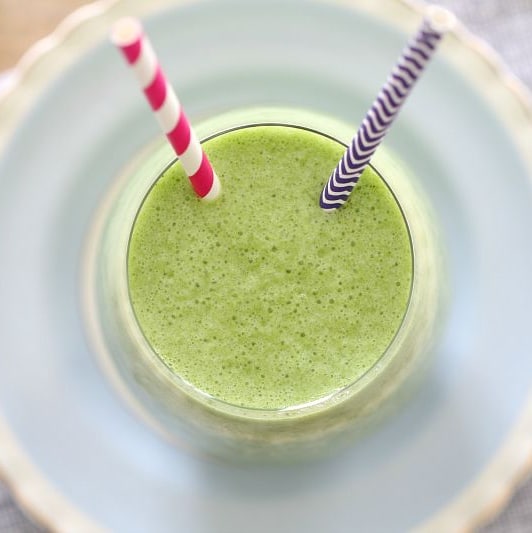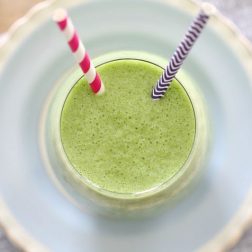 Green Goddess Smoothie
Great Goddess Smoothie - it actually tastes great - as well as being super healthy!
Print
Pin
Rate
Ingredients
2

cups

baby spinach

1

sprig mint

approximately 6-8 leaves

1

cup

coconut water

or water

1

cup

apple juice

or water

2

bananas

preferably frozen - if you don't have any frozen bananas, use fresh ones but add in a handful of ice too

1/2

cucumber

Juice of 1 lemon

2

tbs

vanilla yoghurt

1

tbs

chia seeds

optional
Instructions
Place the baby spinach, mint, coconut water and apple juice (or water) into a blender or Thermomix.

Blend on the highest speed for 1 minute or until smooth.

Add the frozen bananas, cucumber, lemon juice, vanilla yoghurt and chia seeds and blend on the highest speed for a further 1 minute or until completely smooth.

Pour into glasses and serve immediately.