Are you planning a Frozen themed birthday party?? These 3 simple Frozen themed party food ideas and recipes are the BEST!!
It seems that the whole world has gone totally Frozen crazy this year! Everywhere you look there are Princess Elsa's and Anna's, Olaf's and Sven's… and of course, everyone has had 'Let It Go' stuck in their head at some stage this year (even if you haven't seen the movie, I bet you've been stuck humming away to 'let it go, let it goooooo!'). Please tell me that's not just me!?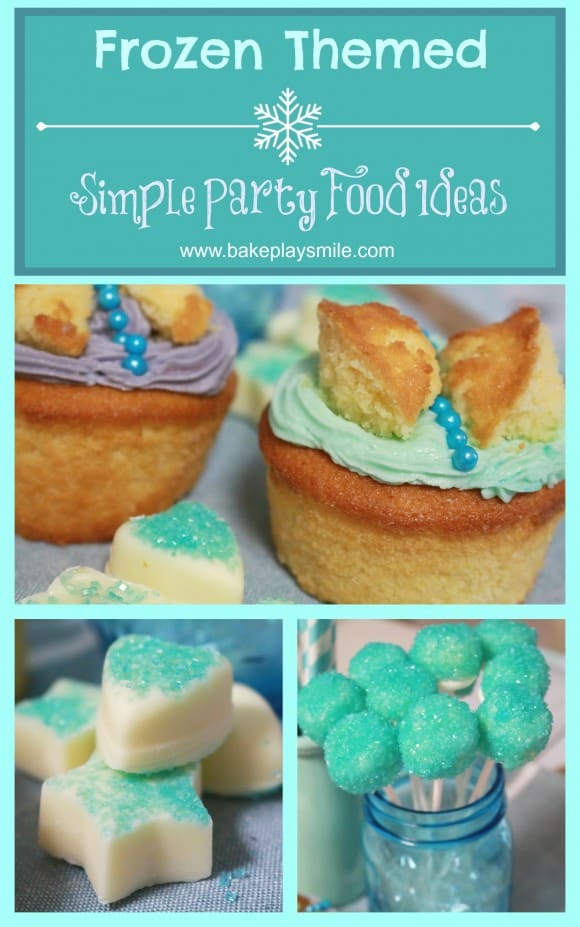 Anyway, I saw Frozen at the movies on New Years Eve last year with my two little nephews (it was my nephew Jack's 5th birthday!). Turns out that taking a 3 year old and a 5 year old to the movies is just as much about sleeping as it is about watching the movie! I think Angus who was 3 at the time fell asleep nearly straight away and Jack lasted until there was about 10 minutes to go! Nevermind, the 4 of us adults enjoyed it (some more than others… I loved it!) and my sister-in-law tells me that the boys have watched it at home since (and stayed awake!). So, given the craziness of the Frozen phenomena, I thought I would have a go at making 3 simple Frozen themed party food ideas and recipes. These are really easy and the kids could definitely get involved too. So we have some Frozen themed butterfly cakes with buttercream frosting, some lovely chocolate and sprinkle dipped marshmallows and of course, some little sparkly white chocolate stars and hearts… enough cuteness to get any Frozen party happening!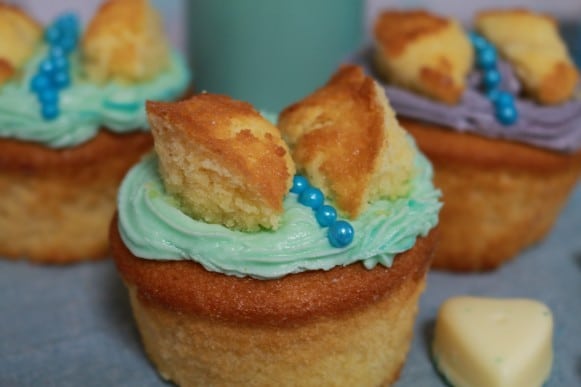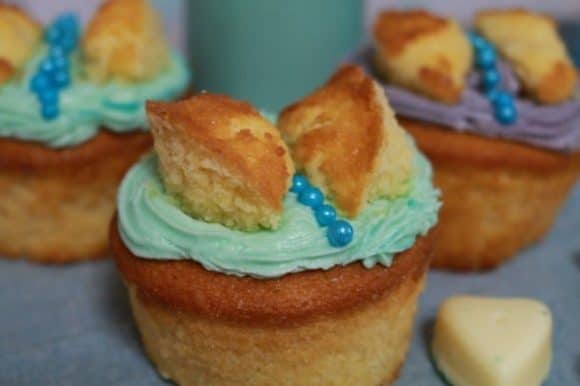 Frozen Themed Party Food Ideas
Frozen Themed Butterfly Cakes
First up – the butterfly cakes! All you need to do is whip up a batch of vanilla cupcakes. I've included my recipe below, but you could seriously use any recipe or even a boxed mix if you're rushed for time. Once the cupcakes are cooled, use a sharp knife to cut a small hole in the middle and then cut the top part in half to make the wings. Make a batch of buttercream frosting (my recipe is included below) and tint with blue or purple food colouring. When you're tinting make sure you only use ONE drop at a time!!! My blue frosting only needed one drop. Remember, you're going for beautiful icy, pale colours – not rainbow colours!! Pipe the frosting onto the cupcakes, add the butterfly wings on a slight angle and use tiny edible balls to make the body. And that's it! So easy and simple and yet totally gorgeous.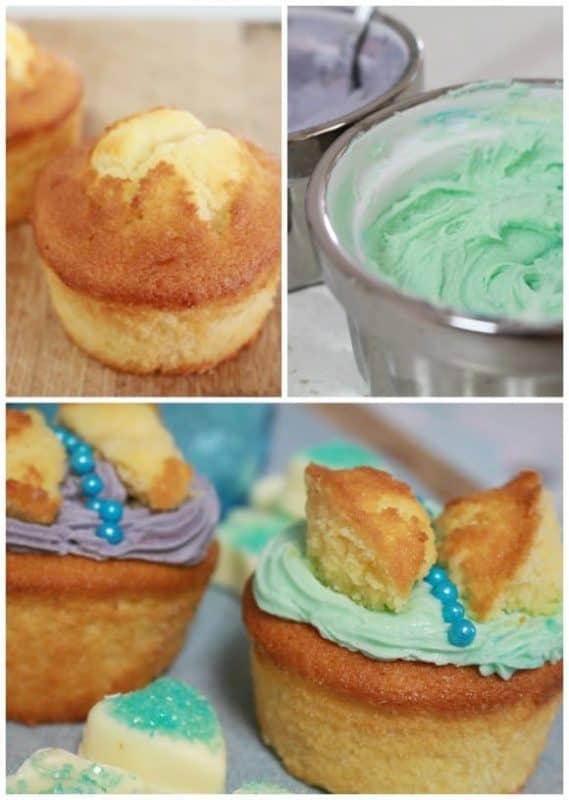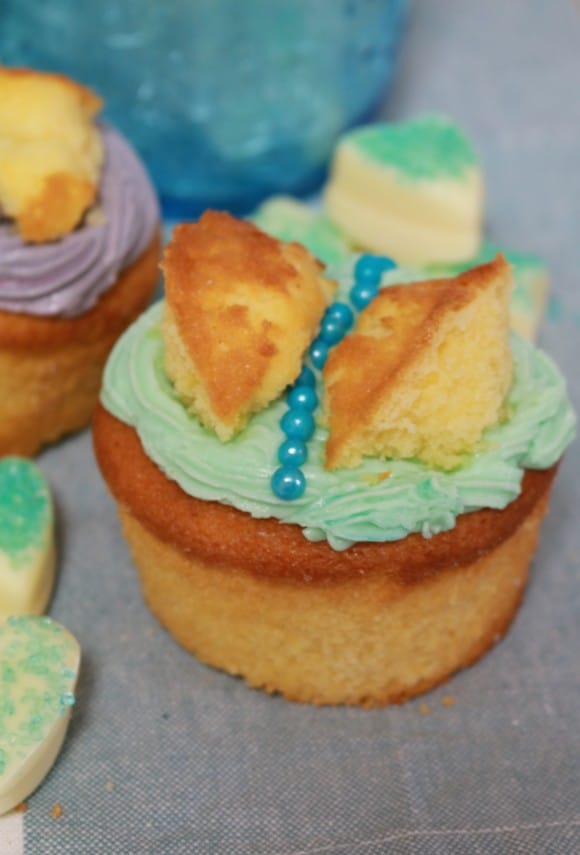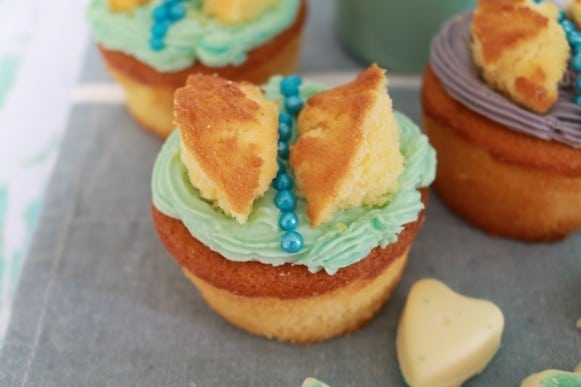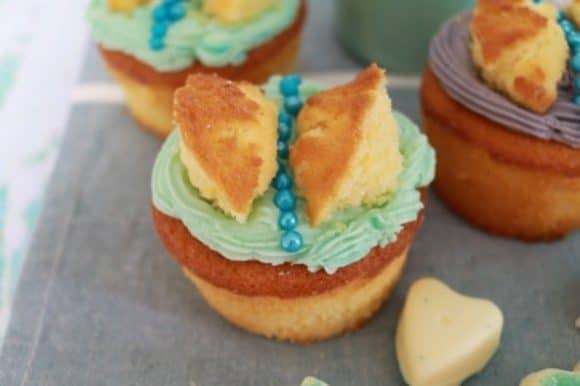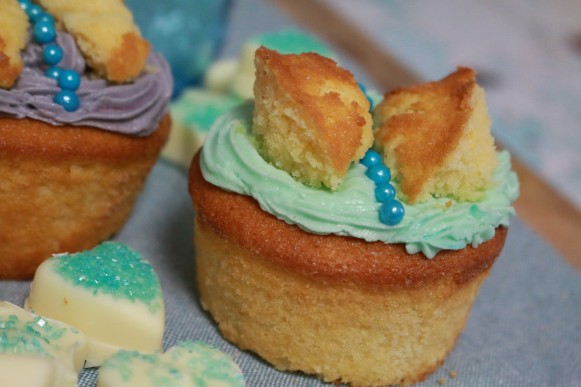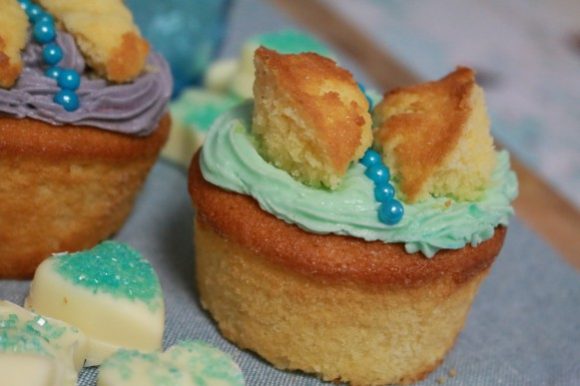 Frozen Themed Chocolate and Sprinkle Dipped Marshmallows
If you are after an effective but simple party food idea – then these marshmallows are exactly what you need! And they are perfect snacking size too!! All you need to do is melt some white chocolate melts in the microwave (I like to do this in 30 second intervals on half power, stirring in between). Place white marshmallows onto sticks – cake pop sticks work really well – and stand upright. If you have a cake pop holder then that is absolutely perfect, but if not, a glass jar or florist foam will work fine too. Place some sprinkles into a small bowl. Dip the marshmallows into the white chocolate and allow any excess to drip off. Carefully roll in the sprinkles and then place upright in your cake pop holder, jar or foam. Once the marshmallows have set, pop them into a mason jar or glass to serve. For something a little different, you could also tint your white chocolate blue and roll them in white sprinkles. See….. so simple and yet totally party-worthy!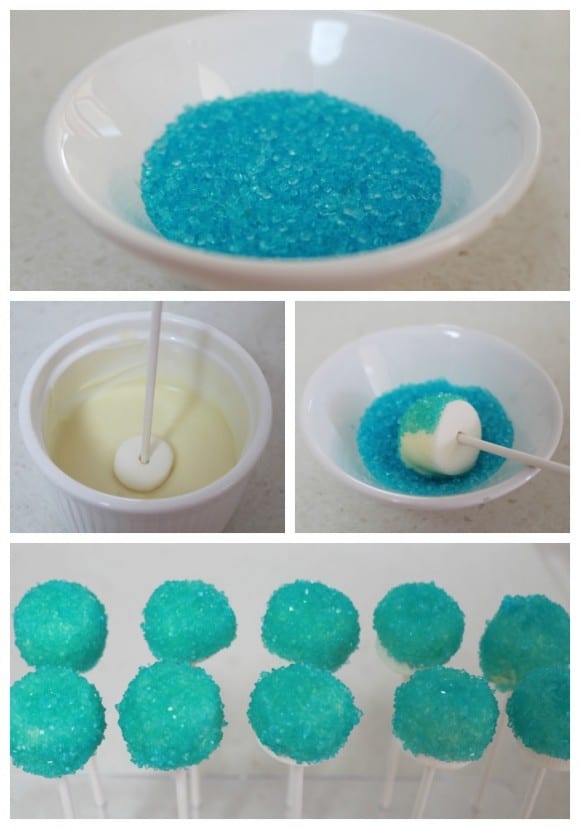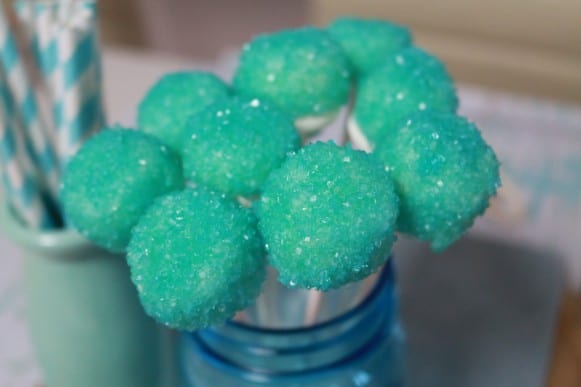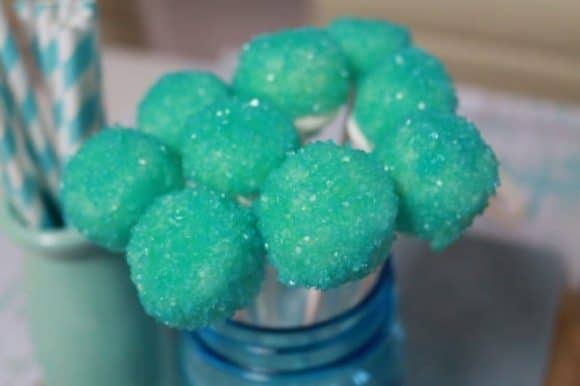 Frozen Themed White Chocolate Hearts and Stars
To be honest these cute little chocolates were an absolute afterthought. After making my chocolate dipped marshmallows, I still had some white chocolate and sprinkles left and my lovely little ice-cube trays were just calling to be turned into Frozen themed chocolates! So, I placed a little of the sprinkles into the bottom of my ice-cube trays, poured over the white chocolate and then added some more sprinkles to the top. After popping them into the fridge to set for about 20 minutes (while I frosted the butterfly cakes!!), they were ready to be popped out of the trays. And yep, it was literally as easy as that!!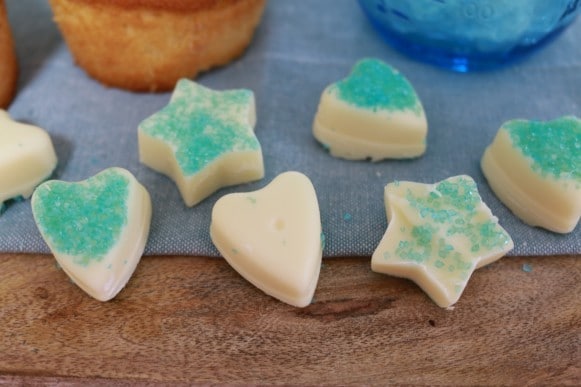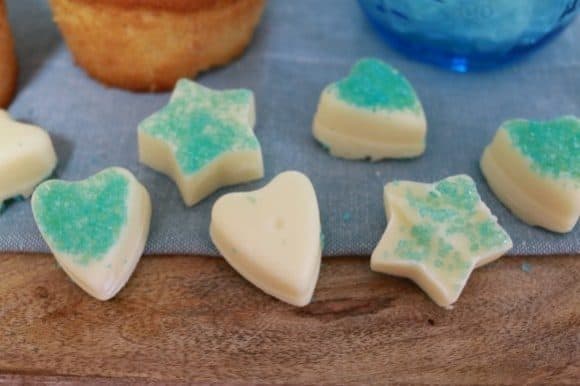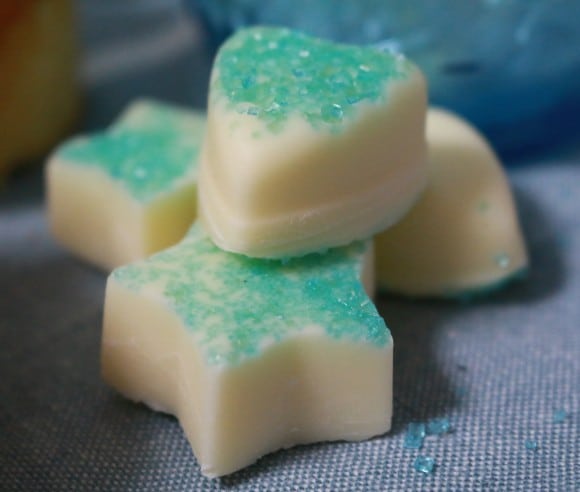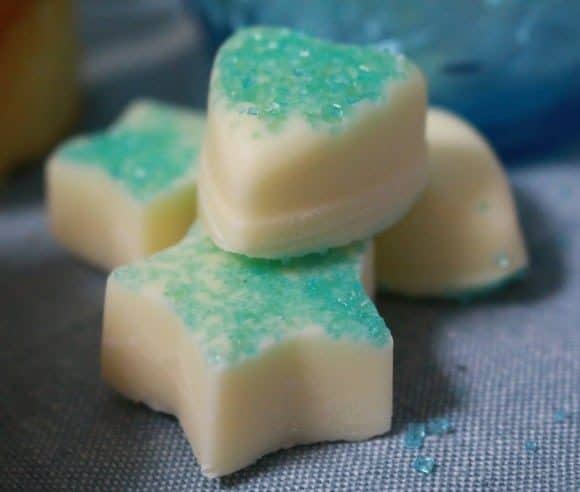 So there you have it! 3 totally simple Frozen themed party food ideas and recipes! Now all you need are some little Princesses, Princes, snowmen and reindeer… and of course 'Let It Go' playing on repeat on your iPod!!!!!
xxx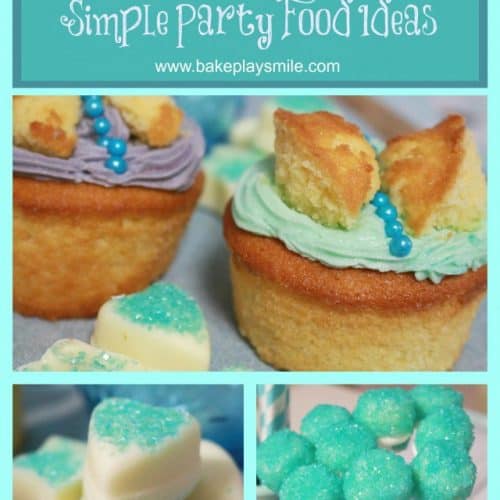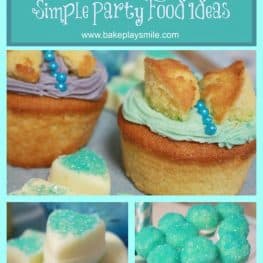 3 Steps To A Perfectly Fabulous Frozen Party!
Planning a Frozen themed birthday party? These gorgeous butterfly cakes will have all of the Princess Elsa's, Princess Ana's, Sven's and Olaf's swooning!
Print
Pin
Rate
Ingredients
For the cupcakes:

125

g

butter

softened

1/2

cup

caster sugar

120g

2

eggs

lightly beaten

1 1/2

cups

self-raising flour

225g

1/2

cup

milk

125ml

1

teaspoon

vanilla essence

For the frosting:

1

cup

butter

softened

3 1/2

cups

icing sugar

1

teaspoon

milk

1

teaspoon

vanilla extract

1/8

teaspoon

salt

Blue and purple food colouring
Instructions
To make the cupcakes:

Preheat oven to 180°C.

Line 12 x 1/2 cup muffin pans with paper cases.

Cream the butter and sugar until light and creamy using electric beaters.

Gradually add egg, beating well between each addition.

Add flour alternately with milk and vanilla.

Divide evenly between patty cases.

Bake for 12-15 minutes or until golden brown.

Leave to cool.

Cut a circle from the top of each cake, then cut the circle in half.

To make the buttercream frosting:

In a bowl combine butter, sugar and salt.

Beat with an electric mixer until blended.

Add the milk and vanilla and beat for an additional 3 to 5 minutes or until smooth and creamy.

Divide frosting into two bowls.

Place one drop of blue food colouring into one bowl and mix well to combine.

Place one drop of purple food colouring into the other bow and mix well to combine (if you don't have purple food colouring - just add one drop of red and one drop of blue).

Place pale blue frosting into a piping bag and pipe onto 6 of the cupcakes.

Place the butterfly wings on a slight angle on top of the frosting.

Add the edible balls down the middle.

Repeat with the pale purple food colouring on the remaining 6 cupcakes.

Serve.