Whip up this delicious French Toast with Berry Compote, grab a coffee and a magazine and enjoy all of the lazy weekend bliss….!
Yay it's nearly the end of winter! I'm so excited because it's finally starting to feel warmer and the sun is actually shining! That must definitely mean that it's time to celebrate with a decadently sweet breakfast. Yep my sweet tooth isn't just restricted to cakes, cookies and slices… nope, I'm more than happy to hit the sweet stuff in the morning too!
My husband and I have this little tradition going where we go out for a late breakfast on a Sunday morning. I absolutely love it! I love the laziness of it all. I love the vintage little teapot and teacups my favourite cafe uses and I love chatting non-stop to my husband about anything and everything (hehe I'm sure he just loves that bit too). Anyway, french toast with berry compote is one of those things that I love to order at cafes. I love it even more so when it comes with ice-cream. If it's on the menu it would be rude to say no, and well let's face it… there is no way I am going to say no to ice-cream, regardless of what time of day it is!
Now my version of French Toast with Berry Compote doesn't have any ice-cream, but it still tastes so decadent! And what could be more delicious than crispy on the outside, soft on the inside, cinnamon and vanilla infused french toast?? Well exactly that, but covered in a warm berry compote of course!!
My little tips for French Toast perfection are to use a yummy bread like sourdough or brioche. This sort of bread will let the egg custard soak in enough to give you a really beautiful texture. I also like to cook my French Toast on a low-medium heat so that it turns lightly golden and doesn't burn! Finally, frozen berries work beautifully in this compote and they are so easy! Sometimes I also like to add a small amount of cornflour to the hot syrup while it's still over a low heat so that you end up with a nice thick sauce. I also like to go back to these great French Toast baking tips from The Kitchn (nope that's not a spelling mistake either!!).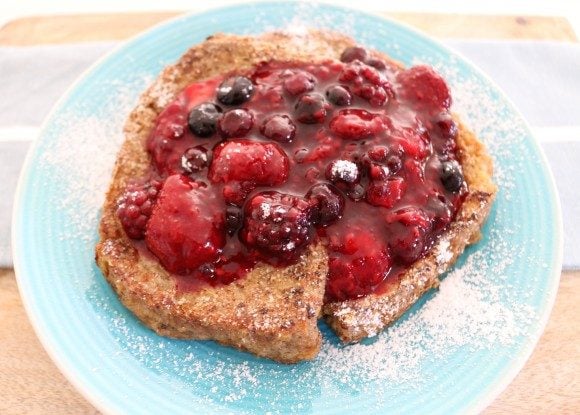 And there you have it… a yummy and decadently delicious lazy weekend breakfast. Oh and if you add a big dollop of ice-cream, I promise I won't tell anyone!
xxx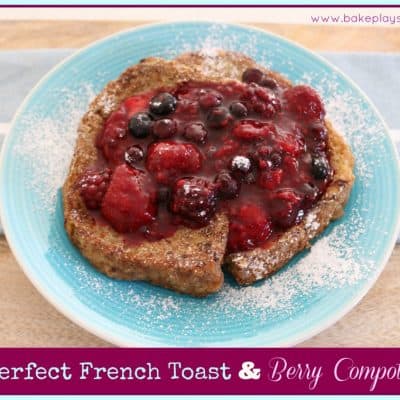 French Toast with Berry Compote
Whip up this delicious French Toast with Berry Compote, grab a coffee and a magazine and enjoy all of the lazy weekend bliss....!
Ingredients
French Toast:

1

teaspoon

ground cinnamon

1/4

teaspoon

ground nutmeg

2

tablespoons

sugar

4

tablespoons

butter

4

eggs

1/4

cup

milk

you can use any milk - I used coconut milk, but almond or plain would work fine too

1/2

teaspoon

vanilla extract

8

slices

brioche or sourdough bread

Berry Compote:

1/4

cup

caster sugar

optional - to taste

300

g

frozen mixed berries

2

tbs

cold water

1

tablespoon

cornflour

optional - this will result in a thicker sauce
Instructions
Whisk together cinnamon, nutmeg, sugar, eggs, milk, and vanilla and pour into a shallow container (such as a pie plate or small baking dish).

Dip bread in egg mixture (I left mine in for about 20 seconds on either side and pressed it down firmly int the mixture).

In a frying pan melt butter over medium heat.

Fry slices until golden brown, then flip to cook the other side.

Meanwhile, to make the berry compote, place the sugar and 2 tablespoons of cold water in a small saucepan.

Stir over low heat until sugar dissolves.

Increase heat to high and bring the mixture to the boil.

Cook for 3 minutes or until mixture thickens slightly (if the mixture is still too runny, add 1tbs cornflour dissolved in water and stir through).

Remove from heat.

Stir in berries and serve over the warm french toast.