A super healthy breakfast… packed with blueberries, apple and almonds – this Bircher Muesli will keep you feeling full for hours!
Scroll down to the bottom of the post for my Apple, Blueberry & Almond Bircher Muesli recipe…
Welcome to our Fabulous Foodie Fridays party! Once again we had an amazing collection of recipes linked up last week. We've also had so many comments from people who have said they keep going back to previous FFF parties for recipe inspiration. We love that it's like a virtual cookbook, which means one less food magazine lying around the house!! Anyway, lets get the party going by kicking off with my favourite recipes from last week…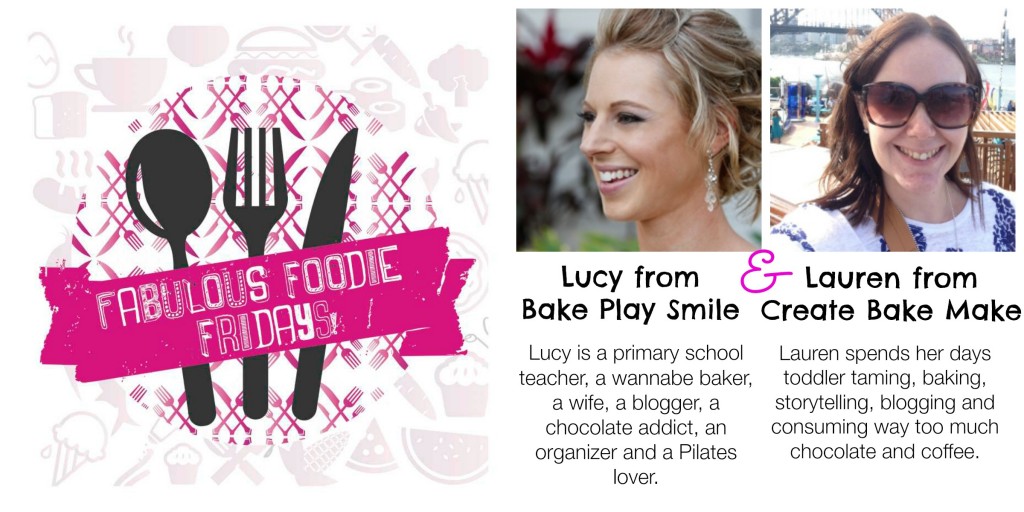 1. I can't believe I'm saying this, but my favourite recipe was actually a savoury one. Yep, there was absolutely no way I could say no to this Panina Con Polpette (aka Meatball Sandwich with Chipotle Mayo) from Insatiable Munchies. I have nothing more to say except… drool!
2. I'm determined to start cooking with polenta this year. I've never cooked with it and I really want to try it out! This Kaffir Lime Polenta Pudding with Caramel Sauce from the always gorgeous Sweet Natured Kitchen is going to be the start of my little polenta journey.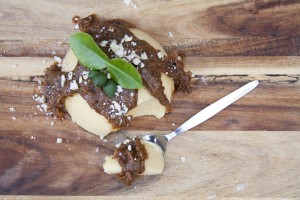 3. I had to choose this recipe because my mum absolutely loves licorice and I'm sure this Quick and Easy Licorice Allsort Slice from Zamama Bakes would be just her thing!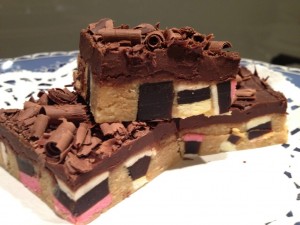 4. Move over rice, quinoa is here! Some of my favourite salads are made with quiona and this delicious Quinoa Salad with Roasted Pumpkin and Fresh Greens from Gluten Free Hart is going straight onto my must-make-for-dinner list!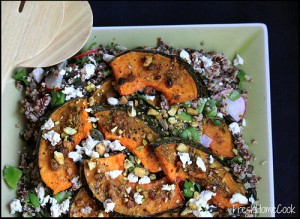 5. Mmmm finally, three of my favourite things… lemon… meringue… cupcakes!!! Yes puh-leeeze!!! I'll have three of these delicious little Lemon Meringue Cupcakes from My Brown Paper Packages right now, thank you very much!!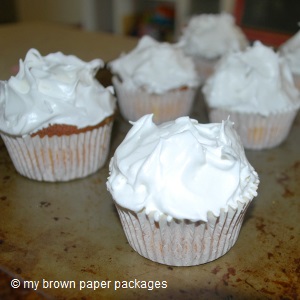 For more great recipes, pop over to Lauren at Create Bake Make and check out her favourites from our FFF party last week too.
Now for this weeks feature recipe… Apple & Blueberry Bircher Muesli from Lucy (that's me!).
Apple, Blueberry & Almond Bircher Muesli recipe…
Whenever I stay at a hotel or go out for breakfast, there's a fair chance I'll order Bircher Muesli – I absolutely love the stuff! I don't know if it's the crunch of the nuts, the smooth creaminess of the yoghurt or the freshness of the fruit that sucks me in… or quite possibly it's the combination of all three things!
But as we all know, when it comes to breakfast at home, I am the Queen of Boring. Or should that be the Queen of Porridge? Yep, I am the epitome of unoriginal when it comes to my everyday breakfast. I pretty much have the same thing everyday. I like routine, ok!!!!!! So, in a effort to become a bit more adventurous I forced myself to make a batch of Bircher Muesli. And I seriously don't know why I don't do it more often! I made it the night before so that all the flavours had nicely smooshed (is that a word??) together by the morning, which meant I pretty much got up, grabbed it out of the fridge and was good to go.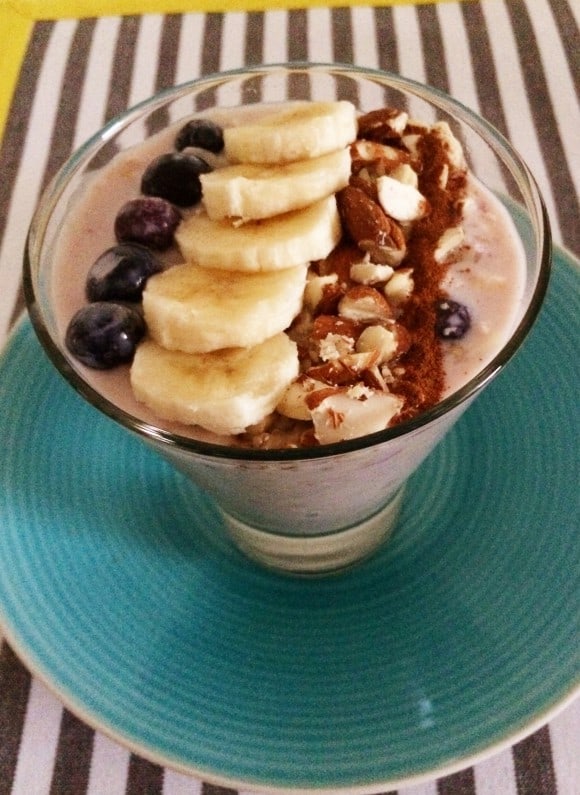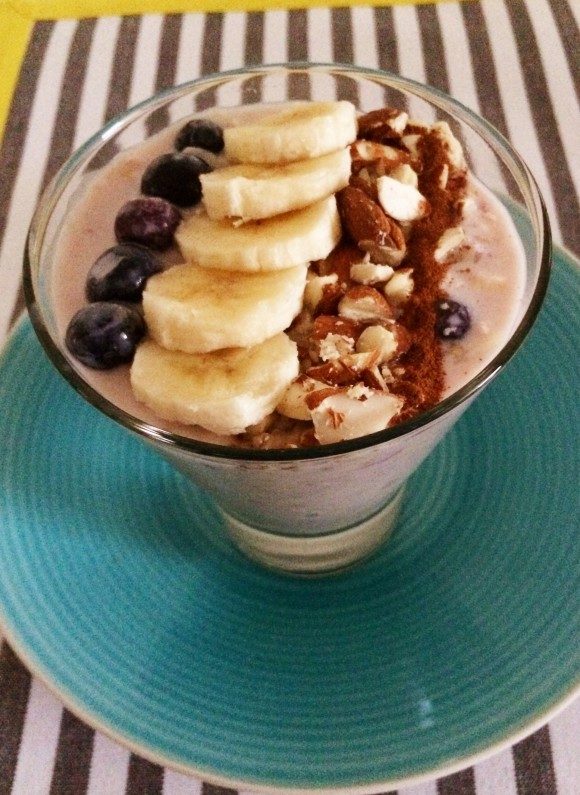 I hope that I will keep making my own Bircher Muesli and experimenting with some new flavours, rather than reverting back to my Little Miss Boring Breakfasts!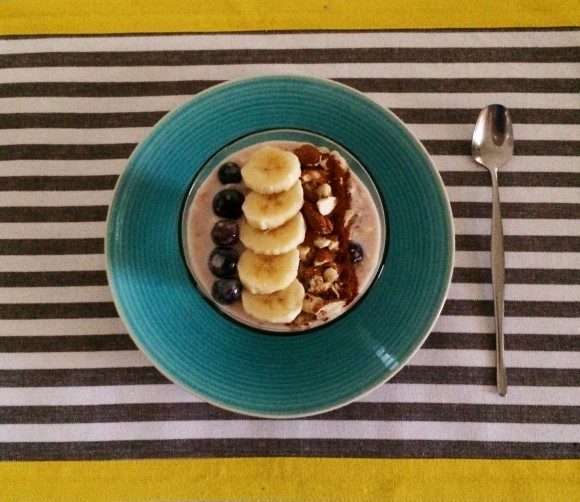 Can you help to inspire me with some of your yummy breakfast ideas??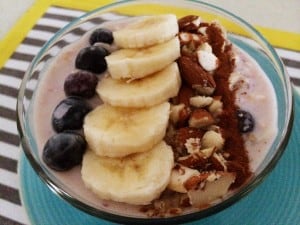 Apple, Blueberry & Almond Bircher Muesli
A super healthy breakfast... packed with blueberries, apple and almonds - this Bircher Muesli will keep you feeling full for hours!
Print
Pin
Rate
Ingredients
1

cup

rolled oats

3/4

cup

apple juice

1/2

cup

reduced-fat yoghurt

plain or flavoured

1/3

cup

reduced-fat milk

3/4

cup

blueberries

fresh or frozen

1

apple

grated

1

tablespoon

honey

optional

1/4

cup

chopped almonds

to serve

1

banana

to serve, sliced

Pinch cinnamon

to serve
Instructions
Combine oats, apple juice, yoghurt, milk, blueberries, grated apple and honey in a medium bowl.

Cover and refrigerate overnight.

Spoon muesli mixture into bowls.

Sprinkle with chopped nuts, sliced banana and cinnamon.

Serve.