Simple and delicious… this vegetable-packed copycat Kung Pao Pasta recipe is perfect for the whole family! Fast, fresh and full of flavour!
Scroll down to the bottom of this post for my Copycat Kung Pao Pasta recipe…
Yay, yay, yay… it's Friday!! I love Fridays for so many reasons (the upcoming weekend laziness is a big one!), but by far my favourite part of Friday's is checking out all of the yummy recipes linked up to our little foodie party. I get serious food envy just drooling over all the great recipes. It's also exciting to see new bloggers linking up each week – both Lauren and I love checking out all the new foodie talent out there! So here's to a Fabulous Friday, the joy of knowing it's nearly the weekend and the glass of wine that awaits you tonight! Happy Friday everyone xxx
Wow! As always it was incredibly difficult to pick just five favourite recipes, but after lots of umming, ahhing and drooling, here are my choices!
There's just something about a classic recipe that gets me every time. One of my favourite things to do is flick through old, yellowed and worn cookbooks that have been passed down through the family. So it's a no-brainer that I loved Grandma's Chocolate Squares from Just A Mum. This reminds me so much of a slice that my Mum used to make for our lunch boxes when I was little.
I know how good almonds are for us and yet I hardly ever grab a handful and eat them on their own (I know I really should!!). These Almond Power Bars from Epicurean Epistles sound like a great way to eat more almonds… oh and the fact the bars are covered in chocolate helps a bit too!
You know what? I have never made Mac and Cheese before. Well actually that's a lie – I used to make the packet stuff when I was in high school! Anyway, this Vegan Mac & Cheese  from VegeTARAian is set to change all that. This yummy dinner is definitely on my must-make list for this week.
Oh how I love a Singapore Sling, and how gorgeous is this one from Pretty Mayhem! We went to Singapore on our honeymoon and then again last year and I love, love, love the place. It's so incredibly clean, beautiful, has amazing food and architecture… and most importantly of all, it has a fabulous cocktail to boot! Mind you, we did have one at Raffles (as you do when you're doing the touristy thing) and it cost about the same as 10 Singapore Sling's from a normal bar!!!!
I absolutely love lamingtons and so this Chocolate & Coconut Layer Cake from The nOATbook will definitely be making an appearance in my kitchen very, very soon. And yep, it looks about a zillion times better than those little lamington fingers that I'm so fond of!
Now don't forget to pop over and check out the gorgeous Lauren's picks on her equally gorgeous blog, Create Bake Make.
Kung Pao Pasta
For our recipe of the week I've made a delicious pasta… with a bit of a difference! So, we all know that on cold winter nights there is nothing better than yummy, hot comfort food. And one of my favourites types of comfort food is a big bowl of pasta! Usually our pasta dinners involve throwing in whatever ingredients are in the cupboard or fridge and hoping for the best. But this time, my pasta making was actually very well planned out…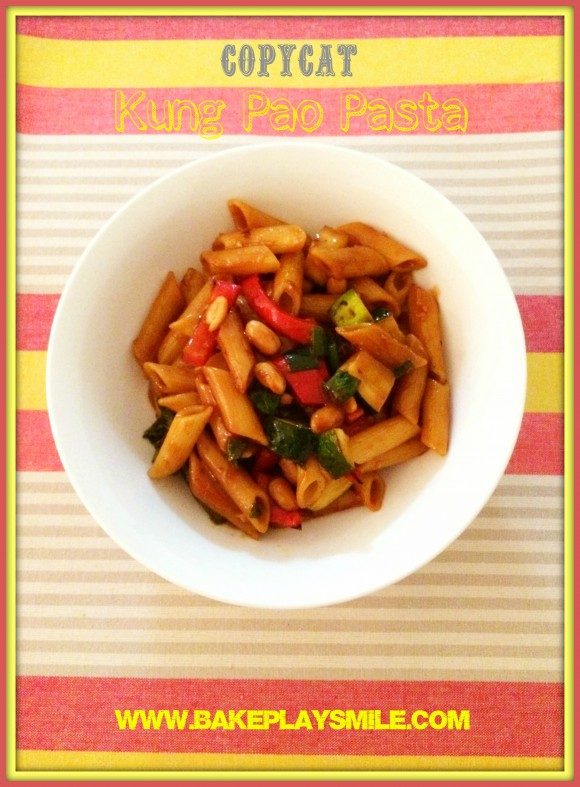 On my Pinterest feed recently I kept seeing a recipe for Kung Pao Pasta and it looked to me to be the perfect kind of comfort food. The only thing I didn't like about the original recipe was that it seriously lacked vegetables. And considering I love my dinners to be vegie-packed, a few changes were in order! I chopped up and popped in heaps of different vegetables, including broccolini, capsicum, zucchini and spring onion. The original recipe also called for sherry in the sauce. I didn't have any sherry at home (and it seemed a bit crazy to buy a whole bottle for just one recipe) so I just left it out. If you had some lying around then you could totally pop it in, but trust me, you won't miss it if you don't!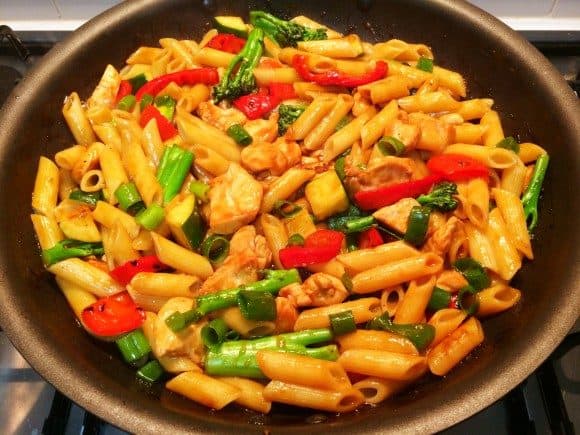 Both my husband and I loved this pasta. The sauce flavours were very similar to a stir fry sauce, so it was a great change from the usual tomato or cream based pasta sauces. It also has a little bit of chilli in it, which I'm guessing is what gives it the name "Kung Pao pasta"!! You can add as much or as little chilli as you like… I like just a little bit, but feel free to go crazy and make it as hot as you can handle! If you're making this dish for kids, I would just leave the chilli out altogether.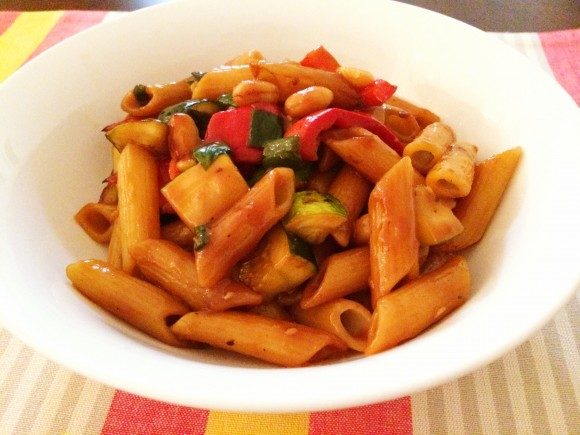 And the best bit about this Kung Pao pasta?? It was just as good heated up for lunch the next day. Perfect time saver on those busy mornings when you're running late for work! This vegetable packed version of 'Kung Pao Pasta' will certainly be a regular in our house from now on!
What's your favourite comfort food?
Copycat Kung Pao Pasta
Simple and delicious... this vegetable-packed copycat Kung Pao Pasta recipe is perfect for the whole family! Fast, fresh and full of flavour!
Print
Pin
Rate
Ingredients
500

g

dried pasta

2

tablespoons

vegetable oil

3

boneless

skinless thinly-sliced chicken breasts

Salt and pepper

to taste

4

cloves

garlic

minced

1/2

cup

dry roasted peanuts

2

spring onions

thinly sliced

1/2

capsicum

chopped

1

zucchini

chopped

1

bunch broccolini

chopped

FOR THE SAUCE

2/3

cup

soy sauce

1/2

cup

chicken stock

1

tablespoon

red chilli paste

or 1/2 tsp ground chilli

1/4

cup

sugar

2

tablespoons

red wine vinegar

2

tablespoons

cornflour

1

tablespoon

sesame oil
Instructions
In a bowl, whisk together soy sauce, chicken stock, chilli, sugar, red wine vinegar, cornflour and sesame oil and set aside.

In a large pot of boiling salted water, cook pasta according to package instructions and drain well.

Heat vegetable oil in a large frying pan over medium high heat.

Season chicken with salt and pepper and add to frying pan. Cook for about 4 minutes each side (or until cooked through).

Remove chicken from the frying pan and set aside.

Add capsicum, zucchini and broccolini and cook for about 2 minutes or until slightly softened.

Add garlic to the frying pan and cook, stirring constantly for about 1 minute. .

Stir in soy sauce mixture and bring to a boil; reduce heat and simmer until thickened, about 1-2 minutes.

Stir in pasta, chicken, peanuts and green onions.

Serve immediately.
You're Invited!
Lauren from Create Bake Make & Lucy from Bake Play Smile have put their chocolate filled minds together, to bring you the newest and yummiest link up party in town…. Fabulous Foodie Fridays.
Each week we'll select 5 of our favourite recipes to feature on the following Fabulous Foodie Fridays link up party, so be sure to check back and see if your recipe is featured.
The rules for the party are simple:
1. Please only link up food or drink related posts. You can share up to 3 posts each week. They don't have to be recent posts, but please make them new to the 'Fabulous Foodie Fridays' party.
2. Simply add your links and they will automatically show up on both of our blogs… it's that easy!
3. It's sooo not a party without mingling…. please visit and comment on at least three other links that are near you in the list.
4. Follow us on social media so you can keep up to date with all the Fabulous Foodie Fridays goss!
Bake Play Smile:      Facebook    Instagram   Pinterest    Twitter
Create Bake Make:   Facebook   Instagram    Pinterest    Twitter
Fabulous Foodie Fridays:   Facebook    Instagram    Pinterest
5. Feel free to grab the Fabulous Foodie Fridays button and share the love around!
6. Leave a comment below so we know that you came and partied with us – we want to return the favour and visit you too.
* By adding your link, you are giving Bake Play Smile and Create Bake Make permission to post one photo from your post with a link back to the full recipe for party features and future roundups on our blogs and possibly share your image and link on social media. Oh and of course we will also let you know about upcoming Fabulous Foodie Fridays link parties!