This, Carrot, Walnut & Chia Cake is sure to become a new family favourite! Perfect with a cup of tea, an after-school treat or a late night dessert!
Scroll down to the bottom of this post for our Carrot, Walnut & Chia Cake recipe…
Happy Friday, we hope you have all had a deliciously wonderful week! We had everything from the perfect cake for a little princess, delicious homemade marmalade and a lesson in making your own tortillas linked up with us last week.  With so much variety, it's hard to know what to drool over look at first!
Some of my favourites included:
These little Lemon Curd Butterfly Cakes from Rosehips and Rhubarb are just too cute! One of my best friends tried out this recipe after seeing it on our FFF party last week and loved it. Now I'm dying to try them out myself!
I've been using my slow cooker a bit over the last couple of months and yet it's never occurred to me to make lasagne in it! How great is this Slow Cooker Lasagne recipe from Flood-Proof Mum.
Last week we welcomed Erin Made This to our FFF parties and I am already in love with her recipes! I think her Zucchini Rosti with Poached Egg and Sriracha Mayo will be just what I need on a lazy Sunday.
I think I drooled a little over my keyboard when I saw this Marbled Chocolate Cheesecake Slice from Seeking Victory. It's things like this that throw all healthy eating intentions right out the window!

I love a good cookie and so I am super intrigued by Champagne Cartel's recipe titled 'The Only Cookie Recipe You'll Ever Need (And It's Healthy)'. This sounds like something I need a lot of in my life!
Don't forget to pop over to Create Bake Make to check out Lauren's favourite posts.
Now it's over to Lauren for this weeks yummy recipe!
Carrot, Walnut & Chia Cake recipe…
Hi everyone, this week I'm sharing my recipe for Carrot, Walnut and Chia Cake.  I've taken my favourite parts from a couple of recipes and combined them into one delicious cake – yum!
Naturally I made a cream cheese icing to go with this cake, as these two flavours are perfect together. If you are trying to reduce the guilt factor, you could make a plain icing or this Carrot, Walnut & Chia Cake is also delicious all on it's own.
This Carrot, Walnut & Chia Cake is a pretty versatile recipe and you can substitute some of the ingredients. I prefer to use wholemeal flour, but you can also use regular flour. You can use pecans or even macadamias instead of walnuts, and raisins or currants would also be great substitutes.
Now, let's make this yummy cake!!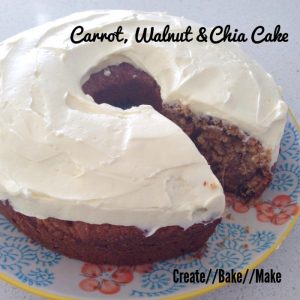 Fabu
This, Carrot, Walnut & Chia Cake is sure to become a new family favourite! Perfect with a cup of tea, an after-school treat or a late night dessert!
Ingredients
1 1/2

cups

of wholemeal self raising flour

1 1/4

cups

brown sugar

3/4

cup

of vegetable oil

3

eggs

1

teaspoon

of cinnamon

1/2

teaspoon

of ginger

2 1/2

cups

of grated carrot

1/2

cup

of shredded coconut

1/2

cup

of chopped walnuts

1/2

cup

of sultanas

1

tablespoon

of chia seeds
Instructions
Preheat your oven to 180 degrees and grease and line a 20cm ring tin.

Add the sugar and vegetable oil to the bowl of an electric mixer and beat for 2 - 3 minutes until combined.

Add the eggs one at a time and beat well before adding the next egg.

Sift over the flour, nutmeg and cinnamon and add the grated carrot, coconut, walnuts, sultanas and chia seeds. On a low setting, mix ingredients together until they have just combined.

Pour mixture into cake tin and bake for 40 minutes, or until cooked when a skewer is inserted in the middle.

Remove from oven and allow to cool in the tin for 10 minutes before carefully removing and transferring to a wire rack to cool completely.
To make the cream cheese frosting, using an electric mixer beat until smooth. Add 1/3 cup of sifted icing sugar and 1 tablespoon of lemon juice and continue to beat until combined.
Enjoy!
You're Invited!
Lauren from Create Bake Make & Lucy from Bake Play Smile have put their chocolate filled minds together, to bring you the newest and yummiest link up party in town…. Fabulous Foodie Fridays.
Each week we'll select 5 of our favourite recipes to feature on the following Fabulous Foodie Fridays link up party, so be sure to check back and see if your recipe is featured.
The rules for the party are simple:
1. Please only link up food or drink related posts. You can share up to 3 posts each week. They don't have to be recent posts, but please make them new to the 'Fabulous Foodie Fridays' party.
2. Simply add your links and they will automatically show up on both of our blogs… it's that easy!
3. It's sooo not a party without mingling…. please visit and comment on at least three other links that are near you in the list.
4. Follow us on social media so you can keep up to date with all the Fabulous Foodie Fridays goss!
Bake Play Smile:      Facebook    Instagram   Pinterest    Twitter
Create Bake Make:   Facebook   Instagram    Pinterest    Twitter
Fabulous Foodie Fridays:   Facebook    Instagram    Pinterest
5. Feel free to grab the Fabulous Foodie Fridays button and share the love around!
6. Leave a comment below so we know that you came and partied with us – we want to return the favour and visit you too.
* By adding your link, you are giving Bake Play Smile and Create Bake Make permission to post one photo from your post with a link back to the full recipe for party features and future roundups on our blogs and possibly share your image and link on social media. Oh and of course we will also let you know about upcoming Fabulous Foodie Fridays link parties!