Here you will find the Best Ever Caramel Cake… a delicious caramel cake covered in caramel frosting. YUM!!! Make this one today!!
Scroll down to the end of this post for our Best Ever Caramel Cake recipe..
It was another great week, thank you everyone for linking up your amazing recipes.  I don't know about you, but my 'To Make' list is growing at a crazy rate – if only there was enough time to make it all!
We had a couple of new bloggers join us last week – Welcome!  We hope you enjoyed partying with us, and please feel free to invite any other foodie bloggers to the party too – the more the merrier!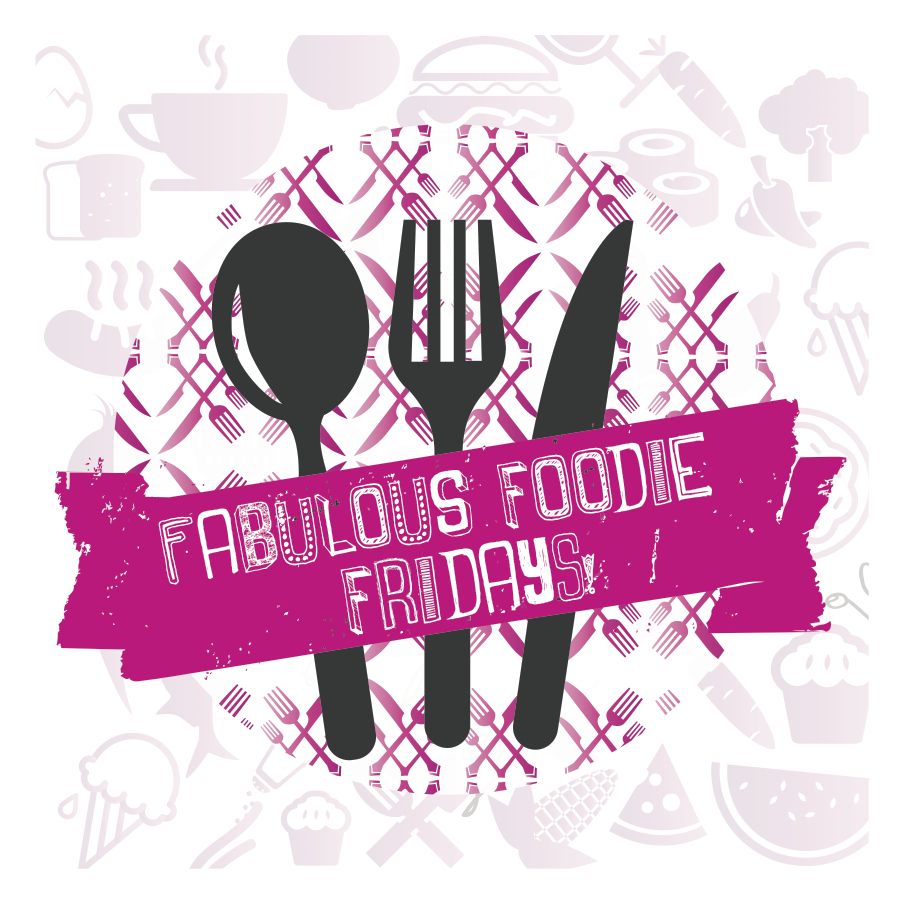 As always, it was really hard to choose just five favourite recipes.
First up was these gorgeous vegan Strawberry Hearts from Sweet Natured Kitchen. They seriously look too cute to eat! You don't need to be a vegan to enjoy this less-guilt-inducing dessert!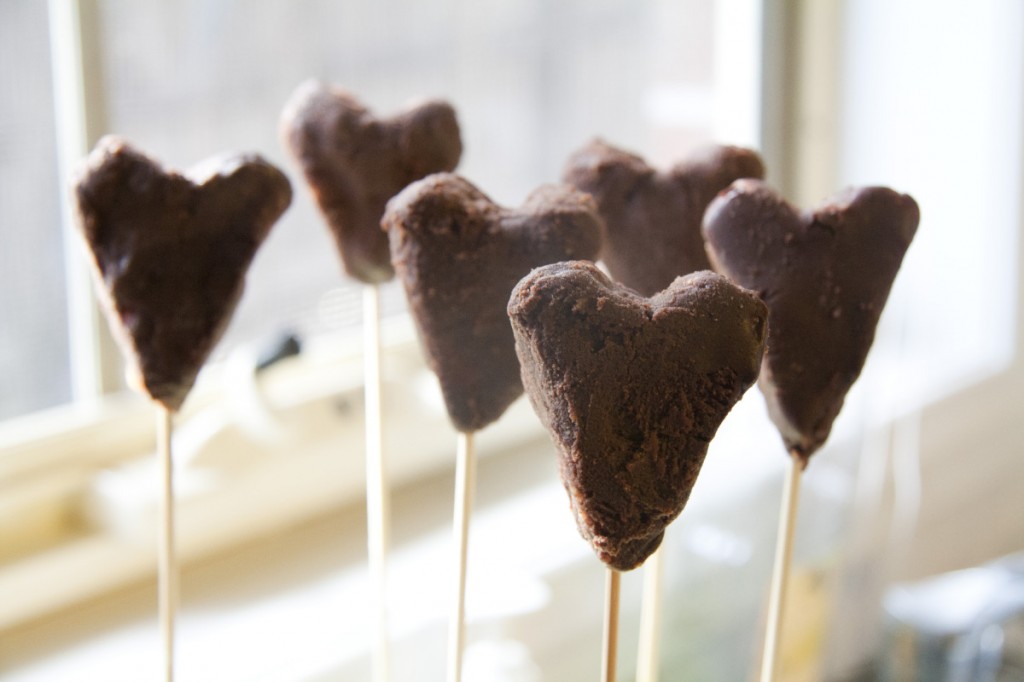 Continuing on with the dessert trend, I just loved the look of these Deconstructed Cherry Ripe Cupcakes from Zamamabakes. I thought it was so brilliant how she turned a baking disaster into something this awesome. Oh and I really want one of those cute pink teacups!!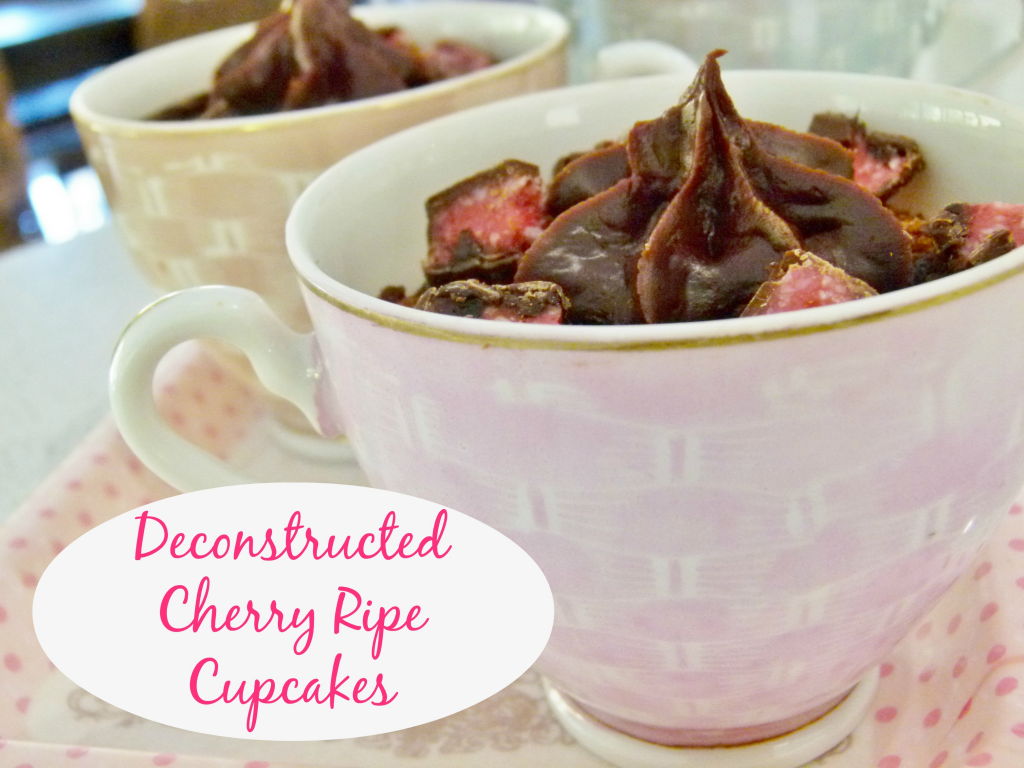 Geez my sweet tooth must be in high gear this week because I've chosen yet another dessert recipe as one of my faves… Lemon Cream and Curd Stack from House in Tillford. Lemon.. pastry.. dessert..simple… I need no convincing whatsoever!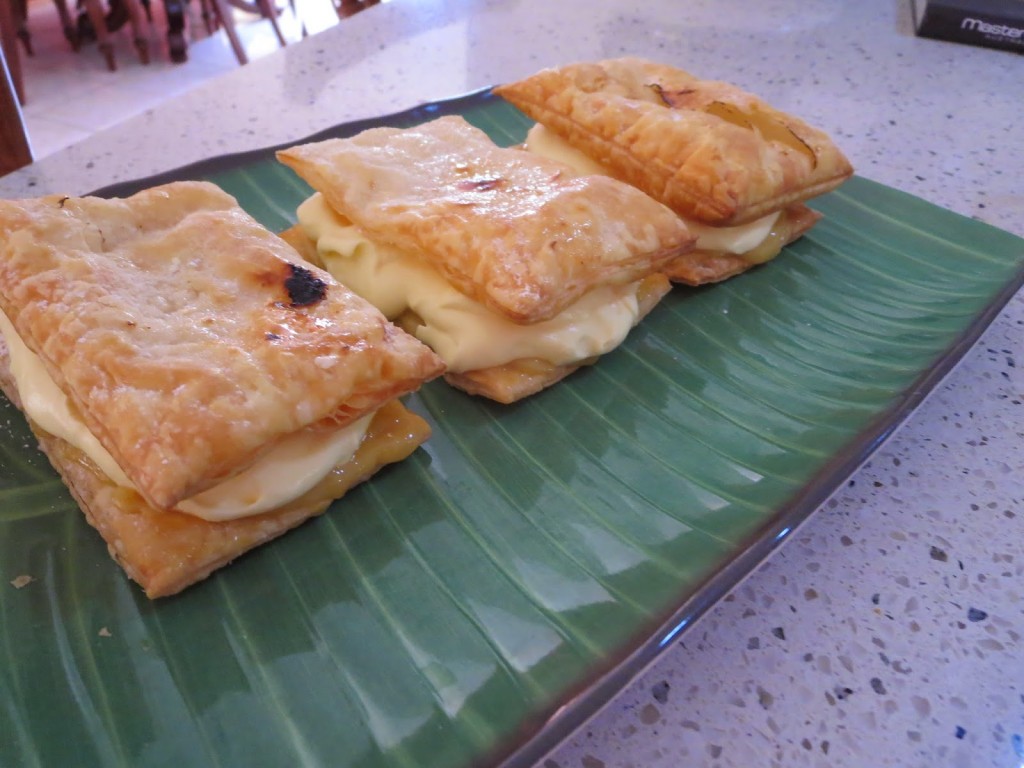 After all that sugar I think this salad made with Marinated Chickpeas, Quinoa and Dandelion Greens from This Mama Cooks looks pretty mighty fine. Quinoa and chickpeas are definitely two of my fave salad ingredients.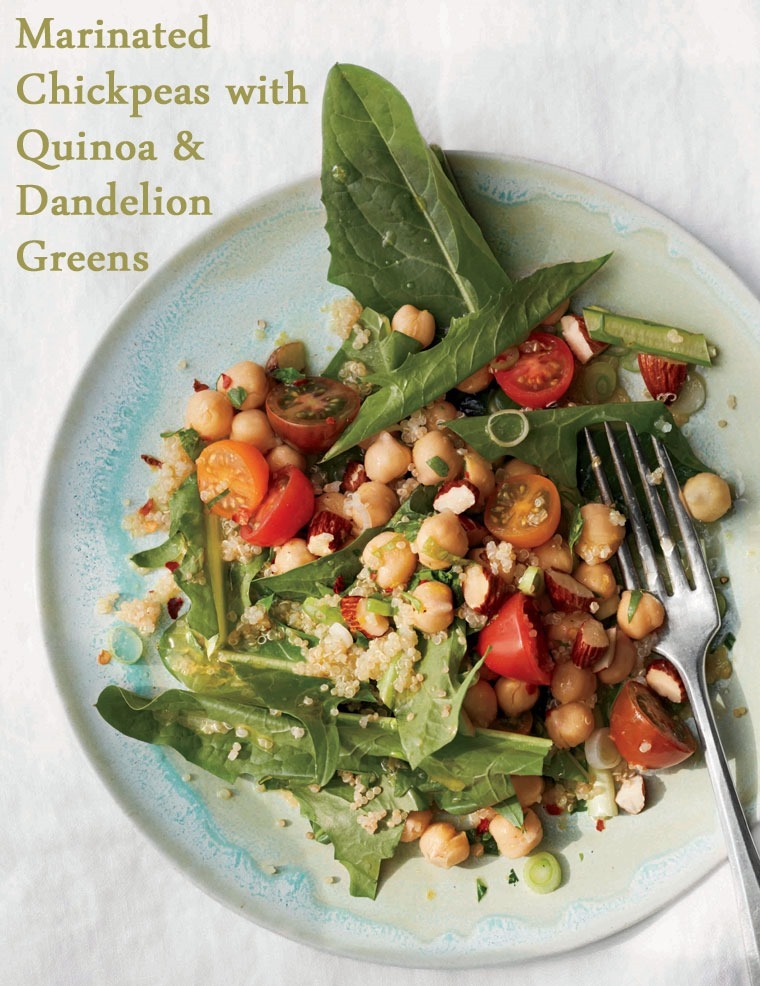 And like all good parties, this foodie one must end with cake! Yoghurt Cake from Good Food Week to be exact. And I say that because it is made with yoghurt it is perfectly reasonable to eat for breakfast.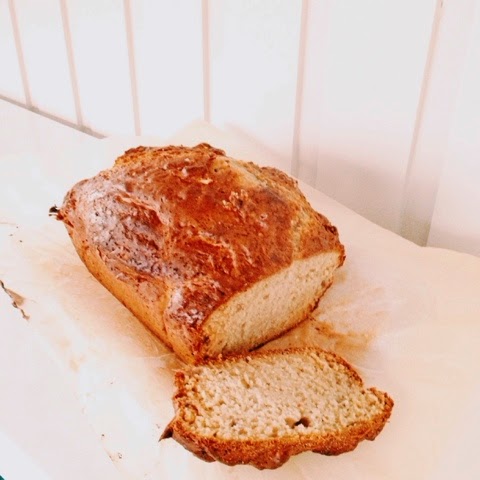 Don't forget to check out Lauren's favourites over at Create Bake Make.
Now it's over to Lauren for this weeks featured recipe…
The Best Ever Caramel Cake
One of my lovely readers sent me this recipe a few weeks ago – a huge thank you Carla Durand!  When I saw the ingredients, I was intrigued – Caramel Top & Fill plus Caramello Chocolate PLUS White Chocolate?!?!  Although my sweet tooth was aching this recipe sounded amazing and I knew I had to make it.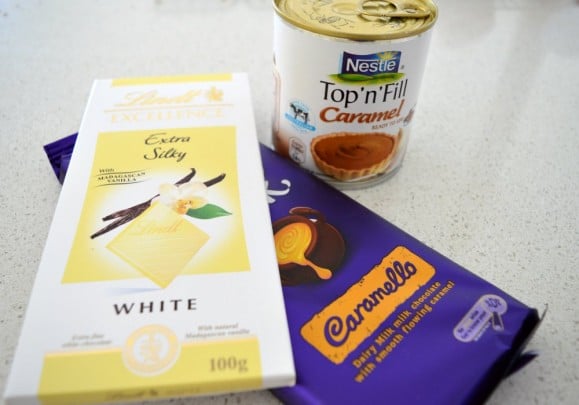 Fortunately I had a great excuse to get baking last week, when my husband asked me to provide some morning tea for a work meeting.  I eagerly purchased all of the ingredients a few days before and went on a mad baking spree last Wednesday, which resulted in a batch of Jam Drops, Ferrero Rocher and Nutella Buttercream Cupcakes, this cake as well as a Potato Bake for dinner!
This caramel cake took no time at all to put together.  The original recipe suggests melting the butter, chocolate and water in the microwave, however in a bid to cut down on washing up, I melted these ingredients in a medium saucepan that was big enough to add the remaining ingredients to, making it a one bowl (saucepan) cake!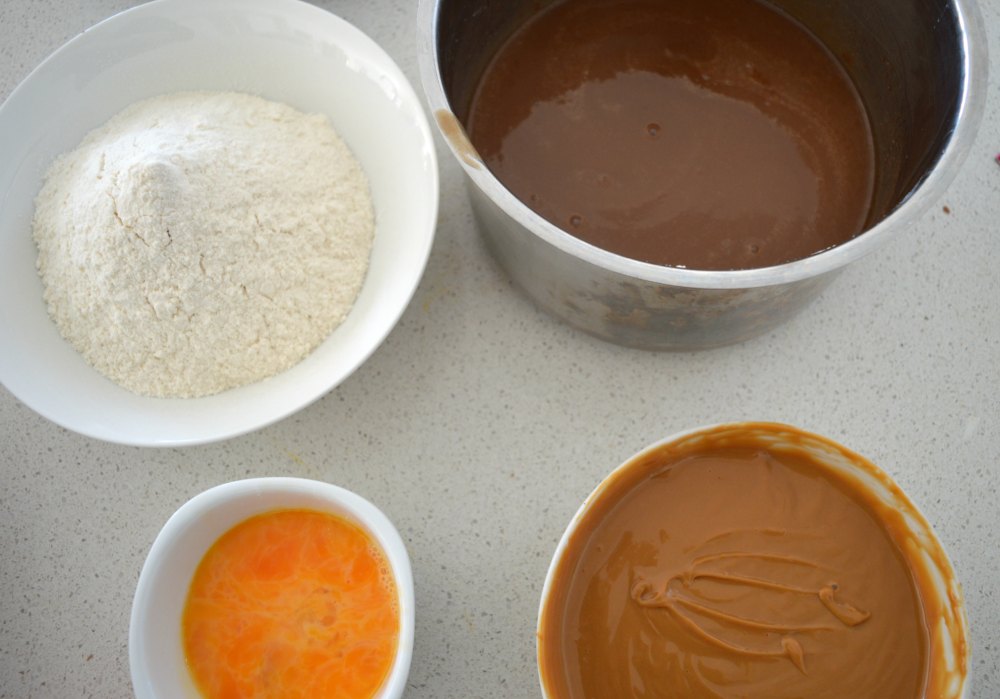 My arm did get a great work out whisking it all together, and if you decided to use an electric mixer to combine all the ingredients together, I certainly wouldn't hold it against you!
After removing the cake from the oven, I waited 20 minutes before i removed it from the tin and transferred it to a wire rack.  I let it cool a little more, so it was still a little warm to the touch before I used the remaining Caramel Top & Fill to ice it.  As stunning as all of that golden carmel looked, to break the colour up, I added 2 x 80g bags of Maltesers (ok a few may have been missing) to the top as decorations.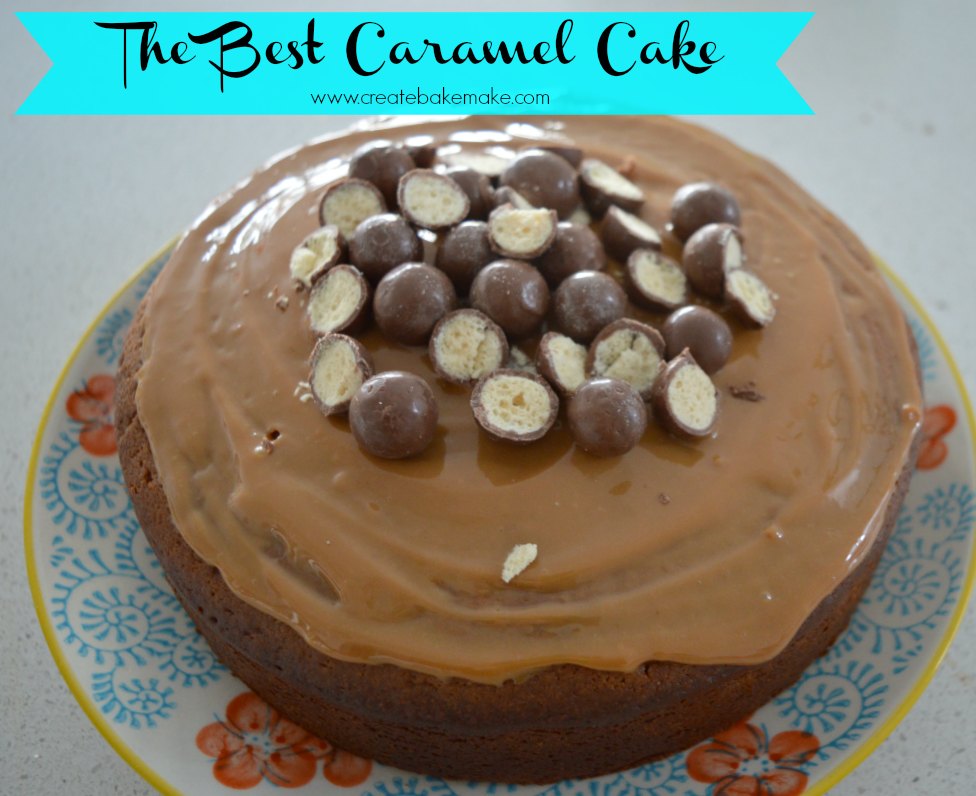 While I didn't get the opportunity to try a piece (I know, the least my husband could have done was bought a slice home!) I was assured it tasted amazing and he actually preferred it over the Ferrero Rocher and Nutella Buttercream cupcakes I also sent along for morning tea – big call!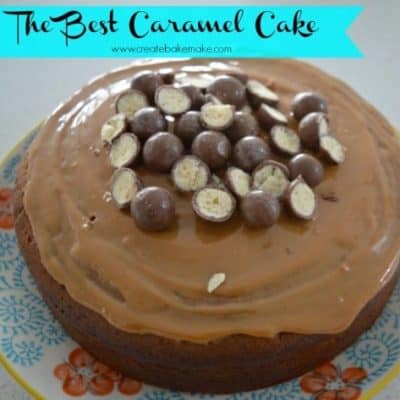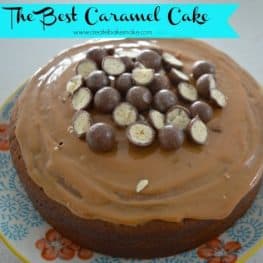 Fabulous Foodie Fridays #10 - The Best Ever Caramel Cake
Here you will find the Best Ever Caramel Cake... a delicious caramel cake covered in caramel frosting. YUM!!! Make this one today!!
Print
Pin
Rate
Cook Time:
1
hour
20
minutes
Total Time:
1
hour
40
minutes
Ingredients
200

g

unsalted butter - chopped

100

g

white chocolate

220

g

block of Cadbury Caramello Chocolate

1

tin Nestle Caramel Top n Fill

1/4

cup

of brown sugar

1

teaspoon

vanilla extract

2

eggs - lightly beaten

1

cup

of plain flour - sifted

1

cup

self raising flour - sifted

2

x 80g packs of Maltesers to decorate
Instructions
Preheat oven to 150ºc

Line a 20cm round cake tin with baking paper, on the bottom and around the sides.

Combine butter, chocolate with 200 mls of water in a medium saucepan over medium heat and cook until melted together - set aside to cool slightly.

Meanwhile, mix the Caramel Top n Fill until it's a smooth consistency. Add 3/4 of the Top n Fill, brown sugar and vanilla, to the chocolate mix & stir well.

Add eggs and mix well.

Sift in flours whisking as you go to prevent any lumps. If you are after a good work out, you can whisk the mixture by hand in the saucepan until it's combined and smooth, or alternatively you can use and electric mixer and beat for approximately one minute until it is smooth.

Pour into the lined cake tin and cook for 1hr and 20mins, or until a skewer inserted into the middle comes out with moist crumbs on it.

To decorate, you can use the remaining Caramel Top & Fill and spread all over the cake and decorate with Maltesers like I did. You could also decorate with a milk or white chocolate ganache.

This cake will keep wrapped and in an air tight container for 5 - 7 days - that is if you haven't already eaten it all!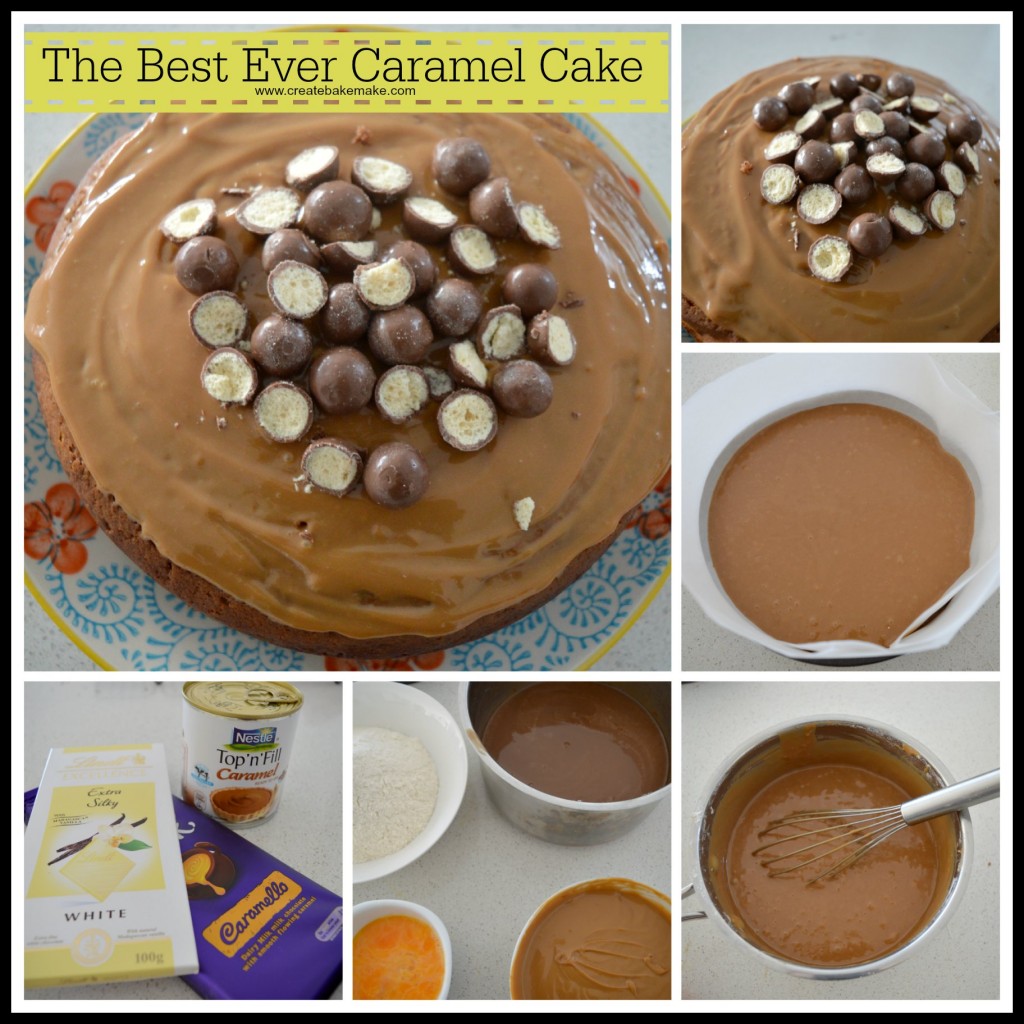 You're Invited!
Lauren from Create Bake Make & Lucy from Bake Play Smile have put their chocolate filled minds together, to bring you the newest and yummiest link up party in town…. Fabulous Foodie Fridays.
Each week we'll select 5 of our favourite recipes to feature on the following Fabulous Foodie Fridays link up party, so be sure to check back and see if your recipe is featured.
The rules for the party are simple:
1. Please only link up food or drink related posts. You can share up to 3 posts each week. They don't have to be recent posts, but please make them new to the 'Fabulous Foodie Fridays' party.
2. Simply add your links and they will automatically show up on both of our blogs… it's that easy!
3. It's sooo not a party without mingling…. please visit and comment on at least three other links that are near you in the list.
4. Follow us on social media so you can keep up to date with all the Fabulous Foodie Fridays goss!
Bake Play Smile:      Facebook    Instagram   Pinterest    Twitter
Create Bake Make:   Facebook   Instagram    Pinterest    Twitter
Fabulous Foodie Fridays:   Facebook    Instagram    Pinterest
5. Feel free to grab the Fabulous Foodie Fridays button and share the love around!
6. Leave a comment below so we know that you came and partied with us – we want to return the favour and visit you too.
* By adding your link, you are giving Bake Play Smile and Create Bake Make permission to post one photo from your post with a link back to the full recipe for party features and future roundups on our blogs and possibly share your image and link on social media. Oh and of course we will also let you know about upcoming Fabulous Foodie Fridays link parties!