A quick and easy chicken dinner that the whole family will love! With quinoa, vegetables and chicken.. this is sure to become a regular!
Scroll down to the bottom of this post for our Easy Chicken Dinner recipe…
Welcome back to another week of Fabulous Foodie Friday fun! There was another collection of wonderful recipes last week, thank you to everyone who joined in. Can you believe we are up to week 12, where has that time gone? I'm really enjoying discovering new recipe ideas as well as new bloggers, the talent that is out there is just amazing.
Again I found it hard to pick just five favourites, there is just too much choice! Here are the five recipes I most want to make:
1. I just love a simple cake and this gorgeous Cinnamon Tea Cake from With Vintage and Me looks pretty perfect to me. I can totally see myself kicking back with a cup of tea, a trashy magazine and a little slice of this cake on a Sunday afternoon.
 2. Geez it's been cold and wet here in Melbourne the last couple of days. It's definitely pie eating time so make sure you check out this yummy Aussie Beef Pie from Barbie, Bieber and Beyond.
3. It's only been in the last couple of months that I have become a fan of mug cakes… and now I just can't get enough!!! Mind you, they are seriously dangerous because you can whip them up in next to no time and you don't even need to turn the oven on. Next on my mug cake making list is this Nutella Choc Chip version from Simplify Create Inspire.
4. I can't say I've made many vegan recipes before, but if they taste as good as this Vegan Coconut Bread with Choc Chips from VegeTARAian looks, then I'm totally in!
5. Finally, how could I possibly go past something that looks as beautiful and colourful as this Rainbow Cake from My Kitchen Stories. I know lots of little kiddies who would love one of these at their next birthday party!
 Don't forget to visit Create Bake Make to check out Lauren's favourites.
Easy Chicken Dinner recipe…
Last week Lucy shared with us her delicious Fruit and Nut Baked Muesli, so this week I thought I'd share my recipe for an easy and yummy chicken dinner. This recipe made enough for three adults and two toddlers and was given a big thumbs up from everyone, admittedly my toddler thought the chicken pieces were nuggets – whatever works! I love the addition of paprika roasted tomatoes, they give the meal a little kick and the juice from the tomatoes provides a yummy dressing.
If you don't have Pak Choy, you could use any green leafy vegetable – spinach or kale would work well.
There really isn't a lot of prep involved with this recipe – which makes it the perfect easy weeknight meal.  Each element is easy to prepare and make, then all you need to do is mix it all together!
Want to create this simple and delicious meal at home?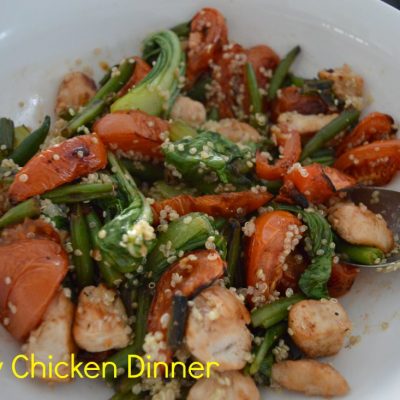 Fabulous Foodie Friday #12 - Easy Chicken Dinner
A quick and easy chicken dinner that the whole family will love! With quinoa, vegetables and chicken.. this is sure to become a regular!
Ingredients
3

small bunches of Pak Choy

3

tomatoes - quartered

1/2

cup

of green beans cut into small pieces

can use frozen beans

300

g

skinless chicken breast - diced

Paprika

Salt and Pepper

Olive Oil

1/2

cup

of quinoa

1

cup

of water
Instructions
Preheat oven to 190 degrees and place quartered tomatoes on a tray lined with baking paper. Lightly drizzle with Olive Oil and sprinkle Paprika over the top. Place in the oven and bake for 40 minutes or until tomatoes are browning and beginning to fall apart.

Add 1 teaspoon of olive oil to a large frying pan over a medium/high heat. Add diced chicken and cook for 3 -4 minutes until chicken begins to brown.

Drain Quinoa well before adding it to a small saucepan with water and cooking as per packet instructions.

Add sliced beans and Pak Choy to the frypan with chicken. Cook for a further five minutes until chicken is cooked through and Pak Choy has wilted.

In a large bowl, combine the chicken, pak choy and beans with the roasted tomatoes. Add the quinoa and gently mix together with a spoon.

Divide into bowls, sprinkle with salt and pepper to taste and enjoy!
Enjoy!