There are a few very important rules in life. Rules like 'treat others how you would like to be treated', 'never go to bed angry' and 'only worry about the things you can control' are great reminders of what we 'should' be doing (note I said 'should'… not 'are'!!!). Anyway, I think the following rule should be added to this list: 'never argue with a good looking chef!'.
I mean it makes sense… not only are these people amazing cooks but they also somehow manage to miraculously eat all of the calorific goodness they cook and still look great! Clearly, I could learn a few things from these chefs! And so, because I am a good girl, I followed this new rule of 'never arguing with a good looking chef' very obediently when I stumbled across Curtis Stone's Homemade Granola recipe.
So my thought process went along the lines of… if it's good enough for Curtis Stone, then it's good enough for me! Perhaps eating his granola would give me his carefree and tanned look (minus the masculine side obviously).
It was a surprisingly simple recipe! The only thing the lovely Mr Stone forgot to mention is that the recipe makes heaps! Like seriously heaps!! I think if I was to make it again I would halve the recipe… on the other hand if you are feeding a family, then this amount will probably disappear very quickly! So on that note, just forget what I'm saying and stick to the quantities Curtis suggests… he would know!
So now I have a lovely HUGE container full of granola. Thank god it apparently lasts a week because it appears that I will be eating it for breakfast, lunch and dinner each day. In fact, I'm a little concerned I could begin to look a little like a piece of granola (instead of the carefree, tanned person I was hoping for!).
In all seriousness though, I am very impressed as it looks (and tastes) a lot like the Carmen's clusters muesli brand, which we generally buy (and is a fair rip-off at $5.99 for a box – not even a big box either!!). The only difference between the Carmen's one and Curtis Stone's granola is that we have about 4 boxes worth in our one container of granola.
So I'm thinking that this granola will be yummy with milk and sliced banana for breakfast or with some yoghurt and berries for morning tea.
Any other ideas for using granola (because I have a truckload to get through now!).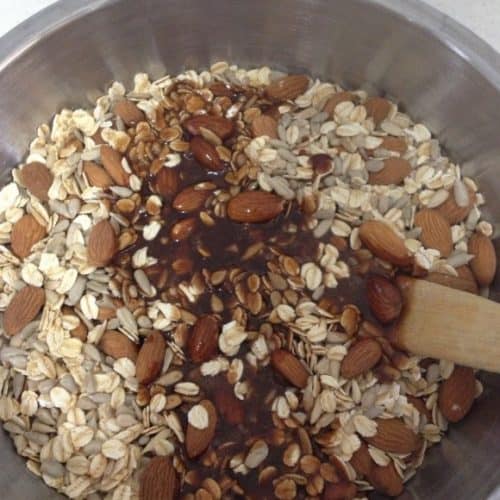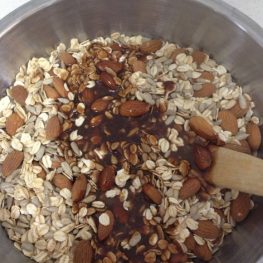 Curtis Stone's Tasty and Terrific Homemade Granola
Print
Pin
Rate
Ingredients
1/4

cup

unsalted butter

1/2 stick

1

tablespoon

ground cinnamon

1

tablespoon

freshly grated nutmeg

1/2

teaspoon

ground cloves

1/4

cup

honey

1/4

cup

pure maple syrup

1/4

cup

golden brown sugar

packed

Nonstick cooking spray

2

cups

rolled oats

1

cup

shelled pumpkin seeds

1

cup

shelled sunflower seeds

1

cup

whole almonds

1/2

cup

dried cranberries

1/2

cup

raisins
Instructions
Preheat the oven to 170 degrees

Combine the butter, cinnamon, nutmeg, and cloves in a small heavy saucepan over medium heat and stir for 1 minute, or until the butter melts and the mixture is fragrant.

Add the honey, maple syrup, and brown sugar and stir for 2 minutes, or until the sugar dissolves and the mixture comes to a simmer.

Spray a heavy large baking sheet with nonstick spray.

Combine the oats, pumpkin seeds, sunflower seeds, and almonds in a large bowl.

Drizzle the warm syrup over the oat mixture and toss to coat well.

Transfer the oat mixture to the prepared baking sheet, forming an even layer.

Bake for 30 minutes, stirring occasionally, or until the mixture is dry.

Stir in the cranberries and raisins and continue baking for 10 minutes, or until the granola darkens slightly.

At this point, the granola will still be soft, but as it cools it will become crunchy.

Transfer the baking sheet to a cooling rack and cool the granola completely.

Break the granola into small pieces and store in an airtight container at room temperature up to 1 week.