Crispy smashed potatoes with a sour cream, sweet chilli and lime dressing will add the perfect touch to your next dinner or BBQ.
I have a confession to make… I'm not really a fan of potatoes. Give me a sweet potato any day, but a normal potato… well I'm a bit meh about them to be honest. I don't hate them, but I just don't get all excited about them either. Mashed potatoes, roast potatoes and even potato chips are just not that loved by me at all (my hubby on the other hand, would probably eat an entire potato farm out of potatoes if he had the chance!). Well! For someone who isn't a huge potato fan, I absolutely love these crispy smashed potatoes! Oh and the sour cream, sweet chilli & lime dressing is absolutely to-die-for.
I think I originally saw crispy smashed potatoes on a Jamie Oliver TV show a few years ago and last year I decided to make them myself. And holy bejeebeeez they are good. Imagine the crispiest potatoes sprinkled with sea salt and cracked pepper – mmmmm… yep the simplest things are often the best. These potatoes are so good served with a roast, BBQ or even just as a side to any of your favourite dishes.
How to make crispy smashed potatoes…
To make these crispy smashed potatoes you start off by washing your potatoes. If you're using baby potatoes, you can leave them whole. If you're using large potatoes, but them in half. Because you're leaving the skin on the potatoes, you'll want to choose a washed potato from the supermarket. Pop the potatoes into a saucepan of cold water and bring to the boil. Simmer for 5-10 minutes or until tender. Drain the potatoes and place them back into the saucepan over a medium heat. Shake the saucepan around to get rid of any remaining water. Now you want to be quite rough shaking your potatoes because you want the skin to crack and the potatoes begin to be smashed. After about 1 minute, place your potatoes into a baking dish and give them a bit more of a 'smash' by pressing down with a spoon. Drizzle over some olive oil (you want to use a bit to get them extra crispy) and sprinkle over some sea salt and cracked pepper. Pop into a 200 degree celsius oven for about 35 minutes or until really crispy (if you're not using a fan forced oven, turn the temperature up to 210 degrees).
While the potatoes are cooking, make the dressing by combining the sour cream, sweet chilli sauce and lime in a bowl. Pop a spoon (or your finger of no-ones looking!) in and test the flavour. I usually like to add a little more sweet chilli sauce, but that's just me!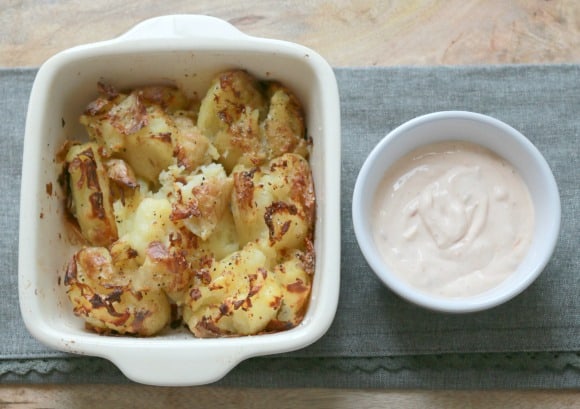 There really is nothing quite like the flavour combination of potatoes and sour cream! These crispy baked smashed potatoes with the sour cream, sweet chilli and lime dressing keep things light and tangy – seriously the most awesome side dish to your dinner or summer BBQ.
xxx Lucy
PS – Have you bought our Christmas Homemade Gifts eBook yet? It's packed full of everything from sauces and condiments, to cookies and biscuits, slices and bars, and of course, all your classic favourite – there really is something to suit everyone! Click here to buy your copy for $7.99 (or if you subscribe to Bake Play Smile you can purchase it for only $3.99! And I promise I won't email you any junk… just yummy recipes!!).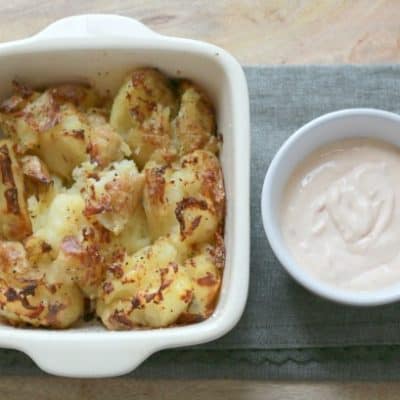 Ingredients
750

g

baby potatoes

unpeeled

60

ml

olive oil

1/4 cup

Sea salt and cracked pepper

200

g

light sour cream

2-3

tbs

sweet chilli sauce

1

tbs

lime juice
Instructions
Preheat the oven to 200 degrees celsius.

Place the potatoes in a large saucepan of cold water.

Bring to the boil over high heat and leave to simmer for 10 minutes or until tender (but not soft).

Drain the potatoes and then place back into the saucepan over a low heat and shake around to remove any remaining water (about 30 seconds).

Once the potatoes are totally dry, place them into a baking dish and flatten each one with a fork or potato masher (you don't want to mash the potatoes, but rather just roughly smash and flatten them).

Drizzle with the olive oil and sprinkle with the sea salt and cracked pepper.

Place into the oven and roast the potatoes, turning halfway through cooking, for 30 minutes or until potatoes are very crisp and golden.

Meanwhile, place the sour cream, sweet chilli and lime into a small bowl and mix well to combine (you may like to add more sweet chilli sauce if you prefer).

Serve potatoes with the sour cream dressing.