I am so excited to introduce you all to Krissy from Pretty Wee Things! She's one of my very favourite bloggers and has the amazing ability of making naughty treats into something much healthier! Today she has a Creamy Coconut, Spiced Apple & Pistachio Ice-Cream recipe for us (OMG yum). Oh and did I mention that it's also dairy-free, sugar-free and gluten-free? Yep, I told you she was a total whiz in the kitchen.
Healthy ice-cream. Did you know there was such a thing? This spiced apple and pistachio ice-cream is delicious, creamy, indulgent and can be enjoyed without guilt. The perfect Summer dessert.
The ice-cream itself can be made with two simple ingredients. If stevia isn't your cup of tea then you can easily replace it with a healthy sweetener of your choice or skip it altogether. Made as it is this spiced apple and pistachio ice-cream contains no added sugar, dairy or gluten, making it the perfect vegan-friendly dessert.
Not only is coconut cream delicious, but it is also packs a nutritious punch. Apples are a natural way to sweeten this dessert and by gently simmering them with cinnamon they add the right balance of sweetness. And cinnamon is another fab way help lower blood sugar levels, which in turn helps prevent that unpleasant sugar crash not long after eating dessert.
One of my favourite health benefits is that coconut milk (and oil) slows the release of sugar into the bloodstream, therefore minimising the impact this dessert, and any sugar contained in it, has on your blood sugar levels. Just remember that coconut milk is a source of saturated fat, so enjoy in moderation.
Hi, I'm Krissy, a once-was sugar addict turned healthy eater. I totally get that choosing healthy over traditional (not so healthy) foods is daunting, and the fear around whether healthy food will taste just as good.   I want you to have your cake and eat it too, without ANY guilt.  Because life is made for living, and there is no room for guilt.
Healthy living doesn't stop at food, and living healthy doesn't need to be bland and boring.  Pretty Wee Things is dedicated to bringing you the pretty side of healthy living.
You can find Krissy on Facebook, Instagram, Twitter, Pinterest, or of course, on her gorgeous blog 'Pretty Wee Things'.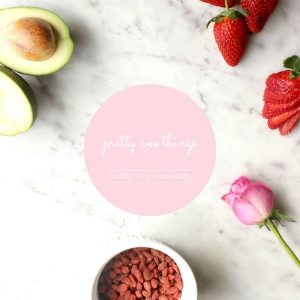 Creamy coconut, spiced apple and pistachio ice-cream
This spiced apple and pistachio ice-cream is delicious, creamy, indulgent and can be enjoyed without guilt. The perfect Summer dessert.
Ingredients
1

cup

water

1

cup

fresh diced apple

1/4

tsp

cinnamon

1

tsp

stevia

1

can organic coconut cream

1/4

cup

pistachio nuts

2

tbsp

stevia
Instructions
Add the water to a pot and bring to the boil;

Add the diced apple, cinnamon and stevia and reduce to a simmer. Allow to simmer until the apple has softened and the water evaporated (approximately 20 minutes). Drain any remaining liquid and set the apple aside;

In a mixing bowl ad the coconut cream and stevia and whisk;

Pour the cream into a freezer safe loaf tin/mould. Spoon the apple into the cream and sprinkle with the pistachio nuts;

Cover and place in the freezer for at least 6 hours (overnight works best).

To serve, remove from the freezer and allow to sit at room temperature for a few minutes. Slice with a hot sharp knife.