Packed full of fresh vegetables with a creamy dressing, Christie's yummy coleslaw really is the perfect summer salad.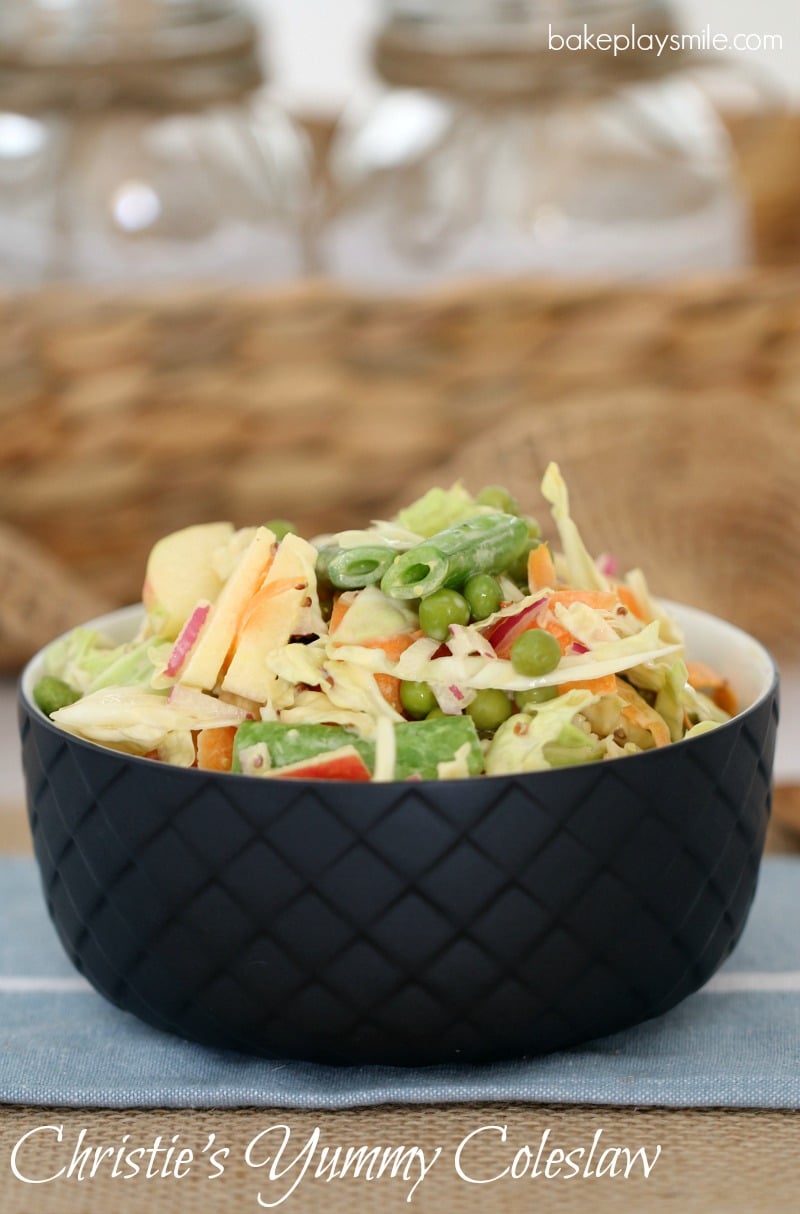 I have to admit that I'm not the most massive coleslaw fan in the world. I don't mind it. But I don't LOVE it (except for my apple coleslaw… but that's a bit different!). This coleslaw should really be called 'Christie's Yummy Coleslaw… Perfect For People Who Don't Really Like Coleslaw', because it's sooooo not like the traditional versionsat all.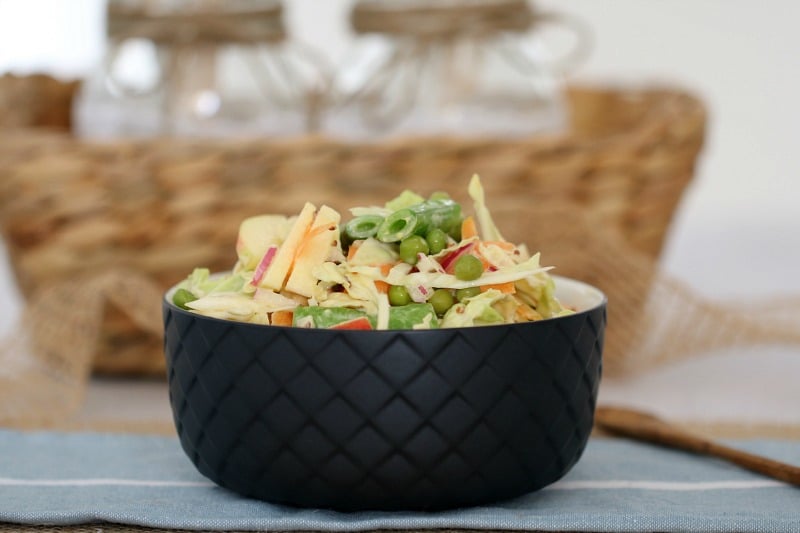 In case you're wondering who Christie is, she's my sister-in-law. She also happens to be one of my very best friends (which is obviously very lucky!!). Not only that, she's a really good cook (although she would never admit it). Christie has 3 boys under 8 (3!!!). So you know that all of her recipes are going to be quick, easy and foolproof. Definitely my kind of cooking. Christie's also similar to me in that she never measures anything when she cooks (the only time I do is when I scribble down my measurements  for the blog… and half the time I forget to measure and have to make it again!!). So when Christie gave me this recipe, there were NO measurements at all! I've included some below, but definitely don't think you have to stick to them… add more or less of anything you like. It's a very versatile recipe.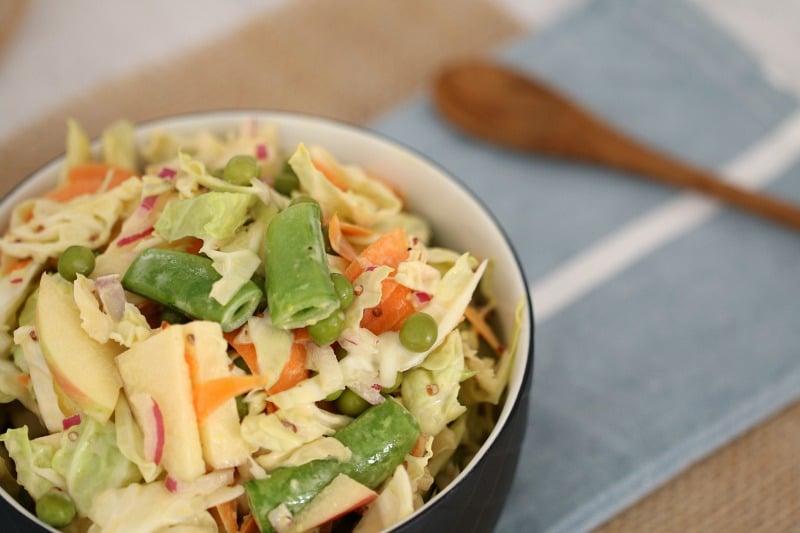 Anyway, I first ate Christie's yummy coleslaw when we were staying at her house over Christmas. Then I ate the leftovers for the next two days… and when there was no more left, I made Christie make some more (I don't think anyone minded at all).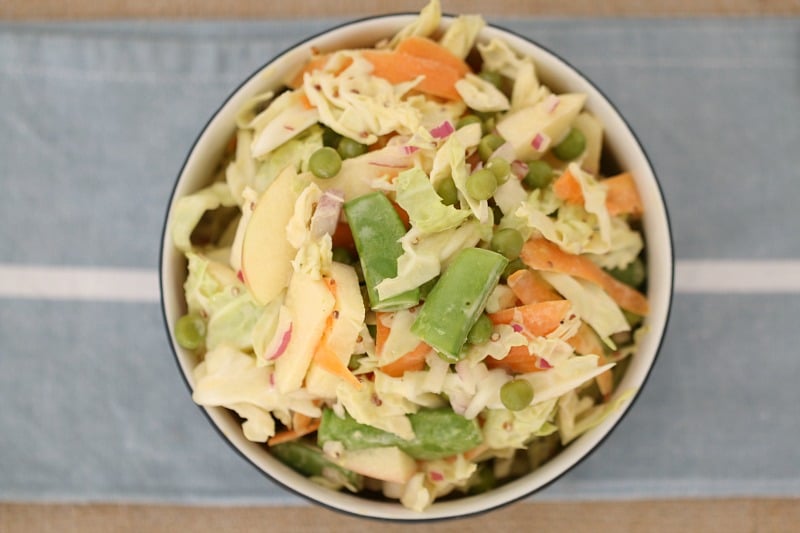 This recipe totally changed my mind on coleslaw. It's fresh, yum and there's not a piece of grated carrot in site (it's peeled so it stays nice and fresh!). But for me, the peas make this recipe. Haha, yes I know. Little simple peas. But they are a total winner. The combination of baby peas and sugar snaps is the BEST!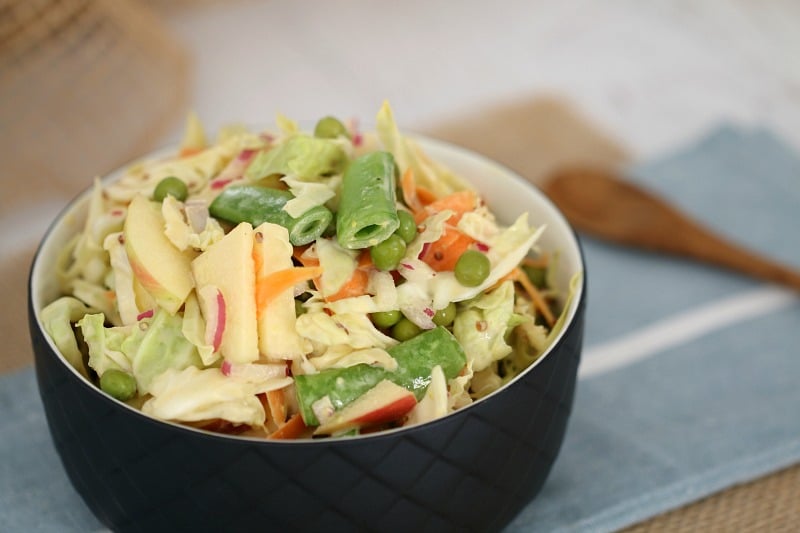 I also loved the dressing – it wasn't too over the top like most coleslaw dressings are. It was seriously yum. Christie also suggested that you can add a bit of avocado to the dressing too (which I am definitely going to try next time).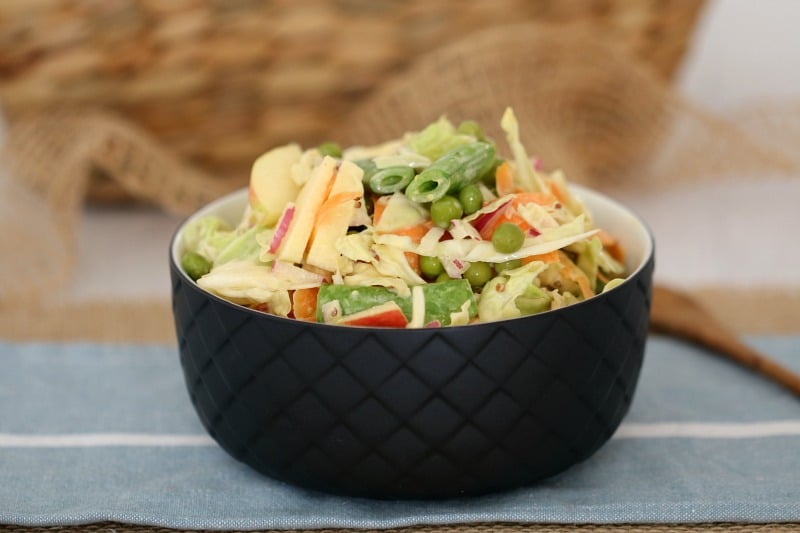 PS – check out another one of Christie's recipes on this site – Rice Noodle Salad with BBQ Chicken Skewers (hmm I think that maybe I'm going to have to start employing her!).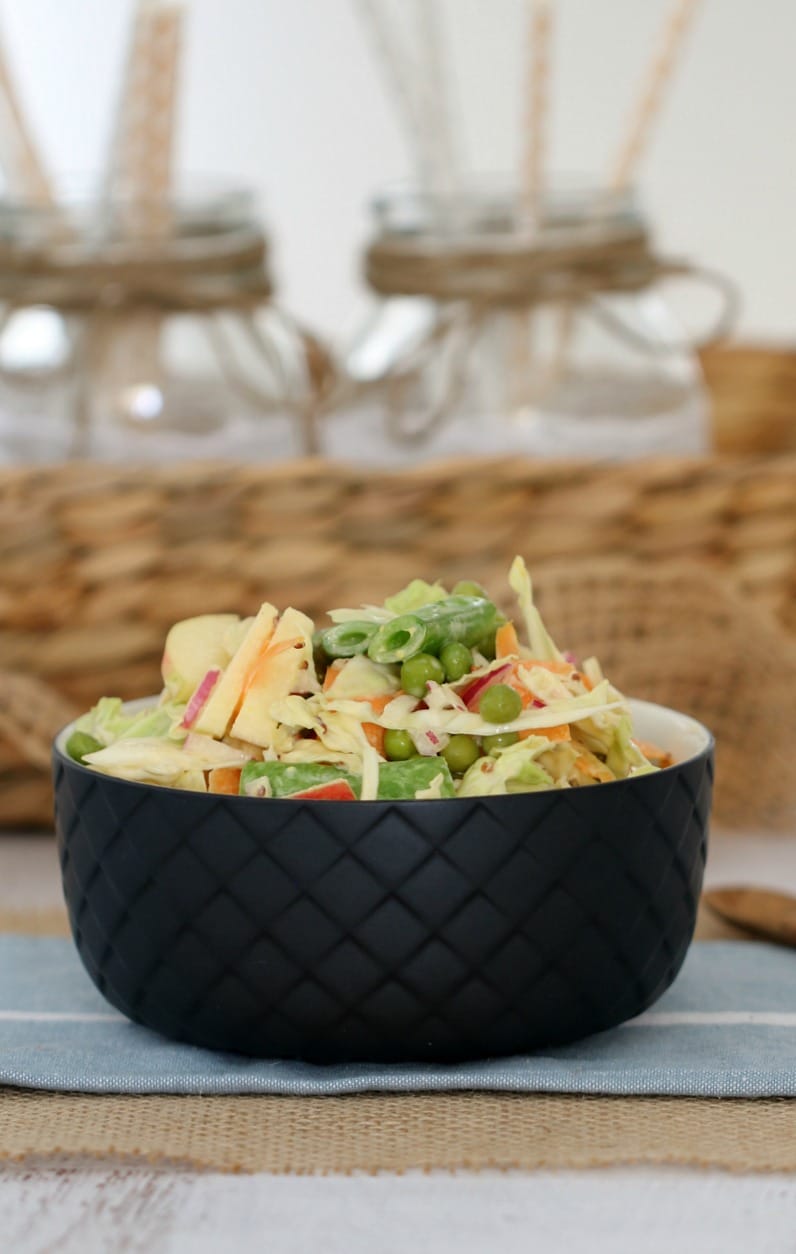 xx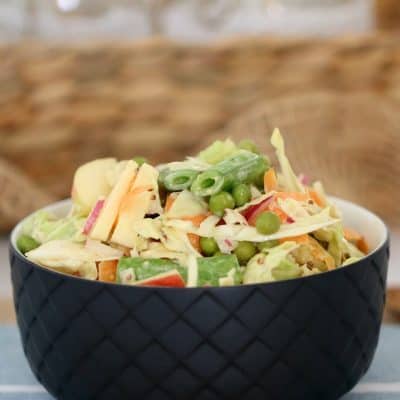 Christie's Yummy Coleslaw
Christie's yummy coleslaw - a healthy bowl that the kids will love!!
Ingredients
1/2

cabbage

any, shredded

2

carrots

peeled

1

apple

thinly sliced

100

g

sugar snaps

sliced

1/2

cup

frozen baby peas

do not overcook, cooked

1/2

red onion

finely chopped or 1 radish, thinly sliced

Herbs - parsley

optional, basil or spring onion

Dressing:

1/4

cup

whole egg mayonnaise

1/4

cup

greek yoghurt

or natural yoghurt

Juice of 1 lemon

more or less depending on taste preference

1-2

tsp

wholegrain mustard

salt and pepper

to taste
Instructions
Shred cabbage and place into a large bowl.

Add the peeled carrots, sliced apple, sliced sugar snaps, baby peas and sliced radish (optional).

Any any herbs you like.

In a small bowl, mix together the whole egg mayonnaise, greek yoghurt, lemon juice, wholegrain mustard and salt and pepper.

Add the dressing to the vegetables and mix well. If you would like more dressing, add another spoonful of mayonnaise and greek yoghurt.

Store in the fridge until needed.