Delicious and moist chocolate raspberry cake pops that look gorgeous! You will not be able to resist these little bites of heaven!
Last week I wrote about the chocolate fudge cake I made for a Betty Crocker Facebook/Instagram competition. Anyway, while it was great fun baking it, I can't say it was the most awesome cake ever… and so it got made into some seriously delicious cake pops! I am not exaggerating when I say they were AMAZING!
So after making the cake and taking a few photos to put on Instagram, I crushed the whole cake up into tiny little pieces. And yes, it did feel awfully weird ripping a perfectly good cake to shreds. But stay with me here… it was the best decision ever! I added a raspberry flavoured chocolate powder to the cake crumbs (you could use any kind of flavouring – liquid flavouring would work absolutely fine too). Then I made a quick and easy frosting and mixed it all around until it was a moist consistency and held together easily. It was very similar to the consistency of Oreo truffles. If you haven't ever made Oreo truffles before, then you have not lived!! Get in the car, drive to the supermarket, buy the ingredients and make them… IMMEDIATELY!! You can thank me later!
But back to the cake pops. When the consistency was right I used an ice-cream scoop and rolled those babies into nice round balls. Then it was just a matter of popping them on a tray lined with baking paper and putting them in the freezer for twenty minutes or so until they had firmed up.
Meanwhile, I melted a little bit of white chocolate and dipped my cake pop sticks in about 2 cm. And into the fridge they went to set as well. Putting melted chocolate onto the sticks just helps the balls to stay on properly. It's an easy step so it's best to do it, otherwise you may have your cake pops falling off everywhere… and no-one likes a cake pop that's fallen on the floor!
Then it's just a matter of popping a cake pop onto the end of each of the sticks. Easy peasy. And then the fun stuff starts! Well fun, if you are like me and like pretty, bright and sparkly stuff! If you are classier than that, feel free to decorate your cake pops however you like! Pinterest is like cake pop decorating heaven. But I thought this was a bit cute… and using sprinkles covers up any not quite perfect bumps in your chocolate coating, so that's a double bonus! High five!
Sorry… getting distracted again! So to decorate my cake pops I melted some more white chocolate (you need quite a lot but I melted mine in batches), poured it into a glass and added some pink food colouring. When the colour was right I dipped the cake pop into the white chocolate and held it up for a moment to allow any excess chocolate to drip off. Then I carefully coated the cake pops in sprinkles by rolling/dabbing (highly technical terms here!) them. If I had thought about it earlier, I would have had some florist foam ready to pop my cake pops in, but it was a bit of a split second decision so I had to hold them up until they were set (about 1 minute) and then lay them on a tray.
And then you repeat, repeat, repeat, repeat… and so on. These are so ridiculously easy, but they are a bit time consuming. Next time I think I'll make sure I have the florist foam ready so I don't have to hold them for so long!
One chocolate fudge cake mixed with frosting made 24 large cake pops. Nope, no dainty little cake pops here! These were big babies!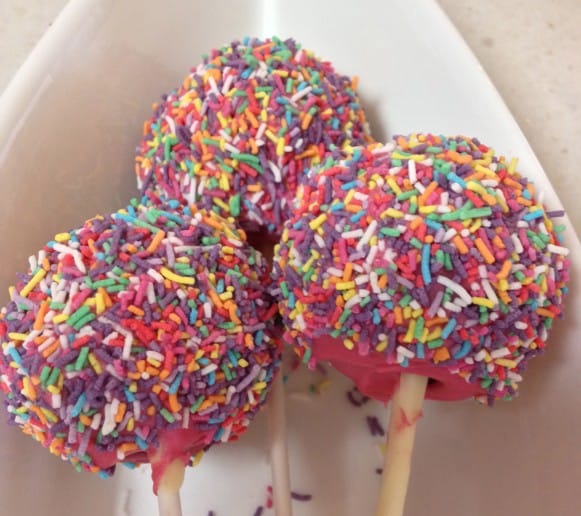 Now clearly I was not going to eat 24 cake pops, so a few got sent to my husbands work, a few were eaten at home and the rest were placed in an airtight container in the freezer with baking paper between each layer. I love the idea of freezing leftover cake pops, because they would be a perfect snack when you are craving chocolate and have nothing in the house… and they only take a few minutes to defrost (which is less time than it takes to get into the car and drive to the supermarket to buy a block of Cadbury chocolate!!).
I'm a little cake pop obsessed now, so be prepared that you may be bombarded with cake pop recipes over the next little while! They are just so cute and so insanely yummy. Please, please tell me about any cake pop tips or flavours you like… it will serve to fuel my obsession even more!
xxx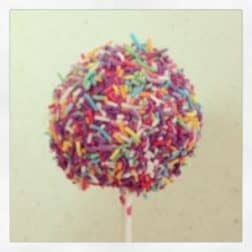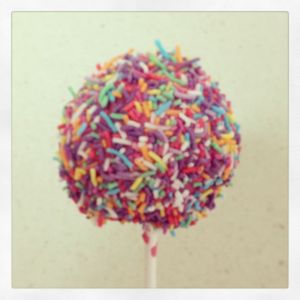 Chocolate Raspberry Cake Pops
Delicious and moist chocolate raspberry cake pops that look gorgeous! You will not be able to resist these little bites of heaven!
Ingredients
1

chocolate cake baked according to the instructions

I used a Betty Crocker chocolate fudge cake packet, but you could use any packet mix or your own recipe

2-3

tablespoons

of raspberry flavoured chocolate powder

or a few drops of any liquid flavouring

125

g

butter

1

and 1/2 cups icing sugar

30

ml

milk

400

g

white chocolate

2-3

drops pink food colouring

1

packet sprinkles
Instructions
Cook the chocolate cake according to the instructions and let cool.

Crumble the cake into tiny pieces in a large bowl.

Add the raspberry chocolate powder and mix well.

Place the butter in a large mixing bowl.

Use an electric beater to beat for 2 minutes or until very light and fluffy.

Gradually add the icing sugar and beat until the mixture is very pale and fluffy. Gradually add the milk and beat until smooth and well combined.

Add as much frosting as you need to make the cake mixture moist enough that it holds together easily.

Use an ice-cream scoop to roll the mixture into balls.

Place the balls onto a baking paper lined tray in the freezer for 20 minutes.

Melt 30g of white chocolate and dip the cake pop sticks 2cm in.

Place the cake pop sticks in the fridge to set.

Press a cake pop onto each stick and push down so that they are stable and won't fall off.

Melt the remaining chocolate in the microwave and add 2-3 drops of food colouring.

Mix well.

Pour the melted chocolate into a tall glass.

Dip each cake pop into the chocolate so that it is entirely covered.

Hold up and let any excess chocolate drip off.

Carefully roll/dab the cake pops into the sprinkles.

Place the cake pop stick into florists foam, or alternatively, hold in the air for a minute or so, or until set, and then place onto a tray.

Repeat until all of the cake pops have been decorated.

*I like to melt about 100g of chocolate at a time and use that before melting more. This way the chocolate stays melted and smooth.