Totally over-the-top and decadent Chocolate Mint Cookies! Made with Mint Aero and Mint Slice biscuits, these are sure to be a hit with the whole family!
I really can't get enough of anything chocolate/mint flavoured at the moment. I don't know why it is… it hasn't always been this way! But hey, while this latest fad lasts, I'm just going to roll with it and munch my way happily through anything and everything that has a chocolatey minty flavour. Just because.
Last weekend I wanted to make some cookies. As you do. And not just any cookies… chocolate mint cookies (of course!).
I started off with a simple chocolate cookie recipe and then added in some chopped up Aero mint chocolate and some Arnott's Mint Slice biscuits. Oh yum! You know I nearly popped a Cadbury peppermint square into the middle of each one, but I stopped myself…just! In hindsight, I think the cookies could have been even more mint flavoured, so next time I think I may do just that! Or maybe I'd add in some peppermint essence to the cookies instead… hmm I'm really spending way too much time pondering this!
The only other thing was that the cookies were quite a light chocolate flavoured biscuit. And I like really rich chocolate biscuits, so next time I'll definitely add in some more cocoa to make them dense and fudge-like!
Don't get me wrong, the cookies were good… but I'm not after a 'good' cookie. I'm after a mind blowing, awesome, ridiculously off the chart flavoured cookie. Hehe, cookies are serious stuff in my world! Nevertheless they were a fun little experiment and satisfied my choc/mint cravings for a few days!
I have posted the original recipe I used because I know a lot of people enjoy a lighter chocolatey cookie. But, if you want a richer one, then just omit a couple of tablespoons of the flour and replace it with the same amount of cocoa powder. Also, if you want your cookies to be even more minty, then add in some extra Aero chocolate and Mint Slice biscuits… or go totally nuts and press a square of oozy gooey peppermint Cadbury chocolate into the middle of each cookie. I really think that would be amazing!!!
If anyone has any great choc/mint recipes, I would LOVE to hear them.
Happy baking 🙂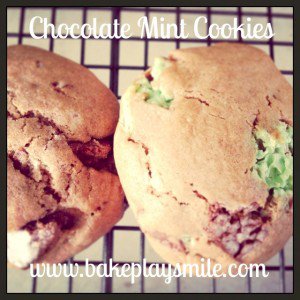 Chocolate Mint Cookies
Totally over-the-top and decadent Chocolate Mint Cookies! Made with Mint Slice biscuits, these are sure to be a hit with the whole family!
Ingredients
125

g

unsalted butter

softened

3/4

cup

light brown sugar

packed

1/2

cup

caster sugar

1

large egg

1

egg yolk

1

teaspoon

vanilla essence

3/4

teaspoon

baking soda

1

teaspoon

baking powder

1

teaspoon

salt

2

cups

and 1/4 cups all-purpose flour

2

teaspoons

unsweetened cocoa powder

1/2

packet Arnott's Mint Slice biscuits chopped

about 6 biscuits

1/2

large block Aero mint chocolate

chopped

*1/4 cup milk

you only need to add the milk if your cookie dough is really thick
Instructions
Preheat oven to 180 degrees celsius.

With an electric mixer, cream together the butter and sugars on medium speed.

Add the egg, then the egg yolk, mixing for about 1 minute after each addition.

Mix in the vanilla extract.

In a separate bowl, whisk together the baking soda, baking powder, salt, flour, and unsweetened cocoa powder.

Add 1/2 of the dry ingredients to the wet.

Mix for about 1 minute on low speed.

Add the rest of the dry ingredients and mix on low speed until combined.

By hand, fold in the chopped Mint Slice biscuits and Aero mint chocolate.

Drop tablespoon sized cookies onto ungreased baking sheet or silicone mat.

Bake for 10-12 minutes until sides slightly begin to brown - don't overcook them (mine only needed 10 minutes!).

Allow to cool on the baking sheet for 2-3 minutes and transfer to a wire rack.