Ok so I have a bit of a cake pop obsession happening at the moment! Last week it was chocolate raspberry cake pops covered in sprinkles (how good  are sprinkles!!) and this week it's one of my absolute favourite flavours… chocolate mint!
Every single time I go to the movies I have a chocolate mint choc-top. Literally every time. I'm so predictable that my husband doesn't even need to ask what I want to eat, he just goes and gets me one! Yes, yes, I am most definitely a creature of habit. And don't even get me started on how much I love mint chocolate. Did someone say Aero? And thank you to Cadbury chocolate for enriching my life with both your peppermint and mint Bubbly flavours. If you have been reading this blog for a while, you might have also come across my mint chocolate cookies that were a bit of a crazy experiment!
But anyway, back to it! These cake pops were made exactly the same as the chocolate raspberry ones, but with a few little changes of course! I think this is one of my favourite things about cake pops – they are so versatile and you could go nuts trying out zillions and zillions of different flavours.
Anyway, after making a chocolate fudge cake (I used the Betty Crocker one again because it worked so well with my chocolate raspberry cake pops!), I added in some frosting and some mint flavoured chocolate powder. If you can't get your hands on the powder, then peppermint essence would work beautifully too.
When the mixture was beautiful and moist, I used an ice-cream scoop and rolled it into balls and popped them on a tray in the freezer for about 20 minutes. While that was going on, the cake pop sticks were dipped about 2cm into melted white chocolate and popped into the fridge to set. I know I said this last week, but you really do need to dip the sticks into the chocolate… that is, unless you are happy for your cake pops to be wobbly and falling all over the place!
Then it was just a matter of pressing one cake pop onto the top of each stick and dipping them entirely into a cup filled with melted white chocolate. Make sure you use a glass or a cup as it makes it SOOOOOO much easier to fully cover the cake pops without having to try and roll them round and round in a bowl. That my friends, is not fun!
Finally, when the chocolate is still melted, sprinkle over some crushed peppermint chocolate and leave to set. I used Peppermint Crisp bars because I love them to bits, but you could use any kind of peppermint chocolate (just not the liquid filled ones!).
Oh wait, that wasn't the last step! I forgot the most important bit! By far the most important step is to grab a cake pop, sit down, take a big bite, listen to the crunch of the chocolate and then taste the smooth truffley filling. Then, and only then, will you know what heaven tastes like… well maybe not heaven, but a darn good cake pop anyway!
These would be absolutely perfect for a Christmas party. I'm a huge fan of mint flavoured goodies at Christmas and you can be guaranteed that these will be loved by kids and adults alike. They are that good. Seriously!!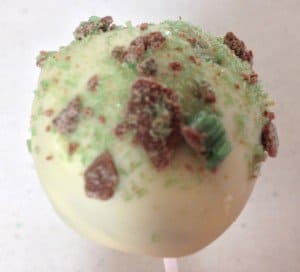 Mint Chocolate Cake Pops!
Mint chocolate cake pops that have a delicious fudgey filling covered in white chocolate and sprinkled with mint pieces!
Ingredients
1

chocolate cake baked according to the instructions

I used a Betty Crocker chocolate fudge cake packet, but you could use any packet mix or your own recipe

2-3

tablespoons

of raspberry flavoured chocolate powder

or a few drops of any liquid flavouring

125

g

butter

1

and 1/2 cups icing sugar

30

ml

milk

400

g

white chocolate

2

X Peppermint Crisp bars

or similar
Instructions
Cook the chocolate cake according to the instructions and let cool.

Crumble the cake into tiny pieces in a large bowl.

Add the mint chocolate powder and mix well.

Place the butter in a large mixing bowl.

Use an electric beater to beat for 2 minutes or until very light and fluffy.

Gradually add the icing sugar and beat until the mixture is very pale and fluffy. Gradually add the milk and beat until smooth and well combined.

Add as much frosting as you need to make the cake mixture moist enough that it holds together easily.

Use an ice-cream scoop to roll the mixture into balls.

Place the balls onto a baking paper lined tray in the freezer for 20 minutes.

Melt 30g of white chocolate and dip the cake pop sticks 2cm in.

Place the cake pop sticks in the fridge to set.

Press a cake pop onto each stick and push down so that they are stable and won't fall off.

Melt the remaining chocolate in the microwave.

Mix well.

Pour the melted chocolate into a tall glass.

Dip each cake pop into the chocolate so that it is entirely covered.

Hold up and let any excess chocolate drip off.

Carefully sprinkle the cake pops with the crushed Peppermint Crisp bars.

Place the cake pop stick into florists foam, or alternatively, hold in the air for a minute or so, or until set, and then place onto a tray.

Repeat until all of the cake pops have been decorated.

*I like to melt about 100g of chocolate at a time and use that before melting more. This way the chocolate stays melted and smooth.