An easy, no-bake marshmallow slice that is so quick to whip up! Just add some sprinkles to the top and you have a slice that tastes as good as it looks!
Sometimes I like making fancy schmansy slices that take a lot of time and effort. And other times I like making really quick and easy slices that are so simple. Like so, so, soooo simple! Like you could make them with your eyes closed simple. Like your kids could make them with their eyes closed simple. Ok, you get the point… now I'm just being annoying!
This Chocolate Marshmallow Slice is no-bake and no-fuss at it's best.
All you do is crush some plain biscuits into fine little chunks. Back in the 'old days', I used to use our big marble rolling pin to crush biscuits and nowadays my food processor does it in about 3 seconds. Oh the joys of modern day appliances!
Once the biscuits are crushed, put them in a big bowl and add some marshmallows (if you are feeling super lazy like me, then just use the mini marshmallows and then you don't even need to chop them up!). Chuck in some choc bits (white, milk or dark would all work fine). And finally add in some coconut.
Then comes the only bit of this recipe that you may like to open your eyes for… just saying. Melt some butter, a can of condensed milk and a little cocoa in a saucepan until its melted and well combined.
Pour your chocolatey fudgey liquid on top of the biscuit mix and stir all together.
Spread the Chocolate Marshmallow Slice mixture into a lined slice tray and pop it into the fridge for about 30 minutes.
Melt some chocolate in the microwave and pour over the chilled slice and make sure it spreads all the way to the edges. Pop on some sprinkles… seriously everything tastes better with sprinkles (if you don't believe me, think of fairy bread… whoever thought bread could taste so good?).
So yum, so simple, so totally no-fuss!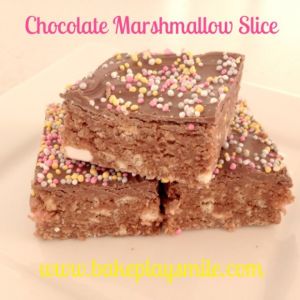 Chocolate Marshmallow Slice... with Sprinkles (of course!)
Easy, no-bake slice that is so quick to whip up! Just add some sprinkles to the top and you have a gorgeous slice that tastes as good as it looks!
Ingredients
250

g

packet plain sweet biscuits

finely crushed

¾

cup

marshmallows

chopped into small pieces

¾

cup

flaked coconut

¾

cup

milk Choc Bits

395

g

can sweetened condensed milk

100

g

butter

chopped

1

teaspoon

cocoa powder

1

teaspoon

vanilla extract

150

g

milk chocolate

chopped, melted

Sprinkles to decorate
Instructions
Lightly grease an 18 x 28cm slice pan.

Line base and sides with baking paper.

Place crushed biscuits in a large bowl.

Add marshmallows, coconut and Choc Bits.

Combine condensed milk, butter, cocoa and vanilla in a small saucepan. Stir over a low heat until combined.

Add milk mixture to dry ingredients, mixing well.

Press mixture into prepared pan.

Chill for 30 minutes until firm.

Spread melted chocolate over slice. Set aside on the bench for 15 minutes (don't put it in the fridge or the chocolate will crack when you cut it - although if it's a really hot day you may need to refrigerate it!)

Cut into squares using a hot knife.