Looking for the perfect recipe for Thermomix Cheese and Ham Scrolls??? Then this recipe is for you! Mix and match with different fillings too!
I'm not the hugest bread fan… I mean I don't mind it, but I don't absolutely love it. On the other hand, my husband does love bread! So I kinda made these scrolls thinking that I'd be a nice wife more than anything else. That was until I tried them and then proceeded to eat them straight out of the oven, for lunch and for dinner that day. Hmmm…. maybe I wasn't the best wife in the end! Anyway, the Thermomix Cheese and Ham Scrolls were seriously good! And that's really saying something given my so-so relationship with bread!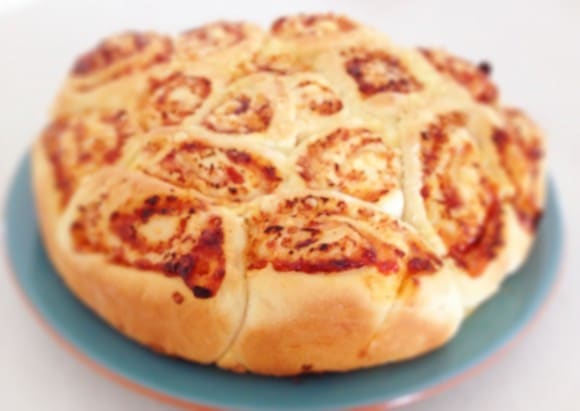 They were so yummy straight out of the oven still warm and cheesy. But I think they were even better later that night cut in half and grilled for a couple of minutes and then topped with a bit of avocado, tomato, salt and pepper!
I made the Thermomix Cheese and Ham Scrolls using the Everyday Cookbook Herb and Garlic Pull-Apart Bread recipe as a base. Instead of topping the dough with the herb and garlic butter, I spread a thin layer of tomato chutney over the top and then added ham and grated cheese. You definitely don't need a Thermomix to make these scrolls as any basic dough recipe would work perfectly.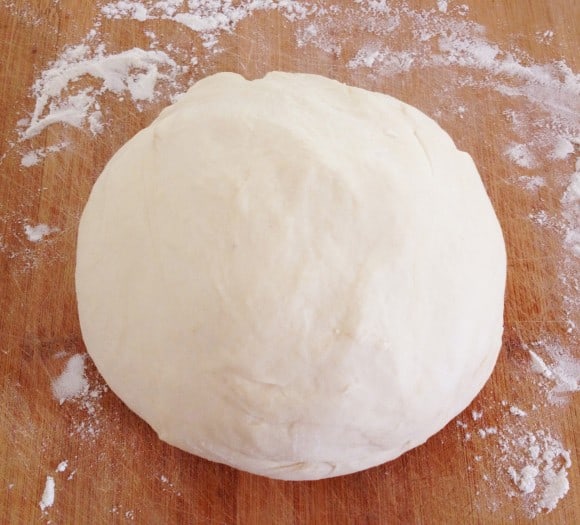 From there my nice little (actually huge!) dough rectangle got rolled into a long skinny log and then cut into slices using… wait for it…. dental floss – just make sure it's not flavoured! The floss cuts the most perfect slices – way better than any knife ever would! From there I lay the scrolls flat in a large round springform pan, starting from the middle and then working my way to the edges. I had way too many scrolls left over so I filled another small pan using the same method.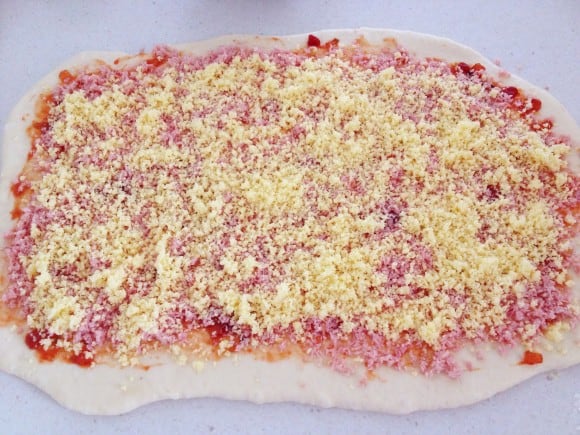 Finally a bit more cheese was added to the top and the Thermomix Cheese and Ham Scrolls were baked in a 200 degree oven for about 20 minutes. The larger pan took a little longer, but I just waited until they were golden and sounded hollow when tapped.
Anyway, they were super yummy and the only thing I would change next time is that I would halve the recipe. If you were feeding a large family then this amount would be perfect, but our little house had scrolls coming out the windows and doors it seemed… and as good as they were, no-one wants to be eating scrolls forever!!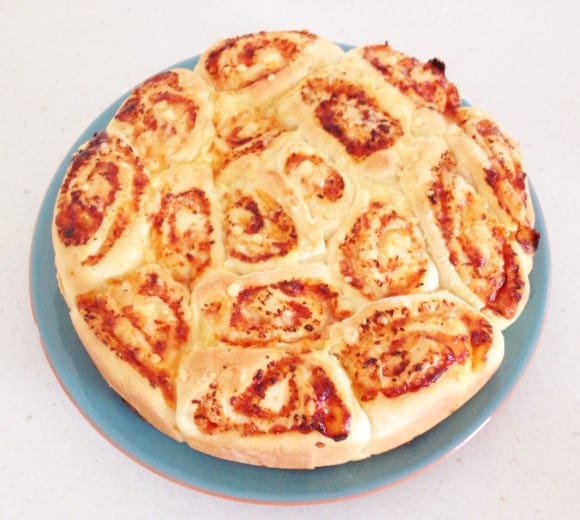 🙂 Happy Thermomix Cheese and Ham Scrolls makin'…!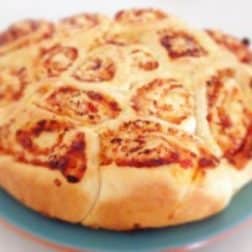 Cheese & Ham Scrolls
Looking for the perfect recipe for Thermomix Cheese and Ham Scrolls??? Then this recipe is for you! Mix and match with different fillings too!
Print
Pin
Rate
Ingredients
Dough:

450

g

lukewarm water

1

tbs

dried yeast

or 40g fresh yeast

1 1/2

tsp

sea salt

750

g

plain flour

100

g

olive oil

Topping:

200

g

thinly sliced ham

200

g

grated cheese

4-5

tbs

tomato chutney
Instructions
To make the dough in the Thermomix follow these instructions, otherwise, make any basic dough recipe according to the instructions:

Grease a large springform pan and set aside (I also needed a smaller pan for the leftover scrolls).

Place water, yeast, salt, flour and oil into mixing bowl and mix 6 seconds on speed 6 and then knead for 2 minutes.

Transfer dough to a lightly floured board and work into a ball.

Place in a bowl, cover with a tea towel and leave to prove in a warm spot for 30 minutes or until it has doubled in size.

Preheat oven to 200 degrees.

Roll dough into a large rectangle that is 5cm thick.

Spread over the tomato chutney.

Add the ham.

Sprinkle over the cheese (leaving a little to add when the scrolls are in the pan).

Roll the rectangle into a long log.

Use dental floss to cut the log into even slices.

Lay the scrolls cut side down into the pan, starting in the middle and moving your way out towards the edges.

Set aside to prove for another 10-15 minutes.

Place in the oven and cook for approximately 20 minutes or until golden on top and hollow when tapped.

Allow to cool a little in the pan before turning out onto a plate.