Don't get me wrong, I love muesli bars. In fact I really love them. They are a great snack in the morning, afternoon or anytime of day! There are only two things I don't like about muesli bars: they are expensive and they are often full of additives and other crappy things we don't need to eat!
However, as we all know… there isn't always time to whip up a homemade batch of muesli bars from scratch… so here's the cheat's way to do it!
Buy a bag of any sort of muesli you like (try and choose the healthier ones!). I love the ones that have a mix of fruit and nuts in them. Melt about 125 grams butter (or low-fat margarine) in a saucepan and add a couple of tablespoons of honey. Add some cinnamon and vanilla essence along with the butter mix to the muesli (about 3 cups). Stir together.
Press into a lined tray and bake in the oven for about 30 minutes on 180 degrees. Just be careful not to burn the slice.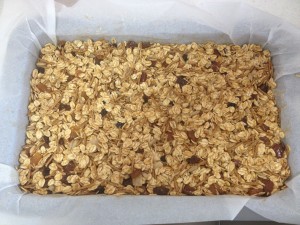 Leave to cool and then cut into bars.
Because I am a chocoholic I love to drizzle melted chocolate on the bars before cutting, but hey that's just me! Whatever tickles your fancy is fine!
Mmmm… yum, easy and cheap! It costs about $2.50 to make about 12 bars depending on the brand of muesli you buy!