I'm really excited to introduce my beautiful guest blogger today. Not only is she one kick-ass baker, she also just so happens to be my business partner (we run the website Thermobliss together) and also one of my best friends. Yep, she is the super special Lauren from Create Bake Make. To say I have a lot of love for this girl is the understatement of the year – she is seriously the best. While a lot of you know that Lauren and I are friends, what you probably don't know is the story of how we met. So here's a little trip down memory lane (it's a fab story actually!).
Lauren and I live on completely different ends of the country. We both started our blogs at around the same time and after we discovered each others websites we started leaving comments and chatting away. Anyway, one day Lauren wrote the most amazing story about her IVF journey. I had literally just had my first IVF transfer that week and knew no-one else who had gone through it. So I sent her an email telling her how much I loved her story and explained a bit about myself.
From then on we would constantly email and message each other, and over the past 2 years, Lauren has become like a sister to me. We are so similar (honestly, it's just weird) and without her support, I don't think I would have got through those crappy IVF years.
After a while we finally got to meet in person at a Sydney bloggers conference. I think it probably occurred to both of us that we could potentially be sharing a hotel room with a crazy person. Luckily enough, we got on like a house on fire (it was like we'd known each other forever) and during that conference, we came up with the idea of starting our ThermoBliss website. Honestly, whenever we get together we come up with about a zillion insane ideas.
Mine and Lauren's lives have been SO similar in so many ways… and 2016 is shaping up to be no different. As you know, Dave and I had our beautiful boy earlier this year and Lauren is expecting her 3rd bub soon. It's been a very special year, that's for sure. I can honestly say that meeting Lauren has been my favourite part of starting a blog. Not only do I have the most wonderful friend, but also the best business partner anyone could ask for.
Anyway, enough of my waffling on (I'll probably start getting teary soon!). Here's one of Lauren's gorgeous recipes that she's offered to share with us. It's a Caramel Fudge recipe and boy oh boy, it's seriously AMAZING. I've made this so many times and it's always perfect. Enjoy!
PS – I know most of you are already following Lauren's yummy blog, but if not (WHHHAAATT!!!??), you can check out her website or pop over and say hi on Facebook, Instagram, Pinterest or Twitter.
PPS – There's a fair chance she's going to kill me for putting all of these photos of her on here. Hehehe!!
Hi there! I'm so thrilled to be guest posting for Lucy while she is enjoying some well deserved time off with her new little bubba. I've decided to share this super easy and most importantly, delicious Caramel Fudge recipe with you guys today. I promise that it is really simple to make, in fact the hardest part of the whole process is waiting for it to set!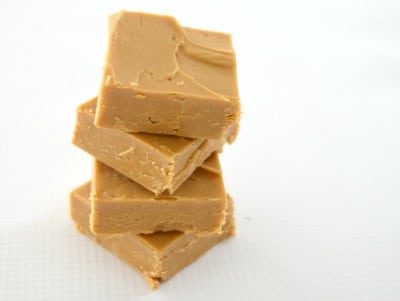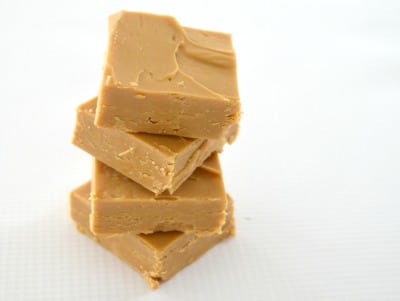 Caramel Fudge
Super easy and most importantly, delicious Caramel Fudge recipe from Lauren of Create Bake Make!
Ingredients
125

g

butter

390

g

tin condensed milk

2

tbs

golden syrup

220

g

brown sugar

200

g

Cadbury white chocolate
Instructions
Break the white chocolate into squares before chopping into small pieces. Set aside until needed.

Line the base and sides of a 20cm square slice tin with baking paper. Make sure you leave plenty of paper hanging over the sides to help you remove the caramel fudge when it has set.

Place the butter, golden syrup, condensed milk and brown sugar into a medium saucepan and cook over a low heat for 8 - 10 minutes or until the mixture has started to ticket and has turned a lovely golden brown.

Remove the saucepan from the heat and add the chopped white chocolate, before quickly stirring it with a metal spoon to combine.

Working quickly, pour the caramel fudge into the prepared tin and smooth the surface.

Place the tin into the fridge for a minimum of 6 hours (preferably overnight though) to set before cutting into small pieces.
As you can see, this Caramel Fudge REALLY is easy to make and is guaranteed to be a hit with your family and friends. I hope you enjoy it xx