A yummy layered Black Forest Cake filled with cream, cherries and chocolate cake… and then covered in decadent ganache and chocolate shards!
This week was my husbands birthday and he had requested a Black Forest Cake. Sounds easy enough? Well considering the last time we had eaten Black Forest Cake was in the actual Black Forest in Europe, it was always going to be quite a challenge!
A couple of days before his birthday I made some chocolate shards by melting white, milk and dark chocolate separately. They were then spread thinly on a tray and cut into shards when semi-set. I drizzled over a contrasting chocolate colour to give a cool effect too!
The day before involved making the chocolate sponge cake. As always, the brilliant Donna Hay had a great recipe and it was really simple to make. I used my KitchenAid but you could also just use beaters! Click here for the recipe I used for the sponge cake.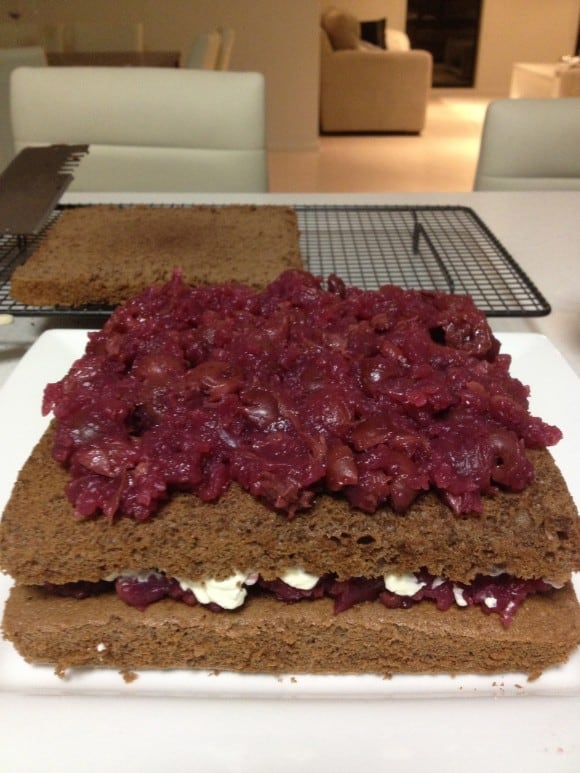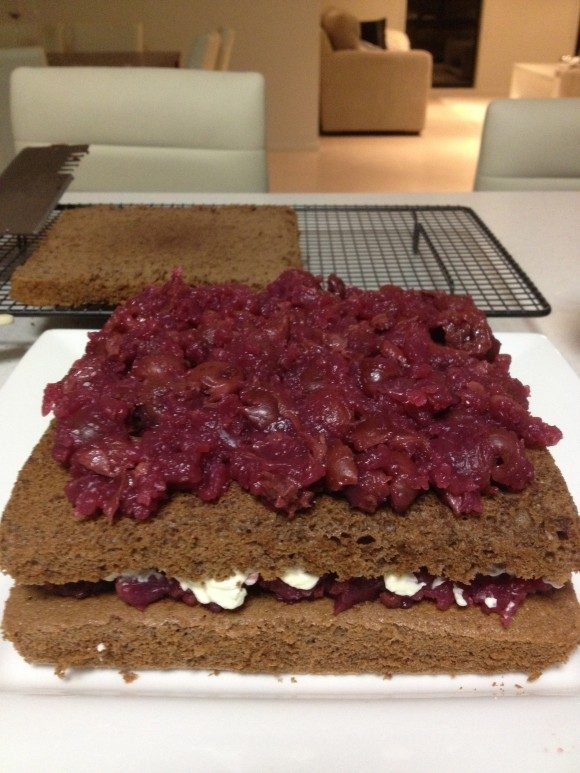 A handy little hint – to cut the sponge cake into three equal parts use dental floss! Easier than a knife and a much better result in the end too!
Next came the cherry sauce. The liquid from the cherries was mixed with some cornflour and then the cherries added in. This was then left to cool.
Whipping the cream with a little sugar and vanilla essence was made much easier with the help of the KitchenAid.
Finally I made a chocolate ganache with a mix of milk and dark chocolate and some cream! It was delicious and I had a very sore tummy after eating so much during the mixing process!!!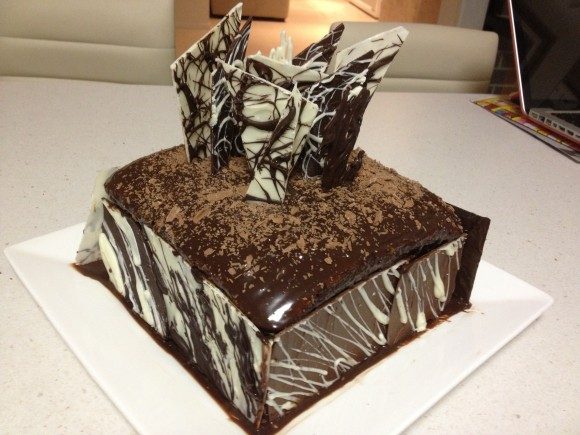 Then it was just a case of layering the sponge cake, cherry sauce and the whipped cream and smothering the whole thing in ganache! A bit of flake chocolate and the shards on top for decoration and voila!
The recipe had called for Kirsh liquor – however, I was only able to buy a large bottle for $27 and wasn't willing to do that! So, it didn't have the same liquor taste as a lot of black forest cakes but was yummy all the same!
I have to admit that it didn't quite stack up against the brilliant and authentic Black Forest Cake we had eaten in the Black Forest but it wasn't too bad an effort for a first go! It was lots of fun practising making the chocolate shards too!
And interestingly enough, we both thought the cake was better the following night… I thought the sponge might have dried out, but it hadn't and the ganache had sort of seeped through a bit more too!
Anyway, happy birthday to my wonderful husband! Now it's time to get planning the next birthday cake (May is a big birthday month in our family!)
Ingredients
1 x 470g pkt chocolate cake mix (I used a Donna Hay recipe instead – see my link in the blog post)
1 x 670g jar morello cherries
2 tbs caster sugar
1 tbs cornflour
600ml thickened cream
60ml (1/4 cup) kirsch (I didn't use this – but I think it would have been even better if I had!)
2 tbs boiling water
2 tbs caster sugar, extra
2 X Flake chocolate bars
300gm mix of milk and dark chocolate  (ganache)
250ml cream (ganache)
Step 1
Prepare and bake the chocolate cake mix following packet directions. Turn onto a wire rack to cool completely. Use a large serrated knife (or dental floss!) to cut the cake horizontally into 3 even layers
Step 2
Drain the cherries, reserving 160ml (2/3 cup) of the juice. Reserve 10 cherries to decorate. Place the remaining cherries and the reserved juice in a saucepan with the sugar and cornflour. Stir over medium-low heat until the mixture boils and thickens. Transfer to a large bowl. Cover with plastic wrap and place in the fridge to chill.
Step 3
Use an electric beater to beat cream in a medium bowl until firm peaks form.
Step 4
Place kirsch, water and extra sugar in a jug and stir until the sugar dissolves.
Step 5
Place 1 cake layer on a serving plate and drizzle over half of the kirsch mixture. Spread with half of the cherry mixture and a thin layer of the cream. Repeat with the remaining cake, kirsch mixture, cherry mixture and cream, finishing with a layer of cake.
Step 6
Spread some of the remaining cream (or ganache) over the top and side of the cake. Sprinkle the chocolate over the top and gently press onto the side of the cake.
Step 7
Place the remaining cream in a piping bag fitted with a 1cm fluted nozzle and pipe rosettes around the edge of the cake.
Step 8
Arrange the reserved cherries around the cake between the cream rosettes. Cut the cake into wedges to serve.