Hi there, happy Friday!
I'm Lauren from Create Bake Make and whilst the lovely Lucy is away on holidays (the lucky lady!) I've got the great pleasure of writing this week's post and sharing a few of the yummy recipes from our Fabulous Foodie Fridays party last week.
With the hot weather well and truly upon us, I could think of nothing better than snacking on one (or two!) of these yummy Frozen Banana and Ice-cream Chocolate Bites created by the nOATbook.
I had the pleasure of tasting this Easy Rice Slice from Zamamabakes a couple of weeks ago and I can highly recommend it!
I'm always on the look out for new pasta meal ideas, and this Chorizo and Prawn Pasta from Barbie, Bieber and Beyond looks like a meal our whole family will enjoy.
Don't forget to head over to Create Bake Make to check out the rest of last week's picks.
This week I'm sharing a recipe for easy Banana Pikelets.  The key to this recipe is making sure you use the brownest bananas you can find to ensure your pikelets are full of flavour.
This is a favourite recipe in our house, and my boys love to enjoy Banana Pikelets for breakfast or as a special treat at morning or afternoon tea time.  We like to serve them with chopped banana pieces or with a thick and yummy layer of raspberry jam.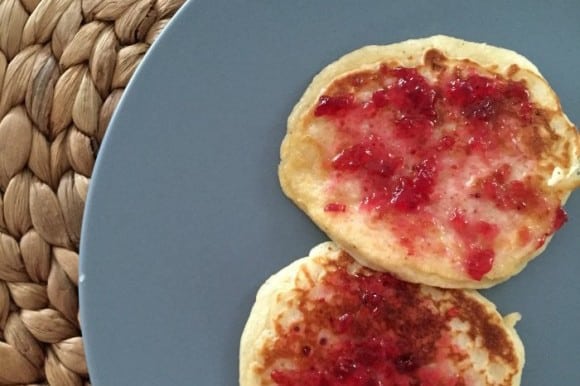 Banana Pikelets - Fabulous Foodie Fridays #38
Yummy banana pikelets thanks to Lauren at Create Bake Make. A great way to use up those ripe bananas!
Ingredients
1 1/3

cups

of self raising flour

1/2

teaspoon

of baking powder

1/4

cup

of caster sugar

1/2

teaspoon

of vanilla essence

2

eggs - lightly whisked

250

g

of bananas - this works out to be approximately 3 large bananas

the browner the better!

1 1/3

cups

of milk

Butter to grease frying pan
Instructions
Place the bananas in a bowl and mash with a fork. Set aside until needed

Sift the self raising flour and baking powder together in a large bowl. Add the caster sugar and stir through to create a well in the centre.

In a large jug, add the eggs, milk and vanilla essence and stir to combine. Add the combined liquids along with the mashed banana to the sifted flour mixture and stir with a large metal spoon to combine.

Add a little butter to a non stick frying pan and heat over a medium heat. Use a large spoon to scoop up the pikelet mixture and pour into the heated frying pan. Repeat until you have four pikelets in your frying pan.

Cook each pikelet for approximately one minute, or until they begin to bubble on the surface. Carefully flip each pikelet over with an egg flip and cook for a further minute. Transfer the pikelets to a plate. Cover with foil to keep warm.

Repeat the above step until you have used all of the mixture.

Serve pikelets immediately with your favourite topping.
 What is your favourite pancake or pikelet topping?