This Banana and Raspberry Cake with Passionfruit Cream Cheese Frosting is the perfect cake for afternoon tea, a baby shower or high tea!
Today is the day of one of my best friend's baby shower! We have planned a high tea for her and I'm so excited. I had a great day yesterday doing lots of baby shower baking and now I can't wait to taste-test everything! I'm sure the gorgeous mum-to-be will have a great day. I'll post all of the baby shower bits and pieces that I made later in the week (when I have had a chance to sort through all the photos!), but today's post is a yummy recipe for a Banana and Raspberry Cake with Passionfruit Cream Cheese Frosting… which come to think of it, would actually be perfect for a baby shower high tea!
Anyway I made this Banana and Raspberry Cake with Passionfruit Cream Cheese Frosting last weekend for afternoon tea with some friends. You might like to call it banana and raspberry bread as it sounds much healthier, but seriously once you slather on the passionfruit cream cheese frosting it really is a cake (sorry there's no denying it's cakey-ness!). This recipe really does live up to everything you want a banana cake to be. It's super moist, has a little tangy sweetness from the raspberries, a bit of crunch from the chopped up walnuts and a delicious combination of cream cheese and passionfruit in the frosting. So good! And if you don't like a super sweet banana cake then this recipe is for you. The sour cream balances out the sweetness of the bananas oh so perfectly.
Really… how brilliant is banana cake? It's so versatile! In the past, I have made different versions of banana cake for breakfast, brunch, afternoon tea and dessert. It's kinda one of those things that everyone loves and is perfect for any possible situation!
But back to the baking… I had really wanted to make a banana cake but I didn't have any ripe bananas in our fruit bowl. Luckily, a few weeks ago a froze a few bananas that were super ripe. I know you can freeze bananas a couple of different ways, but I like to peel mine, chop them into big chunks (about thirds) and then pop the pieces into a glad bag, seal and freeze. This way it's so easy to grab the bag out and blend the frozen bananas into smoothies or let them defrost and use them in baking. I love freezing bananas because that way you always have ripe bananas on hand when you need them. We all know that bananas are really annoying and always seem to go ripe when it's halfway during the week and you have absolutely no time to do anything with them. Freezing them totally solves that problem.
Now after our afternoon tea there were still a couple of pieces of Banana and Raspberry Cake with Passionfruit Cream Cheese Frosting leftover so I decided to freeze them. I could lie and tell you that they froze really well… but I don't lie, so to tell you the truth, I have absolutely no idea how well they froze. I haven't tried a piece yet! And to be honest, I'm a little dubious about how well the cream cheese frosting will have frozen, but hey, I'll give it a go. Otherwise, just make things easier for yourself… sit down and eat, eat, eat all of the cake, and then you won't have to worry about whether or not to freeze the leftovers! Another problem solved.
Enjoy the rest of your weekend. I hope it's relaxing and fun! Now I'm off to eat cute baby shower food, coo over all the gorgeous baby stuff and play lots of hilarious games.
P.S – Confession time: Last weekend I made this ridiculous call that I would do the September Photo A Day Challenge. Hmmm… so I went really well up until day 3, taking a photo each day and posting it on Instagram. Then I went massively downhill (as in I haven't even done ONE of the photos since). I'm going to try really hard to take heaps of photos today to make up for the ones I missed and then I promise to try and keep a bit more up to date this week. Note that I'm promising to 'try', not necessarily promising to 'do'… I'm not making that mistake again and setting myself up for even more failure! Sorry but if you want to follow the blog of someone inspirational and perfect then Bake Play Smile is really not for you! I am the most imperfect person in the world. I forget stuff. I have heaps of baking failures. I get distracted and bored way too easily. I get annoyed and frustrated with things (and I'm sure I probably annoy and frustrate other people too!). And as we now know…I set myself goals that I don't achieve them. But hey, the world needs imperfect people too!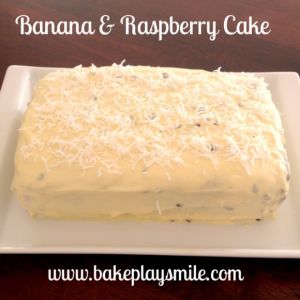 Banana and Raspberry Cake with Passionfruit Cream Cheese Frosting!
This Banana and Raspberry Cake with Passionfruit Cream Cheese Frosting is the perfect cake for afternoon tea, a baby shower or high tea!
Ingredients
Melted butter

to grease

125

g

butter

chopped

140

g

brown sugar

2/3 cup, firmly packed

2

eggs

lightly whisked

125

g

sour cream

1/2 cup

260

g

mashed ripe banana

1 cup

225

g

self-raising flour

11/2 cups

1

tsp

ground cinnamon

1/4

tsp

bicarbonate of soda

1/2

cup

chopped walnuts

100

g

frozen raspberries

125

g

cream cheese

at room temperature

40

g

butter

at room temperature

80

g

pure icing sugar

1/2 cup

60

ml

fresh passionfruit pulp

1/4 cup

Shredded coconut to serve

optional
Instructions
Preheat oven to 180°C fan-forced.

Brush a 10 x 20cm (base measurement) loaf pan with melted butter.

Line the base with non-stick baking paper.

Stir the butter and sugar in a small saucepan over low heat until the butter melts. Set aside for 10 minutes to cool slightly.

Stir the egg, sour cream and banana into the butter mixture.

Sift flour, cinnamon and bicarbonate of soda into a large bowl.

Make a well in the centre.

Add banana mixture and stir until well combined.

Stir through the chopped walnuts.

Fold in the frozen raspberries.

Spoon mixture into prepared pan.

Bake for 1 hour 10 minutes or until a skewer inserted into the centre comes out clean.

Set aside in the pan for 5 minutes to cool slightly before transferring to a wire rack to cool completely.

Use an electric beater to beat the cream cheese, butter and icing sugar in a small bowl until pale and creamy.

Beat in half the passionfruit pulp.

Spread the icing over the cake.

Top with the shredded coconut.