As you probably know by now, I have absolutely no formal training in cooking or baking. I am not a chef. I have not trained as a baker. And apart from the occasional cooking class, everything I know about cooking, I learnt from my Mum (and a whole lot of practice – and mistakes!!). I was so lucky growing up, because every weekend, Mum and I would cook together. I'm sure if it hadn't been for those Saturday mornings, I wouldn't love cooking as much as I do now. And while I totally admire all of the chefs out there, I also think that a lot of amazing baking hints and tips can be learnt from people who just love to cook at home…. so I asked the fabulous members of our 'For The Love Of Baking' Facebook group for their best cooking tips – and they're totally AWESOME!!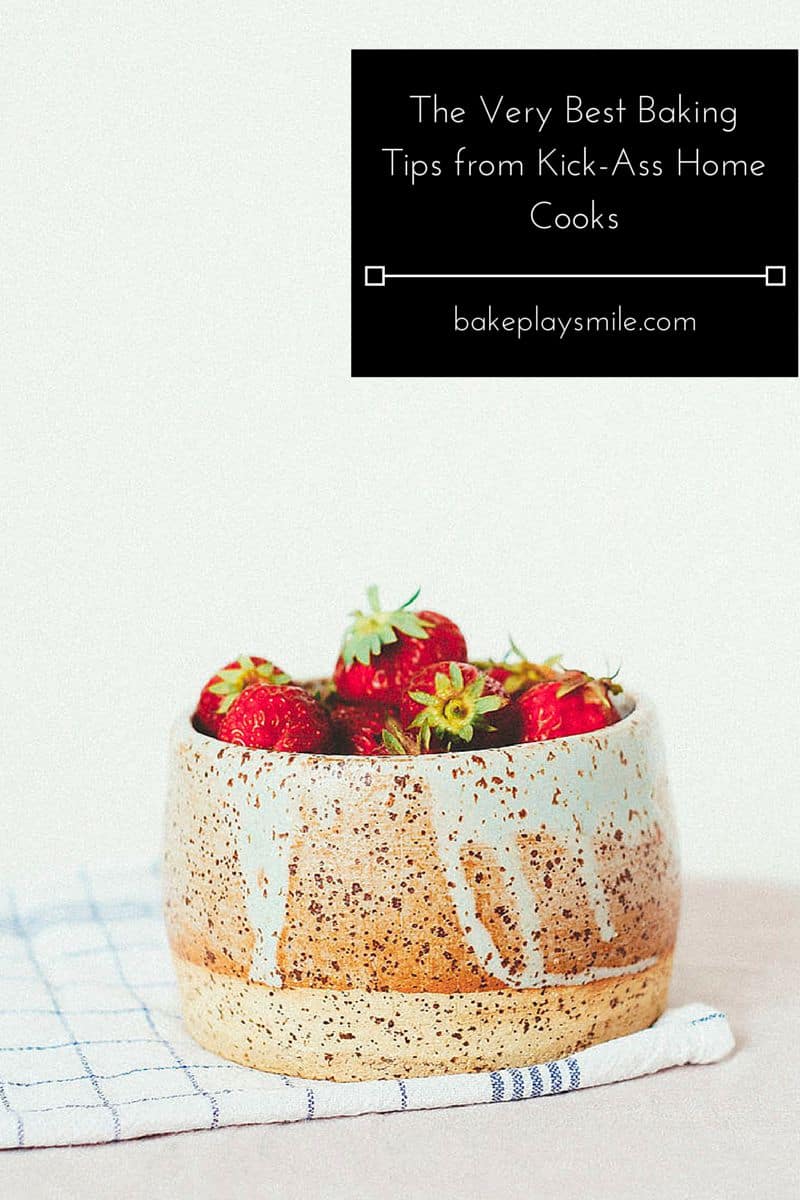 The Very Best Baking Tips From Kick-Ass Home Cooks
Tip 1 – Alison
I would definitely recommend a set of digital scales. They are more accurate, it's much quicker and no measuring cups to wash up! Also, I try and keep a greased and lined loaf tin, round cake tin and slice tin ready to go in the fridge. When the urge strikes, it's there and waiting (especially handy when cooking with little kids). 
Tip 2 – Jeanne
I try to keep organised & tidy in my pantry so I can see at a glance what I am looking for .. I keep a pad & pen hanging on inside of pantry door & when I can see I am getting low on a dried baking staple like flour cocoa almond meal etc , I jot it down ready for my next bulk pantry shop .. Nothing worse than getting caught short when other ingredients are already in the bowl .. If I do empty a container I wash it & replace it in its spot ready to be refilled.
Tip 3 – Cheryl
I always pull the eggs out of the fridge the day before baking ( so they are room temp , not ice cold out of the fridge) – your cakes/cupcakes will be lighter fluffier & have more volume.
Tip 4 – Kate
In black sharpie (marker) I always write the date I opened something such as baking powder as it has no longer than 6 mths shelf life once opened, or if you open a box of liquid stock you know how long its been open in the fridge.
Tip 5 – Gloria
When icing a round cake, place the cake on a cake board, then place it onto a lazy susan. You can now spin the cake while applying icing for even application!
Tip 6 – Jacki
To save money, when you open a jar of tomato paste, store it in the fridge turned upside down. I started doing this about 10 years ago and since then have never thrown out tomato paste that has gone off. This also works for others paste like ingredients – curry paste, just make sure the lid is on properly.
Tip 7 – Jen
When lining a cake tin, get a round piece of baking paper for the bottom of a tin, fold it in half and then half again to make a square (sort of). Then fold that in half to make a triangle, then in half again and again until you have a very narrow triangle. Measure from the centre of the tin to the edge and cut the end off. When you unfold it, you have the correct size circle for your tin. 
Tip 8 – Belinda
If I have to make a cake for a special occasion and know I won't have a lot of time to make it, I make it ahead of time and freeze it. The day of the event I get the cake out of the freezer and decorate. I do this with cupcakes too. Sometimes I freeze the buttercream icing too and get it out the day before.
Tip 9 – Gloria
Before you start baking you should always read the recipe from start to finish!
Tip 10 – Kate
Stick a bulldog clip over the edge of your baking sheet to hold your baking paper down. Old fashioned bulldog clips are easy to reuse and don't melt in the oven.
Tip 11 – Kirsten
Always have heaps of snap lock bags of different sizes on standby. They make the best piping bags for everything- buttercream, royal icing (lets no air in and just put a wet cloth over the tip) and chocolate. Chocolate sets so quickly, you can place it in a warm bowl or in the microwave a few seconds at a time until it melts again (not too long or the bag might melt!). Plus… no cleaning of the piping bag!
Tip 14 – Annemarie
It's so easy to bake from scratch. Just make sure you follow the recipe and you can't fail!
Tip 13 – Jess
Put the heart back into baking! Ditch the packet mixes and bake from scratch. Spend time baking with your kids in the kitchen. Not only are you creating memories with your children that they'll treasure forever but you're teaching them valuable skills that they'll be able to use as adults. Measure, measure, MEASURE! 
I absolutely LOVE all of these tips. For me, cooking should be all about having fun! Of course there's going to be times when things don't turn out as planned (ummm ALL OF THE TIME!), but if you can learn to love cooking, then it totally doesn't matter. Cooking for me is such a stress reliever. I love pottering about in the kitchen making things… it doesn't even matter what it is. I love that I learnt to cook from my Mum – those hours spent together were so special and it really did give me such a love of baking (and probably a sugar addiction as well!).
What are your favourite cooking hints and tips?
PS – If you'd like to join our 'For The Love Of Baking' Facebook group – we'd love to have you (it doesn't matter if you're a total beginner or an expert – it's just all about sharing our favourite recipes, asking questions and having fun!). Just click here to join. 
xxxx