(Please note: I wrote this post before having a baby… now with a toddler in tow, my day looks a LOT different!! I promise to do an updated 'life in a day' soon!).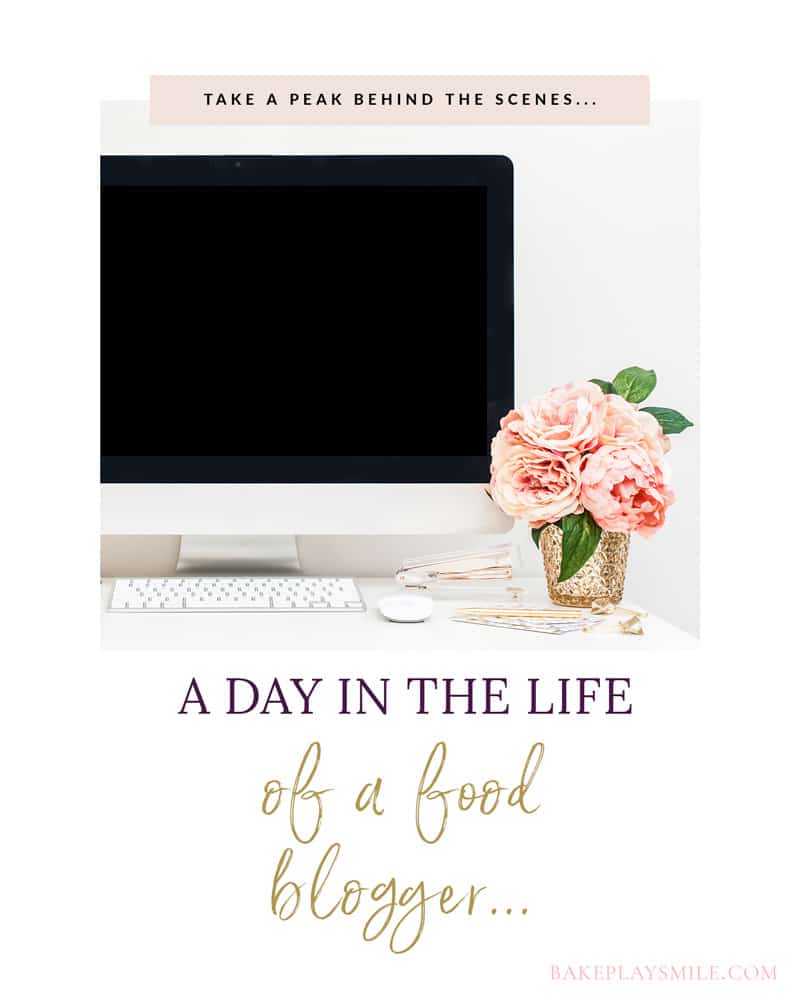 One of the most common questions I get asked, is what a typical 'blogging' day looks like for me. Well first of all, let me start of by saying that it is sooooo not glamourous. It's really hard work! Before I started blogging full time, I was a primary school teacher – and anyone who has ever taught little kids knows how busy it is… but to be honest, I've never worked harder (or more hours) in my life. I'm so incredibly lucky that my blog has grown enough to now be my job, but it hasn't just happened by magic. It's a whole lot of hard work (but I promise I'm not whingeing at all – it's the best job in the world)! So here's what a kinda-typical weekday looks like for me.
6.00am: It's go time!
I get up early and do some stretches or walk on the treadmill. Usually I listen to TED talks or my fave pop songs (hehe yes my taste in music is similar to that of a 16 year old). Unfortunately, I've come to the sad conclusion that because I love cake so much, I need to exercise. There's no way I'm going to give up the sweet stuff, so I've gotta drag my butt out of bed in the morning and get moving.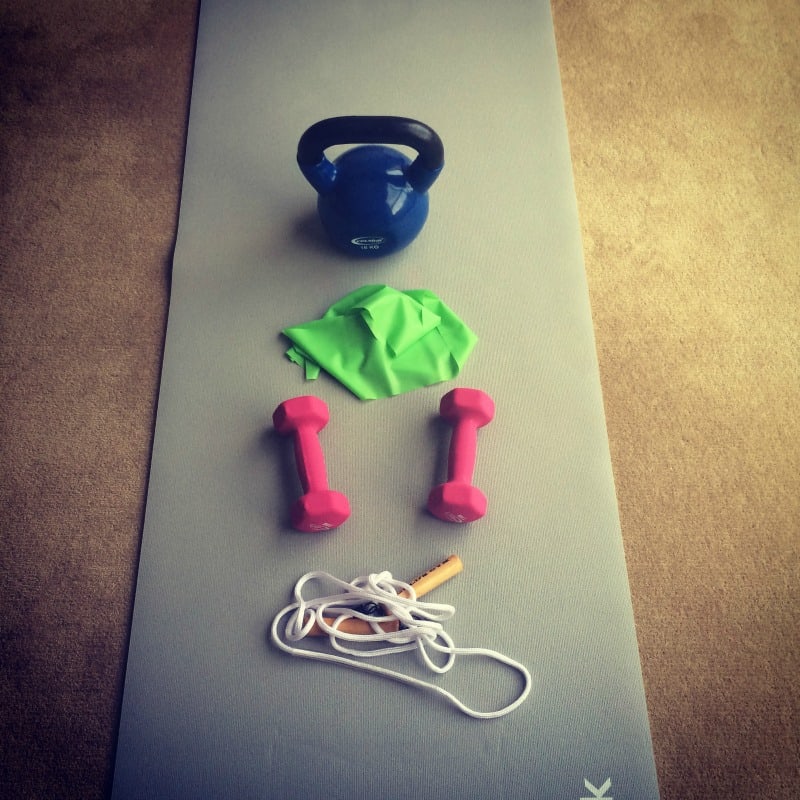 6.30am: Get ready
You know… all the boring stuff. Shower, hair, makeup, blah, blah blah…
7.00am: Check In
Usually I check my emails while I eat breakfast, make sure the days post has gone live (sometimes WordPress likes to play silly buggers and forgets to make my scheduled posts go live!), and check my social media accounts/reply to comments. I kinda like to do these jobs while I eat breaky, because they don't involve much thinking… so there's more time to concentrate on my muesli.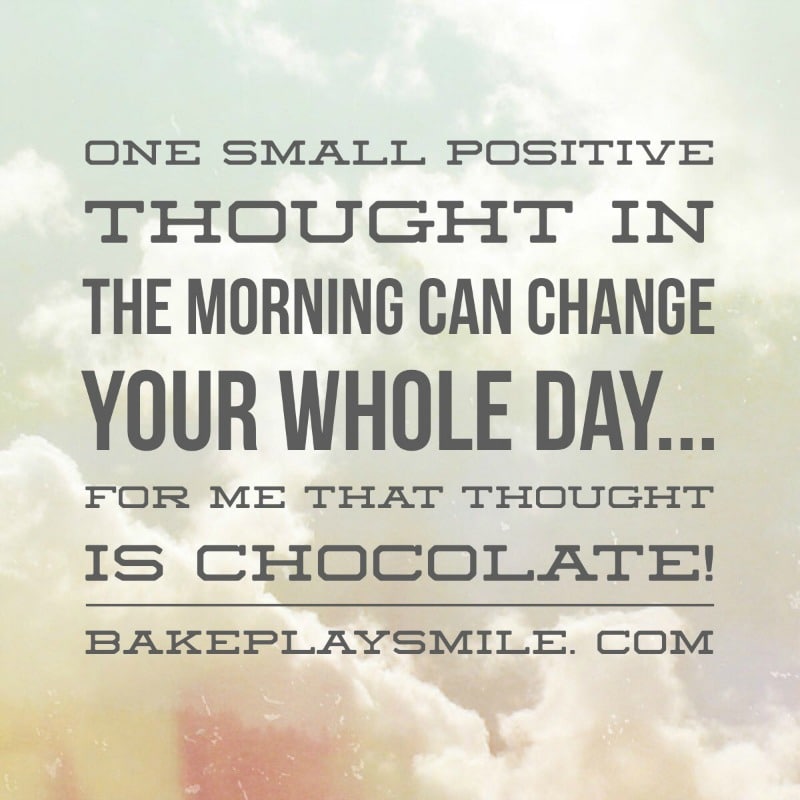 7.30am: Be sociable (in an online way…)
Promote the days post on social media, use ViralTag to schedule the recipe images to Pinterest, add the days post to Yummly, StumbleUpon and food photography sites (such as Foodgawker and TasteSpotting).
8.00am – 9.30am: Write blog posts
I try and get all of my writing done first thing in the morning…. I've tried doing it later in the day or at night and I end up just being a rambling mess (or more of a rambling mess than usual). I always try and make sure that I have blog posts scheduled for at least a few weeks in advance… yep I'm an organised freak! But I also like knowing that if life throws me a curve-ball and something comes up, there'll still be posts ready to go live. At the moment I post 4 times a week – Monday to Thursday – and I think that's my absolute limit. Anymore and I'd be totally overwhelmed… it's not just writing the posts that takes time – they also need promoting, SEO and photo editing etc. It's a time consuming process!!!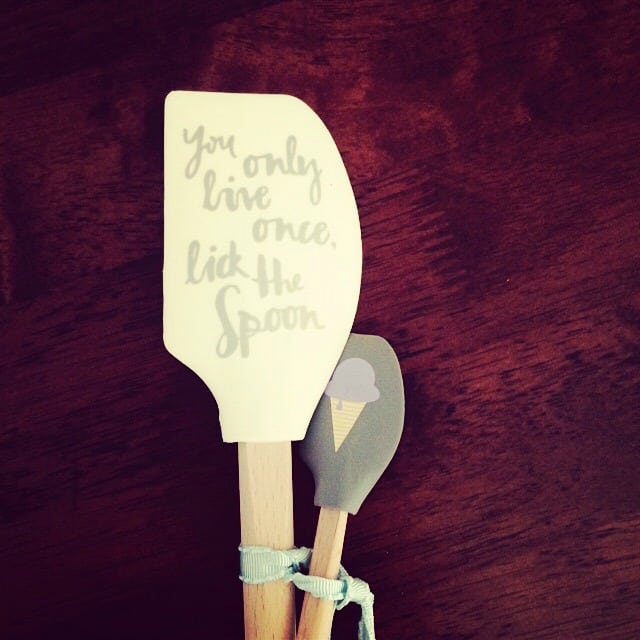 9.30am – 10.00am: Schedule, schedule, schedule!
During this time I usually gaze out the window… ahem, I mean I schedule social media posts for the following day. I always try to make sure my Facebook posts are scheduled so that I don't have to worry about remembering to do them. It's also way quicker to schedule 5 in one go, than trying to do them one at a time. Mind you, if I'm asking a question or looking for a discussion on Facebook, I never schedule those posts. I think it's really important to post the question and then hang around to answer/interact with everyone.
10.00am – 10.30am: Have a break!
Make a cuppa, check social media, do a few squats (haha actually that ones actually a lie… I keep telling myself to do squats during the day and it does NOT ever happen!).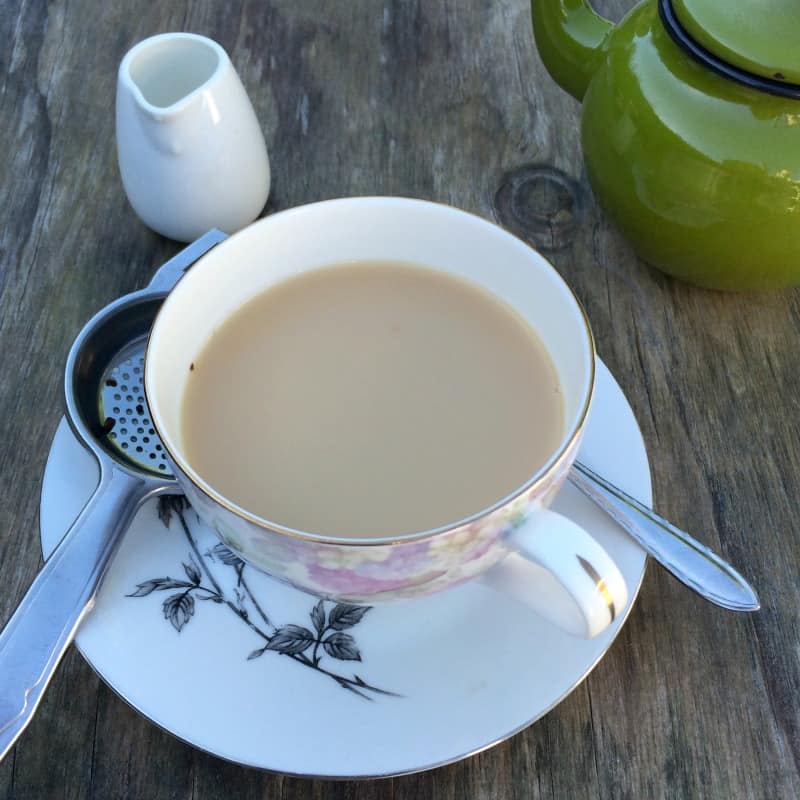 10.30am – 11.00am: Planning time
Check Google analytics and plan future posts. Review which posts are performing well and use that info to plan future recipes. Schedule the best performing posts to promote on social media.
11.00am – 12.00pm: Photo editing
One of the most time consuming parts of running a food blog is taking and editing photos. I use iPhoto, PicMonkey and Canva to edit and resize my photos and create Pinterest collages. Because I'm so indecisive, the whole photo editing thing can take FOREVER, because I can never decide which photos to use and which ones to ditch.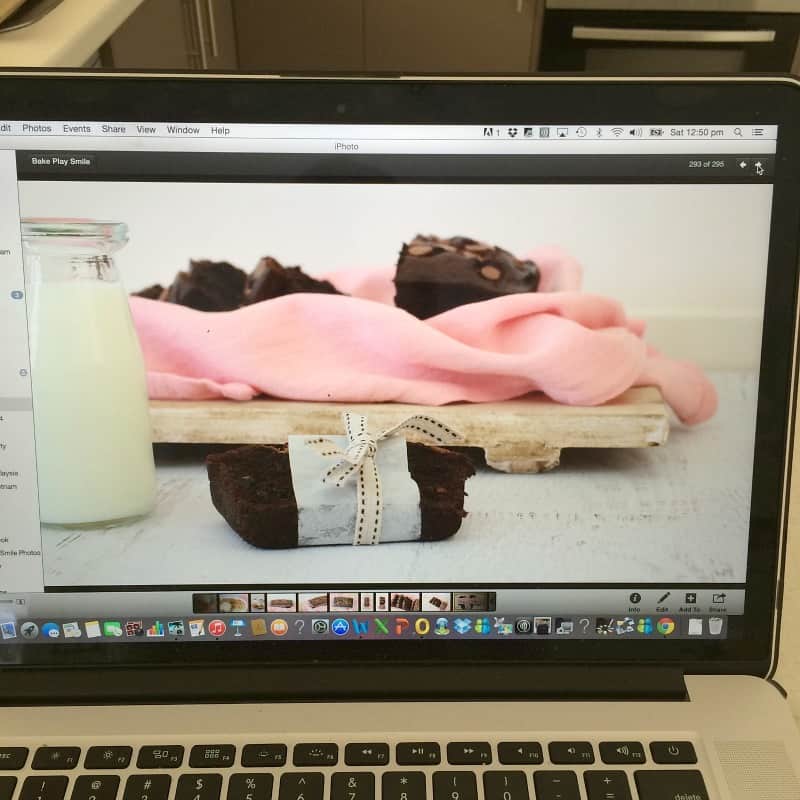 12.00pm – 1.00pm: Lunch… yay!
Lunch break, reply to emails, reply to comments and check social media. At the moment, I'm trying really hard to focus on Pinterest, so that's where I spend the majority of my social media time.
1.00pm – 2.00pm: General blog work!
There are always a zillion things on my 'blog to do list'. Honestly, I swear it's never ending! Whether it's working on an ebook, changing the layout of my website, adding sidebar recipe collections, writing my weekly newsletter, working on our Fabulous Foodie Fridays link up or having a Skype chat with my blogging buddy Lauren from Create Bake Make (we use our Skype meetings to bounce ideas off one another and keep each other motivated!), this hour is always super busy. I also use this time to chat to the Bloggerati team who manage my blog about anything important that's coming up or any sponsored posts I need to be working on.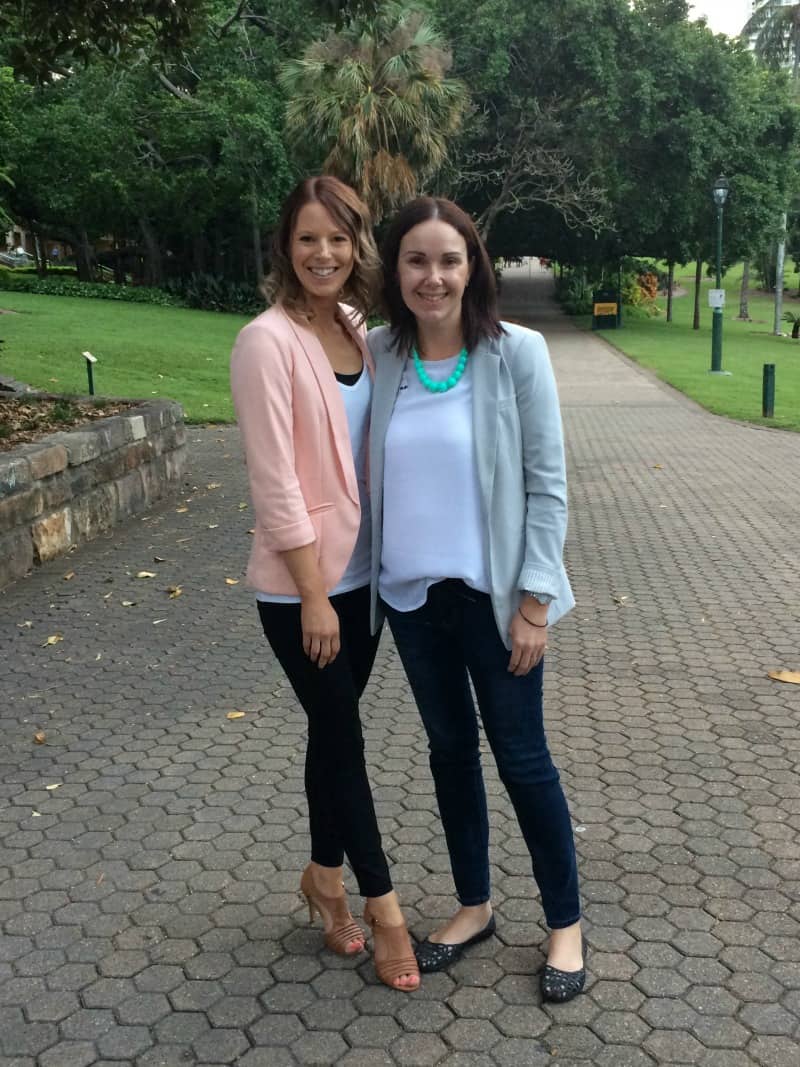 With the lovely Lauren from Create Bake Make.
And with two of the brilliant Bloggerati team members!
2.00pm – 3.00pm: Getting snap happy
In my house, this is the perfect time for me to take photos. I usually try and do 2-3 recipes at a time, because it's a bit of a pain in the bum to set everything up and get the light right. Once the photos are taken, they get popped into iPhoto to be edited at a later date.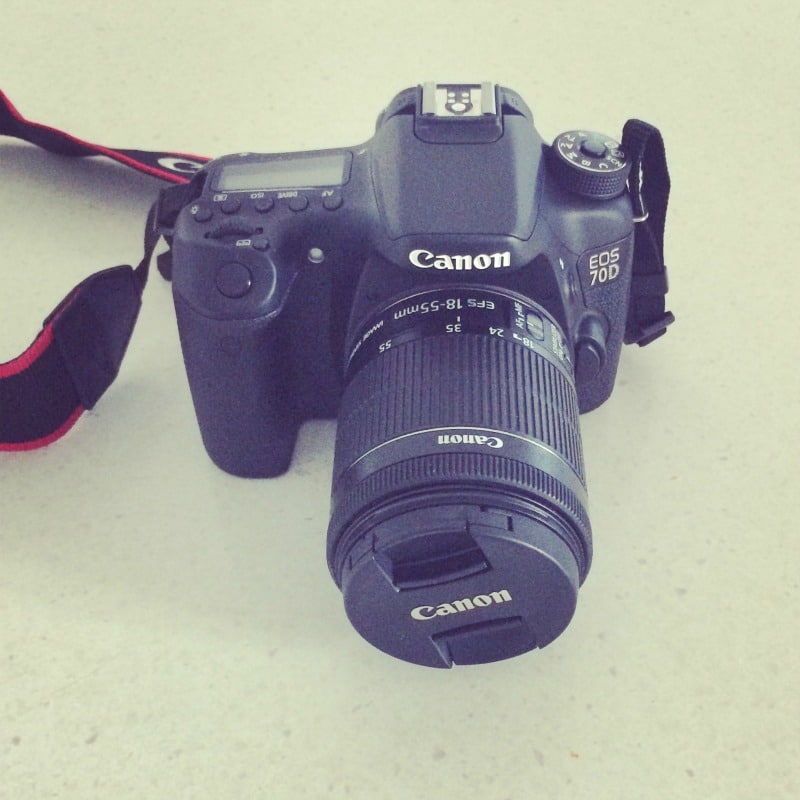 3.00pm – 4.00pm: Building the blog hour!
This is the time I use to pitch to brands, send emails, write sponsored posts, chat to brands I'd like to work with, write guest posts for other websites etc. When I first started out, I was so scared to pick up and phone and call brands I wanted to work with. Even know I still get nervous, but it's actually kind of fun… and it lets me waffle on to someone too!
4.00pm – 5.00pm: Project time.
This year I'm trying to think ahead and so my aim is to always have 1-2 big projects on the go at any one time. Sometimes it will be an ebook… but at the moment, it's an even bigger secret project (I can't wait to fill you in soon!). A couple of months ago, Lauren and I launched a huge joint project – a food blog dedicated to Thermomix recipes. So this hour is also often spent on ThermoBliss posts, website layout and social media scheduling. We only started it a few months ago and it's such a fun project to run together. I absolutely love it!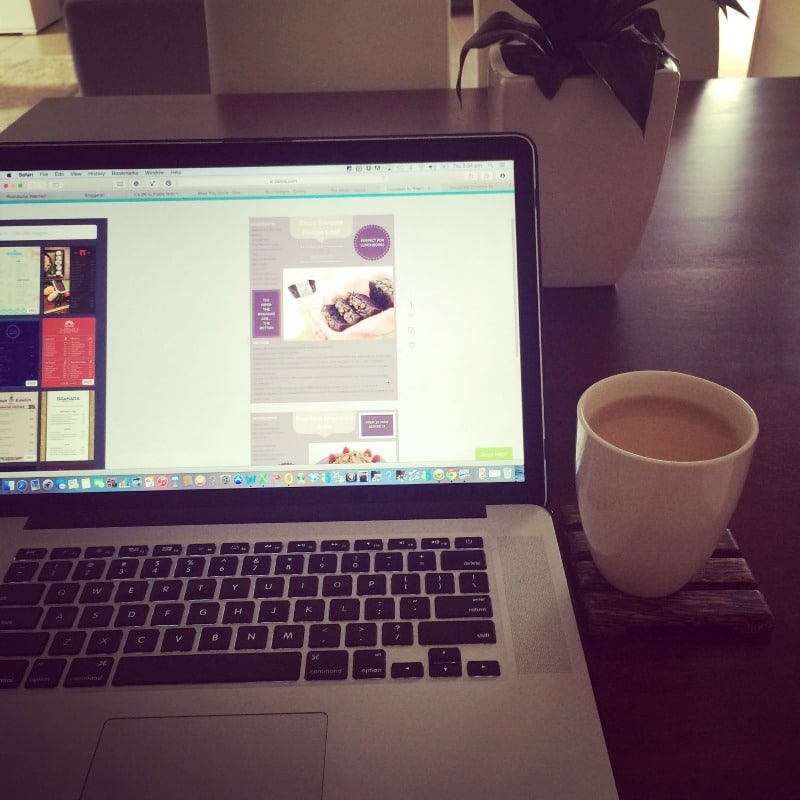 5.00pm-5.30pm: Social loving
Emails, social media, comments…. yep it's like a merry go round! I try and keep on top of these three things during the day, otherwise I just get totally overwhelmed if I leave it and suddenly have 3 days of comments to reply to (although that does sometimes happen!).
5.30pm – 7.30pm: Time for a break!
Make dinner, go for a walk with my hubby and our golden retriever, catch up on any personal phone calls/emails etc.
7.30-8.00pm: Last check in for the day
Hop on social media and have a little chat with everyone! One final check of emails. Make sure the following days post is scheduled to go live. Try and switch off for the night… try… and usually fail!
8.00pm – 9.30pm: Me time!
At the moment I'm totally loving Netflix. We've just finished watching House of Cards, Man Men and Suits, so we need some really good TV series to start (PS. please let me know if you've watched any good ones lately!)
9.30pm: OK ooops… this is the last check!
One final check of social media (I know… I know… it's so bad… I'm hopeless!!).
Other bits and pieces:
My main social media focus at the moment is Pinterest (it's the best thing ever if you have a food blog), so I spend 5 X 5-10 minute sessions throughout the day pinning to boards. I also manage a group board so spend a bit of time adding people who have requested to join etc.
Some days I squeeze in some baking time for blog posts (although I try to do a lot of that while I cook dinner and then pop it aside to photograph the next day.. women are amazing multi-taskers).
When I left my teaching job and started blogging full time, I have to admit that I was a little lost! I was so used to structure, timetables (and bells) that it was hard to stay focused and actually be productive. So, I always make sure that before I go to bed I have a list of jobs to do the next day (I'm a BIG list person). This really works for me. I love the feeling of ticking things off my list (if you're a list person, you'll totally know what I mean). At first, I struggled with going from working at a job where I was surrounded by lots of people all day, to working on my own from home, but now I absolutely love it. I get my 'people fix' at the fun blogging events I get to go to, or chatting on social media throughout the day. Oh and then I just bombard my husband with my chatter when he gets home.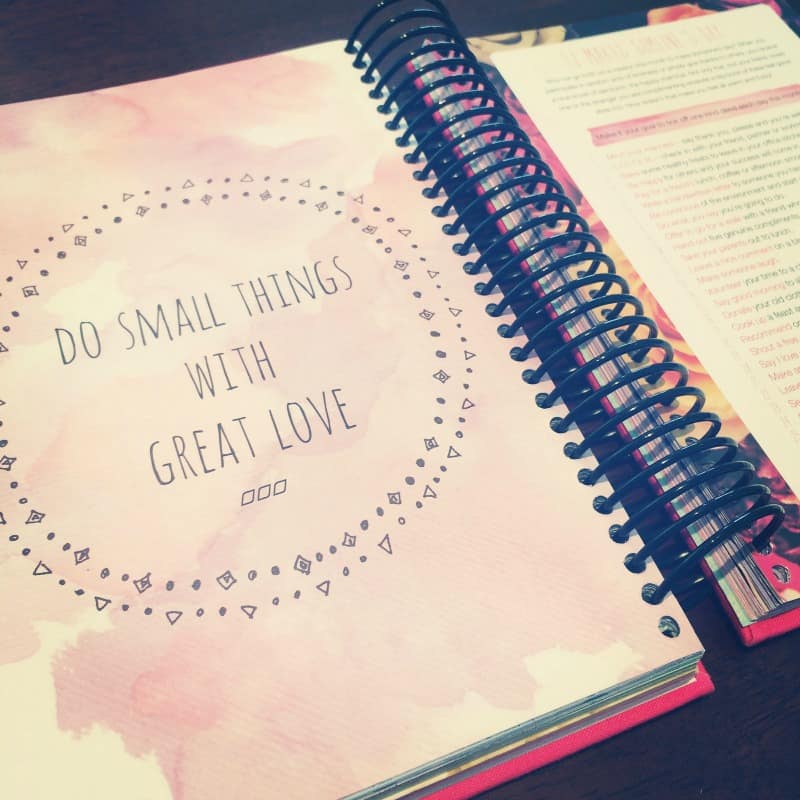 So yep, like I said… the day of a blogger is totally unglamorous and at times, frustrating and kind of boring! But you know what, I really, really love it. I love the feeling of building something from scratch and working my butt off on a website that I absolutely adore. I love the blogging community that I'm lucky enough to be part of and all of the amazing readers out there who send me gorgeous emails and messages. It totally makes it all worthwhile and trust me, I am under no delusion that I'm incredibly lucky to have such a great job.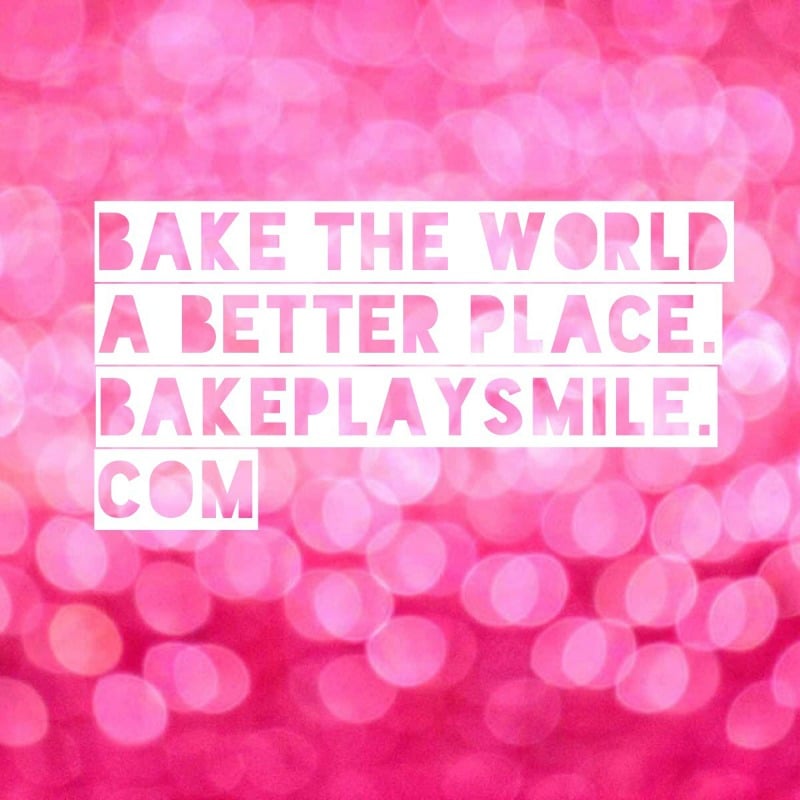 So that's pretty much my day! What does your typical day look like?