A collection of the 6 most popular Bake Play Smile recipes - from my one bowl banana bread to a classic 3 ingredient fruit cake, chocolate caramel slice (Millionaire's shortbread) to the famous 100 cookie recipe and more!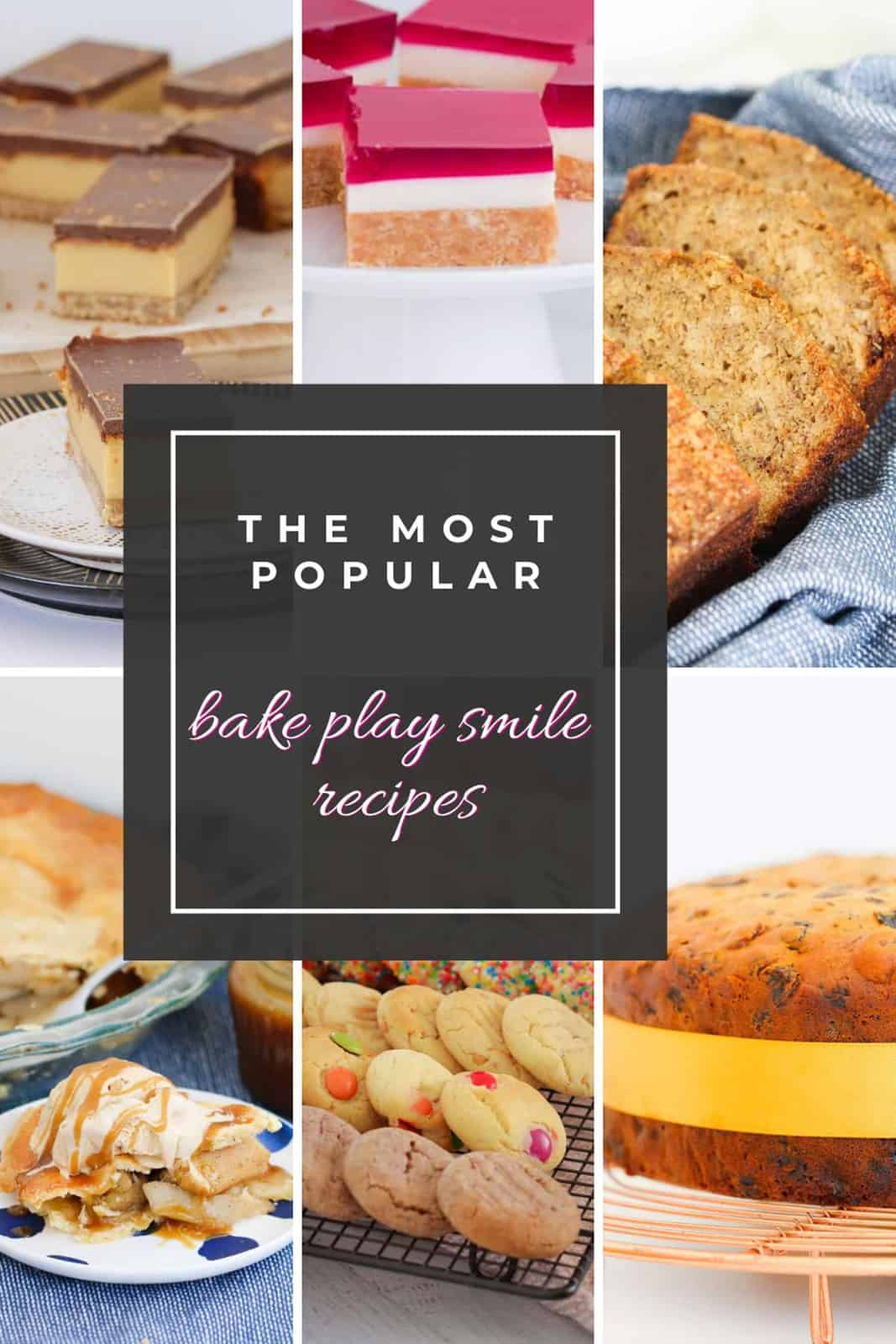 I still can't believe that it's now been over 8 years since I started Bake Play Smile. Never in my wildest dreams did I ever believe it would become what it has today.
I am so incredibly grateful for all of my amazing readers - whether you've been here from the start, made a recipe here and there, or have just found one of my recipes that you love - thank you!
Anyway, I decided that it's well and truly time that I put together a collection of my 6 most popular recipes. These are the ones that are searched, shared, made and loved the most. And I'm sure you're going to LOVE them too!
The Most Popular Bake Play Smile Recipes
Also known as Millionaire's Shortbread, this sweet and creamy triple layer caramel slice is the ULTIMATE sweet treat.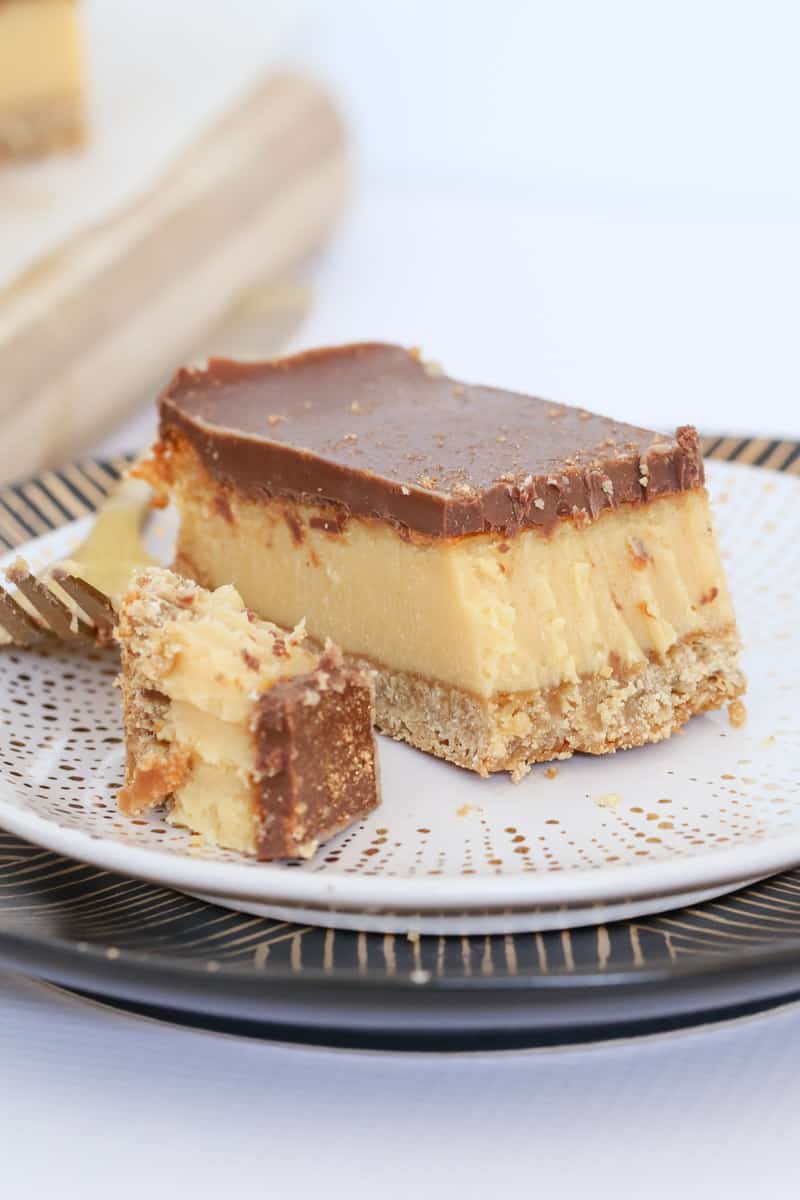 Why You're Going To Love It
made from pantry and fridge staples - there's a very good chance you already have the ingredients at home
simple to make - three layers may sound tricky, but my step-by-step instructions make this recipe so easy!
classic favourite - this slice is always the first to disappear! It's an old fashioned favourite
perfect for bake sales, fetes and fundraisers - this chocolate caramel slice is so popular at fundraisers and events
freezer-friendly - can be made ahead of time and frozen for up to 1 month
Reader Reviews
It's no surprise that this recipe makes the list of the most popular Bake Play Smile recipes. My readers absolutely LOVE it... here's what a few of them have to say!
"The best Caramel Slice ever!! Thank you ❤️" - Samara
"This recipe is amazing! My favorite treat" - Mary
"This recipe is amazing and easy to make. The notes really helped me a lot!" - Siv
"BEST caramel slice I've consumed EVER. The biscuit base golden, crunchy and so amazing, the caramel was creamy and also amazing, and the chocolate was smooth and just the best! Look forward to making this again and again!" - Makenzie
There are SO many banana bread recipes out there... but this one is by far the best! Cafe-style with a crunchy sweet top and the most super moist, buttery and banana-filled bread.
Why You're Going To Love It
One Bowl – forget about doing lots of washing up. This banana bread is made in just one bowl
Budget Recipe – this is a really great budget-friendly recipe. It costs just a few dollars to make (and even less if you already have some of the ingredients at home)
Perfect For Using Up Ripe Bananas - ripe bananas make the BEST banana bread - in fact, the riper and better (so don't let those brown bananas go to waste)
Super Moist Recipe – my recipe uses 4 bananas which is more than most other banana bread recipes. The result is an incredibly moist banana bread.
Freezer Friendly – make this recipe ahead of time and freeze for up to 3 months for a quick 'grab and go' or lunchbox snack.
Reader Reviews
With all 5 star reviews, this is sure to become your go-to banana bread recipe in no time!
"Every time I make banana bread I just grab a different recipe, its a pretty hit and miss method. But I have now just saved this recipe. It was fantastic, Great flavour, great density. I wont risk making just any recipe again!"
"I hate cooking, but was craving banana bread. Made it tonight. Super easy. Great taste. I need to make another one tomorrow as it's all gone! Lol. Best recipe ever!"
"Love this recipe, it was basically inhaled by both my sons."
"First time ever an internet recipe worked so perfectly. My family love it."
The old fashioned slice is most definitely one of the most popular Bake Play Smile recipes! With a cookie crumb base, a sweet and creamy condensed milk filling and a jelly topping - this is sure to be super popular at your next party, morning tea or fundraiser.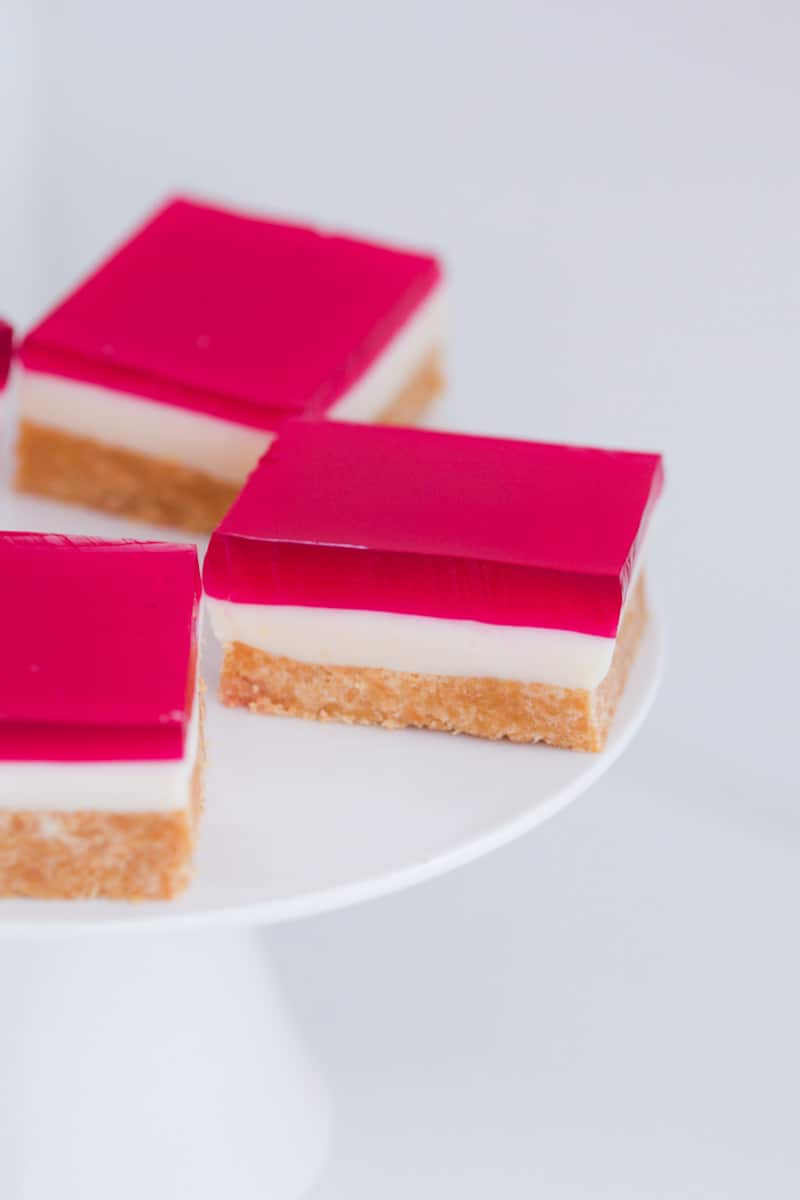 Why You're Going To Love It
No-Bake Recipe - forget about turning on the oven, this recipe is completely no-bake. Just prepare and chill.
Classic Recipe - this recipe is just like your grandma used to make!
Budget-Friendly - made from basic ingredients, this recipe costs just a few dollars to make.
Versatile - mix and match with your favourite jelly flavours for the topping (my favourites are raspberry and strawberry).
Party Food - this recipe is great for a party! If you're holding a themed party you can change the jelly colour to suit your colour scheme.
Reader Reviews
There's no doubt that this recipe is super popular. Here's a few of my favourite reviews:
"Just so easy to make - not so easy to stop eating though" - Rosalind
"Oh this is amazing!! I made this today, and hubby loved it! I followed every step and it was perfect!!! Thank you ! My new 'go to' fav for that something a little sweet!" - Jess
It's no wonder this fruit cake is so popular! It's made from just 3 ingredients self-raising flour, liquid (such as juice, tea, iced coffee etc) and dried fruit mix. Perfect for Christmas or anytime of the year.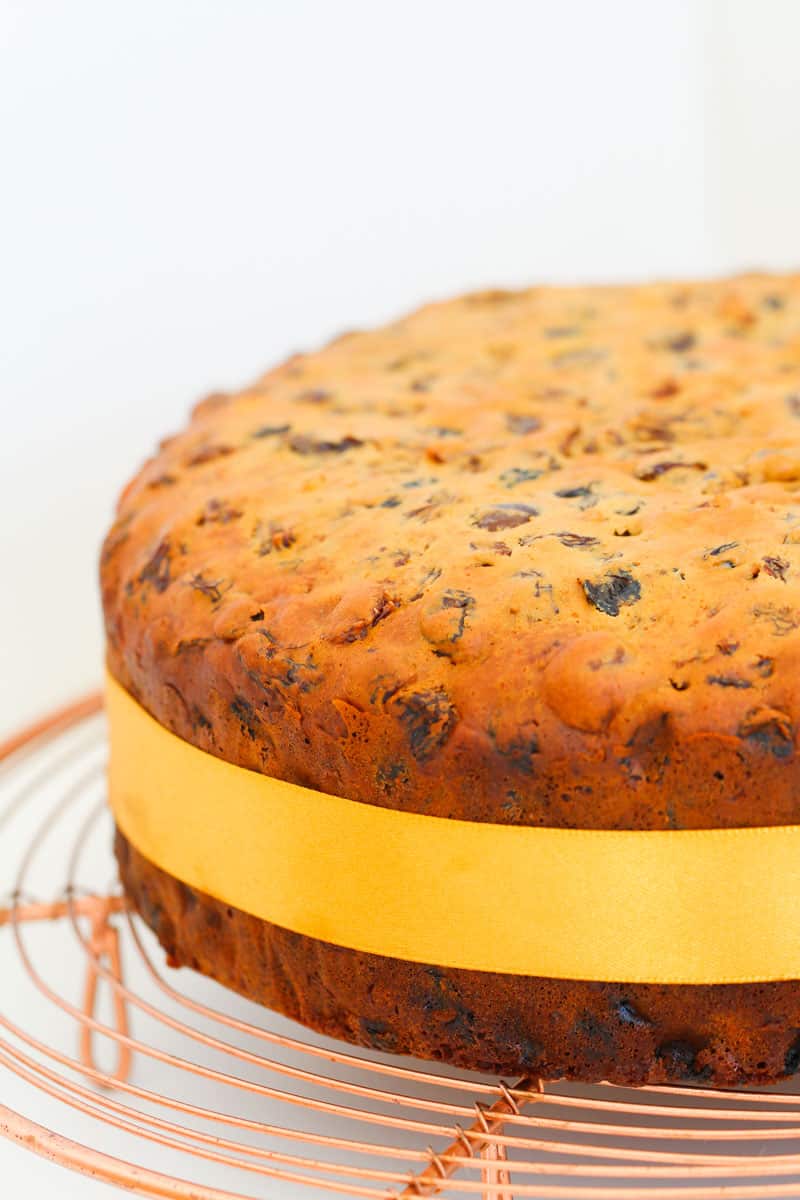 Why You're Going To Love It
3 Ingredients - yep! Would you believe that this cake is made from just 3 ingredients.
Foolproof - this recipe is completely foolproof! Simply soak the dried fruit overnight, mix through the self-raising flour and bake!
Perfect For Christmas - this classic fruit cake makes a great Christmas cake too.
Budget-Friendly - this makes a BIG cake and the ingredients won't break the bank!
Reader Reviews
You guys LOVE this recipe! Here's what my readers have to say about it:
"This recipe is fantastic!!! So easy, so tasty, perfect! I'm not a great cook but I'll sure be using this recipe as my go to favourite and trying with different nuts, spices and alcohol. The first time a recipe was so easy, quick and came out looking like the picture! This one's definitely a keeper!" - Susie
"I am not a good cook. I took a chance as the recipe seemed easy enough. I am so pleased to say it took about 1 ½ hours and turned out great and extremely moist and rich. Thankyou so much" - Patricia
"Made this cake today. Absolutely fantastic. So moist and tasty. Husband loves it and said can cook anytime lol" - Florence
If you haven't tried this recipe... you absolutely MUST! It's made from just 4 ingredients - butter, caster sugar, condensed milk and self-raising flour and 1 batch makes 100 cookies!!!!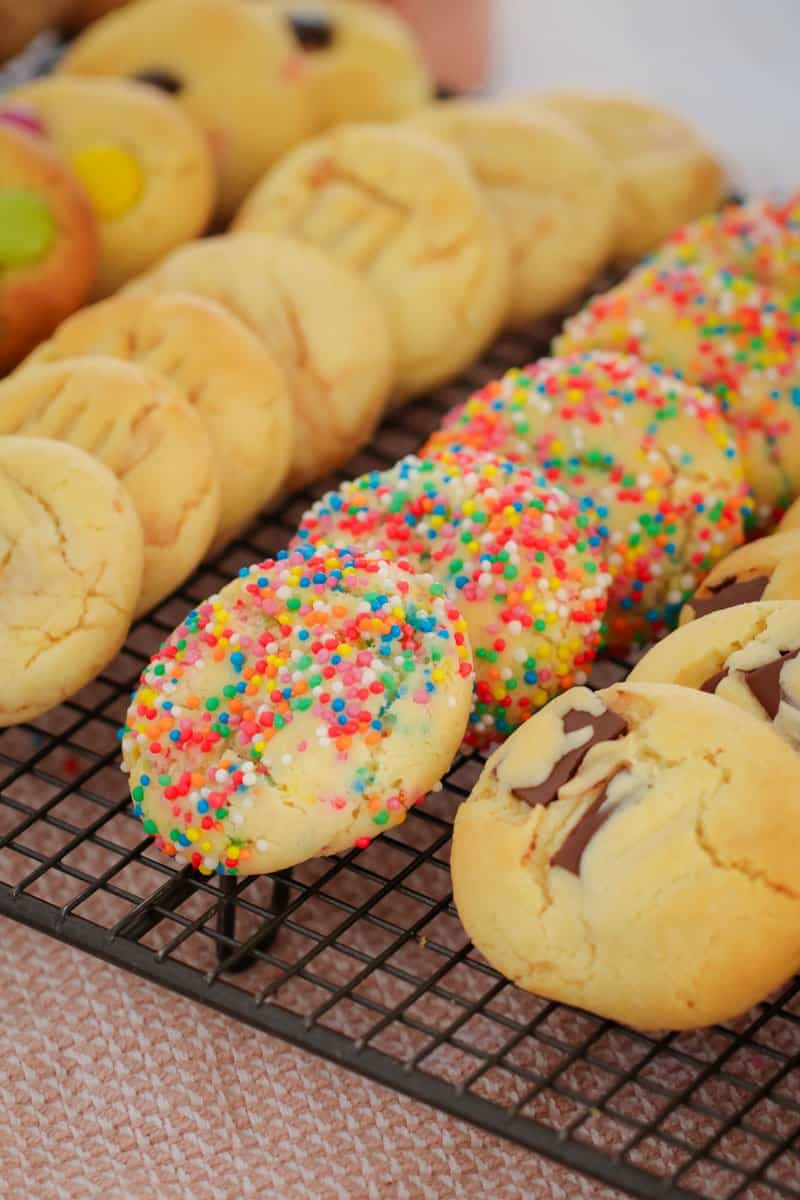 Why You're Going To Love This Recipe
4 Ingredients - there's no need to buy lots of different ingredients with this simple recipe!
Basic Ingredients - all you need is butter, caster sugar, condensed milk and self-raising flour (you might already have them at home!)
Budget-Friendly - this recipe is cheap to make and you'll get 100 cookies at the end!
Bulk Baking - got lots of hungry mouths to feed? This is the recipe for you! It's also perfect for fundraisers and bake sales.
Freezer-Friendly - you can freeze either the unbaked dough or the baked cookies... great for getting organised before the school term.
Reader Reviews
This recipe is a favourite with busy mums (and dads!):
"Quick, easy and delicious.. they freeze well and last a full week in an airtight container!" - Anna
"Amazing ! So easy!! I froze half the dough and it still made 60 cookies! 6 different flavours. Stick to the recipe it works 100 percent!" - Jacqui
"Best cookies EVER!!!!!!!!!!!!!!" - Mysterious
It would be impossible to have a most popular recipes list without apple pie! I recommend serving this warm with ice-cream, cream or custard... and a drizzle of salted caramel sauce for a decadent finish!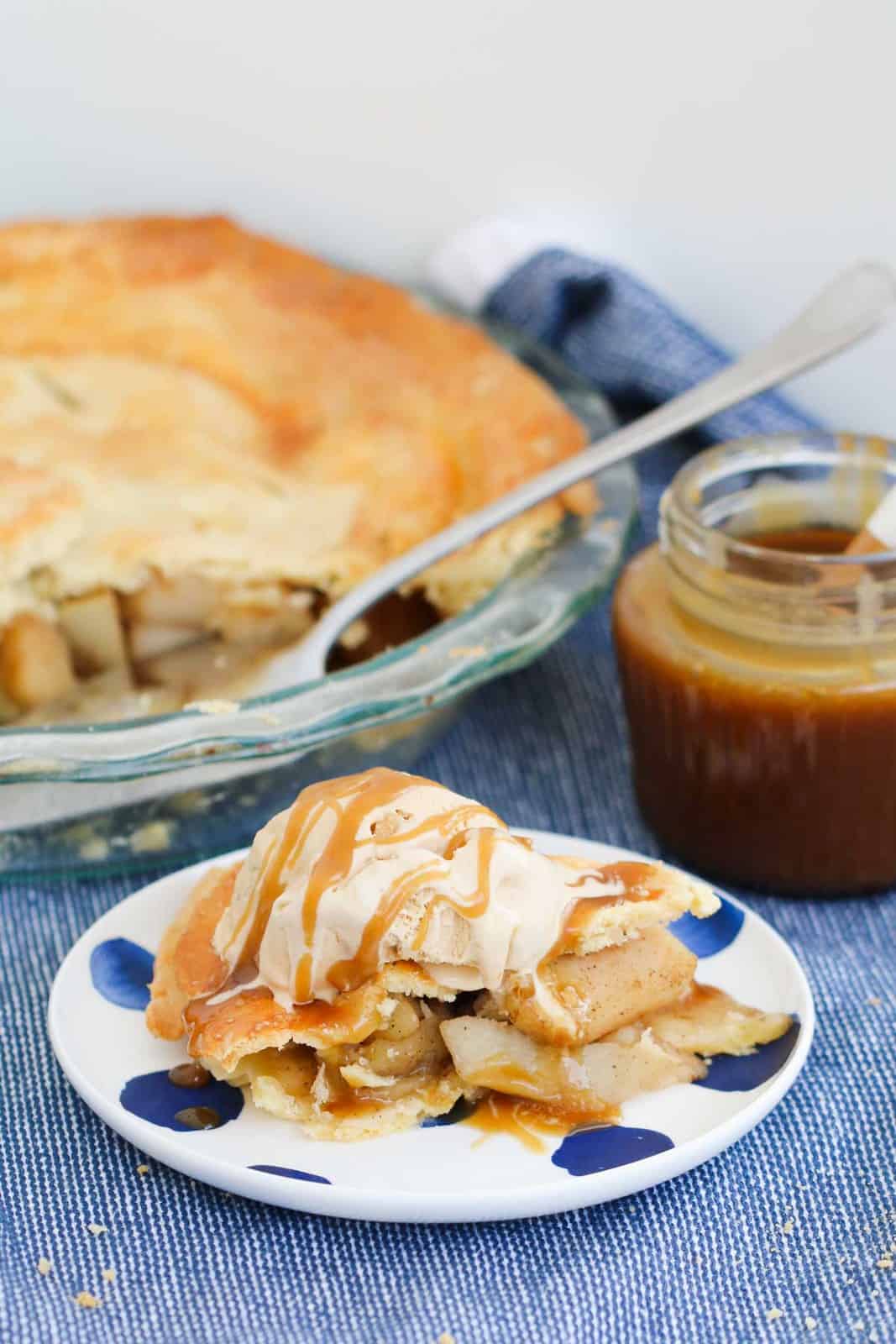 Why You're Going To Love It
Melt In Your Mouth Pastry - the homemade shortcrust pastry will absolutely melt in your mouth. It's amazing (and super easy to make)
Cheats Options - the recipe also has some time saving tips (like using store-bought pastry).
Winter Warmer - this is the ULTIMATE winter dessert!
Basic Ingredients - there's a very good chance you have all the ingredients you need in your fridge or pantry!
Freezer-Friendly - pop any leftover in the freezer.
Reader Reviews
This apple pie recipe is always a winner!
"I have made this recipe twice this week! It is so easy and so amazing. The second time I omitted the cinnamon as my husband doesn't like cinnamon. And it is still amazing! Thank you for sharing!" - Kate
"This was delicious and so easy to make! Great recipe" - Clare
"Loved this recipe! Made apple pie for the first time and it was a big hit, especially with the boyfriend. Was so delicious! I used muffin tins to make individual serving sizes." - Jennifer
More Bake Play Smile Recipes
If you love the look of these recipes, please fell free to browse my entire collection of free recipes here.
From simple desserts to easy family dinners, kid-friendly snacks to Thermomix recipes and more!
There's lots of delicious recipes waiting just for you....
WANT EVEN MORE DELICIOUS RECIPES? Subscribe to my newsletter or follow along on Facebook or Instagram. And if you love baking, then please come and join my Facebook cooking club group or subscribe to my YouTube channel.