You know how people say that hindsight is a wonderful thing. Well it is. But it's also something that makes you want to slap your forehead in frustration at all of the silly decisions you've made in the past. In hindsight there's lots of things I would have done differently when I started blogging, but hey, life is a journey and you live and you learn, right!? So to save you a little bit of time and frustration, here is my list of the top 5 things you should know when starting a blog (oh how I wish I'd known these right at the very start of my blogging journey!).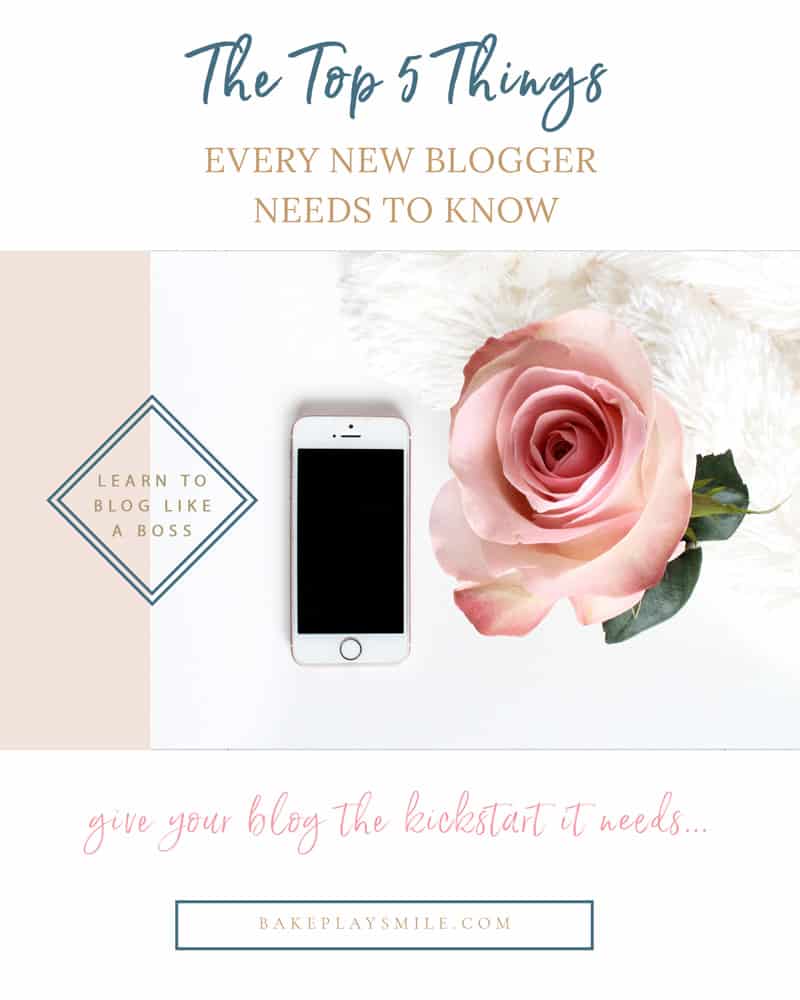 1. Resize Images
My website is a food blog, so images are pretty much the most important thing (after the recipe of course!) and I like to use big, beautiful images to really make the recipes pop. For the first 12 months on my blog, I would take photos and upload them directly to my website. Ummm… did someone say 'huge image size!?'. Turns out that uploading images directly to your website is NOT a good idea. One of my posts had 10 images that were over 4MB in size… each!! It's funny now (in hindsight!), but at the time, it most certainly was not. When I found out that you needed to resize your images, I spent about a month going back through over 100 posts and resizing each and every single image. Please don't do that to yourself! Right from the start, upload your images to a program like PicMonkey and resize your images to the exact measurements that your theme uses. From there, upload the resized images to your media library.
2. Don't Use 'Cutesy' Titles
When I started blogging, the whole idea of SEO was completely foreign to me. I would call my posts the most bizarre names and somehow expect that Google would miraculously know what it was all about. Well, here's the truth. Google is amazing, but not even that incredible search engine is going to have a clue what a title of 'Scrumdidliumtious' means (and yes I did use that!). Sure, use 'cutesy' phrases in your content, but leave your title plain and simple. Make it very clear what your post is about. A title of '3 Ingredient Flourless Chocolate Cake' is a heck of a lot better than 'What a yummy thing we ate for dessert'. Ugh… cue major forehead slapping (on my behalf!).
3. Install an SEO plugin
I was blogging for a while before I installed an SEO plugin. If you want Google to show your posts in search engines (which of course you do!), then an SEO plugin is a must. I use WordPress SEO by Yoast and it's fantastic. My Google search traffic has increased massively since I installed it. Check out my '3 Must-Have WordPress Plugins' post for more info.
4. Know your audience and create a targeted social media approach
When you start a blog you often think you need to focus on every form of social media. Facebook, Pinterest, Google+, Twitter, StumbleUpon, Reddit, Yummly, Linked In, Instagram… and the list goes on and on. Well here's the truth. You don't have enough minutes in the day to focus on everything. Research your audience (by using Google Analytics) and work out what social media platforms they're using. Because I have a food blog and the majority of my audience are women aged 25-44 years, I focus predominantly on Facebook, Pinterest and Instagram. My readers aren't really on Twitter or Linked In so there's no point me spending my time on there.
5. Blogging is hard work… but it's also amazing
I started my blog with rose coloured glasses. I thought it would be all fun and games, sugar puffs and marshmallows…. and while some of the time it is – most of the time it's super hard work! You'll spend hours upon hours writing, researching and promoting your blog. You'll be tired and exhausted and feel frustrated. You'll have moments (a lot of them!), when you think about throwing in the towel. But don't! Keep going, develop your niche, make blogging friends and share your passion with others. Readers will come with time. All you need to do is focus on developing an authentic blog that you can be proud of… and then work your butt off getting it out there!
Have you just started a blog (yay, congrats!!)? Or are you an experienced blogger with more tips to add?